Innovation-driven virtual schools to achieve greater inclusion in school education – Dharmendra Pradhan
Education is not merely a competition to acquire degrees but is a transformative tool to leverage knowledge for character building and eventually nation-building – Education Minister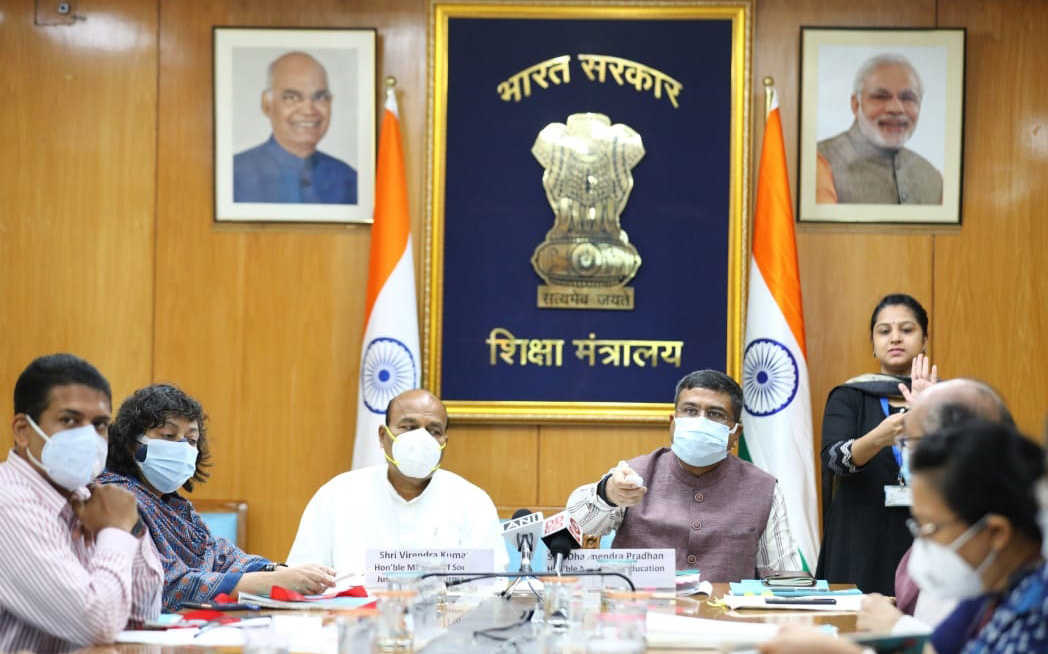 Union Education and Skill Development Minister, Dharmendra Pradhan and Union Minister for Social Justice and Empowerment Virendra Kumar today jointly launched the booklet on One-year New Education Policy (NEP) – 2020 Achievement along with some major initiatives of the New Education Policy- 2020 such as NIPUN Bharat FLN tools and resources on DIKSHA; Virtual School of NIOS; Alternate Academic Calendar of NCERT; and Release of 'Priya'- accessibility booklet developed by the NCERT and Department of Empowerment of Persons with Disabilities. Minister of State for Education Annapurna Devi and Secretary, School Education Anita Karwal were also present on the occasion.
Addressing the participants, the Minister said that NEP is a guiding philosophy to transform the hopes and aspirations of millions of the youth to reality and making India self–reliant. He said that the formulation of NEP is also a live example of cooperative federalism to achieve a common goal of making India a global hub of knowledge. When we look back at the progress of NEP, we get more confident about the future of our students, he added.
Launch of key initiatives of NEP 2020. https://t.co/bvMC5xxQSs

— Dharmendra Pradhan (@dpradhanbjp) August 24, 2021
Pradhan stated that Education is not merely a competition to acquire degrees, but is a transformative tool to leverage knowledge for character building and eventually nation-building. The Minister stressed that the Government is working to facilitate up-gradation of infrastructure in schools, such as ensuring that the Internet reaches the village schools across the country.
Pradhan said that the book "Priya -The Accessibility Warrior", released today will sensitize the students on accessibility-related issues for Divyangs. Special emphasis has been laid to make the booklet simple, interesting, and interactive to create awareness on accessibility in children right from their formative years, he added.
The Minister while launching the Virtual School of NIOS said that this school is a new model of learning and is an example of how leveraging technology and innovation can facilitate greater inclusion in education. The school is the first-of-its-kind initiative in the country that will provide advanced digital learning platforms through Virtual Live Classrooms and Virtual Labs., he added. Pradhan also said that the Alternate Academic Calendar of NCERT has been developed to facilitate teachers and parents to assess the progress in the learning of children. The Alternate Academic Calendar contains a week-wise plan of interesting and challenging activities, with reference to learning outcomes, themes, and chapters taken from the syllabus or textbook.
Speaking on the occasion Virendra Kumar said that accessibility opens doorways to opportunity and growth, thus, reinstating the importance of creating an accessible environment for everyone. He further said that awareness and a sensitized community are the essential fuels driving any revolutionary change. The government's commitment to promoting accessibility led to the development of the E-Comic cum Activity Book, titled – 'Priya- The Accessibility Warrior'.
Kumar urged both the Departments of School Education & Literacy and the Department of Higher Education to take up the task of creating accessible educational infrastructure and content on a mission mode, consistently progressing towards Inclusive Education which is a vital component of the new National Education Policy. On the occasion of the 75th year of Independence of India, let us all work with our children to become 'Accessibility Warriors' and make inclusive education a reality to build a brighter future for all our citizens, he added.
Another important initiative launched was "Priya -The Accessibility Warrior", which is the outcome of collaborative efforts of the Department of Empowerment of Persons with Disabilities (Divyangjan), the Ministry of Social Justice and Empowerment, and the Department of School Education and Literacy. It provides glimpses into the world of a girl named Priya who met an accident and could not walk, due to plastered leg. The story depicts how Priya managed to participate in all activities at school, and in the process learned the importance of accessibility. She, therefore, takes the pledge of being an accessibility warrior. The comic book is also available with Indian Sign Language (ISL) explanatory videos.
NEP 2020 envisages education as a continuum without any segmentation and focuses on making education more experiential, holistic, integrated, character-building, inquiry-driven, discovery-oriented, learner-centered, discussion-based, flexible, and above all, more joyful. With this perspective, the Department of School Education and Literacy has taken up a multitude of initiatives at all levels of school education and has achieved 62 major milestones which will eventually transform the school education sector.
Other major achievements include: the launch of NIPUN Bharat Mission with a vision to ensure every child achieves the desired learning competencies in reading, writing, and numeracy by the end of Grade 3, by 2026-27; aligning of the existing scheme of Samagra Shiksha with Sustainable Development Goal for Education (SDG-4) and the NEP 2020 to ensure inclusive and equitable, quality, and holistic school education; Vidya Pravesh- a three months School Preparation Module for Grade I children; Blueprint of National Digital Education Architecture (NDEAR) conceived to energise and catalyse the education ecosystem, capacity building of Secondary teachers under NISHTHA with a focus on improvement in quality of teachers and learning outcomes of students, Assessment reforms to make learning more joyful and experiential, DIKSHA as a teaching-learning repository of engaging e-content, etc.
NIPUN Bharat FLN tools and resources have been made available under a separate vertical for FLN resources developed under DIKSHA to assist and mentor States/UTs and teachers for implementing NIPUN Bharat guidelines. This vertical has infographics and videos on learning outcomes and assessment tools for teachers to facilitate them.
The programme was attended by senior officials and heads of autonomous institutions of the department, senior officers from the School Education department of all States, and UTs, and experts.
Click the link below to see the booklet on One-year New Education Policy (NEP): https://www.education.gov.in/sites/upload_files/mhrd/files/upload_document/nep_achievement.pdf
Click the link to see the booklet "Priya -The Accessibility Warrior": https://ncert.nic.in/ComicFlipBookEnglish/mobile/
Click here to see the details of Virtual Open School: http://virtual.nios.ac.in/
New Age Instructional Techniques
Traditional pedagogical techniques, based on a teacher explaining a topic and students taking notes, may still be helpful occasionally. Still, education today revolves more around encouraging the students to awaken their curiosity and desire to learn.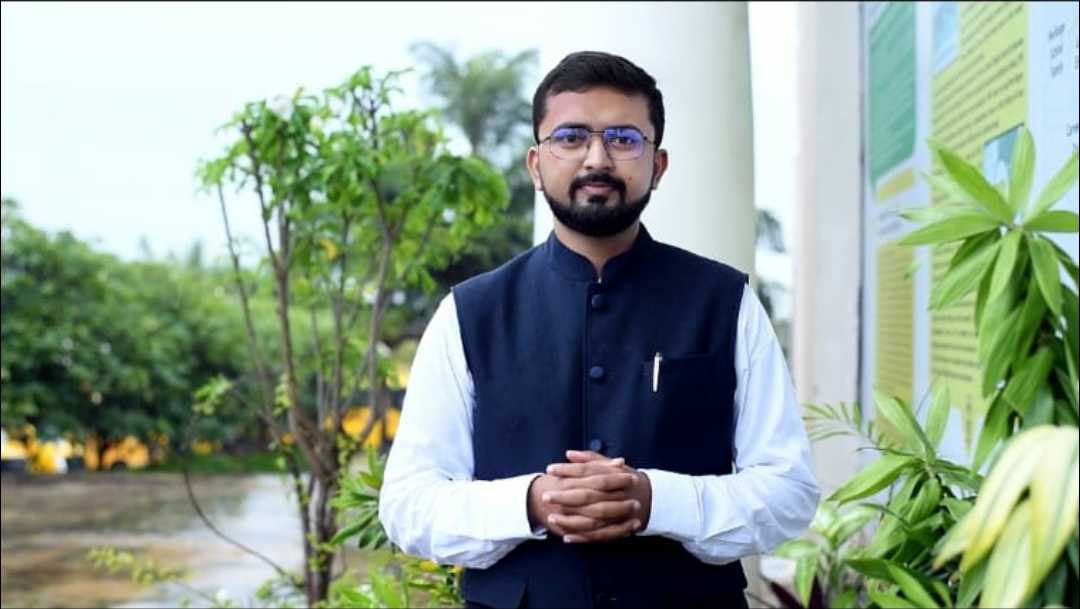 Education and its purposes have evolved over time. The meaning of 'knowing' has changed from remembering and repeating information to finding and applying it. Education helps students identify their critical purpose in life. It is really a tool to enable young minds to become lifelong learners. It empowers them to be able to tackle any challenge that life throws at them.
The purpose of being an educator is to make the world a better place. Where people are empathizing, caring, and capable of understanding each other. The prime objective of education is to nurture the leaders of tomorrow. To impart quality knowledge and learning so that the young generation becomes responsible and future global leaders and citizens.
Advanced research in education philosophy and brain science has had a tremendous impact on instructional strategies for the classroom. As a result, the educational paradigm has seen a transitional shift in instructional strategies over the past few years. Educators now are required to step out of their comfort zone of the traditional mode of teaching confined to classrooms.
Teachers are now bound to integrate the new instructional strategies to make a mark in the educational arena. A number of different teaching techniques have emerged during this transition and due to this change in education. Some of the research-backed pedagogical practices that are appropriate for 21st-century classrooms are:
Reciprocal Teaching:
Reciprocal teaching is a method in which students in small groups predict, clarify, question, and summarize a scaffolded reading comprehension. It is similar to a small group of students sitting in circles and using a communal constructivism approach to making meaning. Here each student takes the role of both learner and teacher within the group. This technique allows the students to develop a shared understanding of the text and supports the students who find it difficult to comprehend complex texts.
Student-generated questions :
This technique allows students to work individually or collaborate with peers to generate their own set of questions based on Bloom's Taxonomy template. This technique enables students to go through a rigorous thinking process of divergent and convergent thinking that ultimately ends with a reflection-based task to summarize their learning.
Higher-order thinking questions:
This technique of instructional learning is a must-have in every classroom. Critical thinking is essential as it allows students to apply the knowledge to a context different from the one that was initially learned. Using this strategy and adding cases and real-life situations to these questions allows children to develop relevance and motivation.
Reflection questions:
Metacognition – the science of thinking about learning is a potent tool that should be used in every classroom. This allows children to strengthen their understanding and retain the information for a longer period of time. Questions like the muddiest point today? What were my three takeaways from the last 30 minutes? How would I use this learning to make my day better? And many more allow students to reflect on their learning and evolve themselves as lifelong learners.
Taking a constructivist approach, these techniques or strategies allow the learners to accommodate and assimilate knowledge. When a teacher uses group work he/she is leveraging the true nature of learning. This collective activity allows and enables the students to find relevance in the learning environment. Moreover, it will enable learners to have agency over their learning by modeling a real-world situation. Often when a teacher starts using collaborative approaches, various reasons like unequal participation deter it. The classroom space dons a chaotic look, and the teacher has no control. All these have to be minutely dealt with by developing as a facilitator rather than a sage on the stage. Working in groups allows children to develop essential life skills like empathy, compassion, and critical thinking.
Traditional pedagogical techniques, based on a teacher explaining a topic and students taking notes, may still be helpful occasionally. Still, education today revolves more around encouraging the students to awaken their curiosity and desire to learn.
About the author:
Siddharth Rajgarhia is Chief learner and Director at Delhi Public School Nashik, Varanasi, and Lava Nagpur. Having 10 years of experience in leading schools. He is an avid Mindfulness practitioner and believes in lifelong learning