Is today's education actually destroying the ability to think?
A number of reasons have come together to systematically destroy the thinking of today's youth. Firstly, education has become like a business. Secondly, education no longer encourages questioning, rather it disseminates views and prepares for exams.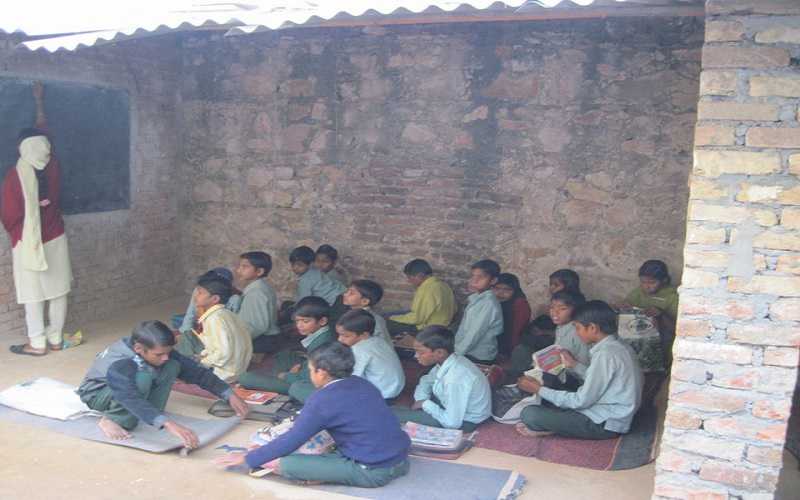 During the recent Jat agitation in Haryana, many teenagers were seen taking the law in their hands, shouting, fighting and burning public property. 6 school girls (Students of class VIII) of the Government Senior Secondary School, Singhpura (Dera Baba Nanak, Gurdaspur) were attacked by teen stalkers with acid and one of the girls' face was completely damaged. Where are our youth and teenagers going? All of them are supposed to be students today and responsible citizens of this nation tomorrow but nothing to this effect seems to be reflected by such news. They are not in harmony with their own soul. How can they develop a harmonious society?
Education can play an important role in society but the real meaning of education is yet to be understood as we are living in a deception. I toil, earn money, pay taxes for the development of the nation but suddenly a cathartic urge destroys that development either social, mental, infrastructural or of any other kind. As a civilised society we just accumulated venom to burn down everything. Today a decent looking civilised boy, tomorrow he will set ablaze someone's hard earned empire mercilessly, without any shame or regret and why would he have those feelings? Its catharsis, isn't it?
Few simple questions to mull over. 'O Almighty, this is your land, your sky; just shower your bliss on us', 'O Lord, give us strength to empower our mind, we should always move on the right path without any mistake in our life' – where is this bliss we talk about in the morning assemblies at school? Are we on the right path? Why do these beautiful poems, moral lectures delivered by teachers and parents not come into their minds while destroying society.
Take a look at the recent Board examinations in Uttar Pradesh or Haryana. Regardless of all efforts of the administration, students used unfair means without any fear in their examinations. If we compare secondary examination question papers of 1995 with the present question papers, they are much easier today and still the students feel the need to cheat.
Education is turning into a business and when anything becomes a business, ethics can be compromised. Hence, teenagers are becoming anomic, irresponsible and highly egocentric today. They want everything instantly, like noodles, in their life. When a senior secondary level student cannot analyse a simple poem with his own viewpoint, how will he become a decision maker in future?
Our thinking capability is in a shambles because we have given them this belief. Literature is the mirror of society. If a student cannot think about any piece of literature, he can't understand social values nor be able to implement those values in his life. My assumption on Shakespeare can never be your assumption; but in reality, what I understand about Shakespeare is what every student will understand about it. This will only create puppets. Now, we can imagine the consequences of this. If tomorrow I tell somebody to burn a shop, he will burn it because I have already destroyed his thinking faculty. I have no fear of any such questions like: Why should I burn this shop? Is burning somebody's shop a solution?
We need to understand that education does not reside in books, marks, certificates, diplomas and degrees only. It is beyond these things, it is in a questioning, rational and logical mind. Aristotle said, "Educating the mind without educating the heart is no education at all."John Dewey
said, "Education is not preparation for life; education is life itself." The sole purpose of education to develop character and a human being. The objective of being a human is to explore new paths in our consciousness, to know that all discriminations in this world are the creations of pernicious minds, and to develop compassion for the fellow human being.
From Testing to Learning: Redesigning Assessments for Student Success
The re-designed assessment policy is the need of the hour due to the great number of factors or alternatives it presents for assessment.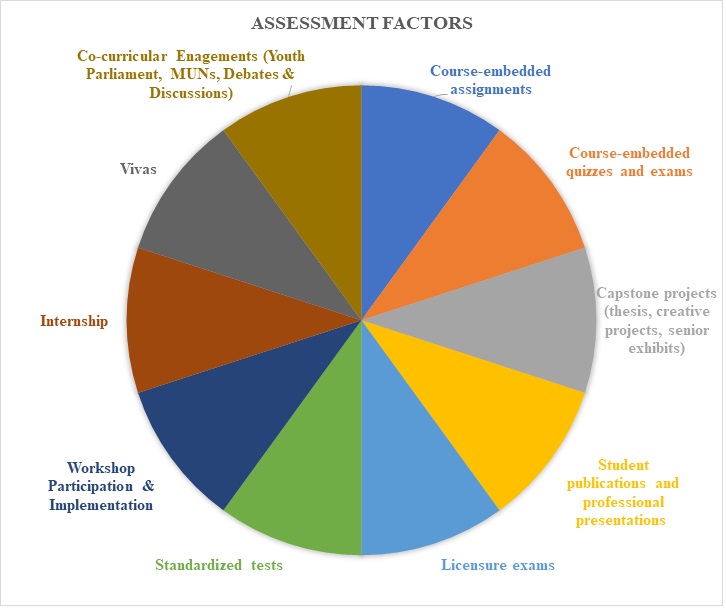 A plethora of activities, ranging from standardized examinations to writing an article or working on a group project, could be used for educational assessment. This assessment may be period or probable on the completion of the syllabus, conducted mainly to assess the knowledge, skill, and disposition of students on the subject or content taught by the teacher. The article examines whether there is a need to re-design assessments or not. Further, it explores the ambit of models for implementation and benefits sort by re-designing assessments.
Need for Re-Designing Assessment
The education assessment system in India dates back to the British colonial era when standardized tests were introduced to evaluate students' academic performance. This system was further enhanced after India gained independence in 1947, with the establishment of various boards and councils responsible for conducting examinations and issuing certificates.
Today, India has a complex education assessment system that includes board examinations at the secondary (class X) and senior secondary (class XII) levels, entrance examinations for higher education, such as engineering and medical colleges, and national-level tests like JEE, NEET, and UGC NET. Additionally, there are state-level exams for admission to state universities and professional courses.
In recent years, there have been several efforts to reform the education assessment system in India, particularly with the introduction of continuous and comprehensive evaluation at the school level. The focus has shifted from rote learning and memorization to assessing students' conceptual understanding and analytical skills. However, the system still faces many challenges, including exam-centric teaching practices, high-stakes testing, and a lack of standardization and transparency.
Some educators and policymakers argue that the current assessment methods are outdated and fail to capture the breadth and depth of student learning. They also argue that the focus on high-stakes standardized tests leaves little room for creativity, critical thinking, and other essential skills. Thus, there is a growing demand for alternative assessment methods that can more accurately measure students' knowledge and skills in various areas. These alternative methods may include project-based assessments, portfolios, oral presentations, and peer evaluations. On the other hand, some argue that traditional assessment methods are still essential and effective, especially in providing a standardized basis for measuring student achievement and identifying areas for improvement.
The crucial narrative underlies the fact that we as educators must equip our students with the necessary skill, knowledge, and abilities before their graduation in such a way that they become self-reliant and prepared for industry-based dynamics & requirements.
Benefits from Re-designing Assessment
Possible benefits that can be achieved by redesigning education assessment in India:
Better Learning Outcomes: By redesigning education assessment, it is possible to incorporate newer pedagogies and techniques which are more effective in promoting deep and meaningful learning. This will lead to the better academic performance of the students.
Reduced Exam Stress: Currently, the education system in India is highly exam-oriented, resulting in high levels of stress among students. Redesigning assessments will reduce the anxiety that arises due to long periods of study with a focus on rote learning.
Improved Teacher Training: With the redesign of education assessment, teachers will need to implement newer teaching methodologies requiring continuous teacher training across all levels of the education system.
Greater Focus on Holistic Development: Education assessments that assess various dimensions of a student's development- cognitive, social, emotional, etc. – will help in developing a more holistic approach to education that promotes the overall growth and development of the student.
More Efficient Evaluation: Newer assessment techniques such as adaptive testing or automated assessment will allow more efficient and accurate evaluation of student performance compared to traditional, pen-and-paper testing.
Alignment with the Industry: Redesigned assessments can be aligned with industry expectations, leading to higher employability of students post-graduation.
Improving Education Equity: By assessing each student's individual potential and performance, educators can identify underperforming students and devise strategies for their improvement, thus reducing educational inequity in the country.
Overall, redesigning education assessment would benefit not only the students and teachers but also the educational system as a whole, leading to better outcomes and progress in the long term.
Educational institutions all around the world envisage and plan for the holistic development of students, the re-designing of assessments along with the focus on long-term projects contribute to comprehensive development in the following stakeholders:
Students: An assessment based on the aforementioned factors paves a way for attaining clarity towards choosing a profession as students can better understand the practical aspect of each field. It helps them to acquire the requisite skill set applicable to a specific profession whilst aligning & improving their current knowledge & abilities. Technological involvement is an essential imperative in the modern world which becomes a key factor of the assessment process as it equips students with innovative thought processes & problem-solving approaches. For instance, a student who wishes to pursue Management or Business Administration after school must also be assessed on Microsoft Excel or Presentation. When students get acquainted with pragmatic situations they are overset to embark on the possible solutions this ultimately adds to higher confidence & commandability in young individuals. Furthermore, various activities forming part of the assessment catalyze greater associations within the industry.
Teachers: With the redesigning of assessment policies within the framework of schools teachers will be required to continuously develop themselves to ensure deeper insights into subjects. There will arise a need to correlate with multiple activities prevalent in diverse fields with respect to the subject matter, which further leads to the development of mentoring relationships among students and teachers. Furthermore, the teaching pedagogy would have to encompass various innovative and creative approaches toward the learning process making the teachers technologically updated.
Institution: For any institution upon its foundation creating a culture becomes essential similarly a redesigned framework of assessment involves various aspects of collaboration. For instance, an institution can collaborate on a service project with another institution. Further various academic organizations form Memorandums of Association or Understanding with different industrial organizations, for instance, the culinary club at school can develop an MOU with Restaurant for providing internship experience to its interested students. The students enjoy the learning process and outcomes turn out to be quite outstanding compared to traditional assessment adding to the goodwill of the institution. Lastly, a healthy and thriving atmosphere of learning & assessing attracts national as well as global attention thus increasing the accreditations and recognition of an academic institution. For instance, a good number of schools in India excel in innovative inventions & development, these inventions could possibly be patented or recognized by various governmental departments.
Nation: When assessments are designed to deal with theoretical as well as non-theoretical aspects they contribute to the creation of life skills & soft skills in students ultimately leading to the holistic development of young individuals. Practical assessment requires practical solutions where students take steps towards self-sufficiency and self-employment. These students during their learning hours get acquainted with tasks related to adversity or risk management which indeed is a quality that all individuals in society must learn & master. These little steps practiced, taught, and assessed in schools build citizens with high cognitive & logical abilities. Ultimately schools are a pathway to the world, when schools collaborate and associate, a chain of collaborative efforts gets set up throughout the economy and society, and students act as the most important resource for the growth & development of any nation.
Conclusion
Take a view from the eagle's eye and witness the outcomes of the traditional assessment system compared to that of the Re-Designed assessment system which is composed of a number of activities including up to a certain limit the pen and paper assessment approach as well. Uniquely the re-designed assessment policy is the need of the hour due to the great number of factors or alternatives it presents for assessment. Multiple factors are the key to recognizing student potential in different fields, in this way, the young potential is not discarded or set aside simply on the notion that a student has failed or lacks in one means of assessment. A popular quote as follows sums up the argument in favor of multiple assessments, being – "Everyone is a genius, but if you judge a fish by its ability to climb a tree, it will live its whole life believing that it is stupid." Further, a re-designed structure for assessment benefits not only students but teachers, parents, academic and industry institutions, and the country as well.
Author – Sushma Bhadauria, Founder Principal, CLC International School, Sikar, Rajasthan