JLF brings youth's favourite authors under one roof
The session of the authors known to have a huge fan following amongst the youth was a huge hit and saw a large number of footfalls, mostly the youth.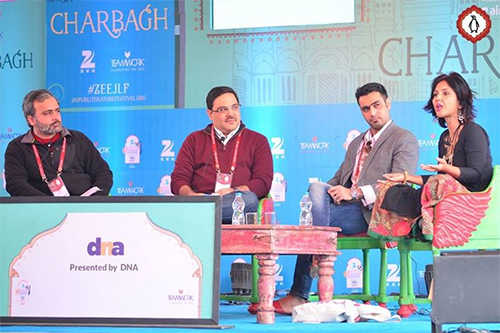 Zee Jaipur Literature Festival, a soul refreshing experience for avid readers, today had in presence Ravi Subramanian, Anuja Chauhan, Ravinder Singh in conversation with Arjun Singh. The session of the authors, each of whom have a huge fan-following among the youth, was a major hit and saw a large number of footfalls, mostly the youth.
The authors got together to discuss The Craft of the Bestseller, inspiring the youth, showing them a path towards bestsellers.
The session was hosted by Jai Arjun Singh, who threw various questions at the others. If you missed hearing your favorite author … no worries, we have a snippet for you.
Jai Arjun: What According to you, is a bestseller?
Ravinder: Best seller is a vague term for me. If a benchmark is being set for a bestseller then the book might touch that mark in many years.  And for a book to be a bestseller there are other deciding factors also, like debut author, cost and ofcorse the time factor.
For me … bestseller is a book that is sold on traffic signals and even the pirated copies are in demand.
Ravi : I was told by a publisher that if 2000 books are sold and goes for reprint then consider yourself successful author.
Cracking a joke, Anuja Chauhan replied saying, that if someone at a social gathering or wedding asks you what you do and you reply them that I am an author and asks your book name but still doesn't recognize you than that means you are not the author of bestseller.
Hearing Anuja Chauhan's answer everybody broke into laughter, the youth thoroughly loved the way their favorites took a jib.
Jai Arjun: Is there any formulae for bestseller?
Ravi: No.
But once a book of yours is hit … readers will follow them. Those authors who are successful are successful because they have their own style, own thoughts and they didn't copy anybody. And if your earlier book wasn't a bestseller don't copy anybody else … write what your heart feels like.
Jai Arjun: Anuja do you agree that once a book is hit, success follows? Don't you think each book is a new struggle?
Anuja: Yes … for me each book is a new struggle. And if the first one is a hit, then you are rather more burdened as you now have expectations laden on your shoulders. First novel is always the purest one.
'Purest' … this word reminded us of Ravinder Singh's first novel, which was purely a dedication to his deceased girlfriend… and here was Ravin, as his Girlfriend called him speaking his heart out.
Ravinder: I became an author by chance, before my first book I hadn't read any of the book, today I am an author by choice. I have immortalized a love story … one day when I am gone people will still be picking up by book and reading it.
Everybody's favorite author was received by much applauds from every hook and corner of the Charbagh.
Jai Arjun: Since you were not into reading, what was the logic behind that people will read you?
Ravinder: I grew up in a small town of Burla where we didn't have access to books, so I wasn't into the habit of reading, though I read newspapers on a daily basis.
Other than that when I started to write I just wanted to share my grief with people outside my family. In my mind, I just had 100-150 people to read my book.
The session also talked about how the authors even have to market their books to be brought them into light so when the session ended one of the aspiring author among the audience asked that should the new authors also focus on marketing?
Ravi: If you are writing a good book then why not market it to make it reach out to others.
Photo courtsey: Penguin India
Sarala Birla Gyan Jyoti honoured with prestigious 'Climate Action Project School of Excellence' Award
Only 250 schools globally were recognized because of their intense work on climate education in a whole-school approach. The recognition was awarded by Cartoon Network Climate Champions and Climate Action Project.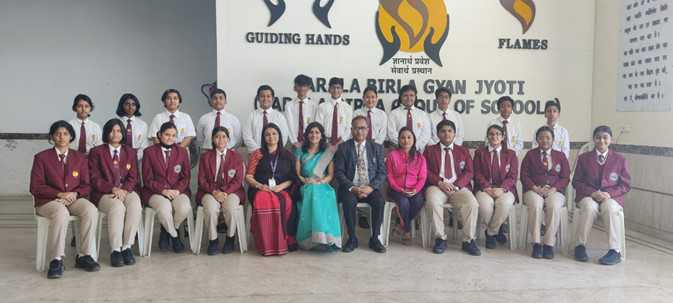 Sarala Birla Gyan Jyoti in Guwahati, India, was awarded the Climate Action Project School of Excellence. Only 250 schools globally were recognized because of their intense work on climate education in a whole-school approach. The recognition was awarded by Cartoon Network Climate Champions and Climate Action Project.
Cartoon Network Climate Champions is a climate change awareness initiative that sets out to inspire kids to take on daily challenges that collectively can make a big difference to the health of our planet. It has been developed in collaboration with WWF, a world-renowned environmental organization.
Climate Action Project is a free, global education project that was launched by Take Action Global, an education non-profit based in the USA, involving 2,700,000 teachers and students across 146 countries. The project aims to help students learn about the climate crisis in authentic ways and disseminate solutions online. The recognized schools submitted their work for the past year and met extensive criteria, including a school-wide commitment to climate education and student solutions.
Sarala Birla Gyan Jyoti has participated in global projects RiseUp4SDGs (India), Let's Be Human, Be One (Serbia), LeapEd Global Learning – Climate Change (Malaysia), the 17 Sustainable Development Goals competitions, implementing the three R's schoolwide and planting gardens in the community, at home and school. Students committed to training to become active Global SDG Ambassadors to raise awareness during virtual Student Hubs with 21 other countries. Students also actively collaborated with students in Brazil, Croatia, South Africa, Sweden and the UK in task-based projects. Currently, all Climate Change projects are student-led.
The selected 250 Climate Action Project Schools of Excellence were announced on 4 November 2021, during Climate Action Day, an annual online live event attended by 250,000 people globally. The event speakers included HRM Prince William, President James Alix Michel, Seychelles, Rick Davis, NASA, Matt Larsen-Daw, WWF, HRM Princess Esmeralda, Belgium, Juan Pablo Celis Garcia, UN Environment Programme, and other world leaders and climate scientists.
The winners were announced by Dan Russell, the voice actor behind several characters in Cartoon Network global hit series The Amazing World of Gumball, and Nandi Bushell, an 11-year-old musician, an influencer, and passionate climate advocate.
Statement by HRM Prince William "We need youth's creativity to repair our planet. We need students to invent and to innovate – to think beyond where we are now and to be optimistic about our future."
Statement by Koen Timmers, Climate Action Project: "Young people have the capacity to do more than learning about climate change. They all can come up with solutions, take small actions, and inspire others to change their lifestyles."
Statement by Dr. Jennifer Williams, Climate Action Project: "Our community of educators has come together in support of climate education for all. We are committed to ensuring students have access to information, ideas, and opportunities to take action for the planet, and, today, these Schools of Excellence are leading the way for the entire world."
Statement by Dr. Diganta Halder, Principal Sarala Birla Gyan Jyoti: "Stopping Climate Change has become a critical issue that needs to be addressed by every human being, but even more importantly in our schools. Students should be aware of Climate Action and the importance of achieving the goals set by the United Nations for peace and prosperity for all by 2030 and to become leaders of impact in the future."