Know the Tips to Top In Exams Straight From the Toppers
With peak exam preparation time round the corner and XII boards approaching in a couple of months, many aspiring students are worried how to crack their exams. So here's is what toppers have to say about best study techniques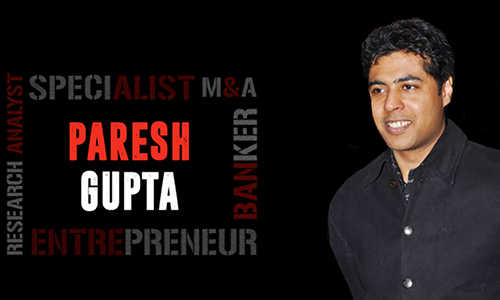 With peak exam preparation time round the corner and XII boards approaching in a couple of months, many aspiring students are worried how to crack their exams. So here's is what toppers have to say about best study techniques:
1. Don't sit for long hours– It is scientifically proven that sitting for long hours does not lead to good retention. Best way to study is to take breaks after every 30 minutes. The break may be small break like just going to the kitchen for  glass of water or just closing your eyes for 2-3 minutes. It is best to study in breaks but ensuring that the breaks are not too long.
2. Be relaxed, think more rather than sitting in front of the books: Toppers suggest that it makes a lot of sense to revise mentally than to keep the book open all the time. After finishing each chapter, close your eyes and revise mentally.
3. Visualizing Text: Scientifically proven that our brain does not function in terms of text but in terms of pictures. We all dream seeing visuals which means our brain processes pictures and scenes way better than characters and written text. An excellent tip is to create visuals, diagrams and scenes for the course you are studying rather than trying to remember text.
4. No Music Please: Many people claim to say that they can study best with music on, however, it is proven scientifically that music is always a distraction to concentrated studies. Our brain is always distracted by music and it takes longer for the brain to process and prioritize if music is on. Music can be used as a break time activity after every 30 minutes and that helps in better retention.
Now here are some special tips for Commerce Students aspiring to make it top colleges like Sri Ram College of Commerce:
1. Do not ignore English: Delhi University works on a best 3+ English model which means your XII percentage is not counted on absolute terms but as the score of best 3 subjects and English Score. Most students take English lightly which can be a make or break for Delhi University Admission Criteria.
2. Maths or No Maths: Those who have maths but still not performing well need not worry, as Maths can be excluded while counting best 3+ English criteria. So don't worry if maths is not your strong point you can still get the best college. Those not having maths will have to face a 2% reduction in overall percentage for DU admissions. Other universities like Christ or Mumbai University are still open.
3. Make special notes: Most toppers make special notes beyond classroom and coaching notes. This is the biggest differentiator for them. Try to create diagrams and special examples not generally found in books. This is the best way of scoring more marks.
4. No writing in the books: Studies have also shown that there is not much value if you write in your books. Instead, create special notes in a diary as reduced notes for last day revision.
5. Teach like a teachers: The best learning is when you teach others like a teacher. It is proven now that the best way to remember way subject is to teach it. Even if you do not have students, assume an empty class, get a white board and marker in your house and practice your course and you will come out as a topper.
To know more you may attend COMMERCE CLAVE on 27th of December at Science Park from 11:00 a.m to 2:00 p.m. An event where all toppers of India are coming and talking about their success stories.  Some key speakers include G Harishanker – All India 2nd Rank in CBSE and currently SRCC topper, Mr Pankaj Kabra with All India Rank 6 in CA CPT and 15 in  IPCC, Rajasthan State CBSE toppers like Vijay Katta, Aakash Agarwal and many more. The event will be counselled by Paresh Gupta – CBSE XII Rajasthan topper, SRCC Topper, MBA from London School of Business and Finance and Ex Investment Banker.
Sarala Birla Gyan Jyoti honoured with prestigious 'Climate Action Project School of Excellence' Award
Only 250 schools globally were recognized because of their intense work on climate education in a whole-school approach. The recognition was awarded by Cartoon Network Climate Champions and Climate Action Project.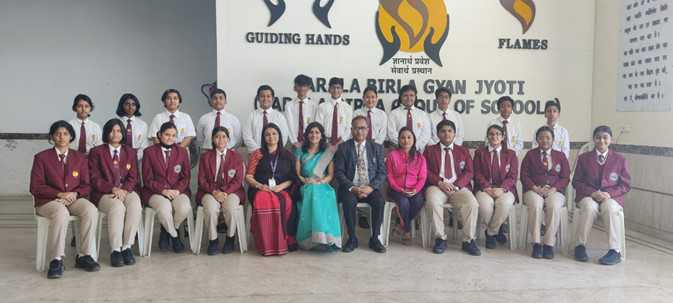 Sarala Birla Gyan Jyoti in Guwahati, India, was awarded the Climate Action Project School of Excellence. Only 250 schools globally were recognized because of their intense work on climate education in a whole-school approach. The recognition was awarded by Cartoon Network Climate Champions and Climate Action Project.
Cartoon Network Climate Champions is a climate change awareness initiative that sets out to inspire kids to take on daily challenges that collectively can make a big difference to the health of our planet. It has been developed in collaboration with WWF, a world-renowned environmental organization.
Climate Action Project is a free, global education project that was launched by Take Action Global, an education non-profit based in the USA, involving 2,700,000 teachers and students across 146 countries. The project aims to help students learn about the climate crisis in authentic ways and disseminate solutions online. The recognized schools submitted their work for the past year and met extensive criteria, including a school-wide commitment to climate education and student solutions.
Sarala Birla Gyan Jyoti has participated in global projects RiseUp4SDGs (India), Let's Be Human, Be One (Serbia), LeapEd Global Learning – Climate Change (Malaysia), the 17 Sustainable Development Goals competitions, implementing the three R's schoolwide and planting gardens in the community, at home and school. Students committed to training to become active Global SDG Ambassadors to raise awareness during virtual Student Hubs with 21 other countries. Students also actively collaborated with students in Brazil, Croatia, South Africa, Sweden and the UK in task-based projects. Currently, all Climate Change projects are student-led.
The selected 250 Climate Action Project Schools of Excellence were announced on 4 November 2021, during Climate Action Day, an annual online live event attended by 250,000 people globally. The event speakers included HRM Prince William, President James Alix Michel, Seychelles, Rick Davis, NASA, Matt Larsen-Daw, WWF, HRM Princess Esmeralda, Belgium, Juan Pablo Celis Garcia, UN Environment Programme, and other world leaders and climate scientists.
The winners were announced by Dan Russell, the voice actor behind several characters in Cartoon Network global hit series The Amazing World of Gumball, and Nandi Bushell, an 11-year-old musician, an influencer, and passionate climate advocate.
Statement by HRM Prince William "We need youth's creativity to repair our planet. We need students to invent and to innovate – to think beyond where we are now and to be optimistic about our future."
Statement by Koen Timmers, Climate Action Project: "Young people have the capacity to do more than learning about climate change. They all can come up with solutions, take small actions, and inspire others to change their lifestyles."
Statement by Dr. Jennifer Williams, Climate Action Project: "Our community of educators has come together in support of climate education for all. We are committed to ensuring students have access to information, ideas, and opportunities to take action for the planet, and, today, these Schools of Excellence are leading the way for the entire world."
Statement by Dr. Diganta Halder, Principal Sarala Birla Gyan Jyoti: "Stopping Climate Change has become a critical issue that needs to be addressed by every human being, but even more importantly in our schools. Students should be aware of Climate Action and the importance of achieving the goals set by the United Nations for peace and prosperity for all by 2030 and to become leaders of impact in the future."