Mahaveer Public School invites the IAF for Air Force Option Awareness Programme.
Mahaveer Public School organised the Air force Option Awareness Programme for its students where senior IAF personnel under the leadership of Captain V Rajasekhar interacted with the students and informed them about various career options in the Indian Air Force along with a briefing on different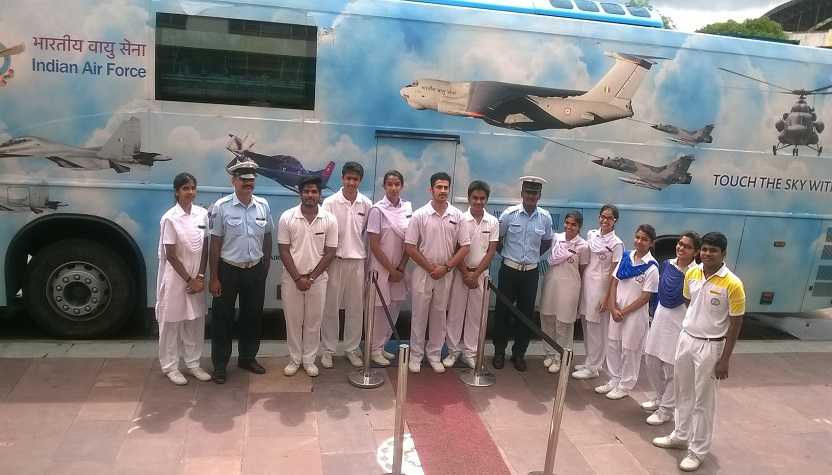 The students of Mahaveer Public School attended the Air force Option Awareness Programme where the students were not only informed about various career options in the Indian Air Force but also they were briefed about different fighter planes.
The Indian Air Force team arrived at the school under the leadership of Captain V Rajasekhar, Station Commander, Air Force Station Jaipur. He was welcomed with great fanfare. Mrs. Rashmi Talwar the school principal presented her welcome speech and expressed her gratitude to the air force team. She also told the students about the importance of armed forces for a country and its security.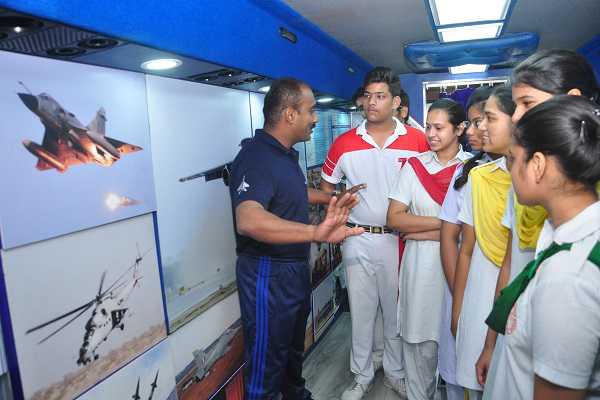 Later, Wing Commander AK Sharma, Air Headquarter representative briefed the students about various career option in all the 3 sections of the IAF like flying, technical and ground staff in detail with all the required qualifications and experience conditions. He told them what IAF offers the candidates in lieu of their services to the nation.
He also enlightened the students with different kind of aircrafts and fighter planes like MIG -29 with a speed of 2,445 kmph which plays the role of combating air patrol and fighter escort and Rafale which dominates the air, Advanced Light HPTR (ALH) used for light utility, combat search, logistic support, and finally about the Mirage 2000 which carries air to air 2X30 MM Cannon and 6XMICA BVR missiles. It was very exciting to know about all of them as the students came out with lot curious questions in the interaction session with him.
Later the students of Mahaveer Public, SMDJ were taken into a specially designed bus where the students learnt about the different exciting fighting techniques and planes about which they were briefed by Squadron leader Arun Kumar Nodal Officer, Flt.Lt. Michael and Flt. Lt. Kanav Kaushal. Mr. Sunil Bakshi, the school treasurer who was also present on the occasion to express his gratitude to them also enjoyed and had experience of flying a fighter plane in the bus.
The students were very excited and wanted to know more and more as many of them were also willing to join IAF. The specially designed bus for demonstration remained a big centre of attraction for the students.
The visit came to an end with the Principal Mrs. Rashmi Talwar thanking everybody from the IAF station Jaipur.
ASER2022 – The 'Asar (impact)' of the Pandemic
The ASER report shows the 'asar (impact)' of the pandemic and years of neglect of early years education.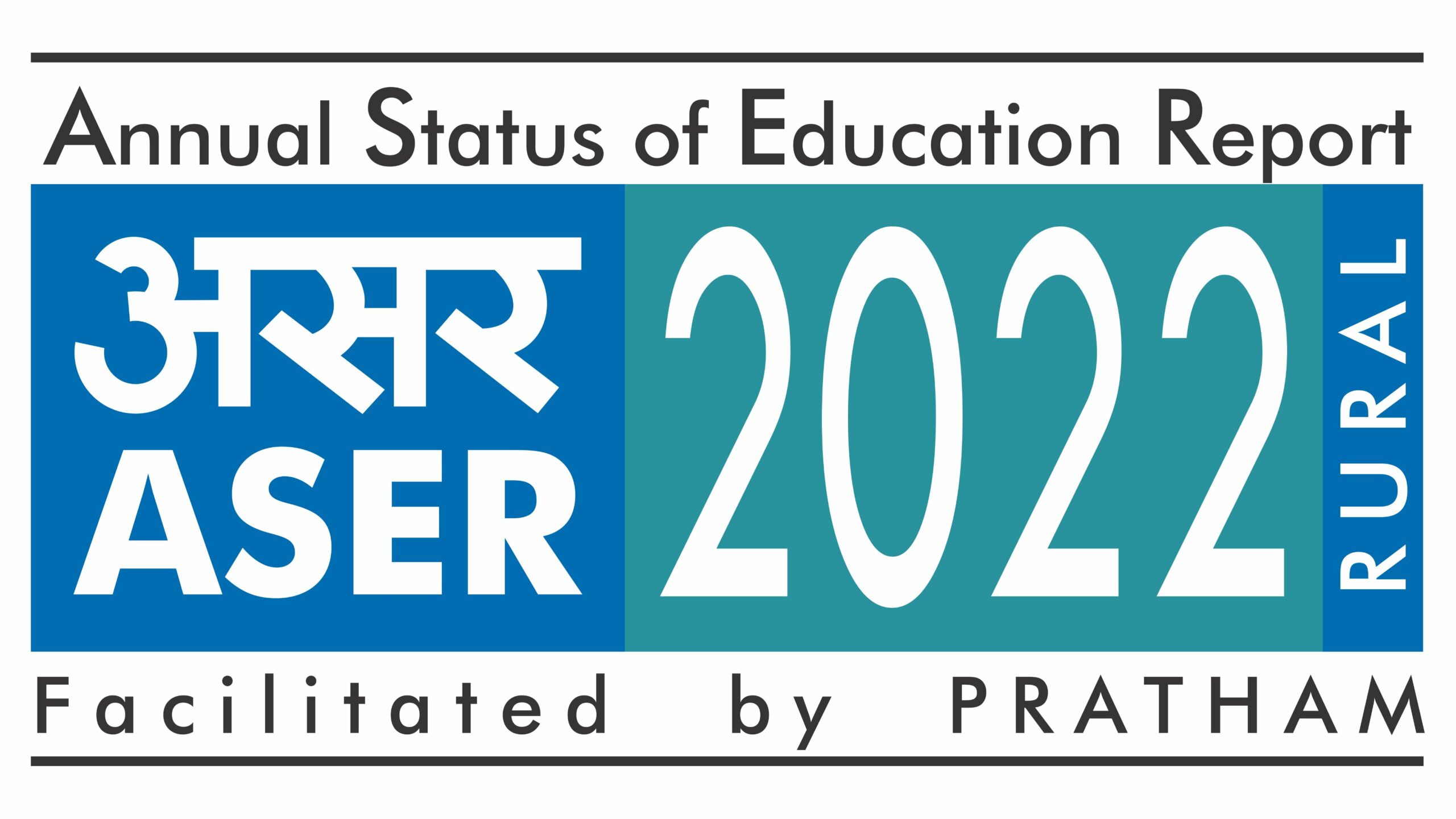 The ASER a very comprehensive report on education outcomes in government schools is out and as usual, the press is lamenting the fact of how children of grade 4 cannot do division or how children of grade 2 cannot read!
Well, what most journalists, parents, and policymakers do not understand is that till the foundation is weak, the building will always have cracks and be structurally unsound!
And that is exactly what is the problem with education in our country, which hopefully will now be rectified with NEP 2020 and NCF 2022.
Of course, children in grade 4 cannot do division, because these children were not taught numeracy skills in their early years. Of course, they cannot read in grade 2 because they were not given foundational literacy in their early years.
But let's focus on the positives in the report, page 27 talks about the early years, it states the following-
  The new education policy and its foundational stage emphasis– The impetus for integrating preschool and school education took another giant step forward with the release of the National Education Policy, or NEP, in 2020. This new policy did three things simultaneously: it acknowledged the vital importance of early childhood education, elevated it to the status of school education, and integrated it into the continuum of educational opportunities offered to children. It did this by envisioning age 3-8 as a single integrated 'foundational' stage in a child's education, consisting of 3 years of pre-primary education and the first two years of primary school. This stage would offer a continuum of access, to be provided by expanding and strengthening the existing network of standalone AWCs, co-located AWCs, and pre-primary classes in schools; as well as a continuum of learning opportunities, to be achieved by developing a new curricular and pedagogical framework for the foundational stage.
  Enrolment of 3- and 4-year-olds increased – Many observers expected that after remaining closed for such a long period, children and their families would find it difficult to return to school, resulting in higher dropout rates and lower enrolments in educational institutions. An important finding that emerges for all age groups, including the youngest learners, is that this is far from the case.
  Shift from private to government, especially in early years-ASER 2022 enrolment data shows a shift from private to government institutions at all levels of schooling, unsurprising given the loss of livelihoods and financial distress experienced by households during the pandemic as well as the reported closure of many low-cost private schools. This pattern is visible among young children as well.
  Stress on the appropriate age of entry to grade 1-Major national policy documents – the Right to Education Act (2009), the Early Childhood Care and Education policy (2013), and the National Education Policy (2020) all reiterate that children should enter Std I of primary school at age 6. However, on the ground, institutional guidelines for what 5-year-olds can do vary both by the state as well as by type of institution. For example, ICDS Anganwadis offer preschool education to children in the 3-6 age group, while many state governments allow children to enter Std I at age 5. These ambiguities have resulted in 5-year-old children being enrolled in many different forms and levels of educational provision
It is clear from the above that if the focus, as defined in the NEP 2020, is given on the early years, 3-6 years then the learning foundation will be strengthened, and to do that all states need to do the following-
Uniform age of entry to grade 1 and nursery– Ensure that the age of entry to grade 1 is 6 and above and not 5. Sadly most of the states take children at age 5 in grade 1 and that robs them of a strong foundation in ECE and Foundational Literacy and Numeracy.
Ensure that Anganwadis are linked with the schools, so that transition is smoother both in settling and curriculum, this is clearly envisioned, planned, and detailed in the NEP 2020 with Balvatika and the new 5+3+3+4 age breakup, where 3 years of preprimary and 2 years of primary are clubbed together. But only 23 states have accepted the NEP 2020!
Train the teachers– Presently the Anganwadi teachers do not get training about ECE, they are involved in care, nutrition, health, election, and many other duties. The NEP 2020 has given a plan for teacher training too and it will soon be implemented. With trained teachers, children will learn in developmentally appropriate ways and then the ASER report would have more positives to celebrate.
ASER is always a wake-up call to our governments, SCERT, and policy makers, it's time that we wake up and implement the right age, curriculum, and teacher training in the early years to become a country that invests in its littlest citizens.
The author is Dr. Swati Popat Vats, a child rights activist with over 33 years of experience in early years education and research. She serves as President of Early Childhood Association and Association for Primary Education and Research. She leads over 500 preschools of Podar Education Network that are completely in line with NCF 2022 and FLN goals.