Maker Space resources and information for educators to facilitate Project-based learning and Design Thinking
Tinkering is a powerful form of 'learning by doing'. Real science and engineering is done through tinkering. We owe it to our children to give them the tools and experiences that actual scientists and engineers use, and now is the time is to bring these tools & learning opportunities into classrooms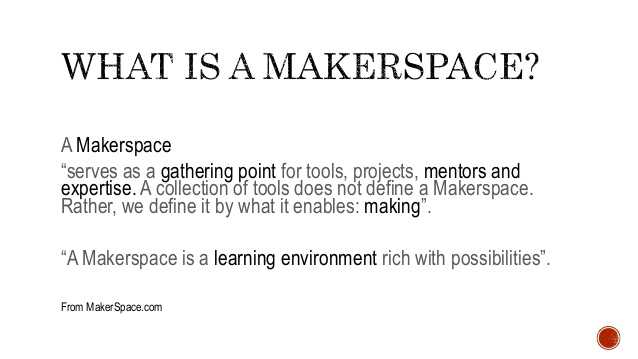 What is the Maker Movement?
Whether you have never heard of the Maker Movement or are wondering what all the fuss is about, thisarticle will help clarify and inspire you to create your own Makerspace. These searchable terms all connect to the Maker Movement: DIY Makers, FabLab, Hacker Space, Hacker Movement, Library Laboratories, Library Makers, Maker Classroom, Maker Projects, Makerspace, Maker Tools, Maker Space, Maker Program, Maker Kids, Maker Works, Maker Faire, Maker Educator, Maker Teacher, Maker Education, Maker Store, Makerbot, Recycle Shop, Studio, Tinkering, Tinker Studio, Tinkering Space, TechShop and Workshop.
The primary promoter of the Maker Movement is Dale Dougherty; when he launched Make Magazine in 2005 he sparked a worldwide Maker Movement.
What do you do in a Maker Space?
The simple answer is you make things. Things that you are curious about. Things that spring from your imagination. Things that inspire you and things that you admire. The informal, playful atmosphere allows learning to unfold, rather than conform to a rigid agenda. Making, rather than consuming is the focus. It is craft, engineering, technology and wonder-driven.
"Tinkering is a powerful form of 'learning by doing'…Real science and engineering is done through tinkering. We owe it to our children to give them the tools and experiences that actual scientists and engineers use, and now is the time is to bring these tools and learning opportunities into classrooms" (Martinez and Stager, 2013). Project Based Learning "leads to deeper understanding for students…because kids are working on things they care about, and when they do that, they are empowered to really make a difference" (The Journal, para. 6).
How do I get started with "Making"?
A great starting place might be to look at some of the links we have included below to get some ideas:
"Instructables is place that lets you explore, document, and share your creations", as stated on their site. Anyone could upload their own creations and show people how they did it. You can learn from others on how they built their own solar-powered bicycle to how to get a free yacht! The most popular DIY projects are about electronics, practical homemade tools and gardening.
Instructables started off at the MIT Media Lab as the future founders of Squid Labs built places to share their projects, connect with others, and make an impact on the world. Instructables was officially spun out of Squid Labs in the summer of 2006, and has gone on to grow from a modest hundreds of projects to over one hundred thousand. The community that now calls the site home, is an amazing mix of wonder from around the world. Every day we continue to be amazed by the imagination, curiosity, and simple awesomeness of everyone who shares their creations with us on Instructables.
Makezine is a great place to start with ideas and projects for your Maker Space. We suggest checking out the projects area to get some ideas. While many of the projects are prescribed you may wish to find some ways to open up ideas for thinking outside the box and providing for innovation. Explore the different areas including science, electronics, art, and design.
The Exploritorium Tinkerer Collection
Tinkering is another word for Making, you may wish to introduce your students to some amazing Tinkerers and the occupations that surround them. It is fun to see what your students can Make of it!
Do It Yourself is a platform for students to discover skills and share what they make and do with each other and the global community. Teachers can explore skill-based learning and introduce collaboration into your classroom. Visit this website to discover ways to blend the DIY Skills platform into the core curriculum, or let students explore new subjects while practicing skills and Making.
Maker Camp presents an opportunity for students to join other young inventors and artists from around the world on Google+ to make awesome projects, go on epic virtual "field trips," and meet the world's coolest makers. You will find that Maker Camp inspires kids ages 13-18 to embrace their inner maker, get their hands dirty, fix some things, break some things, and have a lot of fun doing it. Everything is archived so all lessons and projects will be available at Maker Camp even after the summer so you and your students can Make all year long.
We hope you found this information interesting and worth using in your classroom, school and other educators. As always , we invite you to share your feedback and suggestions on [email protected]. To ensure you do not miss a future article or other resource covering Education, Education Technology, STEM, 21st century learning, and current educational news items, please follow us on Facebook & Twitter – @ScooNews.
Have a great weekend and get started Making!
Image courtesy – MakerSpace.com
5 Computer Exercises You Can Teach Your Students in School for Better Computer Literacy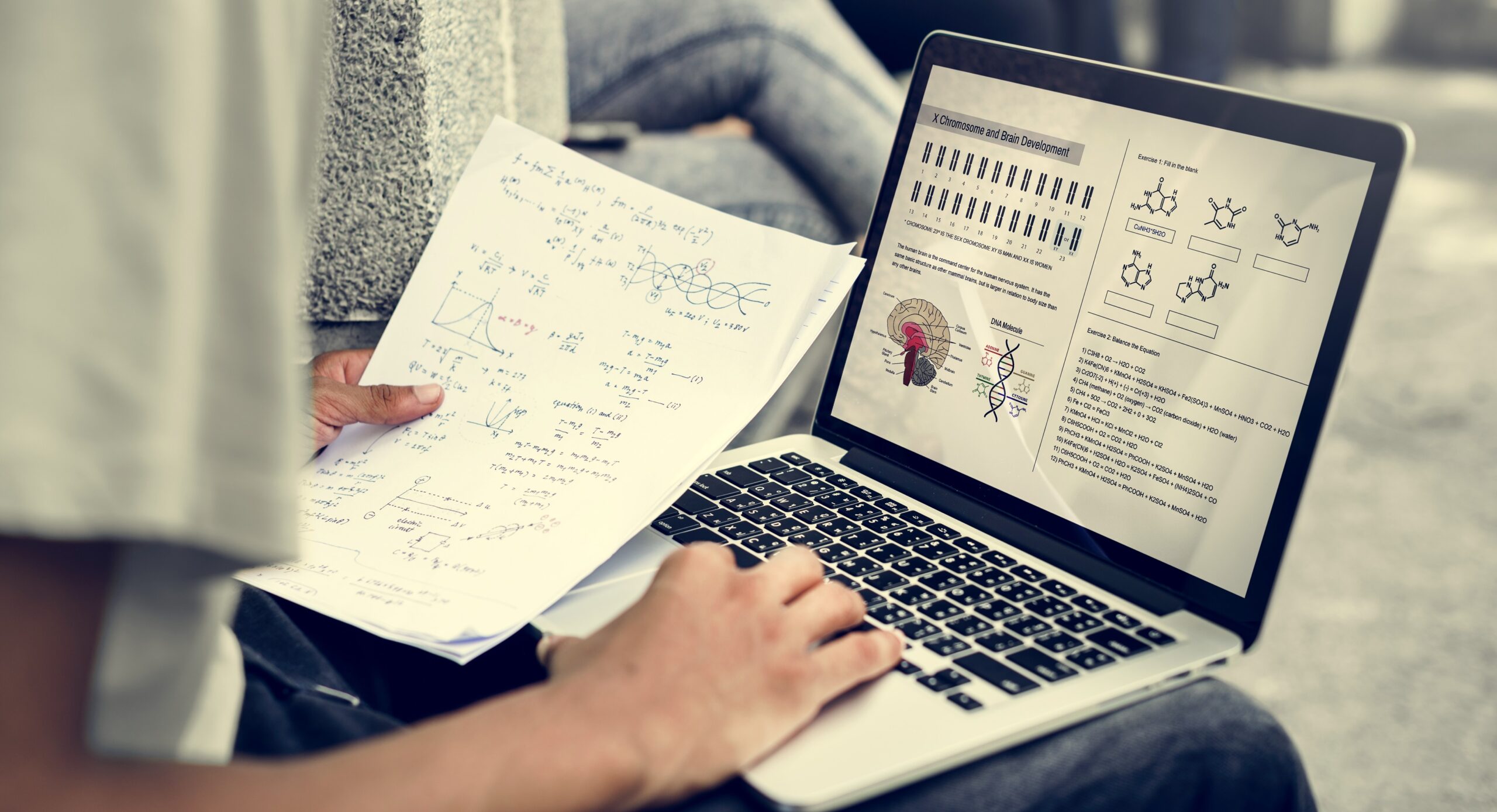 As the world observed Computer Literacy Day this past Saturday, December 2nd, we must discuss how Indian schools can take proactive measures to enhance computer literacy among students.
Computer literacy is the ability to use computers and related technologies effectively and efficiently. It is a vital skill for children to learn today, as computers are ubiquitous and indispensable in almost every aspect of life. Here are some reasons why computer literacy is important for children to know:
Cyberbullying and cybercrimes: As more and more children use the internet and social media, they are exposed to the risks of cyberbullying and cybercrimes, such as harassment, identity theft, fraud, and hacking. Computer literacy can help children to protect themselves from these threats, by teaching them how to use online security tools, such as passwords, antivirus software, and encryption. It can also help them to recognize and report cyberbullying and cyber crimes, and to seek help and support when needed.
Artificial intelligence (AI): AI is the technology that enables machines to perform tasks that normally require human intelligence, such as learning, reasoning, and decision-making. AI is transforming various fields and industries, such as education, health care, entertainment, and transportation. Computer literacy can help children to understand and interact with AI, by teaching them how AI works, what its benefits and limitations are, and how to use it responsibly and ethically.
School curriculum and career opportunities: The school curriculum and the job market are increasingly demanding computer literacy skills, such as coding, web design, data analysis, and media creation. Computer literacy can help children to excel in their academic and professional pursuits, by teaching them how to use various tools and software that are relevant and useful for their learning and work. It can also help them to explore and discover new interests and passions, and to develop their creativity and problem-solving skills.
However, many schools are behind in teaching students about actual tools and software that they must know. They are only taught the basic HTML, MS Office, and some redundant software which are now becoming obsolete. They must teach students beneficial software and exercises, such as:
Coding basics: This exercise introduces students to the fundamentals of programming, such as variables, loops, functions, and logic. Students can use online platforms such as Code.org, Code For Life, Microsoft MakeCode, Machine Learning for Kids, or Scratch, these are free-to-use tools available to create interactive games, animations, and stories using block-based or text-based coding languages.
Web design: This exercise teaches students how to create and design their websites using HTML, CSS, and JavaScript. Students can use online editors such as Codemoji, Weebly, Adobe Express, Google Sites, and WordPress.com to write and run their code and see the results in real-time. They can also learn from tutorials and examples on YouTube.
Media creation: This exercise encourages students to express their creativity and communication skills through digital media, such as images, videos, and podcasts. Students can use online tools such as Canva, Pixlr, Storybird, Padlet, and Tellagami, to edit and create images, WeVideo or Animoto, VN or Photogrid to edit and create videos, and Spotify, Anchor or SoundTrap to record and produce podcasts. They can also share their media creations with their peers and teachers on online platforms.
Online research: This exercise trains students to find and evaluate information from various online sources, such as search engines, databases, and websites. Students can use online tools such as AI Tools named Bing or ChatGPT to search for information on different topics, Google Scholar or Zotero to generate citations and references, and Grammarly to check and improve their writing.
Digital citizenship: This exercise educates students about the ethical and responsible use of technology, such as online safety, privacy, and cyberbullying. Students can use online resources such as Common-Sense Education or The Achievery to learn about the best practices and guidelines for being a good digital citizen. They can also participate in online discussions and activities that foster digital citizenship skills and awareness.