Ministry Of Education Issues Guidelines For Identification, Admission And Continued Education Of Migrant Children
In order to ensure that school-going children have access to education with quality and equity and to minimize the impact of the pandemic on school education across the country, the Ministry of Education has prepared and issued detailed guidelines on steps to be taken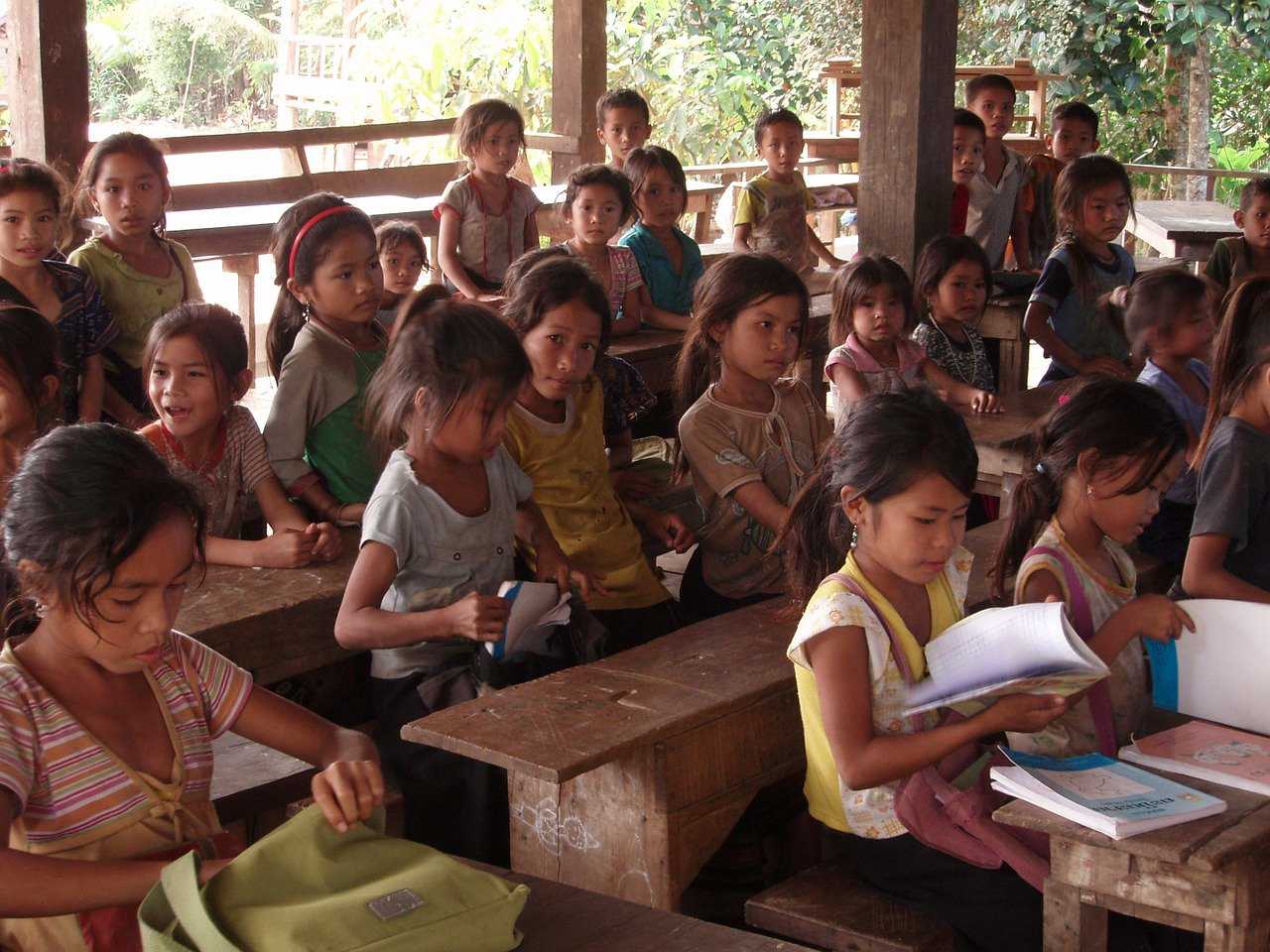 In order to mitigate the impact of challenges thrown by the COVID-19 pandemic for out of school children, it was felt necessary for every State/UT to devise a proper strategy for preventing increased dropouts, lower enrolments, loss of learning and deterioration in the gains made in providing universal access, quality and equity in the recent years.
Thus the Ministry of Education had issued guidelines for identification, admission and continued education of migrant children.
In order to ensure that school-going children have access to education with quality and equity and to minimize the impact of the pandemic on school education across the country, the Ministry of Education has prepared and issued detailed guidelines on steps to be taken by the States and UTs during school closure and when the school re-open.
The main features of the Guidelines are :
A. Continued Education for Out of School Children (OoSC) and Children with Special Needs (CWSN)
Continuation of non-residential training for identified Out of School children through volunteers, local teachers and community participation.

Continuation of home-based education for CWSN children through Volunteers/ Special Educators.
B. Identifying Out of School Children
States and UTs to carry out proper identification of OoSC for 6 to 18 years age group through a comprehensive door to door survey and prepare an action plan for their enrolment
C. Enrolment Drives and Awareness Generation
Enrolment drives may be undertaken at the beginning of the academic year such as Praveshotsav, School Chalo Abhiyan etc.

Undertake awareness generation among parents and community for enrolling and attendance of children

Create awareness on practising 3 Corona appropriate behaviours – wear a mask, six-feet distance and washing hands with soap for which IEC material shared on 06.11.2020 with the States & UTs.
D. Student Support while Schools are closed
Students to be provided support including counselling, large scale awareness & targeted home visits

Using Manodarpan web portal and tele-counselling number for counselling services and psycho-social support.

Distribution of educational material and resources, supplementary graded material, workshops, worksheets etc to support home-based education

Exploring option of the classroom on wheels and classes in small groups at the village level

Increasing the access of children to online/digital resources, TV Radio etc. to reduce learning loss

Ensuring easy and timely access to the provisions of uniforms, textbooks and MDM

Timely disbursement of stipend to enrolled CWSN girls through DBT

Strengthening of Child protection mechanism at the local level
E. Student Support on School Reopening
Preparation and running of School readiness modules/Bridge course for an initial period when the schools re-open so that they can adjust to the school environment and do not feel stressed or left-out.

Identification of students across different grades based on their learning levels

Relaxing detention norms to prevent drop out this year.

Ensuring reading with comprehension and numeracy skills by encouraging children to read books beyond the syllabus and creative writing & problem-solving.

Large-scale remedial programmes/Learning Enhancement programmes to mitigate learning loss and inequality.
F. Teacher Capacity Building
Effective utilization of the online NISHTHA training modules and online training module for Corona responsive behaviour to be launched on DIKSHA portal soon.

Use of alternative Academic Calendar prepared by NCERT for joyful engagement of children in learning.
During A National Consultation Discussions Were Conducted For Class 12th Exams & Entrance Exams
Education Ministry with other significant departments of the Indian government will come to a conclusion soon regarding the 12th Board Exams & Professional Entrance Exams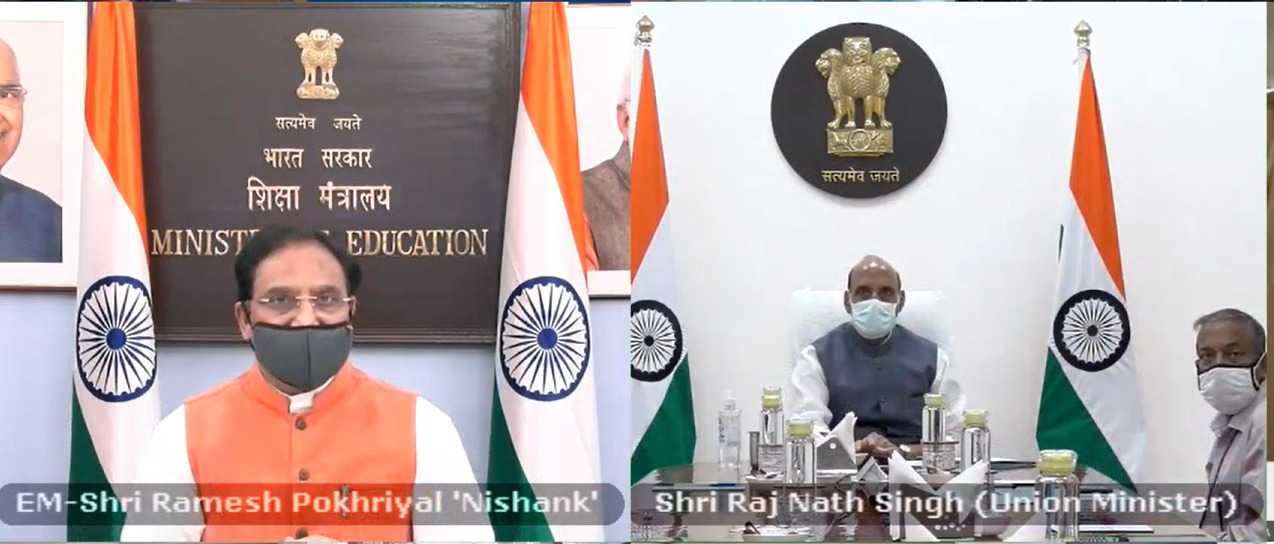 A national consultation was arranged on 23 May 2021 by the Ministry of Education, Government of India with the Education Ministers and Administrators of all States and UTs. The consultation was chaired by the Union Defence Minister Shri Rajnath Singh and was attended by Union Education Minister Shri Ramesh Pokhriyal 'Nishank', Union Minister for Women and Child Development and Textiles, Smt. Smriti Zubin Irani, Union Minister for Forest, Environment and Climate change and Information and Broadcasting, Shri Prakash Javadekar and Minister of State for Education Shri Sanjay Dhotre. Secretary, Higher Education Shri Amit Khare; Secretary, School Education Smt Anita Karwal and senior officials of the Ministry also attended the meeting.
I thank all the Hon'ble Chief Ministers, Education Ministers, and officers associated with the world's largest education system for participating in the high-level meeting chaired by Hon'ble Minister of Defence Shri @rajnathsingh Ji. pic.twitter.com/i4e8p5lH90

— Dr. Ramesh Pokhriyal Nishank (@DrRPNishank) May 23, 2021
While opening the forum for discussions, the Minister for Education, Shri Ramesh Pokhriyal"Nishank' expressed his gratitude to the cabinet ministers from the Government of India who attended the meeting on 23 May 2021, for their extensive support in the preliminary discussions leading to this consultation and for remaining present in the meeting. It may be mentioned that a high-level meeting was held on 21 May 2021 under the chairmanship of the Prime Minister with nine Union Cabinet Ministers and senior officials to discuss about the conduct of Board exams for Class XII and All India Entrance exams. The Minister expressed his gratitude to Defence Minister Shri Rajnath Singh for giving his time and valuable suggestions relating to the exams. He thanked the Union Minister for Women and Child Development, Union Minister for Information and Broadcasting, Minister of State for Education for attending the meeting. The Minister of Education also expressed commitment towards the safety and security of children as the first priority of the Government of India. The Minister said the entire country has come together to ensure the safety and academic welfare of the students and the smooth functioning of the education system. He said that despite challenges posed by Covid-19, the Government has left no stone unturned to successfully bring education to online mode. He said that the homes were converted into schools.
The Minister discussed the importance of the Class XII Board exams and the All India Entrance exams in shaping the future and defining the careers of students. The Minister said keeping in view the present circumstances we decided to cancel the CBSE Board examinations of Class X and evaluate through internal assessment but Class-XII examinations are very important to decide the future of a student.
He said that this meeting was called to enable Central and State Boards and other examination agencies to be able to examine various options available in the present challenging circumstances through a consultation process. Shri Pokhriyal assured that the deliberations with all stakeholders in the meeting on 23 May 2021 will help in reaching a suitable decision on exams in the interest of all the students and ensuring a bright future for our children.
The discussions were held around two themes, i.e, board exams to be conducted for Class XII by the Central Board of Secondary Education and other State Boards and the All-India Entrance examinations for various higher education institutions and professional courses. Various options regarding the methodology, process, duration and timings of the exams were discussed. While a broad consensus was there, however, it was decided that States and UTs may like to further examine the matter and send their feedback in writing by the 25th of May,2021.
The meeting was attended by Chief Minister of Jharkhand and Goa, Deputy Chief Minister of Uttar Pradesh and Delhi and State Education Ministers, State Education Secretaries, Chairpersons of Examination Boards, Administrators of Union territories, Secretaries of Higher Education Department and School Education Department of Government of India, Chairman CBSE, UGC and AICTE, DG NTA and several other officials.
While summing up, Union Defence Minister, Shri Rajnath Singh thanked all the participants for putting forth their positive suggestions on the proposals for conducting examinations. He requested States and UTs to submit other suggestions, if any, to the Ministry of Education by this Tuesday i.e. 25th May. The Ministry will consider all those suggestions and take a final decision soon, he added. He reiterated that the priority of the Government is to conduct all the examinations in a safe and secure environment.
Earlier on 14th April, the Central Board of Secondary Education had notified that Class XII exams have been postponed and that further information with regard to Class XII board exams would be given to students by the 1st of June. In this context, following the consultative meeting with the States and UTs on 23 May 2021, the Government of India will examine the suggestions received from the various State Governments this week and convey further information in this regard to the students by or before the 1st of June 2021.