Nashik parents again protest against 'irrational' demands of schools
Fed up of the constant alleged harassment by schools, parents on Saturday organised a rally and went to the deputy director of education asking him to intervene demanding strict action be taken against such schools.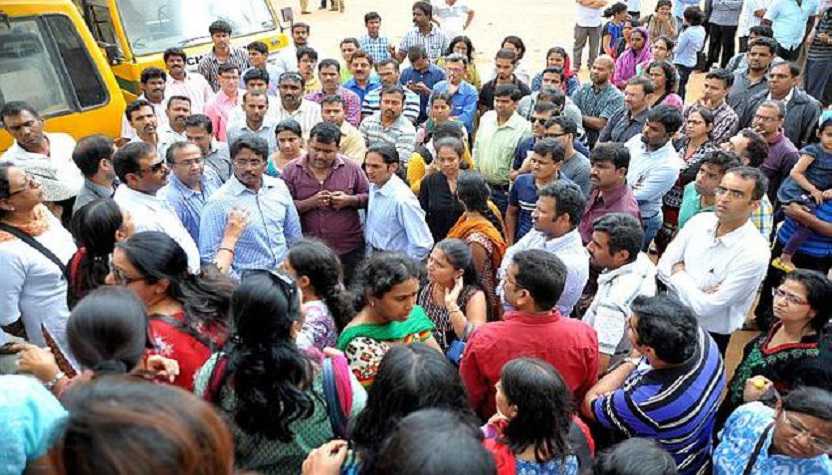 With the pleasant showers of rain, the new academic year has begun and so have the parents' complaints against private English medium schools. Parents say that the schools are making 'irrational' demands under various heads for increased school fees and directing to buy uniforms and study material from only a particular shop at elevated prices.
Having had enough of the constant alleged harassment at the hands of schools, parents on Saturday participated in a rally and headed to the deputy director of education seeking his intervention in the matter demanding that the civic education officer take strict action against such schools. It should be noted here that this isn't the first time the parents have agitated on this topic. This year a similar rally was organised in April – May.
"The school authorities have asked us to buy children's uniforms from only a specific shop at Shalimar. According to them, there is a variation in the colour of the uniforms in other shops. But the particular shop recommended by the school sells the uniforms at higher rates. We could also buy the cloth and get the uniform stitched, but the option has not been given to us," said Mugdha Pande, a parent who did not wish to name the school. Her children study in a reputed convent school in the city.
"Fees are charged under the head of miscellaneous activities the details of which the school refuses to divulge," said Rajput, another parent. Vishal Jadhav, an aggrieved parent, pointed out that schools increase the tuition fees every year by 15-35%. "This is illegal. I have changed 2 schools but every institute charges hidden costs or levies whopping rise in fees," said Jadhav.
The parents' major grouse is that the education department has not been monitoring the 'irrational' charges and other compulsions levied by schools. Besides, children whose parents dared to protest against the injustice were not treated well.
Milind Wagh, secretary of NGO Forum Against Commercialisation of Education (FACE), said, "Parents registered all the complaints, along with the required proofs and documents, to the education officer. They also spoke about the compulsions they are required to make as per the school rules."
Losing no time, the education officers and the deputy director of education issued letters to the schools concerned. Administrative officer of the Nashik Municipal Corporation's (NMC) education department Umesh Dongre said that he has issued circulars to the schools in this regard and also conducted a meeting with the headmistresses.
"On May 30, we conducted a meeting with the headmistresses of all the schools and asked them not to charge extra for activities or compel parents to buy uniforms or study material from a particular shop; to which the latter replied that they had not made any such compulsions on the parents. In case they come across such discrepancies, parents should complain to us and they refuse to buy uniforms and other academic material from specific shops or the school. Unless parents complain to us we cannot take action."
He further said that since parents wanted to file plaints unanimously, the education department could hardly do anything in such cases. The department has also given a letter to FACE asking the NGO to create awareness among parents to refuse buying school material from specific places recommended by schools. FACE's Wagh said, "We take action against erring schools by issuing letters. The government officials should penalise such schools."
The education department said it would be issuing letters to the schools and conduct a workshop with them on the Fee Regulation Act.
Smile Foundation and Shell Launch STEM Project on Pi Day
The initiative will benefit less-privileged students from government schools.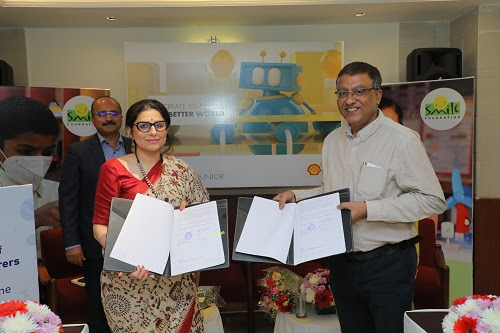 On the occasion of International Pi (π) Day, Smile Foundation and Shell launch 'NXplorers Junior' programme in three Indian states. NXplorers is Shell's global flagship Social Investment STEM (Science, Technology, Engineering, and Mathematics) educational programme aims to benefit over 25,000 children during the first year by enabling them to understand, navigate and address local and global challenges, as underlined in the Sustainable Development Goals (SDGs). NXplorers is also aligned with the National Education Policy 2020 and delivers societal benefits.
The innovative initiative will benefit less-privileged students from government schools and affordable private schools, studying in rural and hard-to-reach areas in the states of Andhra Pradesh, Telangana and Kerala. Its design also includes endeavour to create awareness amongst parents on the importance of STEM education, especially for girl children.
"Shell firmly believes that, provided with the necessary skills and guidance, young people can be a driving force to find sustainable solutions to the major global challenges of our time. Launched in 2018, Shell's global flagship STEM programme NXplorers is aligned with the National Education Policy 2020 that aims to transform India into an equitable and vibrant knowledge society. With the Smile Foundation partnership, we aim to expand this programme to Andhra Pradesh, Kerala, and Telangana and offer young minds the platform to design sustainable solutions to ease the pressure on food, water, and energy," said Ms. Latika Taneja, Head of Corporate Relations – India.
The programme is being rolled out in concurrence with the educational authorities of the respective state governments. Besides students, teachers, parents and communities are involved actively while implementing the programme so that it remains sustainable in the long-term.
"We are excited to roll out this innovative programme in India. We are hopeful that our children will not only leverage STEM education in building their future career but also will grow up and develop leadership ability in finding sustainable solutions in various walks of life," said Mr. Santanu Mishra, Co-founder & Executive Trustee, Smile Foundation.
The NXplorers Juniors will train both 6th and 7th grade students. NXplorers Juniors Level-I course will be delivered through a combination of teacher's guide, PowerPoint slides, and several instructional videos. The facilitator guide will outline the essentials to be covered in each session, exercises, discussion, checkpoint questions, a summary, assessment, and research to be undertaken by students after the session.
The United Nations Sustainable Development Goals (SDGs), exploring SDG Solutions, researching global goals, and developing a challenge and choosing a solution etc. are covered in the NXplorers Juniors Level-1.
NXplorers – Learning for a Life Time, envisions to provide a minimum of 3-5 years of NXplorers exposure to the students at various levels. The objectives include developing strong knowledge and skill set among students so that local and global challenges can be addressed by them. Developing sustainable models of implementation by engaging teachers, school leaders and communities effectively, creating awareness amongst parents regarding the importance of STEM education, especially concerning girl education are part of the overall goals.
About Smile Foundation
Smile Foundation is a national development organization directly benefiting over 1.5 million underprivileged children and their families every year through more than 400 welfare projects in education, healthcare, livelihood and women empowerment spread across 2,000 remote villages and urban slums in 25 states of India.
About Shell
Shell is one of the most diversified international energy company in India with over 10,000 employees and presence across upstream, integrated gas, downstream, renewable energy, and deep capabilities in R&D, digitalisation, and business operations; with a retail presence across six states – Karnataka, Tamil Nadu, Telangana, Maharashtra, Gujarat, and Assam.