National Convention of Student Volunteers Under Digital Financial Literacy Campaign – Visaka Gets a Colourful Start
A National Convention of Student Volunteers under Digital Financial Literacy Campaign by Ministry of Human Resource Development, Government of India today began here in New Delhi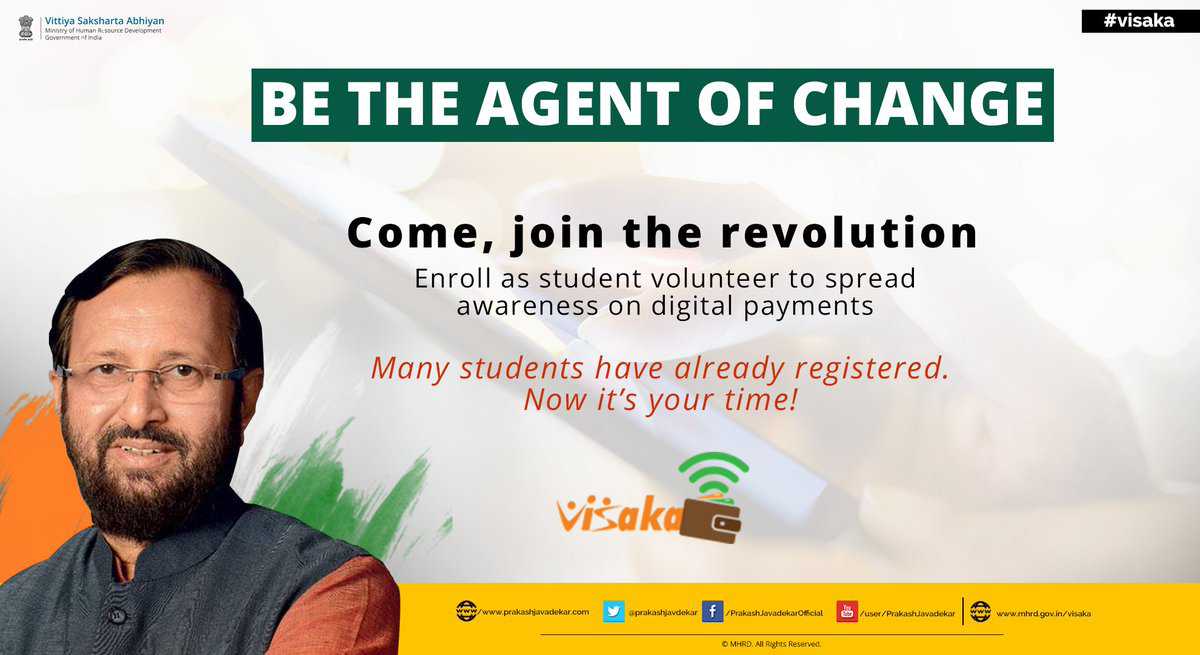 Digital Finance Literacy Campaign is for Curbing Corruption and Black Money – Prakash Javadekar
A National Convention of Student Volunteers under Digital Financial Literacy Campaign by Ministry of Human Resource Development, Government of India today began here in New Delhi .
Speaking on the occasion Union Human Resource Development Minister Shri Prakash Javadekar called upon Student Volunteers under Digital Financial Literacy Campaign by his Ministry to work whole heartedly for the wide spread dissemination of the Ideas of Prime Minister on Digital Economy so that the resources of the nation could be utilized in a transparent manner.
Youths are the Soldiers of Change – Prakash Javadekar
The Minister congratulated the volunteers for their laudable efforts and said going digital is the need of the hour as in comparison to Developed countries where GDP's 4% Component is in currency, we have 12% component of currency in our GDP and hence we need to change to Digital mode. He said going digital will help boost our economic stability with definite availability of funds for the welfare of masses at large, especially the poor and needy population. It will also result in net tax collection and resources. Today there are 77 crore Debit Cards available for digital transactions. He said wide spread awareness should be generated across the country, Shri Javadekar added. He said till now nearly 4.30 lakh volunteers have been registered who have started educating masses across the country and so far under this campaign we have covered 20 lakh households. The Minister asked the volunteers to work during the post examination holidays for publicity of this scheme. He said The Prime Minister has set a target of 2500 crore digital transaction, in the year 2017 and this is 100% achievable. He said this campaign is dedicated to you.
Digital India is for Empowering the Country – Ravi Shankar Prasad
In his address Shri Ravi Shankar Prasad, Union Minister for Electronics & Information Technology and Law & Justice said that if anyone desires of getting connected with the rest of the world, he will have to get attached with Facebook and Twitter. Shri Prasad said, now in our population of 125 crore we are having 105 cr + Mobile Phones, 112+ crore Aadhaar Cards, 35 crore + smart phones and 50+ crore Internet Connections.. He said Digital literacy campaign is intended to make India honest, digitally empowered and digitally united. He said this campaign is meant to change India. He said we have trained nearly 02 crore persons in digital transactions during three months and in 2017 we are expecting over 05 crore persons trained in digital transactions.
The Minister also informed of the scheme of Lucky draws for common masses and the shop keepers as well as the business community. He said digital India is for empowering the country. He said the rest of the world is now amazed of India's Digital Power. Shri Prasad said 72 Mobile Manufacturing Companies have ventured in India. He said Govt. schemes need money and as much as we go digital, we will more money in a transparent way because then there will be fair collections. He cited Finance Ministers Union Budget Address in which he had said that out of 125 crore persons only 3.5 crores file income tax returns. He also said that of the 10 lakhs companies registered only 13 thousand companies show their income above Rs. 10 lakh and hence paying of tax honestly is necessary. He said the country can be awakened provided their some one who can call upon the nation to do so. On this occasion two short films on Digital Literacy were also screened and a brochure on Digital literacy efforts was also released. Awards were also given to volunteers and Institutions engaged in this task.
International Baccalaureate Experiences 31% Surge in Authorized IB World Schools Across India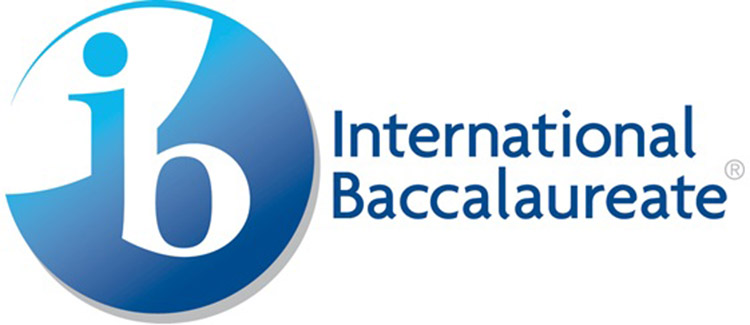 The International Baccalaureate (IB), a global educational foundation headquartered in Switzerland, reports substantial growth over the past five years in India. The surge, amounting to a 31% increase in authorized IB World Schools, reflects the growing preference for IB programs among schools nationwide. According to Haif Bannayan, the Global Director of Business Development at IB, the organization offers four comprehensive programs for students aged 3-19: the Primary Years Programme (PYP), Middle Years Programme (MYP), Diploma Programme (DP), and Career-Related Programme (CP).
As of 2023, there are now 226 authorized IB World Schools across India, collectively delivering 378 authorized IB programs. This breakdown includes 138 schools offering PYP, 59 schools providing MYP, 155 schools delivering DP, and 26 schools offering CP. However, the current distribution of IB World Schools remains concentrated in metropolitan areas like New Delhi, Gurugram, Mumbai, Kolkata, Bengaluru, and Chennai.
To address this imbalance and make IB education more accessible and affordable nationwide, the Delhi Board of Secondary Education (DBSE) collaborated with IB as part of Delhi's educational reforms under Arvind Kejriwal. In August 2021, they signed a Memorandum of Understanding to introduce IB programs in 30 government schools in Delhi. This initiative aims to encourage more schools to adopt the IB curriculum in the future.
Recognizing the evolving educational landscape in India, IB is actively collaborating with Indian institutions and educational authorities to extend its framework to students from diverse backgrounds and regions. Haif Bannayan expressed eagerness for ongoing dialogues with leaders to facilitate the delivery of high-quality, globally-oriented education to an even greater number of students.
The Diploma Programme (DP) offered by IB stands out globally, consistently aligning with or surpassing international standards, as indicated by the DP Country Alignment Study 2023. The study emphasizes the adaptability of DP courses to diverse national contexts, showcasing their seamless integration. Furthermore, it underscores the meticulous crafting of DP curricula to facilitate substantial depth and breadth of learning, illustrating their rigor and comprehensive educational value.
Bannayan highlighted the IB's acclaim for its emphasis on languages and global principles, coupled with a consideration of students' cultural backgrounds. This approach fosters a profound comprehension of the world, shaping graduates into multilingual thinkers poised to make a positive impact on a global scale.