National Convention of Student Volunteers Under Digital Financial Literacy Campaign – Visaka Gets a Colourful Start
A National Convention of Student Volunteers under Digital Financial Literacy Campaign by Ministry of Human Resource Development, Government of India today began here in New Delhi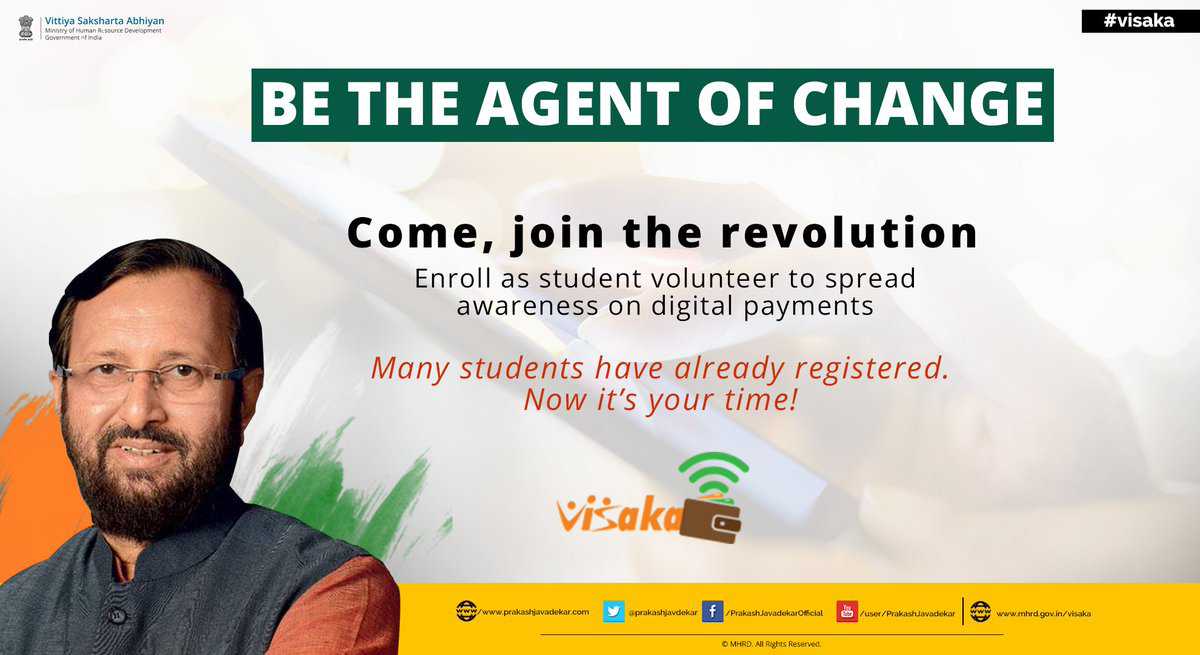 Digital Finance Literacy Campaign is for Curbing Corruption and Black Money – Prakash Javadekar
A National Convention of Student Volunteers under Digital Financial Literacy Campaign by Ministry of Human Resource Development, Government of India today began here in New Delhi .
Speaking on the occasion Union Human Resource Development Minister Shri Prakash Javadekar called upon Student Volunteers under Digital Financial Literacy Campaign by his Ministry to work whole heartedly for the wide spread dissemination of the Ideas of Prime Minister on Digital Economy so that the resources of the nation could be utilized in a transparent manner.
Youths are the Soldiers of Change – Prakash Javadekar
The Minister congratulated the volunteers for their laudable efforts and said going digital is the need of the hour as in comparison to Developed countries where GDP's 4% Component is in currency, we have 12% component of currency in our GDP and hence we need to change to Digital mode. He said going digital will help boost our economic stability with definite availability of funds for the welfare of masses at large, especially the poor and needy population. It will also result in net tax collection and resources. Today there are 77 crore Debit Cards available for digital transactions. He said wide spread awareness should be generated across the country, Shri Javadekar added. He said till now nearly 4.30 lakh volunteers have been registered who have started educating masses across the country and so far under this campaign we have covered 20 lakh households. The Minister asked the volunteers to work during the post examination holidays for publicity of this scheme. He said The Prime Minister has set a target of 2500 crore digital transaction, in the year 2017 and this is 100% achievable. He said this campaign is dedicated to you.
Digital India is for Empowering the Country – Ravi Shankar Prasad
In his address Shri Ravi Shankar Prasad, Union Minister for Electronics & Information Technology and Law & Justice said that if anyone desires of getting connected with the rest of the world, he will have to get attached with Facebook and Twitter. Shri Prasad said, now in our population of 125 crore we are having 105 cr + Mobile Phones, 112+ crore Aadhaar Cards, 35 crore + smart phones and 50+ crore Internet Connections.. He said Digital literacy campaign is intended to make India honest, digitally empowered and digitally united. He said this campaign is meant to change India. He said we have trained nearly 02 crore persons in digital transactions during three months and in 2017 we are expecting over 05 crore persons trained in digital transactions.
The Minister also informed of the scheme of Lucky draws for common masses and the shop keepers as well as the business community. He said digital India is for empowering the country. He said the rest of the world is now amazed of India's Digital Power. Shri Prasad said 72 Mobile Manufacturing Companies have ventured in India. He said Govt. schemes need money and as much as we go digital, we will more money in a transparent way because then there will be fair collections. He cited Finance Ministers Union Budget Address in which he had said that out of 125 crore persons only 3.5 crores file income tax returns. He also said that of the 10 lakhs companies registered only 13 thousand companies show their income above Rs. 10 lakh and hence paying of tax honestly is necessary. He said the country can be awakened provided their some one who can call upon the nation to do so. On this occasion two short films on Digital Literacy were also screened and a brochure on Digital literacy efforts was also released. Awards were also given to volunteers and Institutions engaged in this task.
NIOS celebrates 33rd Foundation Day
Dr. Subhas Sarkar addresses the 33rd Foundation Day Celebrations of NIOS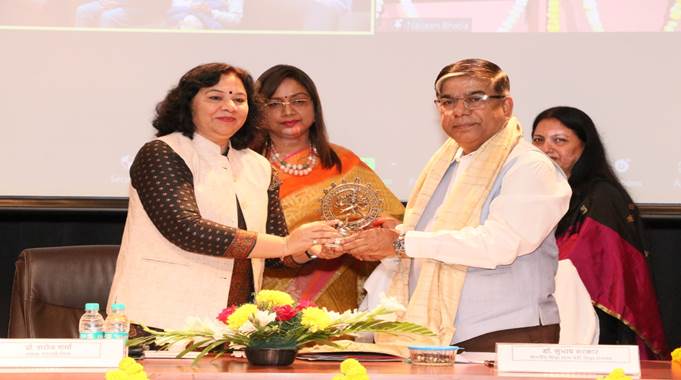 Union Minister of State for Education, Dr. Subhas Sarkar addressed the 33rd Foundation Day Celebrations of NIOS as the Chief Guest.
The function was attended by senior officials of the Ministry of Education, Chairpersons of educational institutions, Heads of Departments, officers, and staff of NIOS. Prof. Naval Kishore Ambasht, former Chairman, of NIOS and Pro-Vice Chancellor, of the Central University of Haryana, Prof. Sushma Yadav graced the occasion.
Dr. Subhas Sarkar in his address appreciated the various programmes and schemes of NIOS and said that NIOS is lighting the lamp of knowledge all over the world. Talking about the Azadi Ka Amrit Mahotsav, he mentioned that today's children will be young people in the age group of 30-40 years on the completion of 100 years of independence and will be responsible for building our nation.
He said that the Ministry of Education has entrusted NIOS with several responsibilities such as developing inclusive education resources, expanding the open and distance education system in states/UTs, translating all courses into more languages as required, creating Indian Knowledge Tradition based courses and propagating Indian culture by translating them into major foreign languages. He also praised the programmes of NIOS enrolling 10 crore adults under 'Basic Literacy Assessment', training of in-service teachers, Gender Green Project, and training in Yoga. He said that Indian Sign Language as a subject at the secondary level has been acknowledged on national and international platforms. He described the launch of an e-library called 'DEEP' by NIOS as a big step forward.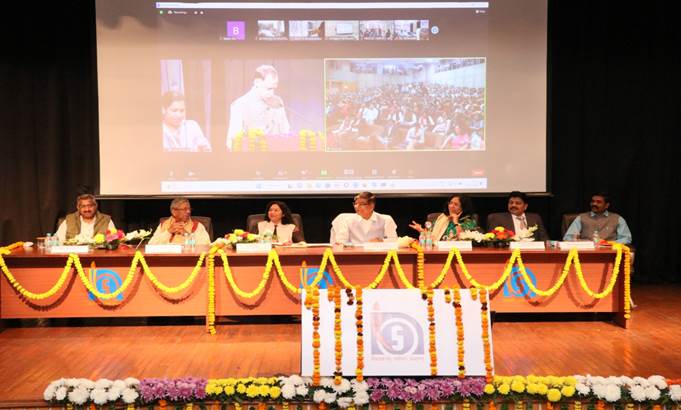 Prof. Saroj Sharma spoke about the journey of 33 years of NIOS and highlighted the special achievements. She said that NIOS is one of the two National Boards of Education under the Ministry of Education, which provides school education through Open and Distance Learning (ODL) for secondary, senior secondary, and vocational education. She elaborated on the role of NIOS in the field of education, efforts being made by NIOS for the successful implementation of the New Education Policy, Virtual Open School, Digital Library (DEEP), NEPIA Project, MoU with Ministry of Defence for Agniveer Project, setting up of Mukta Kaushal Kendras and subjects offered under Indian knowledge Tradition.
It was also conveyed by her that a curriculum called 'Aarambhika' is being developed by NIOS for catering to the Indian Diaspora.
A documentary based on the journey of 33 years of educational endeavours of NIOS was presented on the occasion. In this documentary, 'All England Badminton winner Pullela Gopichand said that most of the players in his badminton academy are getting an education from NIOS.
NIOS alumni, Ms. Niranjana and Vinod Kumar Chaudhary were also felicitated on the occasion. Shri Vinod Kumar said that only due to his education in NIOS, he was able to get the credit of making the Guinness Book of World Records 10 times (8 in Typing and 2 in sports). A proud learner of NIOS, Ms. Niranjana is a successful ventriloquist. Prof. N. K. Ambasht, former Chairman, NIOS said that in this age of technology, innovations must lead to developing 'standalone' courses for the Indian Diaspora, to achieve the goals of the National Education Policy- 2020. Pro-Vice Chancellor, Prof. Sushma Yadav said that the role of NIOS increases in the light of New Education Policy. NIOS has such potential that the institute will be able to achieve the ambitious goals of National Education Policy 2020 in the coming years.
The half-yearly magazine of NIOS 'Pragyan' was released by Dr. Subhas Sarkar on this occasion.