New HRD minister Prakash Javadekar will have his hands full if he wishes to reinvent the system and truly skill India
The recent cabinet shuffle saw the HRD ministry landing in the lap of Prakash Javadekar. He has a record of setting a healthy pace and getting things done. Given his strong impression, experts feel that he should work on certain ills plaguing the sector today including capitation fees, marks rationa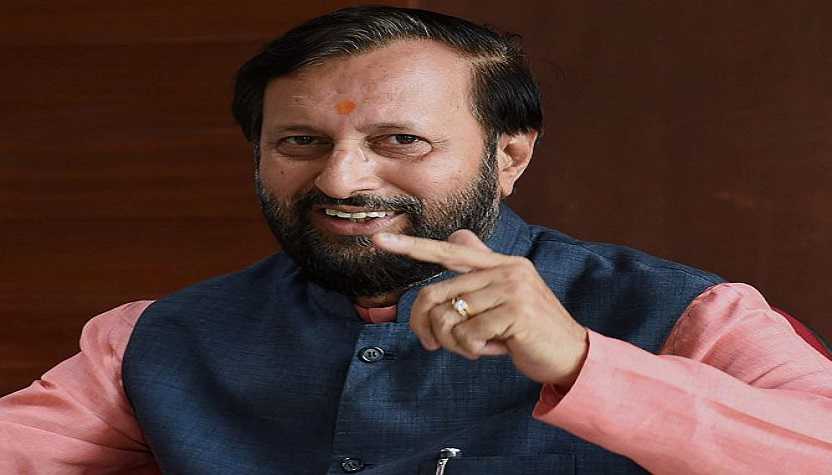 The recent cabinet shuffle in the BJP government saw Environment minister Prakash Javadekar inheriting the HRD Ministry from his controversy-courting, aggressive predecessor. Even as the new HRD minister was taking charge of the department of Human Resource Development, a 2-member bench of the High Court in Mumbai was sending out some strong signals: that schools have become money-spinning rackets and in some cases, they amounted to extortion.
Javadekar is known to hit the ground running, as evident by the scorching pace he set in the environment ministry in his two years there. As he hunkers down to steer his ship, he will have to consider many things that are happening in the education sector today. Additionally, he will have to engage with industry stalwarts as the relationship between the education sector and the employment generating industry has always been symbiotic.
One of the serious happenings in the education sector today has got to do with the sentence issued by the Bombay High Court, it says that education in India doesn't have the student at its Centre anymore, but profits are. In fact, it is not a contention with schools only, but across the spectrum of institutions, right up to universities.
Of course, there always have been exceptions like the IITs and IIMs, but only that. Rest, including the rapidly growing private sector in education, sponsor nightly news programmes on TV to garner an image, and some say they are research and innovation driven. But universities are supposed to be just that in the first place and isn't it tragic that one has to advertise it as its USP?
To begin with, Javadekar could meet S Ramadorai, former head of TCS over a cup of coffee to understand why the later said that there was no dearth of engineers, but there certainly is a dearth of employable engineers. The next stop should be a meeting with Infosys founder Narayana Murthy, who pointed out as early as 5 years back that even IITs were getting poor quality entrants.
According to Murthy, if Infosys has to retrain those hires, because the "the quality of education that they have received is not what we would like them to have. Therefore, we have to train them to make them relevant to the firm." This is a social and economic burden on a sector that does not seek sops from the government to innovate and grow.
Some may point out that the private sector should be encouraged to fill in the gap of quality education. The result of encouraging private sector even in initial schooling has led to a situation where those who can pay are better-off while others have to settle for the neighbouring government school where teachers get paid more, per the pay commission, but deliver less.
Let's talk about the quality of teaching resources that Javadekar will have to address. Not going very far, let's take the minister's own state, Maharashtra. Here teachers are employed in private but unaided schools for a pittance and make-do with second jobs — even driving auto rickshaws or taking to working on farms. This is despite private, though poor investment, and the government's own.
Actually, teacher training today is mere lip service where educators attend sessions but learn very little. "Our teacher training programmes need a major overhaul. We continue to use archaic tools of training, which need to be changed. We should also engage the students, and not encourage rote learning by focusing merely on numbers. Besides this, the dismal teacher-student ratio needs to be addressed – a single teacher can't hold the attention of a very big class," said Dinesh Singh, former vice-chancellor of Delhi University.
Experts feel that Javadekar should strive for, and try to secure rapidly the following: First, bring uniformity in the syllabus across the country breaking down the differences between the IBs, ICSC, CBSC, SSC. Secondly, regulate school fees and eliminate extortion in the name of capitation fee and lastly ensure a decent level of proficiency among teachers. In Maharashtra, not even 5% of those with degrees or diplomas in education manage to pass eligibility tests, and they remain teachers.
Once these are achieved he should go about fixing the rules and regulations in a manner that no churan (digestive) seller ever summons the gumption to set up a university as in Aligarh, or even a politician should not feel free to become a chancellor of a private university only because he set it up.
Another area that could benefit from Javadekar's attention would be the setting up of a central examination on the lines of the US-based SAT. It is the ultimate panacea to the existing problem of rationalisation of marks across different boards while seeking admission after class XII. The time is apt because across the country admission cut-offs are at unrealistically high levels. It is creating unbelievable pressure on students, even on the very bright ones. This inadvertently encourages rote-learning.
"Even schools that think differently in terms of teaching put reforms on the backburner when it comes to Class 11 and 12, and say: 'You want the marks and we want the marks, so go get it!'
Oh, lastly the new minister will still have to grapple with the implementation of the report authored by T S R Subramanian. Reportedly, the problems of the former minister with this report finally led her to being shown the door.
Education Minister launches Bhasha Sangam initiative for schools, Bhasha Sangam Mobile App and Ek Bharat Shreshtha Bharat Mobile Quiz
Language learning to be promoted as a skill with the formal credit-earning system said Union Education and Skill Development Minister Shri Dharmendra Pradhan during the launch of Bhasha Sangam Initiative for schools, Bhasha Sangam Mobile App, and Ek Bharat Shreshtha Bharat Quiz App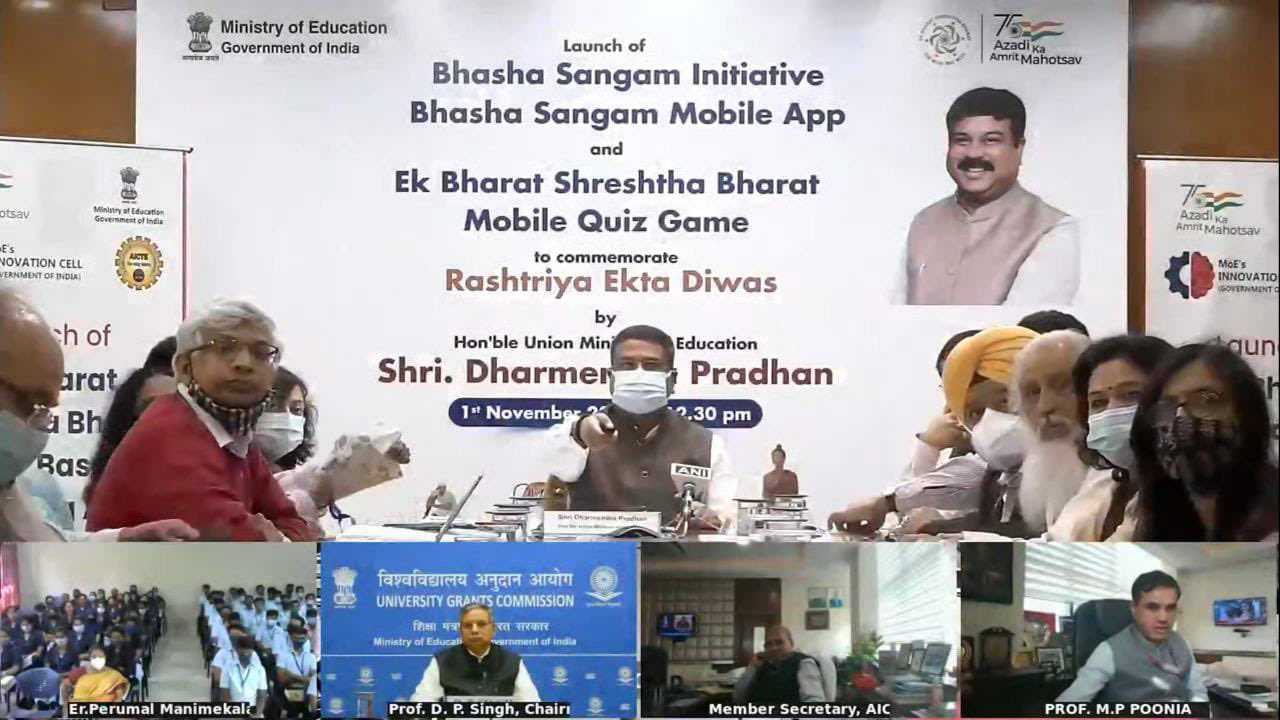 Language learning to be promoted as a skill with the formal credit-earning system said Union Education and Skill Development Minister Shri Dharmendra Pradhan during the launch of Bhasha Sangam Initiative for schools, Bhasha Sangam Mobile App and Ek Bharat Shreshtha Bharat Quiz App, to commemorate Rashtriya Ekta Diwas which is celebrated on October 31 every year to mark the birth anniversary of Shri Sardar Vallabhbhai Patel.
Shri Pradhan stated that the National Education Policy 2020 outlines the vision to lay emphasis on the promotion of Indian languages. Going forward, language learning will be promoted as a skill with a formal credit-earning system, he added. The Minister said that the country is celebrating Azadi ka Amrit Mahotsav to mark 75 years of India's independence. The initiatives launched today will facilitate our students to embrace the linguistic diversity of our nation and sensitize them about the richness of our culture, heritage, and diversity, he added.
Bhasha Sangam is an initiative of the Ministry of Education under Ek Bharat Shreshtha Bharat, to teach basic sentences of everyday usage in 22 Indian languages. The idea is that people should acquire basic conversational skills in an Indian language other than their mother tongue. We are aiming that at least 75 lakh people should acquire this skill during the Azadi Ka Amrit Mahotsav period.
Launched the Bhasha Sangam program, an initiative of the Ministry of Education under Ek Bharat Shreshtha Bharat, to teach basic sentences of everyday usage in 22 Indian languages. pic.twitter.com/gJTxITO3BK

— Dharmendra Pradhan (@dpradhanbjp) November 1, 2021
Initiatives launched under Bhasha Sangam:
An initiative for school children that is being made available on DIKSHA, ePathshala, and through 22 booklets
Bhasha Sangam Mobile App developed in collaboration with myGov, by a start-up called Multibhashi
A Mobile App based quiz with over 10,000 questions on states of India developed by Nazara Technologies through the Innovation Cell of this Ministry
Bhasha Sangam Initiative for schools
Developed by NCERT
100 sentences in 22 scheduled languages are presented in such a way that children in school will be able to read in the Indian language, in Devanagari script, in roman script and translations into Hindi and English.
100 sentences are presented in audio and video form with Indian Sign Language.
Through this programme of Bhasha Sangam learners in school will be able to get acquainted with all the languages-their scripts, pronunciation
Available on DIKSHA, ePathshala, and 22 booklets
Bhasha Sangam Mobile App
This is an initiative of DoHE, in collaboration with MyGov
The App has been developed by a start-up Multibhashi, selected by myGov through a competition
The App initially has 100 sentences of everyday usage in 22 Indian languages. These sentences are available in both Roman script and in the script of the given language, and also in audio format. More sentences will be added to the list
A learner will pass through stages on the basis of testing. There is also detailed testing in the end with the generation of digital certificate
Available in both Android and iOS
EBSB Quiz App
EBSB Quiz game is targeted toward children and youngsters of Bharat for helping them learn more about our different regions, states, culture, national Heroes, monuments, traditions, tourist locations, languages, geography, history, topography,
We already have more than 10,000 questions as part of this quiz. The gameplay is simple – Play Quizzes, Learn & Achieve Grades. Moreover, this quiz has 15 different levels of toughness.
Currently, the EBSB quiz is available on android OS, the iOS version will be made available soon.
This game is currently available in English and Hindi. In the next 3 months, the EBSB quiz will be also available in 12 other different regional languages.
Shri R. R Singh, MoS for Education; Smt Anita Karwal, Secretary DoSEL; Shri Sanjay Murthy, Secretary Higher Education; Shri Abhishek Singh, CEO, MyGov; students and teachers of schools & universities attended the event.