Professional Counselling and Career Guidance for Holistic Education
UNESCO, along with expert Indian educators, guide us on holistic education and how planning an independent & innovative teacher education program of counselling and career guidance can lead students towards suitable careers and equip them with intellectual and methodological resources.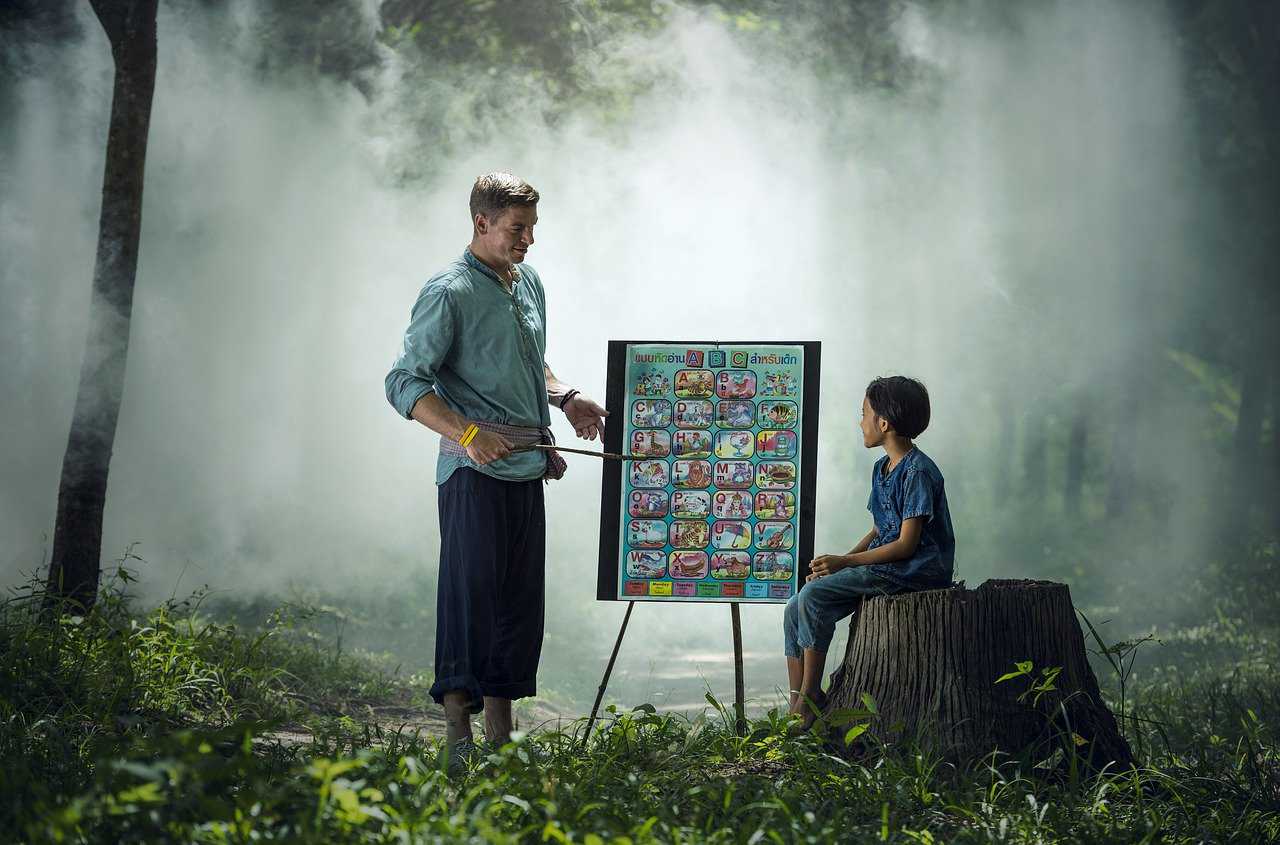 Career guidance is not a one-time activity but rather includes a range of inter-connected activities, including provision of careers information, personalised guidance/counselling, skills assessment and aptitude testing as well as exposure to the world of work – everything that can enable people of any age but young people in particular, to make the educational, training and occupational choices that are right for them.
In recent times, there has been an emergence of many innovative ideas in schooling at both national and international level that express the need to take care of students and teachers. These initiatives such as Education for Values in School: A framework (NCERT), Socio-Emotional and Ethical Learning (Daniel Goleman & H.H. the Dalai Lama), Libre Curriculum – An integrated approach to 'Brain Education' (UNESCO MGIEP), Happy Schools Framework Report (UNESCO), Happiness Curriculum (Government of NCT of Delhi), and Education for Peace (UNESCO) (NCERT) convey that there is much more to education than the traditional rote-learning. They all criticize the undue importance of rote learning and the unnecessary pressure that it puts on students.
Such interventions are inspired by the conceptualization of an ideal school where the varied developmental needs of the students are met; the child's aspirations, the need for growth, the experience of freedom, and experimentation are valued; every student is free to study any subject he chooses at any given time; the teacher is a friend and a guide, who must not impose himself/ herself, but may intervene when necessary. However, such expectations are rendered utopian in the context of ground realities.
In the Indian context where wage employment is limited and dependent on the trajectory of the economy, career guidance assumes special importance. This is because if implemented correctly and in sync with the aptitude of the students, it has the potential to help improve the image of technical and vocational education and training (TVET) not only in the minds of young people but also their parents. In India, career aspirations are often narrow, unrealistic and distorted by social background. This can enable more students to opt for vocational subjects in school and follow up by enrolling in skill-oriented courses after completing school education for a range of careers opportunities. At the same time, career guidance can also highlight the importance of being self-employed and pursuing an entrepreneurial career – an aspect that is often ignored. The joy, flexibility and the economic freedom of being your own boss as an entrepreneur is something career guidance can help young adults to appreciate. This would help young adults to self-assess and reflect on their natural talent, ambitions, interests as well as existing skills and enable them to relate this knowledge of who they are to their future careers as they transition into the labour market.
There are numerous challenges that our schools are facing in terms of learning of students and other aspects as well. The 2007 study by the Government of India & Save the Children Foundation found a huge proportion of children being sexually abused. In terms of quality of life, about 42.5% of the employees in the private sector of corporate India suffer from depression or some form anxiety disorder; and even after 7.5% of the country being affected by mental disorder, there are less than 4,000 qualified experts available on record. India's 350 million students, which is the biggest student population in the world, need at least 1.4 million career counsellors to maintain a globally acceptable student -to- school-counsellor ratio. In the absence of these counsellors, there is hardly any way to address the increasing numbers of challenges faced by school students, such as exam stress, cases of drug and internet addiction, violence and bullying, and crimes against women. 2
Apart from the mental health concerns, the importance of these counsellors could also be in their contribution towards the general well-being and quality of life of our students since such professionals would also add value to the multiple choices available to our students in terms of careers and subject preferences. Interventions by professionals may also enhance the employability of our students by contributing to the skill-development programs. Nevertheless, there is a need to prepare professionals who would then be engaged by schools to aid and assist students, teachers and even parents in providing a holistic learning environment. The effects of the breaking of the joint-family support system by the changing family-structures can be countered by such trained professionals.
Such provisions and steps need to be taken pro-actively rather than retroactively after some political or media outrage, as was in the case of Jawahar Navodaya Vidyalayas where a number of suicides took place, but the post of counsellor was sanctioned only when these suicides were reported in a newspaper (Indian Express, November 8, 2019). Moreover, such decisions have to be made with a sense of care and compassion for our students instead of some directive, as was the case when the Central Board of Secondary Education had to make hiring of special educators a necessary condition for affiliation (June 13, 2017) because students' needs were not being addressed properly. However, there is a dearth of qualified professionals in cities other than metropolitans and there are many other challenges, such as unawareness or disinterest of the management, unavailability of trained counsellors, or lack of preparation and professional capacities of counsellors being prepared through short-term courses. Another difference between mental health professionals in clinics with those meant for schools is that largely, the approach of the mental health practitioners in clinics is curative, but students need preventive measures and interventions for the promotion of their mental health. Without the promotional and preventive approach to mental health, we cannot envision a qualitative growth of human potential in India. Moreover, these professionals need to have a broad-base because they will be the primary counsellors of students, especially, in contexts where parents are not well-educated or are not able to address the challenges faced by adolescents in the emerging technological context.
Towards this end, the NCTE is planning an independent, innovative, and interdisciplinary teacher education program of counselling and career guidance on the pattern of existing degree level programmes. The graduates of this course are intended to be competent mental health professionals in schools who are able to address the mental health concerns in a school holistically and integrally as also aid the students in making informed career choices. This program is being envisioned with a whole-school approach, in which, the attempt is to design the school ethos to develop life-skills and to support students and teachers to cope with the challenges of personal and professional lives. Along with the competencies 3 related to guidance, counselling, and mental health, the intent is also to prepare professionals who can guide our students towards suitable careers. Moreover, such professional would also be equipped with intellectual and methodological resources to address the varying needs of other stakeholders, such as nonteaching staff, parents, and community at large.
Similarly, UNESCO New Delhi strongly asserts the importance of TVET in forming a holistic approach towards education for career guidance. The upcoming flagship publication of UNESCO New Delhi titled the 'State of the Education Report for India 2020' would focus on career guidance from a TVET perspective and highlight its importance for future action by key stakeholders.
It is expected that through such professional and technical assistance some of the utopian sounding goals envisioned for school education may get fulfilled and "joyful learning" gets transformed from slogan to reality.
Authors:
–Dr. Satbir Bedi, IAS, Chairperson, National Council for Teacher Education
-Dr. Vikas Baniwal, Department of Education, University of Delhi.
-Mr. Mame Omar Diop, Chief Education, UNESCO New Delhi
What is Hybrid/Blended Learning?
We are lifelong learners and need to keep pace with the fast-paced technology so that our students are ready to take the next leap. Our classrooms have to echo that thought and vision at all times through new pedagogies and teaching-learning strategies.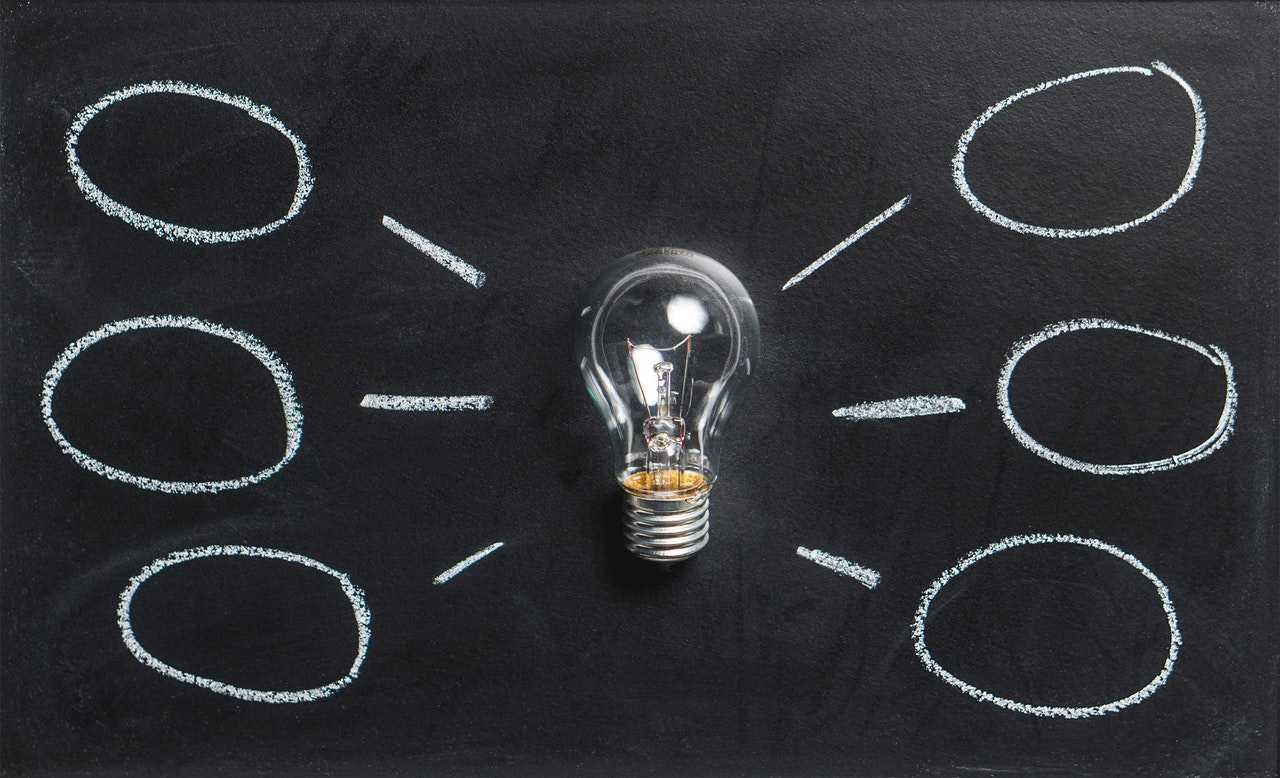 The COVID wave – consider it a bane or boon – but it somersaulted us to an array of digital world experiences. It propelled us to rethink and reorganize our mindsets, our practices, and our expectations. Overnight, we moved from an offline teaching mode to online, and credit to the teaching community for doing it so seamlessly. Now, we are back to offline teaching but do we continue with our old practices? An obvious no so we need to infuse our online experiences within the offline to ensure that quality education reaches one and all.
One key pedagogy to achieve the goal is blended learning, an approach that combines face-to-face learning with online learning incorporating certain elements that support students to have control over the pace, time, and place. The material resource investment is minimal but human resource investment is high till the ethos is assimilated within all.
So let's understand the varied types of blended learning and its implementation in the school teaching-learning process.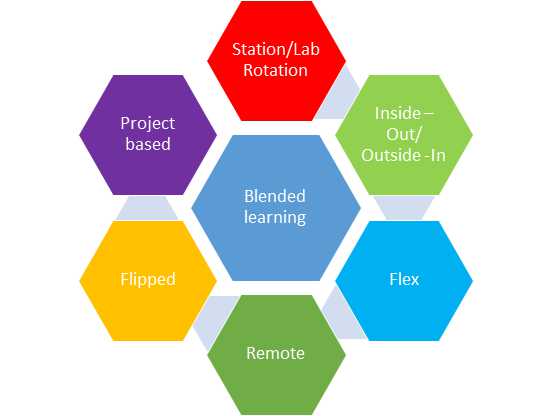 1. Station Rotation
In Station Rotation, students will rotate on a fixed schedule as per the teacher's discretion. The teacher begins her class of 40 students with instruction on narrative writing from 9:00 am to 9:15 am. She then splits the class into three groups where one group continues to learn with her. The second group works on a collaborative assignment on narrative writing and the third use their laptops or computers placed in the class and researches blended learning and after 15 minutes the group switches so that every group has varied experiences. A block class of English can support the various transactions and supports students to build research, collaborative and knowledge skills.
In the same format, if computers or laptops are not available in class then students use the computer laboratory in school and this rotation would then be called as Lab Rotation.
In this methodology, all students with varied learning needs are supported. The only challenge is the Technology and time management skills.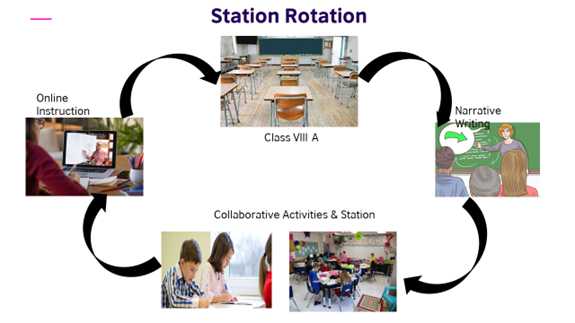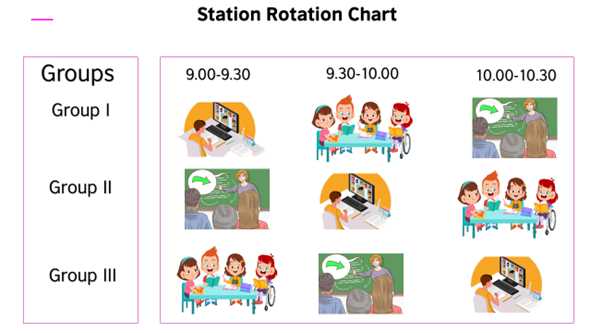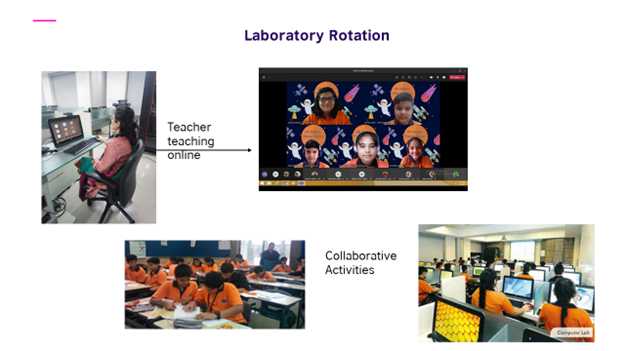 2. Remote & enriched virtual learning
It is a course or subject in which students have required face-to-face learning sessions with their teacher of record and then are free to complete their remaining coursework remote from the face-to-face teacher. In class, the teacher gives a project to students on 'Analysing any work of Shakespeare's or Rabindranath Tagore's Kabuliwalla' w.r.t. the criterion of plot, characters, theme, language, thought and values.
She briefs students on works of Shakespeare and the elements of a play within the school timetable and they complete all the work at home.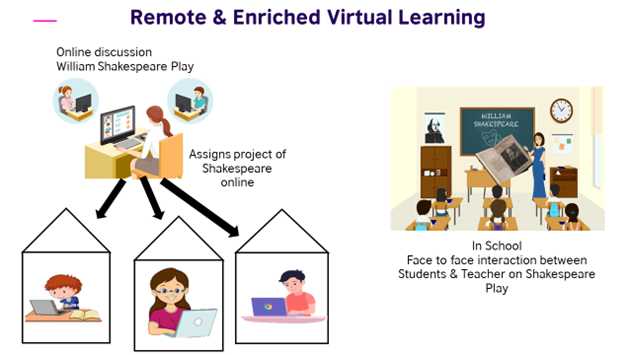 3. Flex blended learning
During certain weekends if the teacher wishes to support the students further in class especially if the concept has been challenging or students have underperformed in an evaluation, the teacher records her remedial teaching and uploads in-class computers. She designs a task around remedial teaching. She expects students to report to school wherein students enter the class on their own time, access the teaching, complete the task and leave. If they have any further doubts, they could approach the teacher in the school or their peers. A useful TIP would be for the teacher to Collaborate with their colleagues in club activities.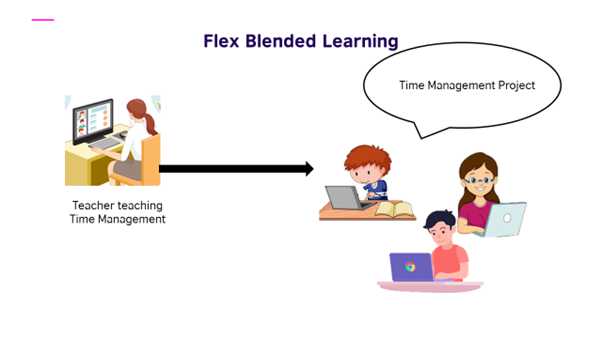 4. Flipped learning
As per TeachThought, a flipped classroom is a type of blended learning where students are introduced to content at home and practice working through it at school. This is the reverse of the more common practice of introducing new content at school, then assigning homework and projects to be completed by the students independently at home.
This methodology is most useful when you want students to have some knowledge of the content before analyzing it further. So if a teacher wishes to conduct a 'Book review'. She shares the e-book, 'Totto-chan' with the students. She asks them to read and shares certain discussion points. In school, students discuss the book and write personal book reviews. The teacher has used her class time constructively and has been to achieve greater learning outcomes.
5. Individual rotation blended learning
As per https://www.blendedlearning.org/models/, the Individual Rotation model allows students to rotate through stations, but on individual schedules set by a teacher or software algorithm. Unlike other rotation models, students do not necessarily rotate to every station; they rotate only to the activities scheduled on their playlists.
The teacher allows students to rotate through different kinds of classrooms called stations. A specific ILP [Individual learning plan] is created for each student. For example: Parth and Mona's examples work on clauses, Mona is struggling with Clauses so she attends classes and solves assignments whereas Parth will attend classes, watch a few videos, and also complete a research project on clauses. Thus the teacher knows her students' skills in greater depth and supports them individually to achieve her target learning outcomes.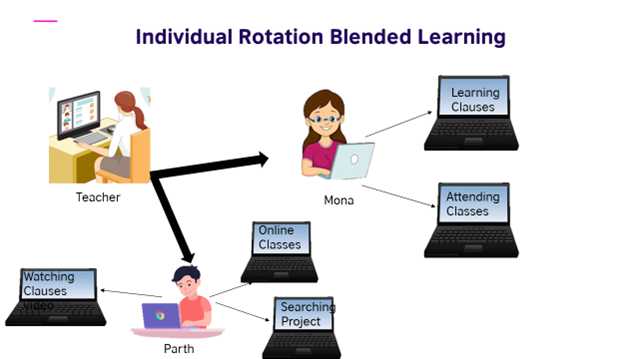 6. Inside-out and outside-in blended learning
In Inside-out, teaching and learning begin inside the classroom and move to an outside environment and in an outside-in classroom, it begins in an outside environment and moves inside the classroom. In a class environment, the Teacher discusses with students about 'Sound of Music' in class and ends the lesson by taking them to the theatre to watch the play. In Outside-In, Students watch the play in a digital environment and end the lesson in a physical environment by conducting role-plays.
The list of models is many but one has to review their resources and plan accordingly.
One can mention that they may face challenges in terms of technology, lack of training on digital platforms, lack of resources to create self-paced learning environments, or time management with vast syllabuses to complete.
Certain tips that can come useful are:
1. Teachers can begin with easily available digital content like Khan Academy, Pinterest, discovery Education, PBS Learning Media, and much more.
2. Review the available resources and plan a timetable. Most importantly, a team achieves more so collaborate with your colleagues in club activities.
3. Take small simple steps – "The journey of a thousand miles begins with one step." Lao Tzu. Choose the model that you are comfortable executing and then move forward.
As teachers, we are ever-evolving and we are that one profession that creates more professions so our responsibility and accountability stretch beyond the classroom. We are lifelong learners and need to keep pace with the fast-paced technology so that our students are ready to take the next leap. Our classrooms have to echo that thought and vision at all times through new pedagogies and teaching-learning strategies.
References:
Christensen Institute, Blended Learning definitions, https://www.christenseninstitute.org/blended-learning-definitions-and-models/
About the author:
Kavita Sanghvi holds a Masters in Physics, Masters in Education, Masters in Philosophy of Education, and CAEL [Certificate in Advanced Course in Educational Leadership] Diploma from Harvard University. She heads SVKM's CNM School, in Mumbai. She is a Teach SDG's Ambassador, Climate Action Ambassador, and Scientix Ambassador for India. She is a British Council Trainer and Ambassador.