Recruitment Expert Annie Natarajan's Guide To Selecting The Right School Teacher Post COVID
There are certain non-negotiable facts such as safeguarding & background checks and accurate job descriptions, but apart from these, how you recruit is dependent on your school's needs, your mission, vision and values, and brutally, your budgetary constraints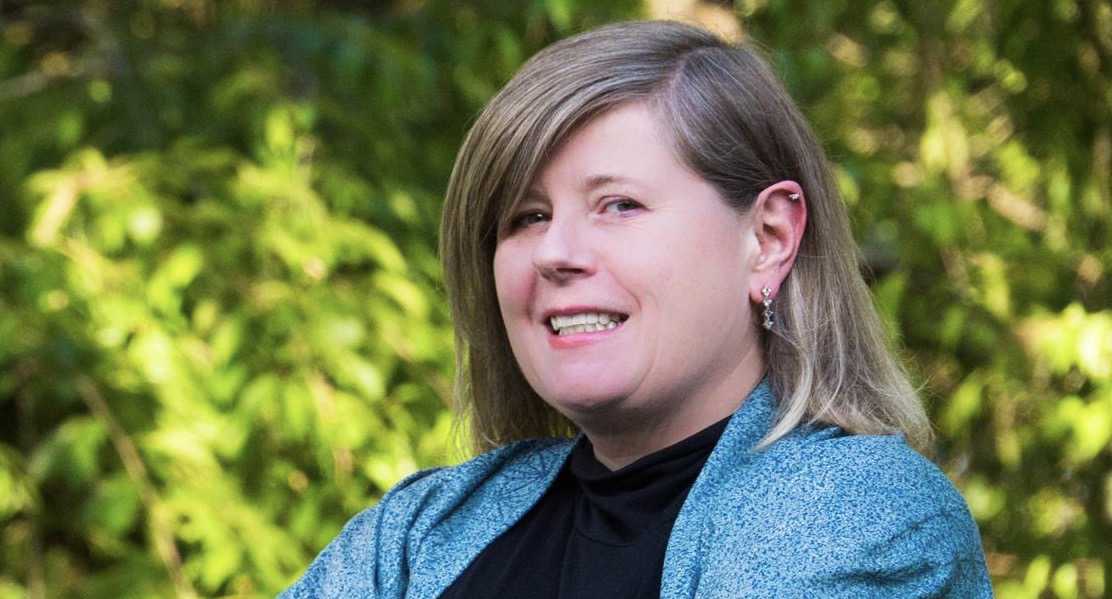 'And of course, they'll need a PHD.' I found myself looking puzzled at the school's HR lead as we discussed a job description and person specification for their vacant Head of Senior school post. As a School Development Consultant, I assist schools with everything from restructuring teams to coaching to recruitment. As a consultant, you are in the privileged position of being able to challenge a school to think outside of its norms. I frequently warn potential clients 'I will tell you what you need to know, which may not be what you want to hear.' My role is to get the organisation to where they want to be, and that usually means them reflecting on current practice, and moving it in a different direction or changing it entirely. That reflection can be painful for some, and for others, a liberating experience that takes a school to the next level of its journey.
So, back to my colleague who wanted a PhD as an 'essential' item on the Education section of the Person Specification. After much discussion, he admitted that as a school, they had always looked for PhD graduates for senior posts as they felt it was an indicator of the candidates' intellectual capacity. Many support staff, such as this HR Manager, do not have backgrounds in the classroom, so it is often the default position to think that the more qualifications someone has, or the longer they have been in an institution, the likelihood is that they will be a 'better' candidate.
Loading The Dice In Your School's Favour
The reality is that higher academic qualifications are no indicator of an individual's capacity to teach or indeed to lead. M.Eds and PhDs are certainly an indicator of someone's intellectual capacity, commitment to continuing to learn or of subject knowledge, but they aren't evidence of someone's skill to inspire a group of Class 12s or an ability to lead a team to greater heights. Similarly, tenure is often valued over capacity or capability. Given the school in question wanted to improve its exam results, we agreed that a PhD would be 'desirable' rather than 'essential.' The school eventually did appoint a candidate with a PhD, but more importantly, the candidate was an incredible leader who was able to inspire the team to really begin to develop their teaching and learning, and with that, of course, raise Class 12 results.
There is no magic bullet to recruitment. There are certain non-negotiable facts such as safeguarding & background checks and accurate job descriptions, but apart from these, how you recruit is dependent on your school's needs, your mission, vision and values, and brutally, your budgetary constraints! COVID-19 has thrown in its own challenges to schools and recruitment (alongside the evergreen challenge of finding quality candidates) is another area such as online learning that will need institutions to really reflect on what best practice will look like. Whether you need a Class 1 teacher, a Principal or even a CEO, always consider the following comments and questions when looking to recruit:
1. When a school loses a much-loved or respected member of staff, the first instinct is to jump to recruiting a replacement. An expected resignation at the end of a session is a great opportunity for a school to take stock of how a section or department is functioning and perhaps look to change things or indeed a confirmation that how things are working is fine. Mid-session resignations can be more tricky, but an interim appointment can give you breathing space to consider how things may look in the following academic year.
2. Job Description/Person Specification: If recruiting is deemed, the next wise step is to review the Job Description (what duties this role requires) and Person Specification (the experience and education needed for the role). Education and especially Board and curriculum requirements change frequently. Often candidates tell me they are left hanging after interviewing, not knowing whether they have been successful. Before posting the advertisement, it's a good idea to agree on a timeline and stick to it! More than one school I know have lost out on great candidates or had to postpone their joining because of lack of timely communication.
Consider the following questions:
Do we need this post? Do we have internal candidates who could fill it?
Are the current Job Description and Person Specification 'fit for purpose?'
What kind of experiences does the candidate need to have? Or, is this role suitable for a new entrant as well?
Where will we advertise? Locally? Newspapers? Websites?
What's our timeline to complete the process?
What does that look like? Onsite interviews? Psychometric tests? Think process rather than people.
3. The Interview: So, you have a fresh pile of applications on your desk. What next? How you whittle down that pile can be a challenge in itself. It is rare to find a candidate who meets every single part of your Job Description and Person Specification. My rule of thumb is that anyone who meets around 80% of it is probably worth looking at seriously. Prior to COVID-19, I would always suggest meeting candidates in person and with teaching roles, seeing a demonstration lesson. When asked about recruitment Abha Adams, well-known educationalist, told me 'Seeing the person in the flesh is essential. You need to see what makes them tick, online-only interviews distort your perspective of the candidate'. For senior candidates, you might give them a written exercise such as planning a curriculum change or scenarios that they might face in their role and learn how they'd tackle them. Another consideration that does not fit neatly into tick boxes is how you feel the candidate will fit into your institution and current team. They may be an amazing teacher with stellar references, but if you don't feel they are a fit for your team, be brave, and pass.
Consider the following questions:
What will this process look like? Who will be key drivers and decision-makers?
What questions will you ask to ascertain if their vision and values fit with your organisation?
Onsite: demo lessons? Stakeholder interactions? Are you even going to bring them onsite?
Have you done your due diligence and asked for written references before bringing them onsite?
4. Post-Interview Process: Congratulations! You found your candidate. What is crucial for you now is to refrain from wasting time and money on the post process. I find reference requests vary from pages and pages covering everything from curriculum knowledge to standards of dress or just a few pertinent questions. Whichever format you choose, it's essential to follow up with a phone call to an office number (not on mobile, please!) to confirm the reference and the referee is who they say they are.
5. Induction: This is often overlooked with the new colleague being thrown into the deep end, especially for more seasoned ones. The expectation of giving them the staff handbook and letting them get on with it is misguided. Whether new to the profession or an old hand, a thorough induction to the organisation will reap dividends. Shiv Nadar School's Head of People, Culture and Operations, Arti Dawar, advises 'Take time with induction for new colleagues regardless of their experiences. You will have a much more settled colleague who is able to impact more effectively on the children they teach or teams they lead. It's an investment worth making.'
Agree on CTCs and contracts well in advance of a commencement date alongside any probation period and you should be on track for a successful appointment.
Consider the following questions:
Safeguarding: have you followed up with phone calls and checked the veracity of the referee? Referees should be line managers, and not colleagues and or personal friends
Have you discussed and agreed on the CTCs? Have you proofed the previous CTCs?
What will their induction period look like?
Is there a probation period? This should be a formality, but are you prepared to 'let them go?' If yes, what should your back-up plan look like?
What further training they might need?
Implications of COVID-19 on Recruitment For Schools
As educators, we are entering a brave new world. Schools in India have risen to the challenge of online teaching, fiscal concerns and a host of other issues specific to each institution. Recruitment, as of now, is a whole new animal. Many schools have put essential roles on hold and in some cases, withdrawn offers. Moving on, it's likely that there will be a blended approach to learning with classes in person and online dependent on local requirements. When recruiting teachers, veteran educationalist Ashok Pandey, Director of Alchon International Schools, believes that the most in-demand candidates will be 'those with remote teaching skills, confident in communication and genuine technical skills.' These, of course, will be the hardest to find. A challenge but not impossible.
Possible Solution
Regardless of how the next 12 months pan out for schools, recruitment will always be a challenge. Keep your vision, mission and values in mind alongside how your decisions will impact on the children in your institution at the forefront of how you recruit. Whilst there are no guarantees in life or recruitment, this should load the dice in your favour.
Annie Natarajan is Director of Recruitment and Development at Nehru World School, Ghaziabad. She is the Founder of Flying Patang, School Development Services.
(All opinions expressed in the article are her own)
What is Hybrid/Blended Learning?
We are lifelong learners and need to keep pace with the fast-paced technology so that our students are ready to take the next leap. Our classrooms have to echo that thought and vision at all times through new pedagogies and teaching-learning strategies.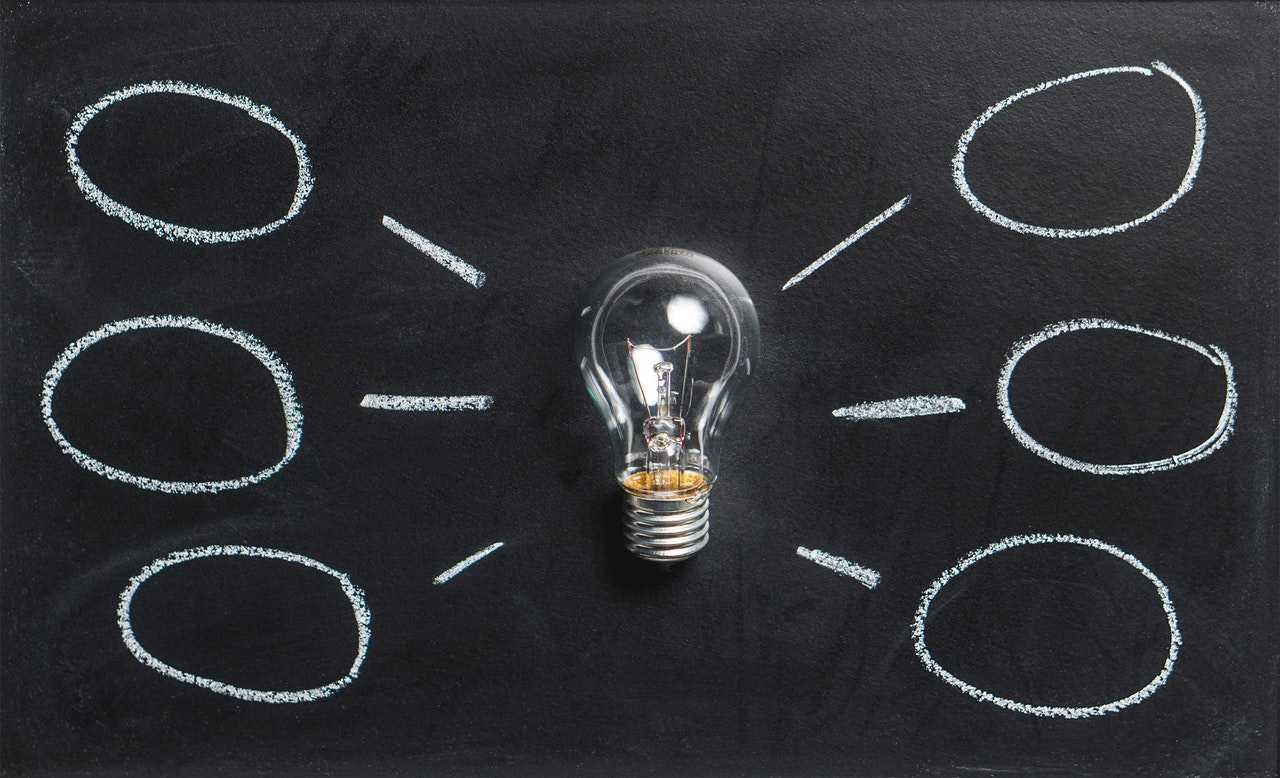 The COVID wave – consider it a bane or boon – but it somersaulted us to an array of digital world experiences. It propelled us to rethink and reorganize our mindsets, our practices, and our expectations. Overnight, we moved from an offline teaching mode to online, and credit to the teaching community for doing it so seamlessly. Now, we are back to offline teaching but do we continue with our old practices? An obvious no so we need to infuse our online experiences within the offline to ensure that quality education reaches one and all.
One key pedagogy to achieve the goal is blended learning, an approach that combines face-to-face learning with online learning incorporating certain elements that support students to have control over the pace, time, and place. The material resource investment is minimal but human resource investment is high till the ethos is assimilated within all.
So let's understand the varied types of blended learning and its implementation in the school teaching-learning process.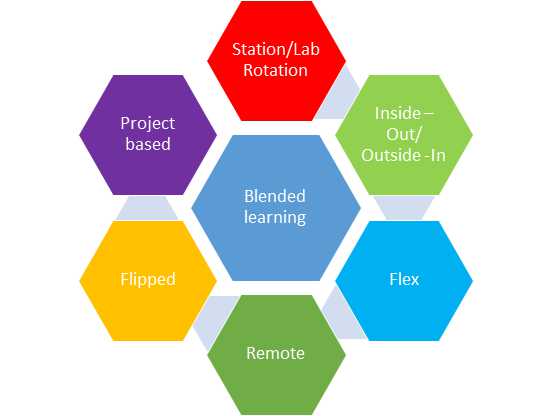 1. Station Rotation
In Station Rotation, students will rotate on a fixed schedule as per the teacher's discretion. The teacher begins her class of 40 students with instruction on narrative writing from 9:00 am to 9:15 am. She then splits the class into three groups where one group continues to learn with her. The second group works on a collaborative assignment on narrative writing and the third use their laptops or computers placed in the class and researches blended learning and after 15 minutes the group switches so that every group has varied experiences. A block class of English can support the various transactions and supports students to build research, collaborative and knowledge skills.
In the same format, if computers or laptops are not available in class then students use the computer laboratory in school and this rotation would then be called as Lab Rotation.
In this methodology, all students with varied learning needs are supported. The only challenge is the Technology and time management skills.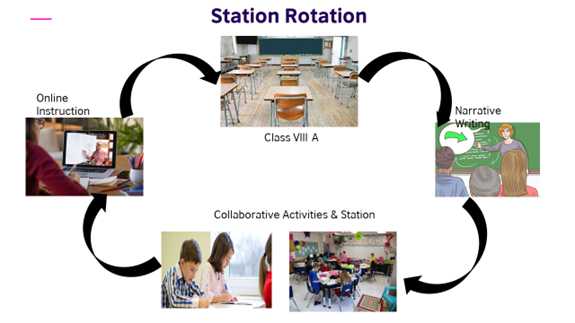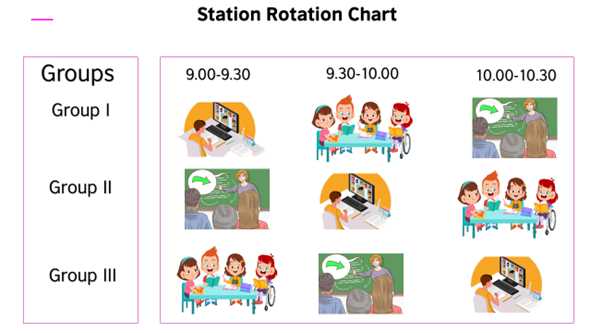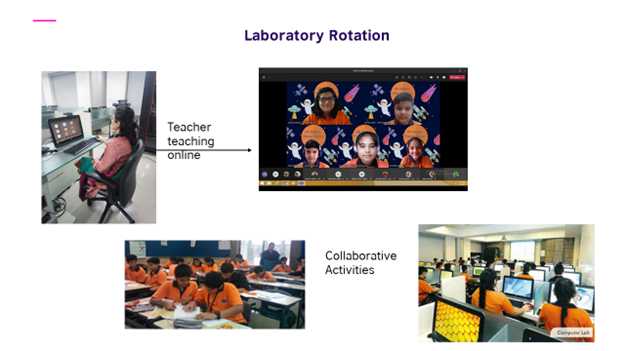 2. Remote & enriched virtual learning
It is a course or subject in which students have required face-to-face learning sessions with their teacher of record and then are free to complete their remaining coursework remote from the face-to-face teacher. In class, the teacher gives a project to students on 'Analysing any work of Shakespeare's or Rabindranath Tagore's Kabuliwalla' w.r.t. the criterion of plot, characters, theme, language, thought and values.
She briefs students on works of Shakespeare and the elements of a play within the school timetable and they complete all the work at home.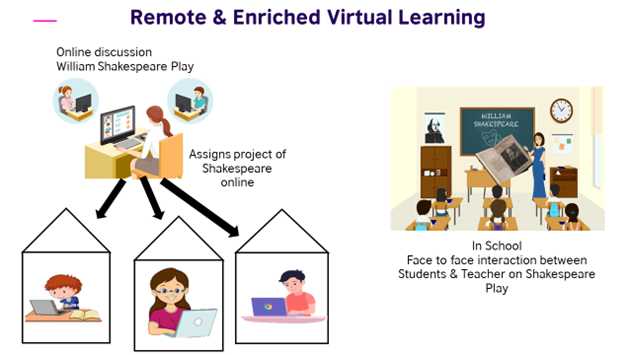 3. Flex blended learning
During certain weekends if the teacher wishes to support the students further in class especially if the concept has been challenging or students have underperformed in an evaluation, the teacher records her remedial teaching and uploads in-class computers. She designs a task around remedial teaching. She expects students to report to school wherein students enter the class on their own time, access the teaching, complete the task and leave. If they have any further doubts, they could approach the teacher in the school or their peers. A useful TIP would be for the teacher to Collaborate with their colleagues in club activities.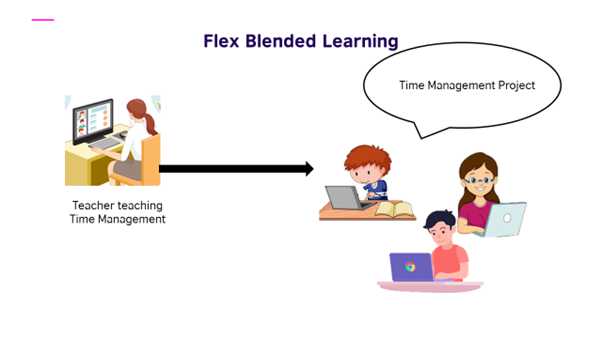 4. Flipped learning
As per TeachThought, a flipped classroom is a type of blended learning where students are introduced to content at home and practice working through it at school. This is the reverse of the more common practice of introducing new content at school, then assigning homework and projects to be completed by the students independently at home.
This methodology is most useful when you want students to have some knowledge of the content before analyzing it further. So if a teacher wishes to conduct a 'Book review'. She shares the e-book, 'Totto-chan' with the students. She asks them to read and shares certain discussion points. In school, students discuss the book and write personal book reviews. The teacher has used her class time constructively and has been to achieve greater learning outcomes.
5. Individual rotation blended learning
As per https://www.blendedlearning.org/models/, the Individual Rotation model allows students to rotate through stations, but on individual schedules set by a teacher or software algorithm. Unlike other rotation models, students do not necessarily rotate to every station; they rotate only to the activities scheduled on their playlists.
The teacher allows students to rotate through different kinds of classrooms called stations. A specific ILP [Individual learning plan] is created for each student. For example: Parth and Mona's examples work on clauses, Mona is struggling with Clauses so she attends classes and solves assignments whereas Parth will attend classes, watch a few videos, and also complete a research project on clauses. Thus the teacher knows her students' skills in greater depth and supports them individually to achieve her target learning outcomes.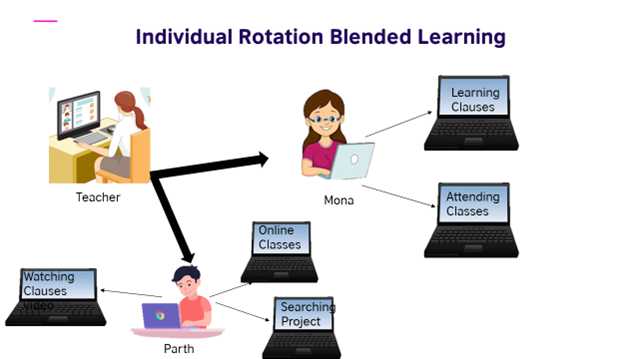 6. Inside-out and outside-in blended learning
In Inside-out, teaching and learning begin inside the classroom and move to an outside environment and in an outside-in classroom, it begins in an outside environment and moves inside the classroom. In a class environment, the Teacher discusses with students about 'Sound of Music' in class and ends the lesson by taking them to the theatre to watch the play. In Outside-In, Students watch the play in a digital environment and end the lesson in a physical environment by conducting role-plays.
The list of models is many but one has to review their resources and plan accordingly.
One can mention that they may face challenges in terms of technology, lack of training on digital platforms, lack of resources to create self-paced learning environments, or time management with vast syllabuses to complete.
Certain tips that can come useful are:
1. Teachers can begin with easily available digital content like Khan Academy, Pinterest, discovery Education, PBS Learning Media, and much more.
2. Review the available resources and plan a timetable. Most importantly, a team achieves more so collaborate with your colleagues in club activities.
3. Take small simple steps – "The journey of a thousand miles begins with one step." Lao Tzu. Choose the model that you are comfortable executing and then move forward.
As teachers, we are ever-evolving and we are that one profession that creates more professions so our responsibility and accountability stretch beyond the classroom. We are lifelong learners and need to keep pace with the fast-paced technology so that our students are ready to take the next leap. Our classrooms have to echo that thought and vision at all times through new pedagogies and teaching-learning strategies.
References:
Christensen Institute, Blended Learning definitions, https://www.christenseninstitute.org/blended-learning-definitions-and-models/
About the author:
Kavita Sanghvi holds a Masters in Physics, Masters in Education, Masters in Philosophy of Education, and CAEL [Certificate in Advanced Course in Educational Leadership] Diploma from Harvard University. She heads SVKM's CNM School, in Mumbai. She is a Teach SDG's Ambassador, Climate Action Ambassador, and Scientix Ambassador for India. She is a British Council Trainer and Ambassador.