Redefining the learning paradigm
Divya Lal addressed the audience on learning as a process that could be done anywhere at leisure with the use of modern digital technology.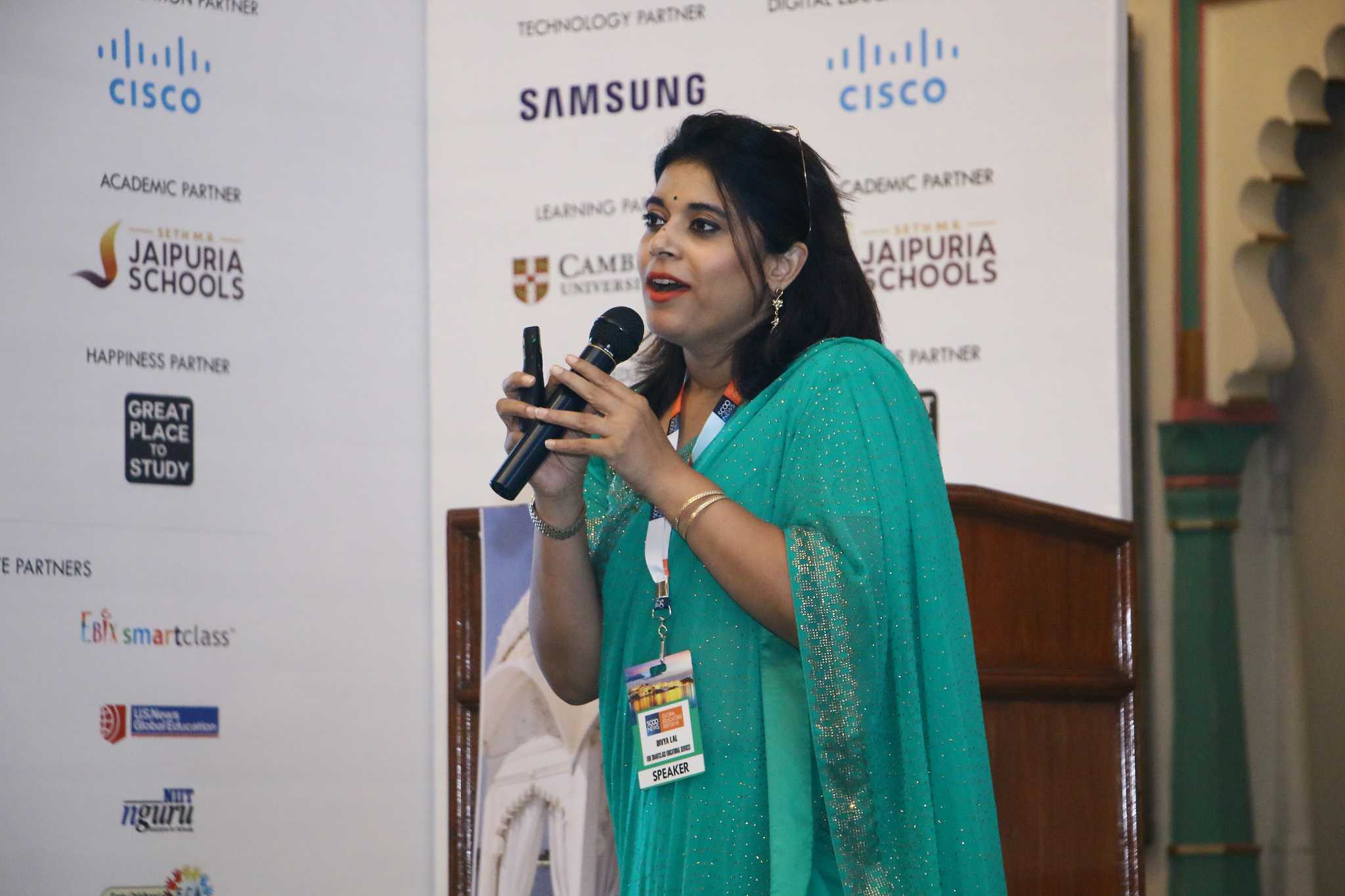 At the ScooNews Global Educator's Fest 2018, Divya Lal addressed the audience on learning as a process that could be done anywhere at leisure with the use of modern digital technology. She discussed the democratic profile of digital media and its effects on teachers, teaching methods, parents taking an active part in kid's education and enhancing creativity and personalized learning for each student.
Lal stressed on personalised syllabus for students to enhance personal attention and creativity. She opined that technology is a blend of education and efficiency in short periods of time in the chosen field and scene. Parents get an access to the system and they also become part of the system and it creates a learning experience within the school hours and beyond.
India Inclusion Summit 2020 In A Glimpse: 'Everybody's Good At Something'
The online event saw stalwarts like Viswanathan Anand playing chess with visually-impaired national champion Megha Chakraborty and world-renowned speed painter Vilas Nayak creating magic with Anu Jain, an art teacher on a wheelchair. The summit also saw actor Sonu Sood in conversation with India's 1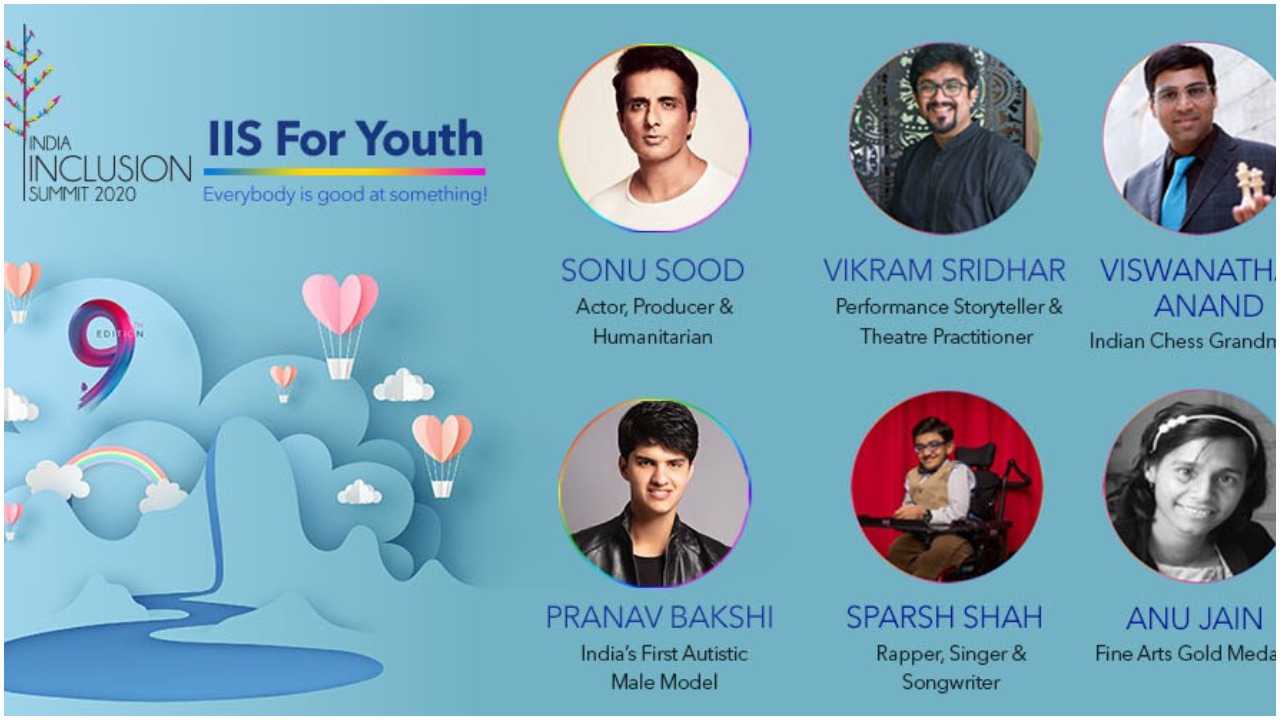 India Inclusion Summit, since 2012, strives to spread awareness on the need to build a more equitable and inclusive society. Their endeavour is to provide equal opportunities for all, regardless of their colour, gender, creed, or ability. Their vision is to 'Create an Inclusive India where nobody is left behind!'
Their mission is to:
Create awareness on the need for Inclusion in mainstream society.
Provide a platform for unsung heroes and celebrating the human spirit.
Facilitate building deep connections and a thriving community of people who are passionate about making India and the world inclusive.
Catalyze the journey of young entrepreneurs and artists who are in the disability and inclusion space.
Partner with corporates to support people & projects that lead to education, employment, and livelihoods for people with disabilities
The summit of 2020 conducted a live session on 21 November 2020 where panellists spoke about inclusion, ability in disability and how 'Everybody is good at something!'
Vikram Sridhar hosted the session, he is a professional Performance Storyteller and a Theater Practitioner. He started with a story about his childhood and his teacher who included him when he felt excluded in school. He also added how important it is to listen or talk about inclusion right in the formative years in school.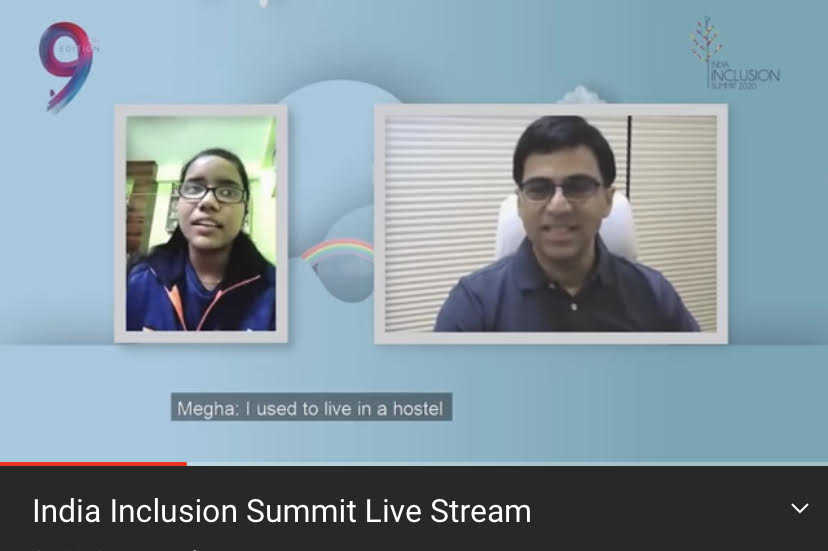 The summit began with an epic play of chess (online) when Megha Chakraborty, a visually-impaired professional chess player from West Bengal, challenging the legendary world chess champion, Viswanathan Anand. During this friendly game, they talked about their mutual interest in chess and the development of that interest since childhood as well as life lessons. Post-match, Anand gave the young player some helpful tips for improving her game.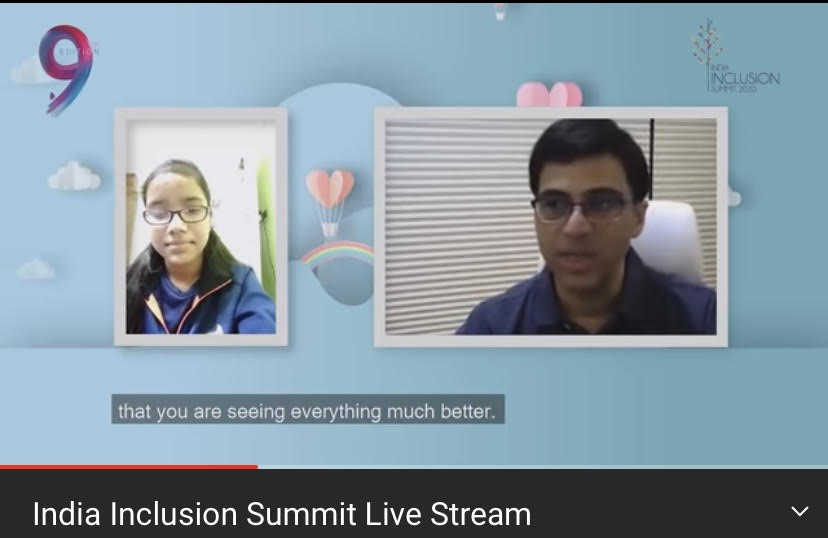 His suggestions not only were relevant to playing chess but are also eligible in living life especially for those who are differently-abled. "It's mostly thoughtlessness we need to fight against," said Anand.
Karuna Shullai, Sridevi Jayashankar, Ananya Jain, Sagarika Nair are four school-going girls who talked next about inclusion and how 'everyone is good at something.' These girls spoke about their different disabilities and how their schools/teachers and almost everybody around have been supportive of them. These children study in mainstream schools, a little effort on their school's part as well as a supportive staff has helped them immensely to grow in life. This is a very big example of the summit's main aim, that is to create a world where all children are given equal opportunities. One of the panellists, Sridevi, was also interpreting in sign language during the group conversation, so those viewers with hearing-disability could understand the context. Though she does not have a hearing/speaking-disability herself, her parents were born deaf, and so, she learnt the sign language for them. Her considerate and compassionate nature is what makes a huge difference in the lives of people around her and teach them about inclusion.
Later in the online event, Vikram Sridhar introduced a song on friendship by Vasu Dixit which was dedicated by Ashwin Karthik, who is the first successful engineer from India with Cerebral Palsy. He wrote the song for his best friend Bharat whom he met in college. Bharat had a huge hand in shaping Ashwin's life and career while putting his own needs and career on hold. This shows how a bond so strong can make all the difference, showing how just one person can make it better for others if only they include those with different abilities.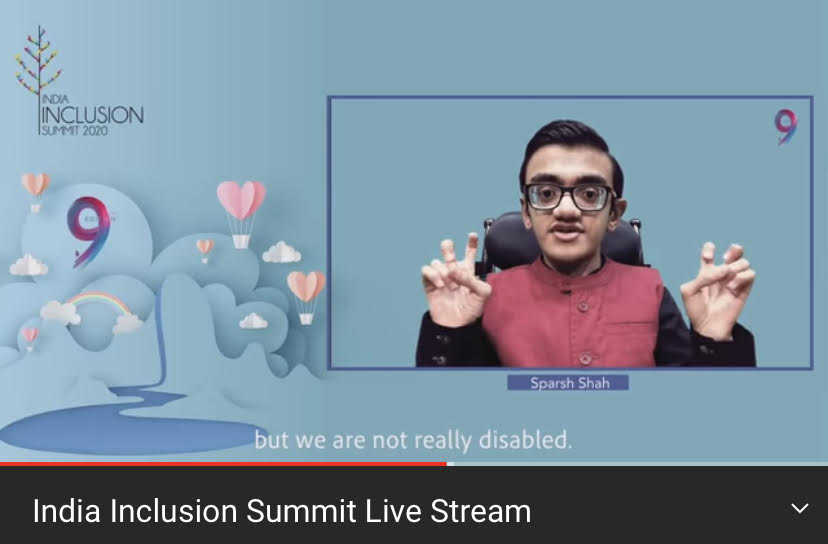 In the next segment, the Indian-origin motivational speaker, Sparsh Shah, began by saying, "Disabled, for some of us, this word should not exist because it is too condemning to those who have been given this label." A resident of New Jersey, this rapper, singer and songwriter who has a rare condition called Osteogenesis imperfecta, talked about how persons with disabilities can break barriers and live a life without limits. Shah talked about how society has seen the disabled people as a 'problem' that needs to be fixed, to which his answer for them was, "We are not entitled, we have simply been robbed of some basic human rights."
Shah also talked about reclaiming the label 'disabled' by embracing it and not feeling ashamed or any less by it. He talked about world-renowned celebrities, scientists, politicians and more who had some or the other kind of disability yet they were the best in their field and are still globally-celebrated. He concluded his session with a new version of 'Aasman Ke Paar,' the theme song of IIS which he rapped & sang melodiously for the viewers. Shah is an inspiration for people who wish to do something constructive and extraordinary in their lives but are psychologically restricted by their disabilities.
"We are disabled, we are proud of that label, we always will be," explained Shah.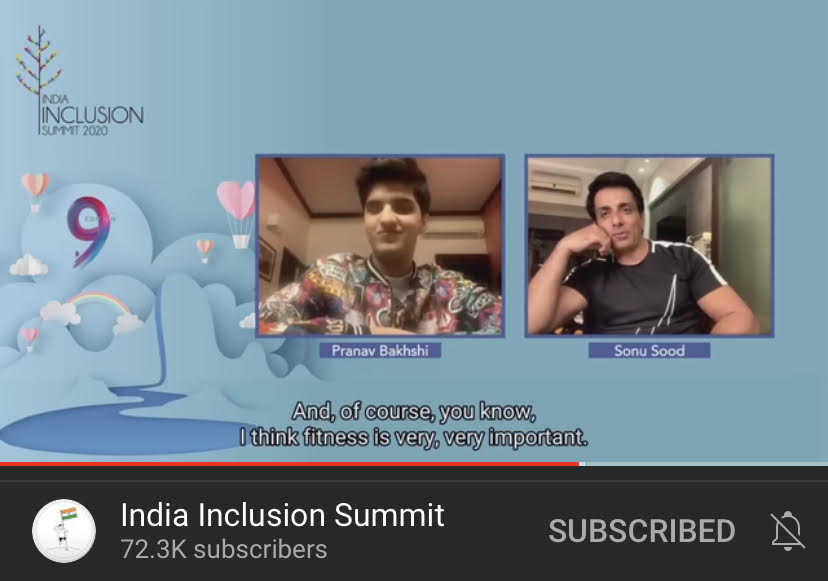 Next happened a riveting conversation where Sonu Sood, the famous Bollywood actor/producer and humanitarian, talked to Pranav Bakshi, India's first autistic male model. They discussed fitness, inclusion in the glamour world, and much more. Sonu spoke about how fitness is a very important aspect of his life, he also suggested to Pranav, as well as others, that they should take care of their physical fitness in order to keep the emotional health sound.
Sonu, being an avid fitness lover, gave tips on how one can easily lead a healthy lifestyle. His humanitarian work during COVID-19 lockdown has not been a secret, the nation applauds him for the immense empathy he showed, and so, consequently, Pranav, too, asked questions regarding the same. In return, Sonu told Pranav how he is an inspiration to many. "Thanks to IIS for championing this cause and spreading the message of inclusion," remarked Sood.
Anu Jain, a Fine Arts Gold medalist with no limbs, was next in conversation with Vilas Nayak, Asia's fastest Speed Painter. They talked about Inclusion in the creative world. Anu is also a teacher of arts for children and conducts workshops in fine arts for adults. While talking about each other's journey, life and dreams, Anu said, "I believe everyone is a student for life." Vilas and Anu both have different journeys, but the path leads to the same destination – Inclusivity in the creative world.
VR Ferose, Vice President of SAP, the man behind it all and the founder of India Inclusion Summit, made his appearance in the end to share an encouraging message with the thousands of viewers. "It gives me great joy to see so many schools, teachers, parents and students participating in this virtual meet today."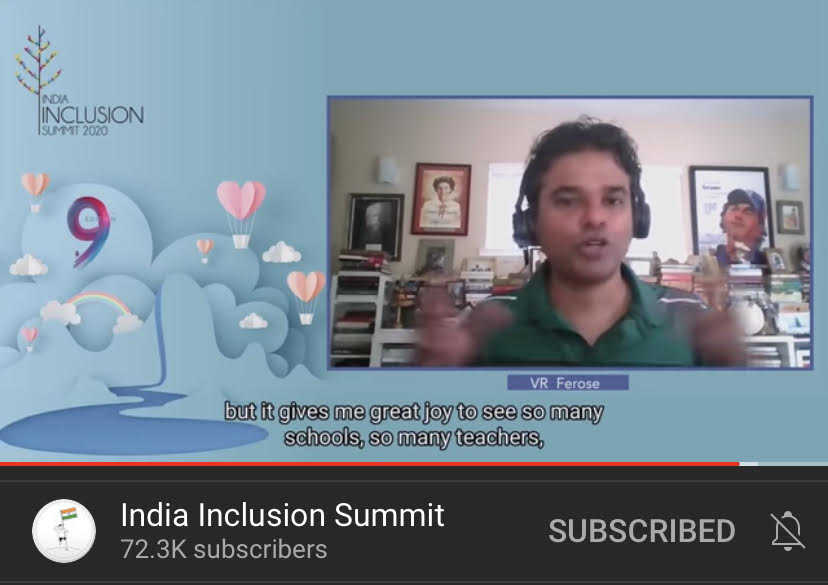 Ferose talked about how he enjoyed seeing these young minds interact with their role models, he said, "True change, not just in India but around the world, can only be driven by passionate youth." It was wisely said by him that like a rainbow, which is made of seven different individual colours, the idea of inclusion, too, shall manifest when the youth with different abilities come together, embracing each other's differences.
The two-hour-long event concluded with a request to take the pledge of inclusion! We have, and you?
Send your creativity about the word "Inclusion" at [email protected].