Returning to the education drawing board
We need to change our attitude and educate children by bringing out their interest in learning. With these changes in the entire ecosystem, we will be able to eliminate rote learning.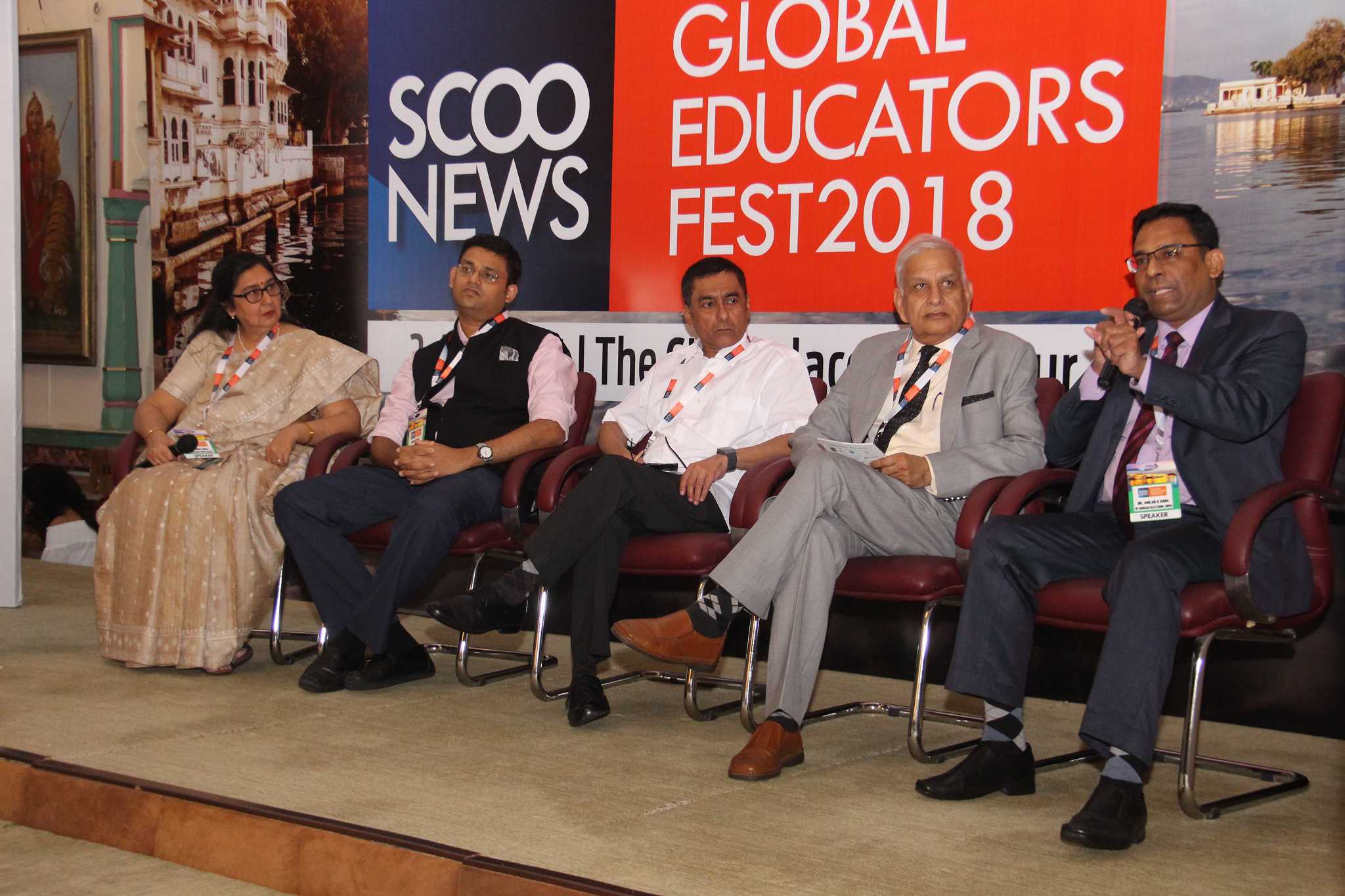 Amit Kaushik, Dr Amlan K. Saha, Kanak Gupta, Pramod Sharma, and Radhika Sinha were part of a panel discussing 'Back to the Education Drawing Board' on Day 1 at ScooNews Global Educators Fest 2018.
Amit Kaushik, as the moderator, opened the discussion by stating a few pertinent examples which drove home his point. "A bunch of us were selected to do a three-day course in C programming. We spent three weeks in this computer company learning it all, and the truth is that I remember nothing from that course whereas my 13-year-old son is learning python programming language entirely by himself. My second example is of the Hole in the Wall experiment wherein you place a computer in a class and give it to the students without providing any instruction on how to use it. The third example is of a famous race that takes place in Australia called the run for solar cars; engineering colleges set up teams of students who want to work on this project and let them work on their own. Despite all these examples, I'm disappointed to know that every school encourages creativity and critical thinking till grade eight but as soon as they have to attend their board exams, they hit the grinding mode. Can we start questioning this fear?"
Leading the discussion further, Pramod Sharma cited the example of his own school, "We wanted to encourage film direction and filmmaking in our school. So, we bought our own camera and invited a director to come in and teach the students. But before he could even begin, children had already made their own film. Basically, we don't need to coach students, we only need to provide them with facilities because they can figure out the rest on their own."
We often forget it isn't just the school that influences the child but also the home environment. Stressing on the point, Kanak Gupta declared, "It is important to educate parents and encourage students to ask questions. A school needs to provide a platform to both the student and teacher to learn more." Dr Amlan encouraged principals to empower their teachers to provide skills and love to their students so that critical thinking gets a safe and healthy environment.
Education in the 21st century comes with an updated curriculum. Radhika Sinha shared her model for professional development of teachers called Teacher Learning Communities. The model groups 8 or 10 teachers wherein the teacher who has learned something new, shares it with other teachers and he or she becomes the facilitator. "Thus, both teaching and learning becomes tenfold and that's how we can incorporate critical thinking and creativity into our curriculum," she stressed.
Further, Pramod Sharma added, "A student never fails, it is a school and a teacher who fail because they have not been able to connect to the child. Thus, we need to update the B.Ed. Curriculum and help teachers become better educators and learners, which will further help them to adjust and adapt to their school's environment."
To conclude the session, Saha gave the final remarks, "We need to change our attitude and educate children by bringing out their interest in learning. With these changes in the entire ecosystem, we will be able to eliminate rote learning."
Education Minister Honors 65 Officers with National Educational Innovation Award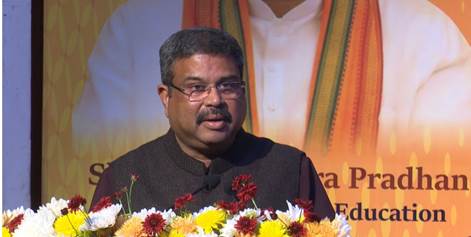 The Union Minister for Education and Skill Development & Entrepreneurship, Mr. Dharmendra Pradhan, bestowed the National Award for Innovations and Good Practices in Educational Administration (2020-21 & 2021-22) upon 65 exemplary district and block education officers nationwide. The ceremony took place in New Delhi and was attended by various dignitaries, including the Chancellor of the National Institute of Educational Planning and Administration (NIEPA), Mr. Mahesh Chandra Pant; Secretary of the Department of School Education and Literacy, Ministry of Education, Mr. Sanjay Kumar; Vice Chancellor of NIEPA, Prof. Shashikala Wanjari; and other officials from the Ministry of Education.
During the event, Prof. Kumar Suresh, Director (Planning and Development) and Head of the Department of Educational Administration at NIEPA provided a concise overview of the program.
In his address, Mr. Pradhan extended congratulations to all the awardees, commending their dedication to enhancing students' lives and their innovative efforts to make school learning more dynamic. He lauded NIEPA for establishing a platform to share and recognize innovative educational initiatives and best practices nationwide. The Minister expressed confidence in NIEPA's commitment to expedite the implementation of the National Education Policy (NEP) at the grassroots level and enhance the capabilities of school administrators.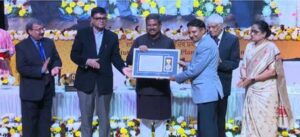 Aligning with the essence of NEP 2020, Mr. Pradhan encouraged everyone to collaborate with a sense of mission and purpose to transform the current generation into global citizens and achieve the vision of a developed India by 2047.
Highlighting the vast scale of the Indian education system, encompassing 10 million teachers and 260 million students, Mr. Pradhan underscored the need for leadership, innovation, and the introduction of good practices in the system. He emphasized the crucial role of education administrators, responsible for managing human resources and imposing a code of conduct on themselves for the successful implementation of innovative practices.
NIEPA initiated the National Award for Innovations & Good Practices in Educational Administration for district- and block-level education officers in 2014. The scheme aims to inspire innovations and good practices in educational administration at the grassroots level to enhance the public education system's efficiency. The overarching goal is to foster a culture and ecosystem of innovations and good practices in educational administration at the field level.
The objectives of the awards include documenting and disseminating innovations and good practices in educational administration at district and block levels. Selected officers receive awards or certificates of appreciation during the national award presentation function, coinciding with a two-day national conference on innovations and good practices in educational administration organized by NIEPA in New Delhi.