Rough Book: Evil of Teacher Poaching
Anant Narayan Mahadevan's Rough Book depicts the everyday problems faced by teachers regarding teacher poaching by coaching institutes.
With rising competitiveness in a world where each and every individual has to struggle through immeasurable odds to actually make something out of their lives, we are experiencing a revolution in the way education works. As coaching institues have emerged, there has been a drain of faculty from schools across India. Offering higher pay, these institutes steal teachers from schools, redering them staffless and incapable of providing the most accessible form of education.
Thus, arise another issue the world turns a blind eye to. The Government has not responded to this problem yet, and how would they if they are unaware? Primarily, due to the neglect faced by the government schools, the education of the needful continues to be hampered.
Depicting this very injustice, comes Anant Narayan Mahadevan's Rough Book. In a time where only the 100-crore club and above is appreciated, Rough Book is an art of a movie provoking the very issue of teacher poaching. With a non-commercial cast such as Tannishtha Chatterjee, Ram Kapoor and Amaan Khan, the film shines a bright light on the short-comings of the Indian Education system.
The very talented, Tannishta Chatterjee plays the role of Santoshi, who post-divorce joins, a school as a physics teacher. After a while, as she gets well acquainted with her students, who at first are brats with no interest in academics, an exponential improvement is seen in them. However, as a coaching institute opens up within the school premises, she is forced to quit her job. This daily problem often faced by a majority of teachers around the world. And thus, it was important to depict it in the most effective way possible.
Such works of art are born out of concern and inspire the masses to take further steps to solve these daily problems that are faced by the citizens of our country. And it is imperative that we understand the purpose of them, so as to facilitate the true development of our country.
Image Courtesy: 2classnotes.com
Gender Inclusive Holistic Education in NEP
The NEP focuses on 'Equitable and Inclusive Education' which reverberates the idea that no child should be left behind in terms of educational opportunity because of their background and socio-cultural identities.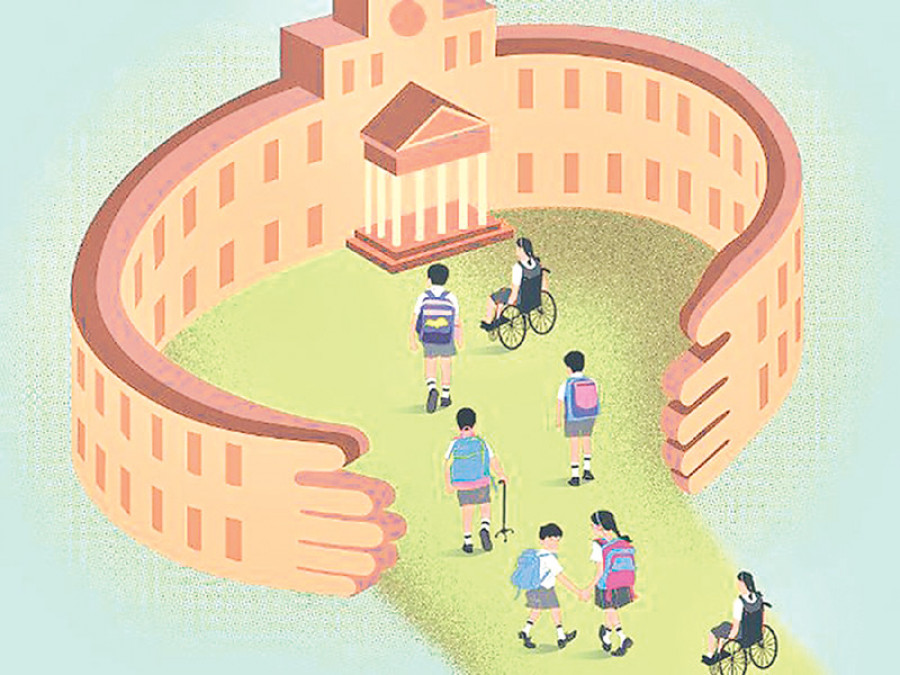 The National Education Policy 2020 envisages an inclusive and structural change in the educational system. It focuses on 'Equitable and Inclusive Education' which reverberates the idea that no child should be left behind in terms of educational opportunity because of their background and socio-cultural identities. It has taken into account the concerns of the Socio-Economically Disadvantaged Groups (SEDGs) which includes female and transgender individuals, Scheduled Castes, Scheduled Tribes, OBCs, minorities, and other categories. This policy aims at bridging the social category gaps in access, participation, and learning outcomes in school education.
The National Council of Educational Research and Training (NCERT) is implementing the Adolescence Education Programme (AEP) as part of the National Population Education Project (NPEP). One of the learning outcomes of AEP is to make the learners aware of the concerns of adolescence, i.e. process of growing up during adolescence & HIV/AIDS, and to inculcate in them a positive attitude regarding these concerns.
Further, the aspects related to gender-inclusive holistic education are covered through age-appropriate integration in different textual materials in the school curriculum, as well as in training and resource materials on the Health and Wellness of School Going Children, especially under the aegis of the School Health Programme under Ayushman Bharat.
As per UDISE+ 2019-20, a total of 61214 transgender children are enrolled in schools, of which 5813 and 4798 transgender children are enrolled in Class 10 and Class 12 respectively.
Department of School Education and Literacy (DoSEL), Ministry of Education is implementing Samagra Shiksha which is an overarching programme for the school education sector extending from pre-school to class XII and aims to ensure inclusive and equitable quality education at all levels of school education. Samagra Shiksha reaches out to girls, and children belonging to SC, ST, Minority communities, and transgender.
Further, National Education Policy (NEP) 2020 also identifies transgender children as Socio-Economically Disadvantaged Groups (SEDGs) and provides for equitable quality education, inter-alia, for all such students. This includes provisions for assisting transgender children in gaining access to education, and support for community-based interventions that address local context-specific barriers to transgender children's access to and participation in education, thereby aiming to eliminate any remaining disparity in access to education (including vocational education) for children from any gender or other SEDGs.
Additionally, under NISHTHA (National Initiative for School Heads' and Teachers' Holistic Advancement), a nationwide integrated teacher training program for teachers under Samagra Shiksha, teachers are trained on the relevance of Gender Dimensions in the Teaching and Learning Process which helps teachers to use and adapt learning activities that foster gender sensitive classroom environment.