Sampark Foundation takes the help of technology to teach children in rural India
Sampark foundation takes the help of technology to teach the children of remote India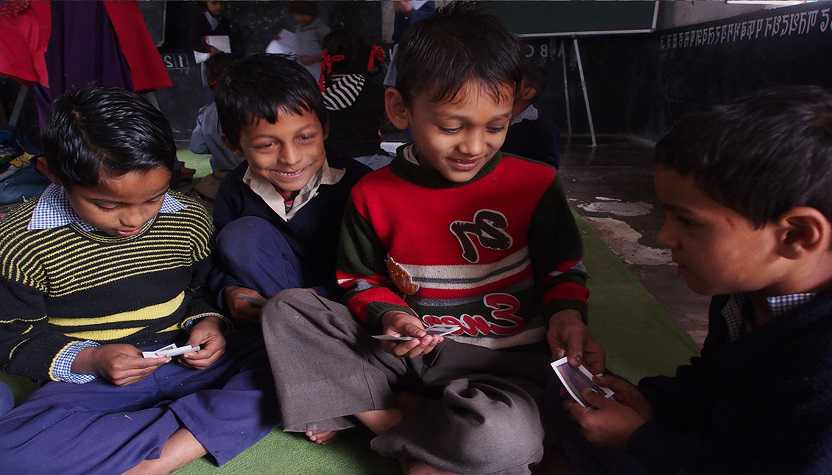 The Sampark foundation, which has been helping children to access quality education, is making use of audio technology to educate children in rural India.
The foundation introduced and distributed an interactive kit that included different learning aids to make the teaching method more interesting. An important device of the kit is called Sampark didi. Resembling to a portable radio transistor, it has an LCD panel, control buttons, a speaker set and a MicroSD card which is pre*loaded with lessons.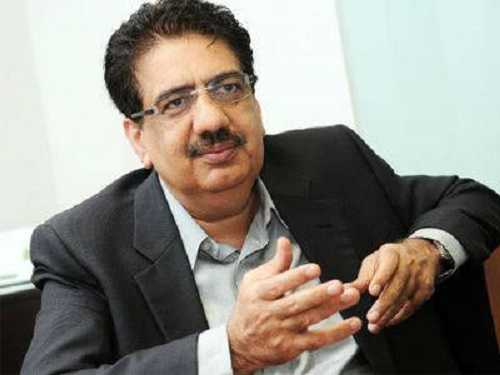 The aim is to teach the children with stories.
"For instance, Sampark Didi narrates the story of Bhagat Singh to children. At the end of the story, the teacher can ask the children mathematics questions with the help of an interactive timeline. Say, if Bhagat Singh is at position 6 and the police at position 4, then how many positions does the police need to advance to, to be able to catch him?"
Vineet Nayar, former CEO of HCL, along with his wife Anupama, founded Sampark in 2004. "A lot of school children in rural areas do not have the basic knowledge in various subjects. And often, due to the lack of interactive learning, they are deprived of the education," said Nayar, speaking with HuffPost India.
Sampark didi will be teaching two subjects, Maths and English. To teach English, the lessons have been have been recorded Hinglish (Hindi+English) It has 30 stories and 15 rhymes to teach with 500 English words. For Maths, 100 pre-loaded activities are recorded to teach 23 basic concepts.
"Children understand more when something is presented to them in a story. Maths and English are pillars of education in the current age," Nayar said. "It is estimated that out of 144 Million children studying in 714,000 schools in India, over 50% in the 5th grade cannot read simple English words or recognize numbers beyond 99. We want to remove that barrier."
"We are tying up with state governments directly for the distribution the devices," he added. "And devices hardly need maintenance. We have designed the product in such a way that it is easily replaceable. We also monitor every kid based on the performance and modify our program accordingly till we reach satisfactory results."
The Sampark foundation is helping close to 3 million children in about 50,000 schools and has the goal of reaching out to 10 million children by 2020.
Image Courtesy: Sampark Foundation
Smile Foundation and Shell Launch STEM Project on Pi Day
The initiative will benefit less-privileged students from government schools.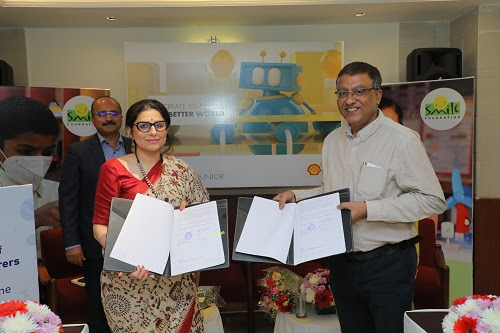 On the occasion of International Pi (π) Day, Smile Foundation and Shell launch 'NXplorers Junior' programme in three Indian states. NXplorers is Shell's global flagship Social Investment STEM (Science, Technology, Engineering, and Mathematics) educational programme aims to benefit over 25,000 children during the first year by enabling them to understand, navigate and address local and global challenges, as underlined in the Sustainable Development Goals (SDGs). NXplorers is also aligned with the National Education Policy 2020 and delivers societal benefits.
The innovative initiative will benefit less-privileged students from government schools and affordable private schools, studying in rural and hard-to-reach areas in the states of Andhra Pradesh, Telangana and Kerala. Its design also includes endeavour to create awareness amongst parents on the importance of STEM education, especially for girl children.
"Shell firmly believes that, provided with the necessary skills and guidance, young people can be a driving force to find sustainable solutions to the major global challenges of our time. Launched in 2018, Shell's global flagship STEM programme NXplorers is aligned with the National Education Policy 2020 that aims to transform India into an equitable and vibrant knowledge society. With the Smile Foundation partnership, we aim to expand this programme to Andhra Pradesh, Kerala, and Telangana and offer young minds the platform to design sustainable solutions to ease the pressure on food, water, and energy," said Ms. Latika Taneja, Head of Corporate Relations – India.
The programme is being rolled out in concurrence with the educational authorities of the respective state governments. Besides students, teachers, parents and communities are involved actively while implementing the programme so that it remains sustainable in the long-term.
"We are excited to roll out this innovative programme in India. We are hopeful that our children will not only leverage STEM education in building their future career but also will grow up and develop leadership ability in finding sustainable solutions in various walks of life," said Mr. Santanu Mishra, Co-founder & Executive Trustee, Smile Foundation.
The NXplorers Juniors will train both 6th and 7th grade students. NXplorers Juniors Level-I course will be delivered through a combination of teacher's guide, PowerPoint slides, and several instructional videos. The facilitator guide will outline the essentials to be covered in each session, exercises, discussion, checkpoint questions, a summary, assessment, and research to be undertaken by students after the session.
The United Nations Sustainable Development Goals (SDGs), exploring SDG Solutions, researching global goals, and developing a challenge and choosing a solution etc. are covered in the NXplorers Juniors Level-1.
NXplorers – Learning for a Life Time, envisions to provide a minimum of 3-5 years of NXplorers exposure to the students at various levels. The objectives include developing strong knowledge and skill set among students so that local and global challenges can be addressed by them. Developing sustainable models of implementation by engaging teachers, school leaders and communities effectively, creating awareness amongst parents regarding the importance of STEM education, especially concerning girl education are part of the overall goals.
About Smile Foundation
Smile Foundation is a national development organization directly benefiting over 1.5 million underprivileged children and their families every year through more than 400 welfare projects in education, healthcare, livelihood and women empowerment spread across 2,000 remote villages and urban slums in 25 states of India.
About Shell
Shell is one of the most diversified international energy company in India with over 10,000 employees and presence across upstream, integrated gas, downstream, renewable energy, and deep capabilities in R&D, digitalisation, and business operations; with a retail presence across six states – Karnataka, Tamil Nadu, Telangana, Maharashtra, Gujarat, and Assam.