Say hello to the man who single-handedly made Akoli a 100% digitally literate village.
Gajanan first learnt computers while studying for his diploma. So enthused was he by his experience that in 2010, he decided to introduce his hometown to the convenience and excitement of using a PC. In 2015, when the government announced the Digital India initiative he trained his entire village.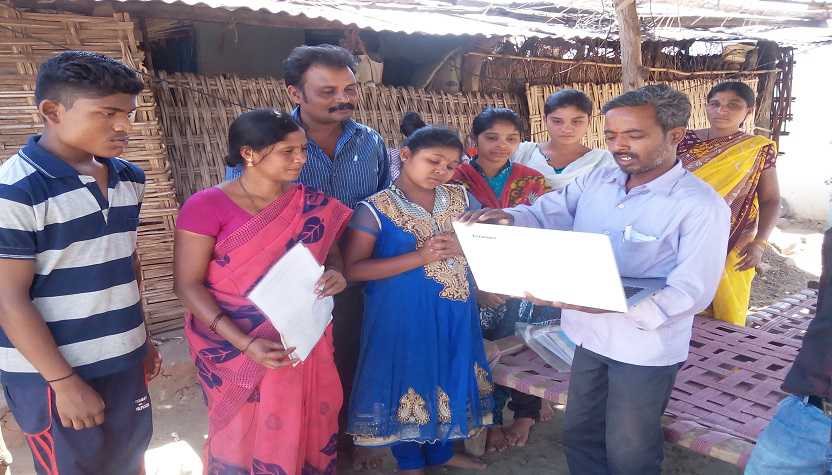 Have you heard about the sleepy village of Akoli in Telangana? You will be forgiven for not having heard of this hamlet. The village has recently been conferred the honour of '100% Digitally Literate Village' and owns place of pride in the country. 34-year-old Nivalkar Gajanan has played a pivotal role in this digital transformation.
Hailing from Gimma village of Adilabad district in Telangana, Nivalkar Gajanan was studying for his diploma in Industrial Training when he first learnt how to operate a PC. The sheer breadth of activities made possible by a computer, from paying utility bills to maintaining records, from learning about government schemes to learning about the world left him awe-struck.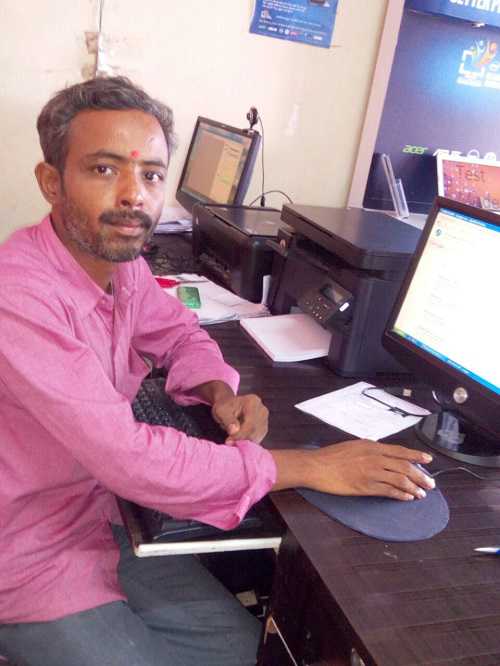 So enthused was he by his experience that in 2010, he decided to introduce his hometown to the convenience and excitement of using a PC. To this end, Gajanan set up a Common Services Centre (CSC). Here, for a small fee, village level entrepreneurs, who administer the centre, help digitally illiterate villagers use the internet to apply for government schemes and avail different government benefits.
In 2015, when the Central government announced the 'Digital India programme' and launched the National Digital Literacy Mission with the aim to ensure that every household in the country has at least one digitally literate individual. The initiative inspired Gajanan to start training government health and education workers on how to use the PC.
It was the first time Gajanan had trained someone in using a PC, but it was certainly not going to be the last. "I was extremely happy that they were making such good use of the skills I had imparted. I decided to continue training and to reach out to more people," Gajanan said.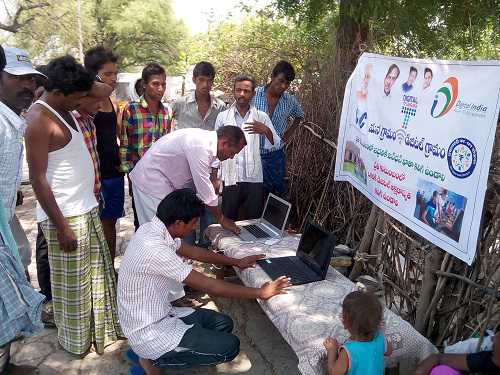 It was while training students in the local government school that the idea struck him to train an entire village. When Gajanan presented the idea to P Keshav, sarpanch of Akoli, he readily agreed and even extended unconditional support to the initiative.
A month later, in January 2016, Gajanan enrolled a member from each of the 160 households in the village. In a small room in the gram panchayat, he set up digital classrooms including 4 of his own PCs, 2 Wi-Fi hotspots and an LED screen.
He began the training with Microsoft Paint: "It helps them get comfortable with using the mouse," he explained. A week into the training he organised a small competition where the winner would be selected on the basis of skilful use of Paint. He gave away small gifts as prizes bought with this own money.
To keep up the momentum and the excitement of learning, Gajanan repeated the pattern throughout the course, interspersing classes with fun competitions to assess the progress of the villagers and to keep them engaged.
At the end of a vigorous 25-day computer literacy programme, many villagers were adept at using the PC, a fact that was reflected in the results of their official assessment by the National Digital Literacy Mission, and Akoli was declared Telangana's third 100% digitally literate village.
While the expenses of training the villagers were borne by Gajanan himself, he was awarded ₹65,000 by the Government of India upon the successful completion of the assessment by the villagers.
Gajanan magnanimously reinvested this money in the village, setting up a permanent computer centre with 2 PCs and an internet facility.
Today, children from Akoli access free online tutorials at the center while farmers seek the internet for tips of farming. Computer literacy has also generated better employment opportunities; some of the trainees have been hired by Gajanan himself to spread digital literacy to other villages in rural Telangana.
Gajanan's journey hasn't stopped at Akoli. He is currently training 2 more villages and hopes that they too attain the status of being 100% digitally literate.
NIOS celebrates 33rd Foundation Day
Dr. Subhas Sarkar addresses the 33rd Foundation Day Celebrations of NIOS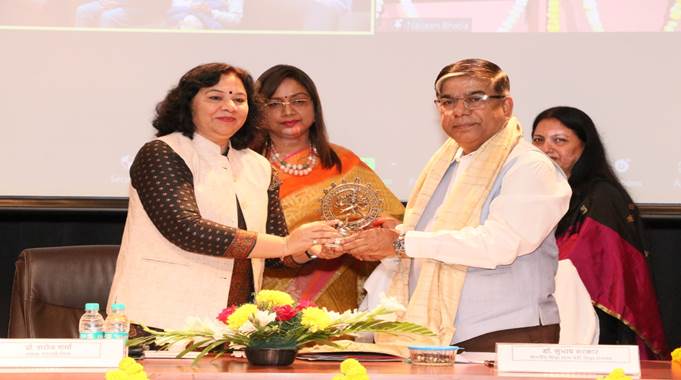 Union Minister of State for Education, Dr. Subhas Sarkar addressed the 33rd Foundation Day Celebrations of NIOS as the Chief Guest.
The function was attended by senior officials of the Ministry of Education, Chairpersons of educational institutions, Heads of Departments, officers, and staff of NIOS. Prof. Naval Kishore Ambasht, former Chairman, of NIOS and Pro-Vice Chancellor, of the Central University of Haryana, Prof. Sushma Yadav graced the occasion.
Dr. Subhas Sarkar in his address appreciated the various programmes and schemes of NIOS and said that NIOS is lighting the lamp of knowledge all over the world. Talking about the Azadi Ka Amrit Mahotsav, he mentioned that today's children will be young people in the age group of 30-40 years on the completion of 100 years of independence and will be responsible for building our nation.
He said that the Ministry of Education has entrusted NIOS with several responsibilities such as developing inclusive education resources, expanding the open and distance education system in states/UTs, translating all courses into more languages as required, creating Indian Knowledge Tradition based courses and propagating Indian culture by translating them into major foreign languages. He also praised the programmes of NIOS enrolling 10 crore adults under 'Basic Literacy Assessment', training of in-service teachers, Gender Green Project, and training in Yoga. He said that Indian Sign Language as a subject at the secondary level has been acknowledged on national and international platforms. He described the launch of an e-library called 'DEEP' by NIOS as a big step forward.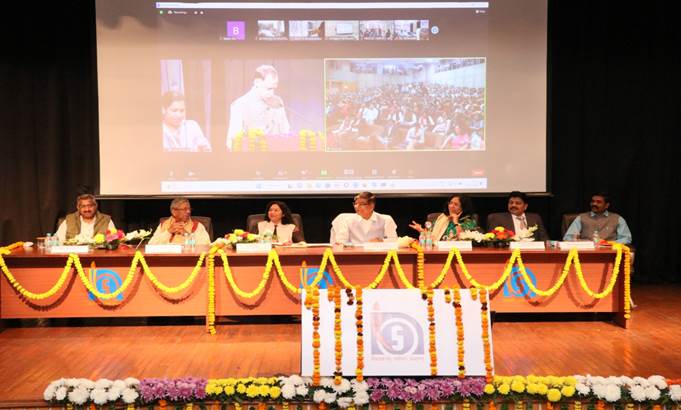 Prof. Saroj Sharma spoke about the journey of 33 years of NIOS and highlighted the special achievements. She said that NIOS is one of the two National Boards of Education under the Ministry of Education, which provides school education through Open and Distance Learning (ODL) for secondary, senior secondary, and vocational education. She elaborated on the role of NIOS in the field of education, efforts being made by NIOS for the successful implementation of the New Education Policy, Virtual Open School, Digital Library (DEEP), NEPIA Project, MoU with Ministry of Defence for Agniveer Project, setting up of Mukta Kaushal Kendras and subjects offered under Indian knowledge Tradition.
It was also conveyed by her that a curriculum called 'Aarambhika' is being developed by NIOS for catering to the Indian Diaspora.
A documentary based on the journey of 33 years of educational endeavours of NIOS was presented on the occasion. In this documentary, 'All England Badminton winner Pullela Gopichand said that most of the players in his badminton academy are getting an education from NIOS.
NIOS alumni, Ms. Niranjana and Vinod Kumar Chaudhary were also felicitated on the occasion. Shri Vinod Kumar said that only due to his education in NIOS, he was able to get the credit of making the Guinness Book of World Records 10 times (8 in Typing and 2 in sports). A proud learner of NIOS, Ms. Niranjana is a successful ventriloquist. Prof. N. K. Ambasht, former Chairman, NIOS said that in this age of technology, innovations must lead to developing 'standalone' courses for the Indian Diaspora, to achieve the goals of the National Education Policy- 2020. Pro-Vice Chancellor, Prof. Sushma Yadav said that the role of NIOS increases in the light of New Education Policy. NIOS has such potential that the institute will be able to achieve the ambitious goals of National Education Policy 2020 in the coming years.
The half-yearly magazine of NIOS 'Pragyan' was released by Dr. Subhas Sarkar on this occasion.