School leaders and teachers want greater use of technology and it's appropriate integration in the classroom
Greater use of technology and appropriate integration into the school curriculum are what school leaders and teachers want in their classrooms this year.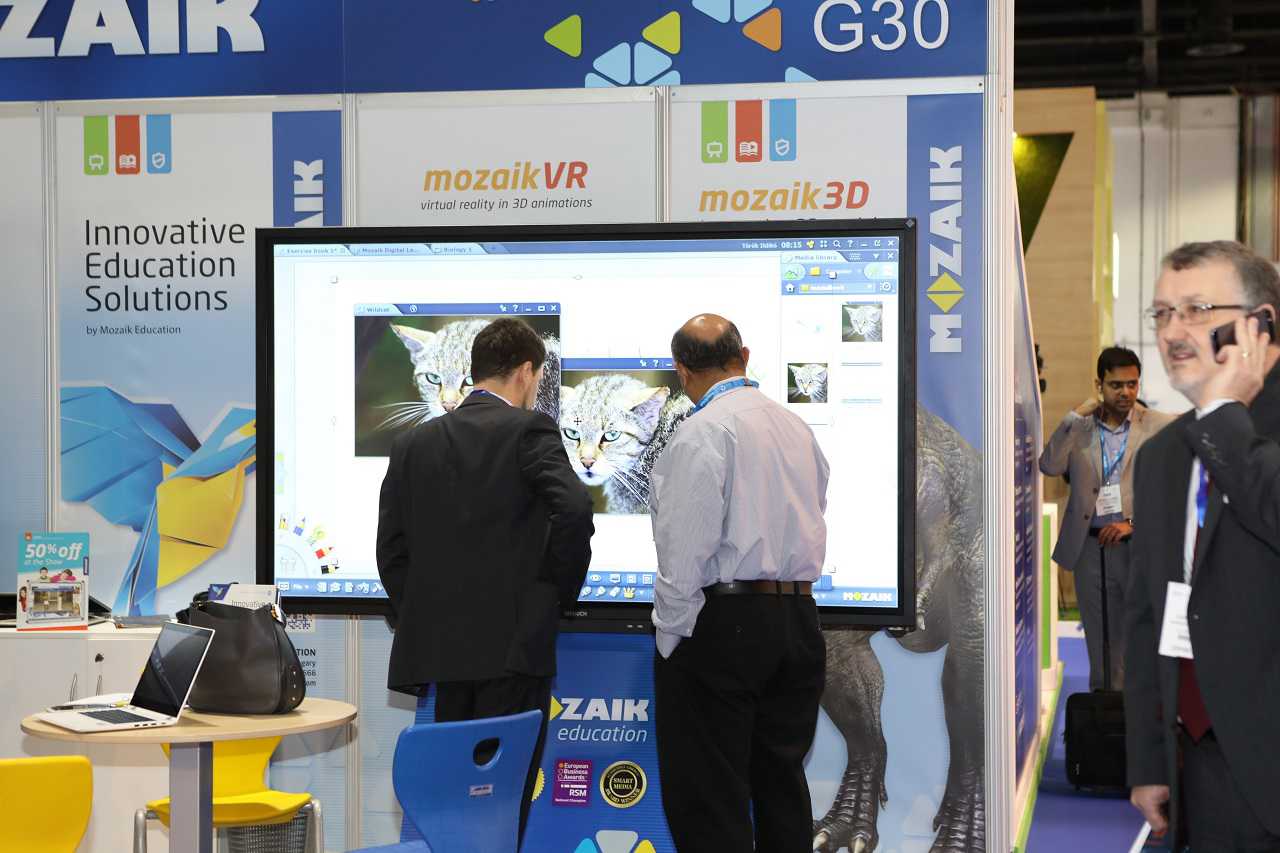 Greater use of technology and appropriate integration into the school curriculum are what school leaders and teachers want in their classrooms this year.
GESS Dubai polled almost 1,000 education professionals across the Gulf region to determine what improvements they would like to see more of in their schools this year.
"For over 10 years now, GESS Dubai has been the premier showcase for the latest education-focused products and solutions in the region. In our desire to stay relevant to schools' needs, we did the survey to find out what school leaders and education professionals need more of to enhance the teaching and learning experience in the classroom. Technology-related teaching aids and learning tools were the overwhelming choice. With the exhibitors we have carefully chosen to be a part of this year's show we are sure they will have a wide selection of reputable brands from all over the world to choose from," said Sarah Palmer, Marketing and Conference Director, Tarsus F&E LLC Middle East, organisers of the GESS Dubai that will take place on 27 February to 1 March 2018 at the Sheikh Saeed Halls of the Dubai World Trade Centre.
According to Palmer, 60% of all visitors said that they came to GESS Dubai last year to keep up to date with new products and services geared for the education market in the Middle East.
Some of the more popular tools and applications that came on top of the wish list include smartboards, virtual reality headsets, tablets and smart apps as well as 3D printers.
Najda Khan, School Counsellor, Al Salam School, wants to see technology being integrated more into the curriculum and sees "interactive software as key in helping teachers and students perform better."
For kindergarten teacher Tayyaba Farhan Shifaz, more use of ICT tools and hands-on activities would help students and teachers become more innovative. But she hopes that since 2018 is the Year of Zayed in the UAE, "I would love that my students would explore and do a lot of practical research and create a project on the Father of the country."
Non-technology related improvements also made it to the wish list, including the development of programmes that will encourage more critical thinking for students, greater use of outdoor spaces, as well as more resources dedicated to nurturing a green environment across schools in the UAE.
More than 550 exhibitors from local and international companies and brands are expected to participate in this year's edition of GESS Dubai, including STEM Revolution Management Development Training (Stand E54), Connect (Stand P31), AVI-SPL (Stand F50), and Almoe (Stand C1), among others.
Alef Education, creator of the world's first artificial intelligence (AI)-powered transformational technology-enabled education solution, will be showcasing a virtual reality (VR) Mars experience at GESS Dubai, as part of its mission to nurture interest in STEM subjects amongst future generations, in support of the UAE's long-term space exploration goals.
"Alef's unique edtech solution, powered by AI, and rolled out across at a public school in Abu Dhabi, seeks to transform education as we know it by enabling teachers to personalize lessons to suit students' learning needs, while also providing detailed analytics on their efforts and progress," said Geoffrey Alphonso, Acting CEO at Alef. "This immersive and experience-based approach to learning is exactly what we seek to showcase at GESS Dubai through a VR Mars experience that will enthrall users, as they delve into life on the Red Planet."
Beyond the exhibition floor, education professionals are expected to benefit from the over 100 workshops and panel discussions on how to leverage current advances in technology to empower teachers and help students perform better.
The Future Learning workshops include interactive sessions on STEAM, Digital technology, Special Education Needs (SEN) and VR featuring the latest insights from renowned experts.
For instance, Nathaniel Hyde, Head of Computing, Jebel Ali School, will lead a presentation on App Building with the MIT App inventor, which will allow participants to create their own app from scratch.
Other sessions will focus on how teachers can innovate the learning experience through workshops from Apple Solutions Experts as well as sessions on Google's VR applications.
Stephen Cox, Managing Director, 21tenlearning, will also lead a discussion The Future of Learning – Implications for Leaders and Teachers, in which he will present the latest insights on how Artificial Intelligence (AI) and Virtual Reality (VR) will have far reaching impacts on the future of school buildings, environments and classrooms; as well as how teachers and school leaders can prepare adequately in harnessing technology to develop the next generation of student achievers.
GESS Dubai is free-to-attend for education professionals and the public who want to keep abreast of the latest advances in education. Registration can now be done online at www.gessdubai.com.
SHE STEM 2022 honours and celebrates women
SHE STEM 2022 encourages students to 'Unleash their imagination' as part of the Sweden India Nobel Memorial Week.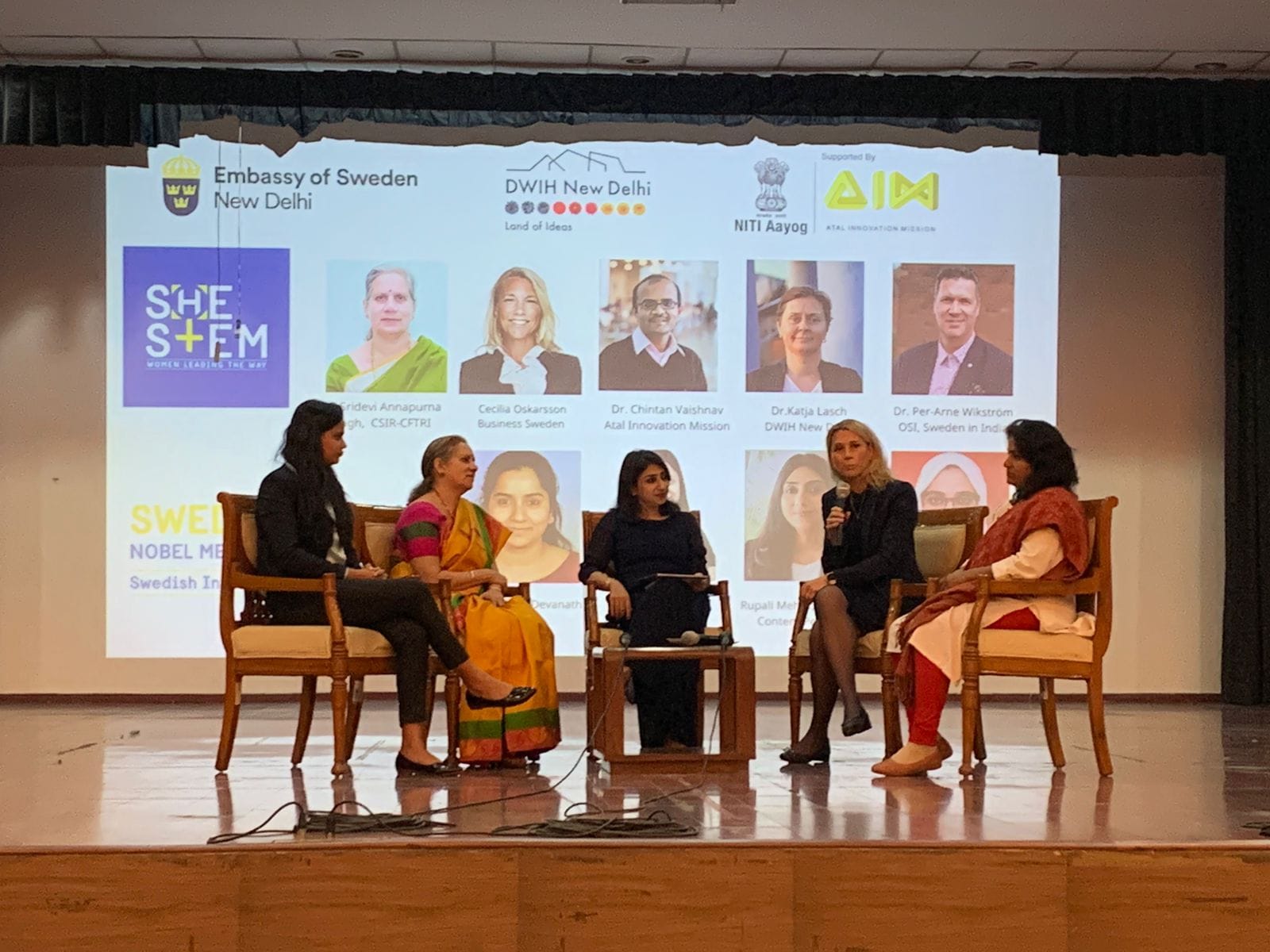 As part of the Sweden-India Nobel Memorial Week, SHE STEM, the annual event to celebrate women in the fields of science, technology, engineering, mathematics, and sustainability, was successfully held for the third year in a row.
The annual event is organized by the Sweden Embassy in India in partnership with the Atal Innovation Mission of the Government of India and the German Centre of Innovation and Research (DWIH New Delhi).
Ambassador of Sweden to India H.E. Jan Thesleff, who also addressed the students via a video message said, "We are very happy to continue the tradition of SHE STEM – it is a flagship event of the Sweden-India Nobel Memorial Week. Congratulations to all the winners of this year's SHE STEM Video challenge."
Dr. Chintan Vaishnav, Director of ATAL Innovation Mission said, "Today, the face of women's involvement in STEM is changing and the rate of participation has increased. It was in ATL Marathon 2021, that there was a spike where the women's participation was 49%. A strong STEM education will go a long way in cultivating such critical thinkers."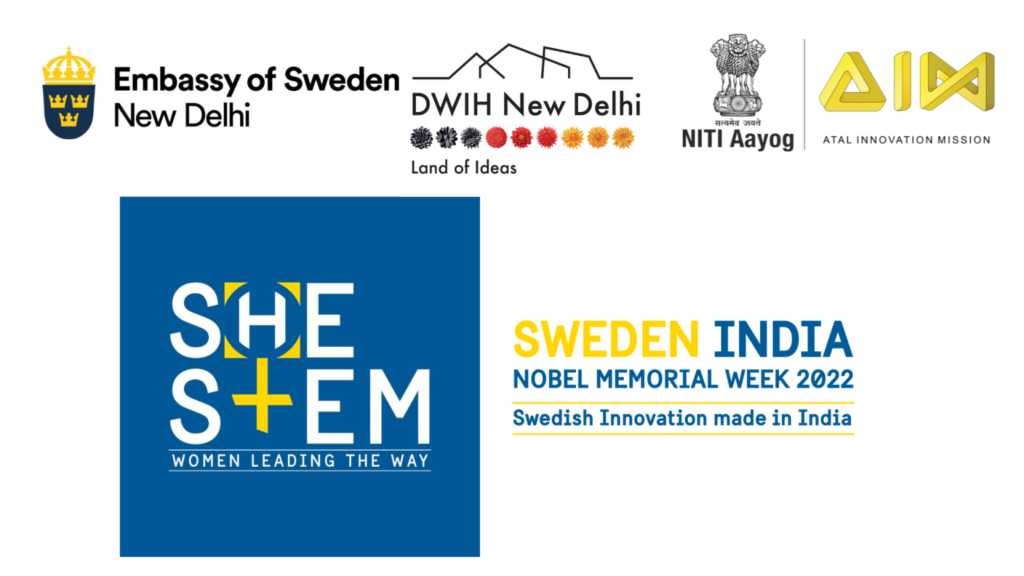 SHE STEM 2022 began with a musical performance by the students of Darbari Lal DAV Model School, New Delhi, the host school for SHE STEM 2022, followed by talks, and a panel discussion with women in the fields of STEM and business, including D. Sridevi Annapurna Singh, Director of Council of Scientific and Industrial Research – Central Food Technological Research (CSIR-CFTRI), Ministry of Science and Technology, Government. of India.
Dr. Annapurna Singh has done extensive work in the development of supplementary foods for undernourished children and in studying the impact of protein-rich food on children. She spoke to the audience about the need for women in fields of STEM to bring in their unique perspectives to problem-solving for a sustainable future.
Other participants included Cecilia Oskarsson, Trade, and Invest Commissioner of Sweden to India, who shared her thoughts on the role of diversity in triggering and enabling positive changes for girls and women, Mamta Kumari, co-founder and CEO of Prepbytes, an ed-tech company in India, and Dr. Vasudharani Devanathan, Neurobiologist and Professor of Biology at the Indian Institute of Science Education Research (IISER). Rupali Mehra, Founder of Content People AB moderated the event.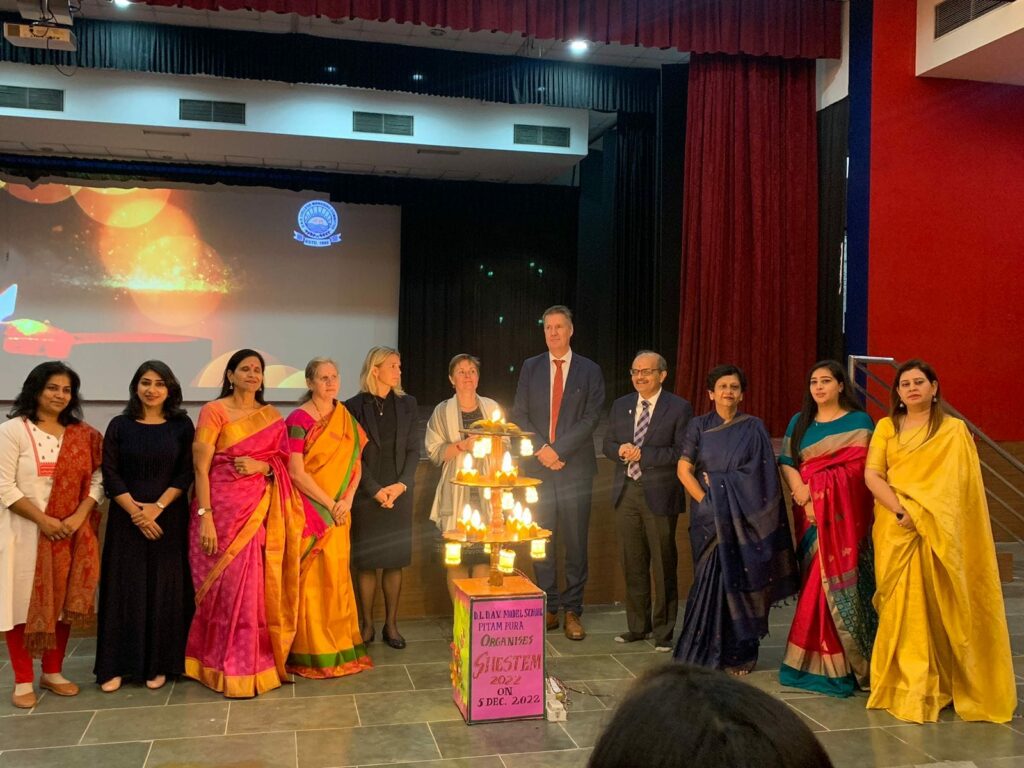 Dr. Per-Arne Wikström, Head of Office of Science & Innovation, Embassy of Sweden in New Delhi said: "When women and girls provide their talent, their knowledge, and their capabilities to science and technology on equal terms with men and boys, then we know that societies prosper and that innovation capacity actually increases. So for us, gender equality is an integrated part and an important aspect of everything that we do. We would like to thank our Indian partners for their support for this very important initiative."
"As Johann Wolfgang von Goethe said, 'who is not curious will not gain knowledge,' so keep your curiosity on, drive your knowledge forward and who knows maybe one or other idea will be implemented," said Dr. Katja Lasch, responsible for Strategy Management at the German Centre for Research and Innovation (DWIH New Delhi) and head of German Academic Exchange Service (DAAD) Regional Office in New Delhi.
Following the success of the Insta-reels Video Challenge in 2021, SHE STEM hosted the #SHESTEM2022 Video Challenge across Instagram, Youtube, Facebook, and Google Drive for students of ages 13 to 17, asking them to imagine themselves in the year 2047, and speak about an innovation of theirs that has helped in tackling climate change. The response was overwhelming with over 930 videos of which 15 were shortlisted. SHE STEM had an extensive jury round of 3 jury teams; Atal Innovation Mission Team led by Dr. Chintan Vaishnav, the Swedish Embassy team, led by Dr. Per-Arne Wikström, and the German Centre for Research and Innovation, represented by Dr. Katja Lasch.
The videos were assessed on the:
Novelty of idea
Clarity of thought and articulation
Sustainability or climate action angle
G. Nivethiga Rani who created a video on how she as a STEM Leader in 2047 had invented a robot that collected and converted biodegradable and non-biodegradable waste into electricity, won the first prize in the video challenge. The second prize was tied between T Shatananda Dhanwantari and Shreya Singh and Nistha Aswal, who participated as a team. Gaurav Hanjoora won third place.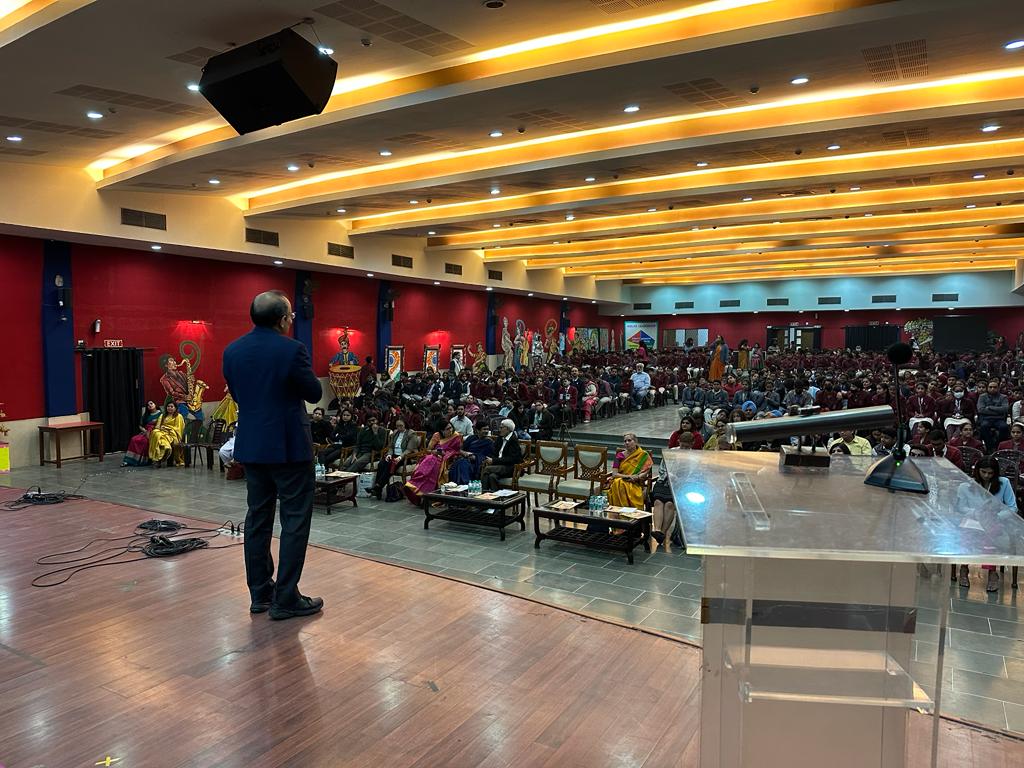 "I congratulate all the winners of the SHE STEM 2022. I have to say what caught my attention was that every single idea was addressing a fundamental constraint confronting us," said Dr. Chintan Viashnav.