ScooNews Global Educators Fest: an 'Unconference' to encourage exchange of ideas and best practices between the best minds in education from across the globe
ScooNews is organising the Global Educators Fest 2017 at Hyatt Regency Gurgaon on August 18 and 19, an 'Unconference' to encourage exchange of ideas and best practices between the best minds in education from across the globe.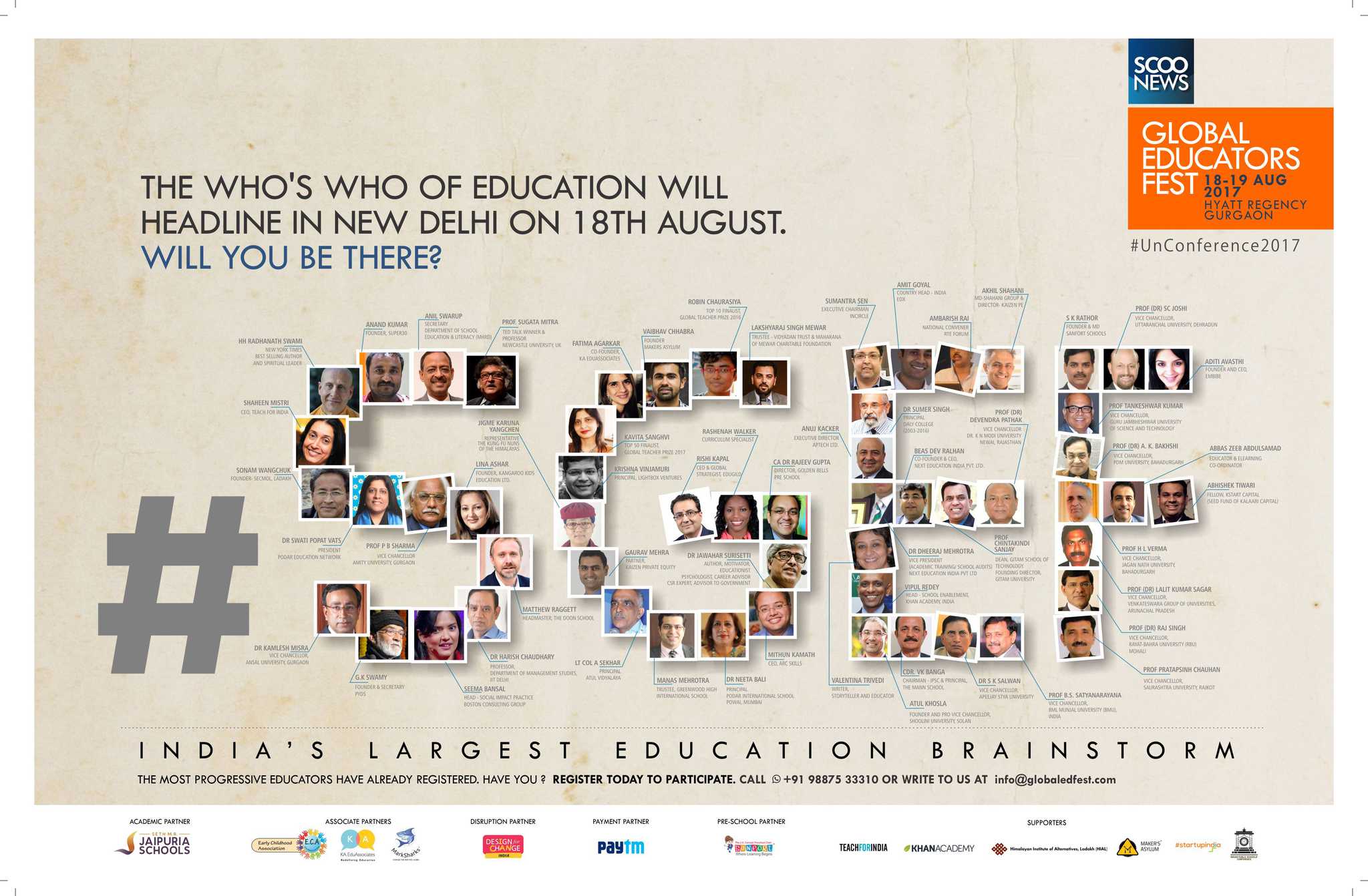 ScooNews is organising the Global Educators Fest 2017 at Hyatt Regency Gurgaon on August 18 and 19, an 'Unconference' to encourage exchange of ideas and best practices between the best minds in education from across the globe.
These are exciting times for education. We hope that you have decided to attend the ScooNews Global Educators Fest 2017 (SGEF2017) and have registered for your delegate pass for both the days of the fest. However, in case you are still in the process of deciding whether to attend the fest or not, this article gives you 10 compelling reasons to definitely attend #Unconference2017.
1. Unconference Format
Being an Unconference, you can expect not just information but also practical usable knowledge through live demonstrations, interactive sessions, workshops and exhibitions. An unconference is a pretty awesome format when you want a super-flexible and participant-driven agenda and structure. The overarching goal of ScooNews Global Educators Fest is to prioritize conversation over presentation.
2. Theme – Unlearn the Conventional
This year's theme is 'Unlearn the Conventional' which will question legacy education and introduce disruption. However, to achieve this, we need to be able to talk to the right audience while creating awareness, curiosity and enthusiasm in the education fraternity. ScooNews Global Educators Fest is our contribution to the meaningful dialogue needed to bring about the positive change required in our education system. This is vital to allow for it to evolve into a vessel of impact, not just for our educators but also the students and parents impacted by the change in mindset, viewpoint and approach along with the value and style of education.
3. Best Speakers
#SGEF2017 features inspiring educators and thought leaders as speakers including The Kung Fu Nuns, Prof. Sugata Mitra, Sonam Wangchuk, HH Radhanath Swami, Shaheen Mistri, Dr Harish Chaudhary, and Matthew Raggett; to name a few. The complete list of speakers is available at http://www.globaledfest.com/2017/speakers.
4. Innovative Topics
#SGEF2017 features some of the most interesting and unconventional topics on education. The topics include teaching for Social Awareness; Creative and Critical Thought; Design Thinking; New Tools for Teaching; Virtual Reality; Social Impact of Technology-driven Education; International Cooperation in Higher and/or Engineering Education; Flexible Classrooms; Use of Social Media; STEM/ STEAM and more. The tentative agenda for ScooNews Global Educators Fest 2017 is available online at http://www.globaledfest.com/2017/schedule.
5. Meet Experts & Influencers Face to Face
#SGEF2017 provides you a chance to meet our speakers and attend personalised mentor hours with them. While undoubtedly you can learn a lot from experts and mentors via their books, websites or social media channels; nothing beats the experience of interacting in person with the experts and mentors themselves and being able to ask questions that are specific to your personal experiences and concerns.
6. Networking Opportunities
#SGEF2017 provides opportunities for attendees to mix and mingle, form new relationships, and strengthen existing ones. Over coffee, lunch, or dinner, you may make a connection with the perfect provider or prospect. At a breakout session, you may find yourself sitting next to your next customer or mentor. One way or another, an enriching experiencing for all!
7. Workshops with Certifications
At #SGEF2017, you will find various workshops on Teacher Training, Technology-driven Teaching Tools, Design Thinking, STEM & STEAM, Institutional Branding, Revolutionary Technologies of the Future, eLearning and a host of other interesting subjects. We have tied up with industry leaders to provide actionable takeaways backed with certifications through these interactive workshops.
8. Participants from across the globe
Over 800 participants from over 20+ countries will be participating in the #SGEF2017 Unconference and will include school administrators, thought leaders, principals, teachers, venture capitalists, edtech start-ups, media, education service providers, higher education fraternity comprising of vice-chancellors, professors, and government functionaries from various departments related to education and skill development. This brings a global perspective and sharing of experiences to the fest.
9. Resources & Insights
Many educators we spoke to during the course of our research on SGEF2017 told us that they return from a live event with new ideas and approaches that makes them more effective and efficient at work. In the Exhibition area, you will find companies showcasing tools, techniques and apps that help you plan better, learn better and help others learn better. Overall, you will find either a white paper, book, resource or an experience that will give you some sort of an edge.
10. Global Education Awards
SGEF2017 culminates with the Global Education Awards Gala celebrating education's best and brightest and shines a spotlight on the best solutions, innovations, inspiring leaders, and innovative trendsetters. Nominations are open and can be submitted online at www.globaledfest.com/2017/awards-introduction/.
Oftentimes educators need the space and time to become re-inspired and invigorated to continue their work, and what better circumstance than doing it in a supportive, curious community of peers in a beautiful and fun environment?
SGEF2017 is interspersed with multiple fun elements like musical evenings, selfie zones, performances, storytelling sessions and much more to keep you entertained.
By attending India's largest education brainstorm, not only will you be a part of something iconic but also share two whole days with more than 800 of the world's education leaders. Packed to the gills with interactive sessions, the agenda promises to leave you inspired and with new insights into how to make education more effective.
Check out – globaledfest.com
28th edition of CBSE Sahodaya Schools Conference begins at Vadodara
The 28th National Annual Conference of Sahodaya School Complexes on the theme of Education 4.0-Reinventing
Education 2030 and beyond begins.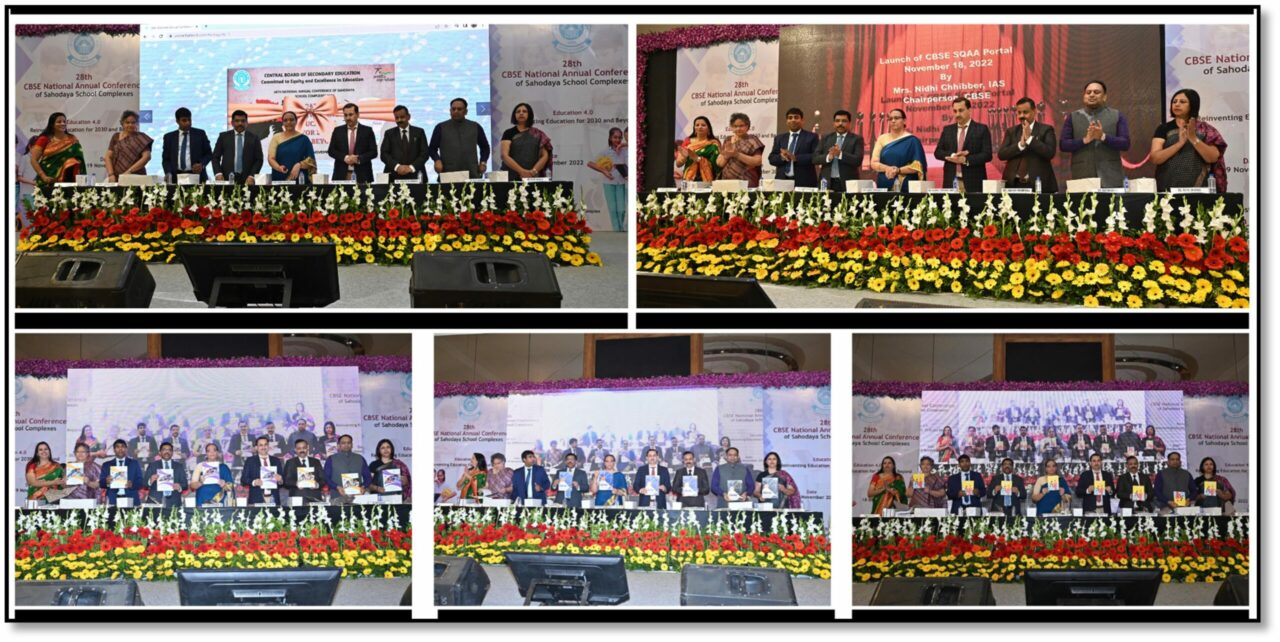 The 28th National Annual Conference of Sahodaya School Complexes (2022) began on 18th November 2022. This year the conference is being held in collaboration with Gyan Sarovar Sahodaya –The Central Gujarat CBSE Schools Sahodaya Complex.
The theme of the conference is "Education 4.0: Reinventing Education for 2030 and Beyond" with the objective to sensitize school leaders and prepare them for the era of education 4.0 with the necessary changes in the design of curriculum and pedagogy.
Sub Themes
Social dynamics and development of education
School Leadership for futuristic schools
Technology is indispensable for education
Capacity Building of teachers
AI in school education
Creative Learning
Positioning curriculum for 2030 and beyond
Moving from Transactional Leadership to Transformational Leadership
Building Learning Communities
Schooling Vs. Education: Bridging the gap for a better India for 2030 and beyond
Community School Partnership for quality education
This year's conference is hosting the representatives of more than 200 Sahodaya School Complexes and educationists from around the world in a two-day event at Vadodara.
Principals from 800 plus CBSE affiliated schools in the country and abroad, academics, and senior officers of the Board are participating in this two-day conference which will dwell upon various themes such as Community School Partnership, Schooling versus Education, Technology for Education, Artificial Intelligence in Education, Building Learning Communities, Leadership, Creative Learning, and Capacity Building of Teachers.
The inaugural session of the conference began with the address of the Chairperson CBSE Smt. Nidhi Chhibber highlighting the roles and responsibilities of school principals and administrators in realizing the objectives of NEP 2020 and making schools future ready.
A number of publications prepared by the Board were also launched by the Chairperson, on this occasion.
Conference Souvenir
A compilation of the probable best practices received from different schools across the country in the area of curriculum, pedagogy, capacity building of teachers, school leadership, school community partnership, and use of technology.
CBSE SQAA Portal
As per NEP 2020 recommendations, CBSE has developed a 'School Quality Assessment and Assurance (SQAA)' Framework based on 7 domains covering all the aspects of school functioning and can be useful as a tool for accomplishing individual and institutional excellence.
Practice Books in Science and Mathematics have been developed for Students of classes IX and X in the subjects of Mathematics and Science to strengthen the skills and competencies of students and help them apply the learned concepts in real-life situations and draw inferences.
These workbooks present a series of questions organised as themes, mapped to concepts from the curriculum of the respective class.
Item Banks
The board has designed and developed Competency Focussed Practice Questions aligned to the NCERT curriculum in the subjects of English, Mathematics, Science, and Social Science for Class X students to test conceptual understanding and application.
SAFAL Assessment Frameworks for grades 3, 5, and 8 were also launched today in the subjects of Language (English/Hindi), Mathematics, and EVS/Science. These include domains, strands, and competencies, and define learning outcomes at various proficiency levels.
PRAYOG
Pradhanacharya Yojna for Growth, has been designed in view of the important role of the Principals in the effective implementation of NEP 2020 in CBSE schools and covers various themes such as Innovative Pedagogy, Competency Focussed Education, Experiential Learning, Art integrated learning, Story Telling and Sports Integrated Learning, Systemic Reforms via initiatives such as SAFAL, HPC, SQAA, and Competency-based assessments, and other topics like Peer Education and Life Skills, Inclusive Education, Environmental Education, Pedagogy Leadership and Expectations from Principals.
Skill Education
A number of Skill Modules for Class VI-VIII on Travel and Tourism, Marketing, Media, Beauty & Wellness, Design Thinking, and Innovation were also launched today along with new modules for classes IX-XII in Library and Information Science, Cost Accounting, Early Childhood Care and Education.
Hand Book on Positive Parenting – A Ready Reckoner
The Board has always been sensitive and proactive regarding the mental health and wellness of students. Positive Parenting – A Ready Reckoner has been brought out by CBSE with the hope of adding value to the nuances of parenting and nurturing skills in a very simplistic and easy-to-follow manner. This publication by no means attempts to undermine the concerns and care of the parents already in place but may help in deepening the understanding and in building positive relationships amongst schools, parents, and students. The contents have been carefully curated post-COVID challenges and include topics such as the Mental and Emotional Wellness of Children, Parenting the Pre- teens, Gender Equality and Child Abuse Protection, Children with Special Needs, Online Learning for Parents, and more.