Skill India to organize "National Apprenticeship Mela" on October 4th
5th to 12thpass students, Skill Training Certificate holders, ITI students, Diploma holders, and graduates are eligible to apply at the Apprenticeship Mela.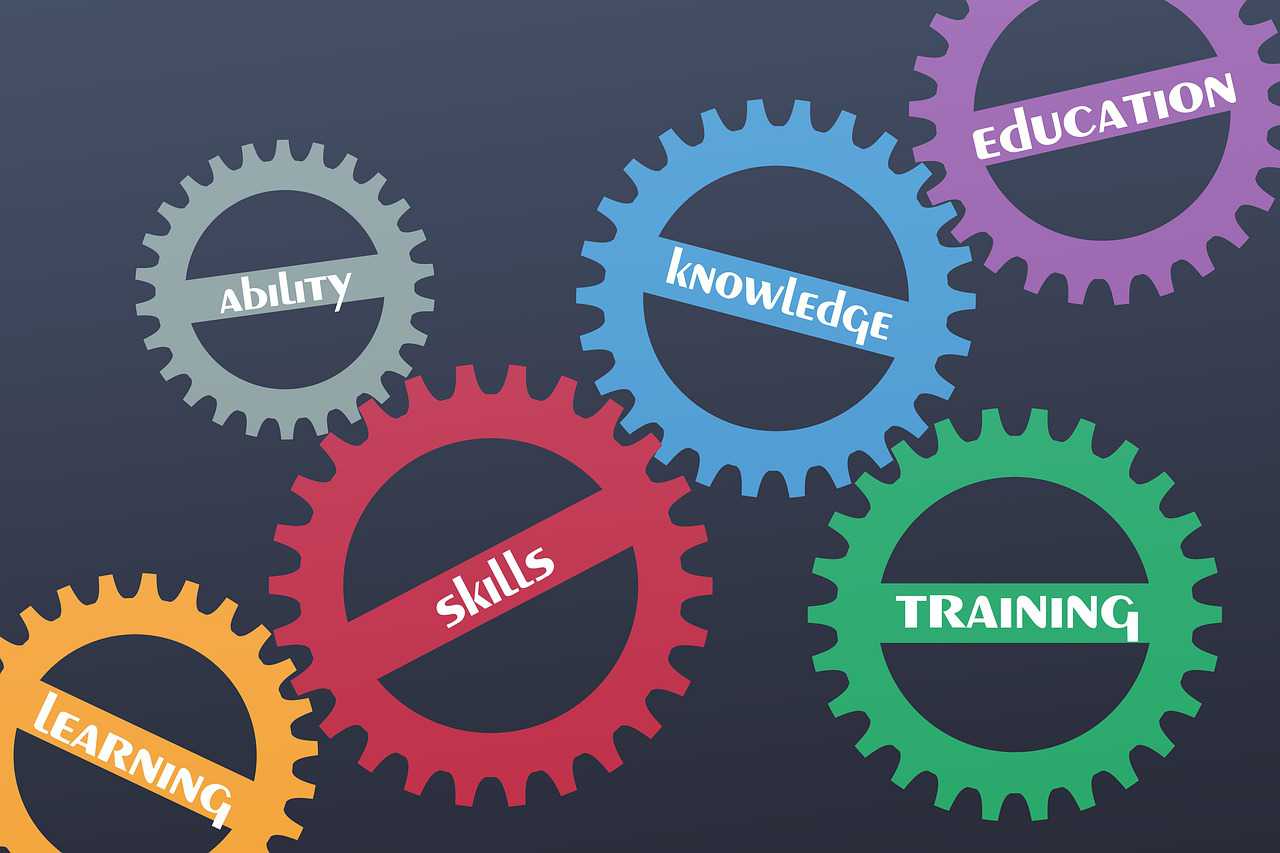 Skill India with due support from the Directorate General of Training (DGT) and National Skill Development Corporation (NSDC) is organizing a day-long "National Apprenticeship Mela" across the country in over 400 locations on October 4th, 2021.
Under the initiative, the aim is to support the hiring of nearly one lakh apprentices and assist employers in tapping the right talent and develop it further with training and providing practical skillsets. The event is expected to witness participation from more than 2000 organisations operating in more than 30 sectors such as Power, Retail, Telecom, IT/ITeS, Electronics, Automotive, and more. In addition, the aspiring youth will have the opportunity to engage and select from more than 500+trades including Welder, Electrician, Housekeeper, Beautician, Mechanic, etc.
5th to 12thpass students, Skill Training Certificate holders, ITI students, Diploma holders, and graduates are eligible to apply at the Apprenticeship Mela. The candidates must carry three copies of resume, three copies of all the mark sheets and certificates (5th to 12th pass, Skill Training Certificate, Under Graduate and Graduate (BA, B.Com, B.Sc, etc.), Photo ID(Aadhar card/Driving License, etc.) and three passport size photographs at the respective venues.
Candidates can click on the link https://dgt.gov.in/appmela/ for more details with regard to where the mela is being held and for other details.
The National Policy of Skill Development and Entrepreneurship, 2015 launched by the Hon'ble Prime Minister on July 15th, 2015recognisesapprenticeship as a means to provide gainful employment to a skilled workforce with adequate compensation. MSDE has also taken several efforts to increase the number of apprentices hired by enterprises in the country. The aim is to fill the gap in supply and demand for a skilled workforce and meet the aspirations of the Indian youth through gaining on-the-job training and securing better opportunities for employment.
Potential applicants will receive several benefits by attending the Apprenticeship Mela. They have a huge opportunity to get apprenticeships offered on the spot and receive direct industry exposure. Following, they will get a monthly stipend as per the Government standards for developing new skills, an opportunity to earn while they learn. The candidates will get certificates, recognized by National Council for Vocational Education and Training (NCVET), increasing the chances of their employability after the training.
Establishments participating in the Apprenticeship Melas get an opportunity to meet the potential apprentices at a common platform and select the candidates on the spot. In addition, even small-scale industries with minimum of four working members can also hire apprentices at the event.
This training is under the Apprentices Act, 1961. And support through National Apprenticeship Promotion Scheme.
The training is provided as per the course curriculum designated by the DGT in the designated trades. An apprentice receives on-the-job training by the industry and a stipend. At the end of the training, the evaluation is done jointly by the Industry and the DGT. After completion of Apprenticeship Training, an evaluation through the All India Trade Test (AITT) for National Apprenticeship Certificate (NAC) is conducted twice a year. AITT is a skill-oriented evaluation done by the Industry and DGT and it requires continuous practice, devotion, and hard work to succeed.
Apprenticeship Training is perceived as a critical scheme to develop industry with ready manpower by utilizing the existing training facilities in establishments. It is done through 22 Regional Directorates of Skill Development & Entrepreneurship and 36 State Apprenticeship Advisers across the country. All 36 State Governments will organise Apprenticeship Mela on 04th October 2021 in every district/region within their State for engagement of apprentices under the Apprentices Act, 1961. This will bring an excellent opportunity for the engagement of apprentices in the establishment to facilitate the desired level of productivity vis-à-vis giving an opportunity to apprentices for exposure to actual job situations in the industry.
MSDE has brought significant reforms to the apprenticeship rules to drive greater participation in Apprenticeship training in the country. These reforms include:
The upper limit for engaging apprentices increased from 10% to 15%
Size limit of an establishment with mandatory obligation to engage apprentices lowered from 40 to 30
Payment of stipend for 1st year has been fixed rather than linking it to minimum wages, 10% to 15% hike in stipend for 2nd and 3rd year to apprentice
Duration of apprenticeship training for Optional Trade can be from 6 months to 36 months
The industry has an option to design and implement its own Apprenticeship training
Under National Apprenticeship Promotion Scheme (NAPS), the establishments/industry can get reimbursement up to 25% of the stipend paid to the apprentices.
SHE STEM 2022 honours and celebrates women
SHE STEM 2022 encourages students to 'Unleash their imagination' as part of the Sweden India Nobel Memorial Week.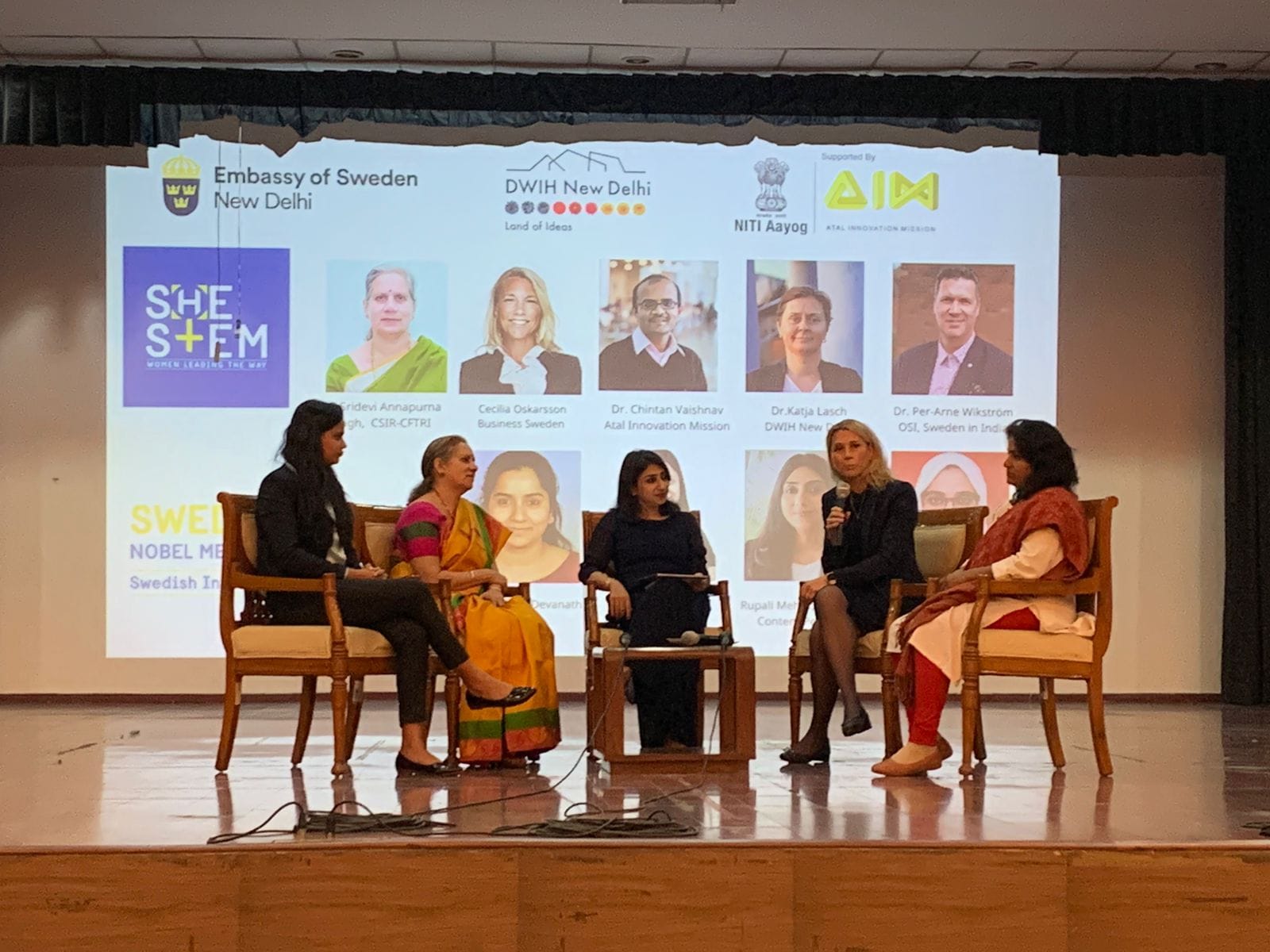 As part of the Sweden-India Nobel Memorial Week, SHE STEM, the annual event to celebrate women in the fields of science, technology, engineering, mathematics, and sustainability, was successfully held for the third year in a row.
The annual event is organized by the Sweden Embassy in India in partnership with the Atal Innovation Mission of the Government of India and the German Centre of Innovation and Research (DWIH New Delhi).
Ambassador of Sweden to India H.E. Jan Thesleff, who also addressed the students via a video message said, "We are very happy to continue the tradition of SHE STEM – it is a flagship event of the Sweden-India Nobel Memorial Week. Congratulations to all the winners of this year's SHE STEM Video challenge."
Dr. Chintan Vaishnav, Director of ATAL Innovation Mission said, "Today, the face of women's involvement in STEM is changing and the rate of participation has increased. It was in ATL Marathon 2021, that there was a spike where the women's participation was 49%. A strong STEM education will go a long way in cultivating such critical thinkers."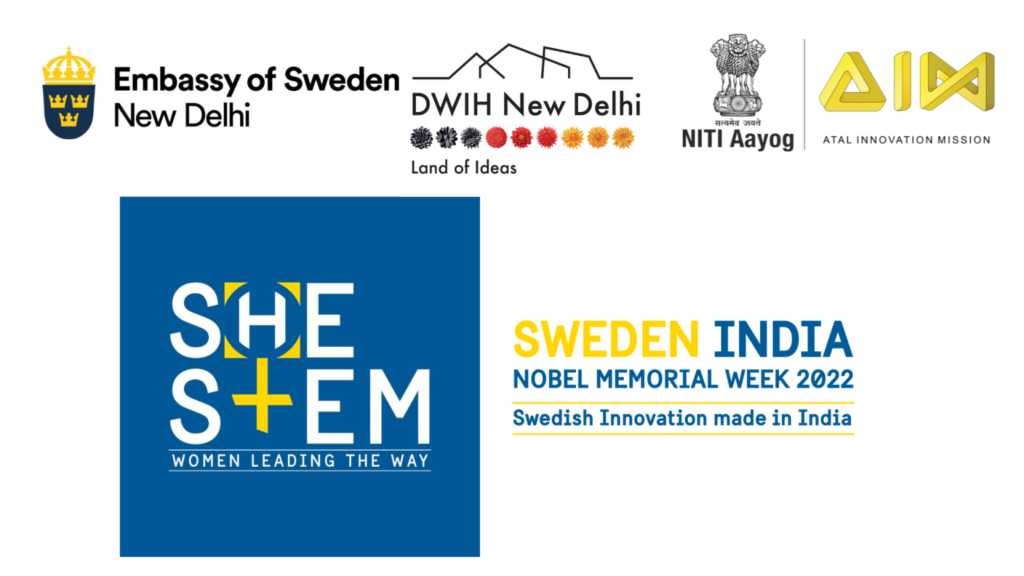 SHE STEM 2022 began with a musical performance by the students of Darbari Lal DAV Model School, New Delhi, the host school for SHE STEM 2022, followed by talks, and a panel discussion with women in the fields of STEM and business, including D. Sridevi Annapurna Singh, Director of Council of Scientific and Industrial Research – Central Food Technological Research (CSIR-CFTRI), Ministry of Science and Technology, Government. of India.
Dr. Annapurna Singh has done extensive work in the development of supplementary foods for undernourished children and in studying the impact of protein-rich food on children. She spoke to the audience about the need for women in fields of STEM to bring in their unique perspectives to problem-solving for a sustainable future.
Other participants included Cecilia Oskarsson, Trade, and Invest Commissioner of Sweden to India, who shared her thoughts on the role of diversity in triggering and enabling positive changes for girls and women, Mamta Kumari, co-founder and CEO of Prepbytes, an ed-tech company in India, and Dr. Vasudharani Devanathan, Neurobiologist and Professor of Biology at the Indian Institute of Science Education Research (IISER). Rupali Mehra, Founder of Content People AB moderated the event.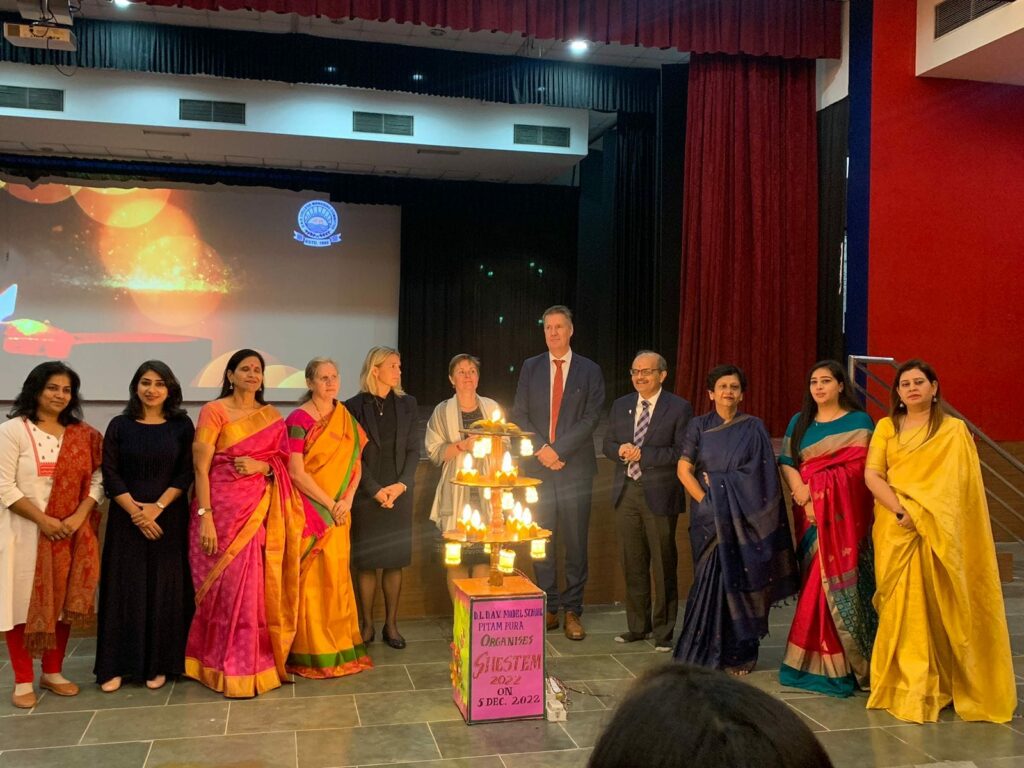 Dr. Per-Arne Wikström, Head of Office of Science & Innovation, Embassy of Sweden in New Delhi said: "When women and girls provide their talent, their knowledge, and their capabilities to science and technology on equal terms with men and boys, then we know that societies prosper and that innovation capacity actually increases. So for us, gender equality is an integrated part and an important aspect of everything that we do. We would like to thank our Indian partners for their support for this very important initiative."
"As Johann Wolfgang von Goethe said, 'who is not curious will not gain knowledge,' so keep your curiosity on, drive your knowledge forward and who knows maybe one or other idea will be implemented," said Dr. Katja Lasch, responsible for Strategy Management at the German Centre for Research and Innovation (DWIH New Delhi) and head of German Academic Exchange Service (DAAD) Regional Office in New Delhi.
Following the success of the Insta-reels Video Challenge in 2021, SHE STEM hosted the #SHESTEM2022 Video Challenge across Instagram, Youtube, Facebook, and Google Drive for students of ages 13 to 17, asking them to imagine themselves in the year 2047, and speak about an innovation of theirs that has helped in tackling climate change. The response was overwhelming with over 930 videos of which 15 were shortlisted. SHE STEM had an extensive jury round of 3 jury teams; Atal Innovation Mission Team led by Dr. Chintan Vaishnav, the Swedish Embassy team, led by Dr. Per-Arne Wikström, and the German Centre for Research and Innovation, represented by Dr. Katja Lasch.
The videos were assessed on the:
Novelty of idea
Clarity of thought and articulation
Sustainability or climate action angle
G. Nivethiga Rani who created a video on how she as a STEM Leader in 2047 had invented a robot that collected and converted biodegradable and non-biodegradable waste into electricity, won the first prize in the video challenge. The second prize was tied between T Shatananda Dhanwantari and Shreya Singh and Nistha Aswal, who participated as a team. Gaurav Hanjoora won third place.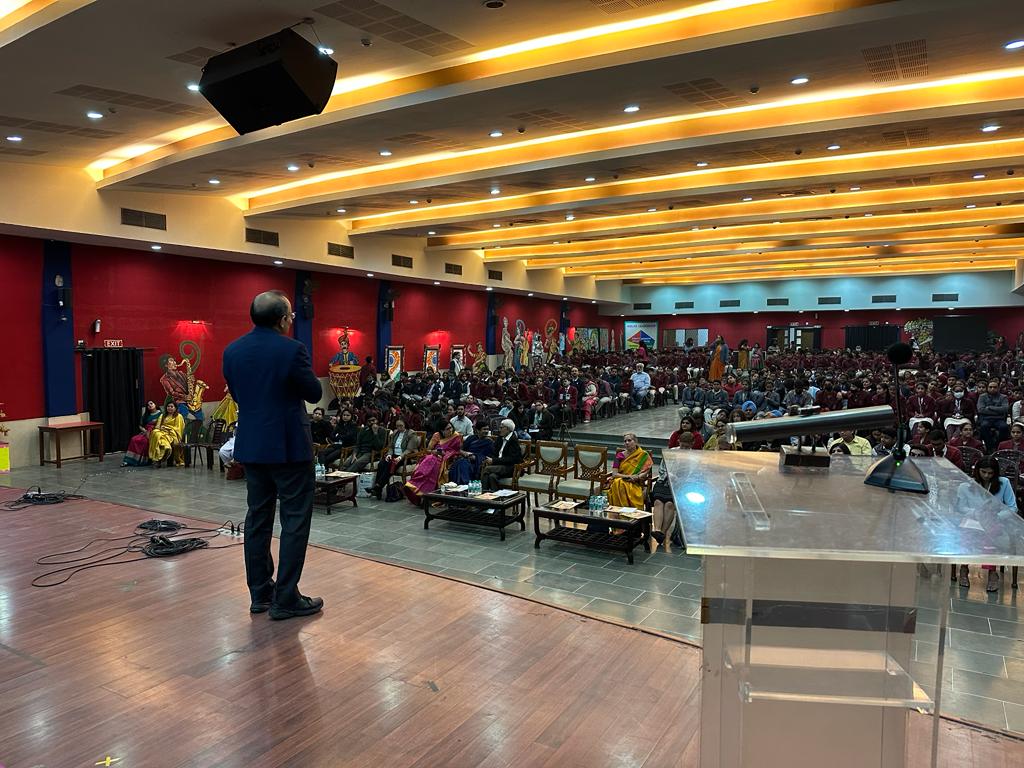 "I congratulate all the winners of the SHE STEM 2022. I have to say what caught my attention was that every single idea was addressing a fundamental constraint confronting us," said Dr. Chintan Viashnav.