Study in India Programme aiming at Attracting More Foreign Students
Dedicated call centre and mobile application to be launched soon to attract more foreign students under Study in India Programme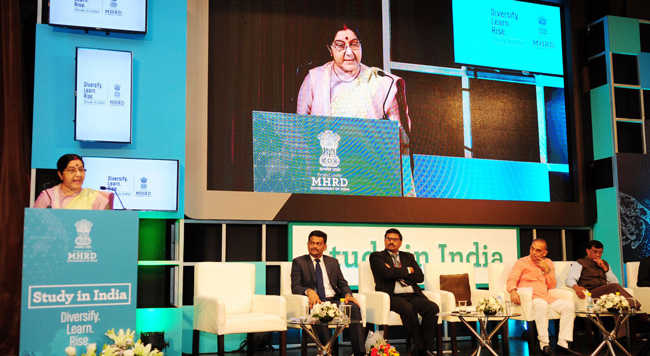 Under Study in India Programme launched on 18.04.2018 with the aim to increase the inflow of inbound foreign students in India and rebranding India as a preferred destination/education hub for foreign students, a dedicated call centre is set to get launched by the end of December 2018. A mobile application capturing broad features of the Study in India website is also being worked upon and may be launched before the start of new academic cycle.
The Government of India has taken various steps for increasing the inflow of foreign students in the country. MHRD has launched Study in India Programme on 18.04.2018 with the aim to make India an education hub for foreign students by way of increasing the inflow of inbound International Students through systematic brand building, marketing, social media and digital marketing campaigns. The programme focuses on attracting foreign students from select 30 plus countries. The programme envisages participation of select reputed Indian institutes/universities by way of offering seats for the International students at affordable rates, along with fee waivers to meritorious foreign students ranging from 100% to 25%. A centralised admission web-portal (https://studyinindia.gov.in) acts as a single window for the admission of foreign students. In the first round, more than 5000 foreign students have been placed in different institutions in the year 2018-19.
MHRD has also launched (in October, 2018) a Scheme for Promotion of Academic and Research Collaboration (SPARC), which aims at improving the research ecosystem of India's higher educational institutions by facilitating academic and research collaborations between top ranked Indian Institutions and the best institutions in the world from 28 selected countries. The Joint Research Projects involve the mobility of students/faculty for long term research and teaching activities. Under SPARC, foreign students and faculty members are given adequate incentives for their participation in the joint research project. More details may be accessed on https://sparc.iitkgp.ac.in.
Recently, the University Grants Commission (UGC) has granted autonomy to 76 Educational Institutions (as per data up to 26.07.2018) which have maintained high academic standards. UGC has categorized Universities into three categories: Category-I, Category-II, and Category-III. Universities coming under Category-I and Category-II may hire, without approval of UGC, foreign faculty upto twenty percent over and above of their sanctioned faculty strength. They shall also be free to admit foreign students on merit, subject to a maximum of twenty percent over and above of the strength of their approved domestic students.
Six institutions have recently been accredited the status of Institutes of Eminence (IoE) by the Ministry of Human Resource Development. There is a provision of greater autonomy including the provision of admitting foreign students upto 30% of admitted students; to recruit foreign faculty upto 25% of faculty strength; free to fix and charge fees from foreign students without restriction; flexibility of course structure in terms of number of credit hours and years to take a degree; complete flexibility in fixing of curriculum and syllabus, etc.
To attract foreign students in IITs, the Joint Entrance Examination, JEE(Advanced) examinations are being conducted in six examination centres abroad at Addis Ababa (Ethiopia), Kathmandu (Nepal), Singapore, Dubai (United Arab Emirates), Dhaka (Bangladesh), and Colombo (Sri Lanka). Supernumerary seats with a cap of 10% of total number of seats in each course are available to foreign students, who are allowed to appear in JEE (Advanced) directly without appearing in the JEE (Main). Similarly, Graduate Aptitude Test for Engineering (GATE), an entrance examination for admission into the M.Tech. programmes in IITs and other Centrally Funded Technical Institutions, is also conducted at these centres abroad.
Other initiatives of Government of India include Study Webs of Active –Learning for Young Aspiring Minds (SWAYAM), SWAYAM PRABHA, Rashtriya Uchchatar Shiksha Abhiyan (RUSA), Unnat Bharat Abhiyan (UBA), Impactful Policy Research in Social Science (IMPRESS), IMPacting Research INnovation and Technology (IMPRINT), Leadership for Academicians Program (LEAP), Annual Refresher Programme In Teaching (ARPIT), National Academic Depository (NAD), National Digital Library of India (NDL), etc. Besides these Government of India initiatives, several regulations are issued by the UGC and All India Council for Technical Education (AICTE) for improvement of standards of quality higher education in the country. National Assessment and Accreditation Council (NAAC) and National Board of Accreditation (NBA) also ensure quality of higher education in the country. One of the benefits of these initiatives is that more foreign students are attracted to pursue higher education in India.
Standing Finance Committee (SFC) in its meeting dated 15.03.2018 has approved a budget of ₹150 crores for academic years 2018-19 and 2019-20 for the Study in India Programme.
Image used for representative purpose only.
New Age Instructional Techniques
Traditional pedagogical techniques, based on a teacher explaining a topic and students taking notes, may still be helpful occasionally. Still, education today revolves more around encouraging the students to awaken their curiosity and desire to learn.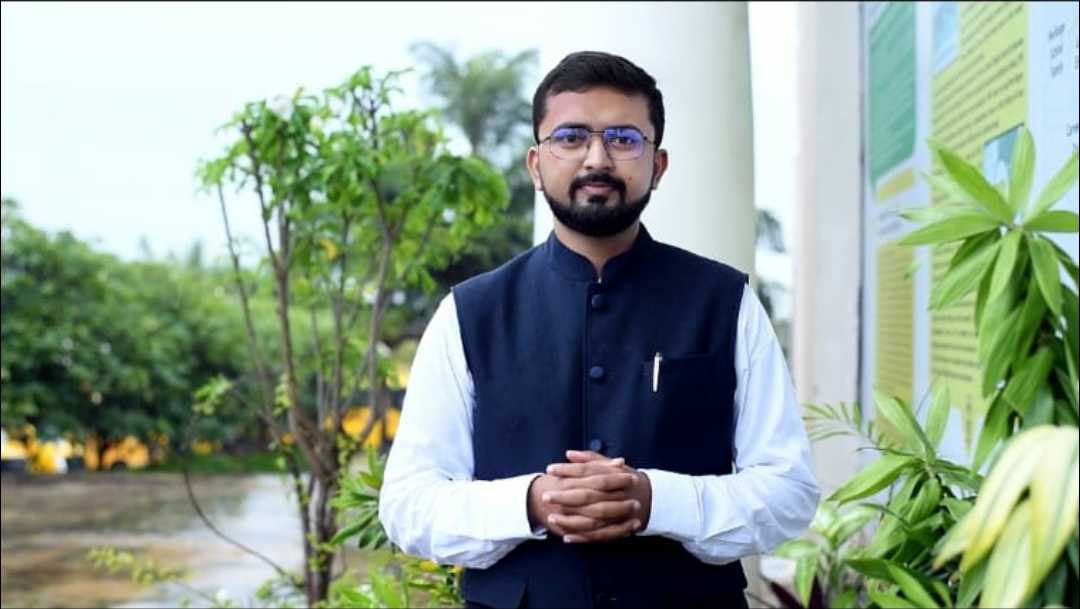 Education and its purposes have evolved over time. The meaning of 'knowing' has changed from remembering and repeating information to finding and applying it. Education helps students identify their critical purpose in life. It is really a tool to enable young minds to become lifelong learners. It empowers them to be able to tackle any challenge that life throws at them.
The purpose of being an educator is to make the world a better place. Where people are empathizing, caring, and capable of understanding each other. The prime objective of education is to nurture the leaders of tomorrow. To impart quality knowledge and learning so that the young generation becomes responsible and future global leaders and citizens.
Advanced research in education philosophy and brain science has had a tremendous impact on instructional strategies for the classroom. As a result, the educational paradigm has seen a transitional shift in instructional strategies over the past few years. Educators now are required to step out of their comfort zone of the traditional mode of teaching confined to classrooms.
Teachers are now bound to integrate the new instructional strategies to make a mark in the educational arena. A number of different teaching techniques have emerged during this transition and due to this change in education. Some of the research-backed pedagogical practices that are appropriate for 21st-century classrooms are:
Reciprocal Teaching:
Reciprocal teaching is a method in which students in small groups predict, clarify, question, and summarize a scaffolded reading comprehension. It is similar to a small group of students sitting in circles and using a communal constructivism approach to making meaning. Here each student takes the role of both learner and teacher within the group. This technique allows the students to develop a shared understanding of the text and supports the students who find it difficult to comprehend complex texts.
Student-generated questions :
This technique allows students to work individually or collaborate with peers to generate their own set of questions based on Bloom's Taxonomy template. This technique enables students to go through a rigorous thinking process of divergent and convergent thinking that ultimately ends with a reflection-based task to summarize their learning.
Higher-order thinking questions:
This technique of instructional learning is a must-have in every classroom. Critical thinking is essential as it allows students to apply the knowledge to a context different from the one that was initially learned. Using this strategy and adding cases and real-life situations to these questions allows children to develop relevance and motivation.
Reflection questions:
Metacognition – the science of thinking about learning is a potent tool that should be used in every classroom. This allows children to strengthen their understanding and retain the information for a longer period of time. Questions like the muddiest point today? What were my three takeaways from the last 30 minutes? How would I use this learning to make my day better? And many more allow students to reflect on their learning and evolve themselves as lifelong learners.
Taking a constructivist approach, these techniques or strategies allow the learners to accommodate and assimilate knowledge. When a teacher uses group work he/she is leveraging the true nature of learning. This collective activity allows and enables the students to find relevance in the learning environment. Moreover, it will enable learners to have agency over their learning by modeling a real-world situation. Often when a teacher starts using collaborative approaches, various reasons like unequal participation deter it. The classroom space dons a chaotic look, and the teacher has no control. All these have to be minutely dealt with by developing as a facilitator rather than a sage on the stage. Working in groups allows children to develop essential life skills like empathy, compassion, and critical thinking.
Traditional pedagogical techniques, based on a teacher explaining a topic and students taking notes, may still be helpful occasionally. Still, education today revolves more around encouraging the students to awaken their curiosity and desire to learn.
About the author:
Siddharth Rajgarhia is Chief learner and Director at Delhi Public School Nashik, Varanasi, and Lava Nagpur. Having 10 years of experience in leading schools. He is an avid Mindfulness practitioner and believes in lifelong learning