Teacher – The evergreen learner
In a fast-changing and uncertain world, education needs to change its direction in every step to make young learners, 'thinkers and listeners of today.'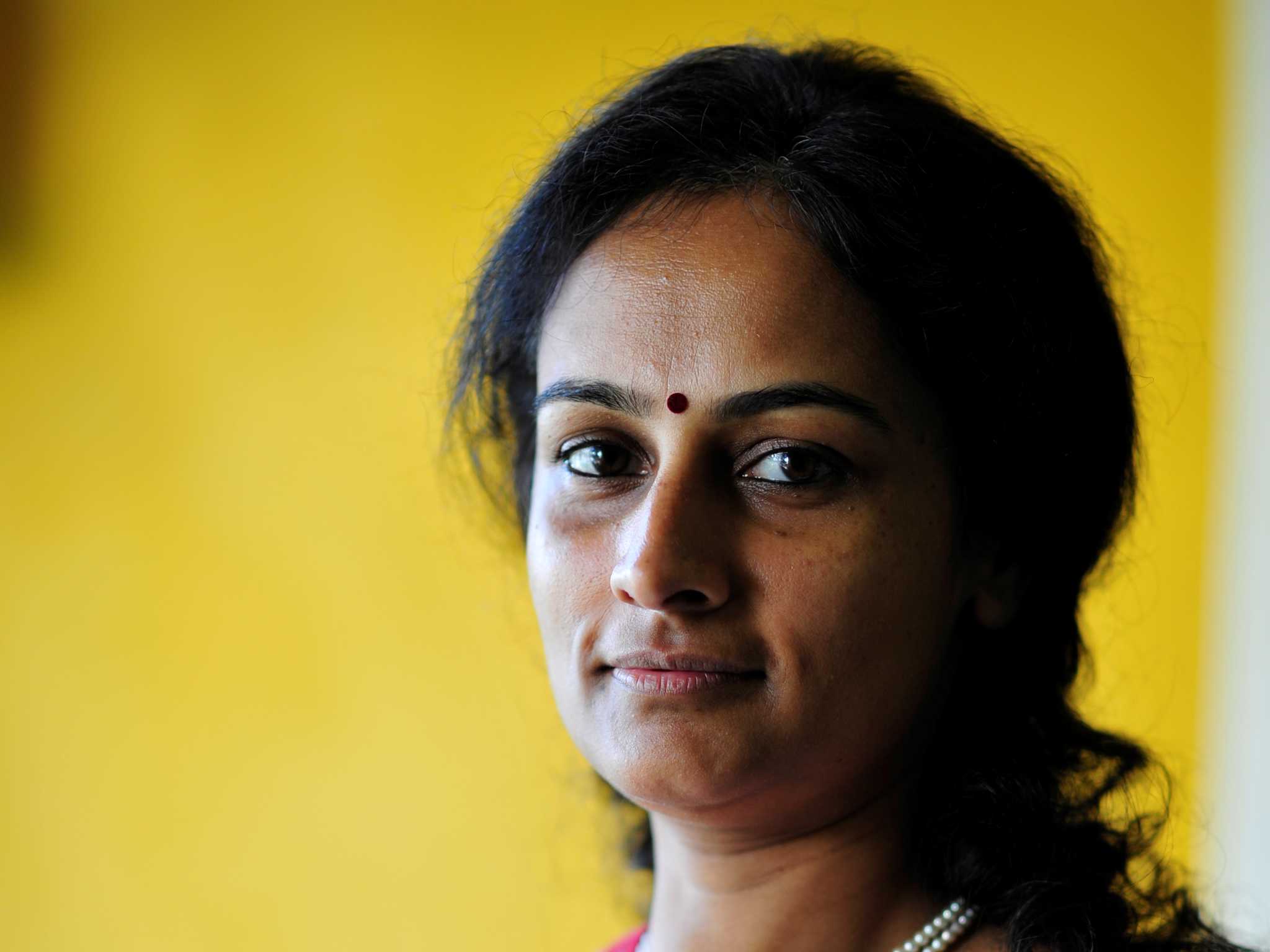 It's been two years since the pandemic has hit us, leaving these years marked with perhaps the most grueling yet challenging times for educators and learners. It is a world of constant change and uncertainty pushing education to break from the shackles of old pedagogies which were being followed for the longest time across the world to gain traction in revisiting education from a new lens. It is a fast-paced and dynamic world calling us to reimagine, rethink and redesign the system to point out that the learners of today need to be educated in other crucial spheres of life which will make life relevant, enjoyable, and sustainable for themselves.
Living in an information age, where content is available at our fingertips has made most of our teaching methodologies and syllabus irrelevant. The advent of edtech has provided new methods of learning and teaching resulting in autonomy, independent research, affordability, accessibility, and convenience for both, the teacher and the learner. A world that is information-rich and turning virtual in every way is perhaps alerting humans to look more within. To discover who they are, where they belong, how do they co-exist in the environment, how are they contributing to the environment and what purpose do they serve?
The discovery of oneself through one's own work or deed or creation is education.
This goes to say that education is a lifelong endless process of self-exploration.
The power lies with the teacher to make this happen for her learners at a young age. Empowering the students to speak their minds and hearts out in a safe and nonjudgmental environment will give birth to a society that is creative, unique, and genuine.
Education is a symbiotic process where learning happens for both the teacher and the learner and both benefit from each other in the exchange.
Teacher – the ever-green learner
The teacher to offer her best in the classroom must not only be abreast with the latest information from reliable sources (teaching content), but also, work smart by researching about the latest teaching tools to get work done in an efficient manner; get creative and implement innovative ideas to get her class excited about learning and most importantly take reflections from the learners about the learning.
The teacher having an attitude to always learn from anybody makes her an evergreen learner. She becomes a person who is young at heart and mind and who can easily adapt to changes and so move with time.
When the teacher takes the role of a guide/mentor/facilitator and a listener (rather than an authoritative and didactic figure who always takes the centre stage), it makes the classroom homogenous conducive to healthy and interactive discussions. Learners in such an environment are comfortable voicing out their individual and unique ideas, what matters to them, reflections, perspectives, and genuine views on the subject.
She needs to start from where the child is! The teacher needs to identify the two points of knowledge and relate the two points. The starting point is – what the child already knows and the ending point is – what must be taught. The journey between the two points is what the teacher needs to design, implement and revise based on her frequent reflections.
On this journey,
When explained about the topic's relevance to them, shows applicability.
When explained about what happens if they don't learn it, shows importance.
When blended with fun, includes some humour, because learning happens best when one is at leisure.
When inviting the 'whys' and 'why nots' questions from the class, provides scope for craziness and innovation.
Thus making learning immersive, personalised, and interesting for the young learners.
Teacher training is not the only way for teachers to learn and update themselves in their field. Weekly 'Teacher club meetings' are critical to teachers' progress if done consistently and in an orderly manner. The meeting is an opportunity to think for themselves and their work to identify their strengths and weaknesses, exchange new ideas, and solutions to problems, and build a culture of curiosity.
Some sample points of discussion in weekly meetings:
Review and Reflection – How was the week?
New idea implementation – what was something new that I implemented and what was the impact?
Best practices – What went well for me and the class?
Discovering other options – Could I have done the same thing differently? If practiced regularly will lead to building a strong cohort which works towards the common goal of the school.
It all starts with the teacher. If the teacher practices reflections, she could make children do the same, (helping them to get to know themselves at a young age). If the teacher understands that curiosity drives learning, she could design the lessons plans in a way that creates curiosity in them.
Children perceive things and learn with curiosity and awe.
Children learn best when at play! Play is critical to learning. Making mistakes and failing and not being stigmatized from early childhood, allows them to learn and bounce back to strive for more later in life.
Student agency classrooms bring out their best selves when left on their own to explore and experience the required resources. It teaches them self-initiation and taking ownership of their learning. At the end of the class, the teacher facilitates a session where each child:
Reflects and describes his experience,
Asks questions to the group,
Makes suggestions if required and
Journals it down at the end of the day.
Their reflections help them identify areas of improvement and ideas to implement in the next class, getting them curious and intrinsically motivated to learn.
This is possible in an environment where all answers received are without being labelled as good or bad and not being reacted to.
The entire process prepares the child and the teacher to be mindful. Being mindful improves decision-making and inculcates patience.
Children become thinkers and listeners as they are given the opportunity to create and self-express. It leads to lesser frustration as they are igniting their senses to feel their emotions, express it and then know them.
In a fast-changing and uncertain world, education needs to change its direction in every step to make young learners, 'thinkers and listeners of today.' When all the efforts are focused on building these skills, we are making the young generation future ready to be able to thrive under any circumstance.
A strong foundation for human development at a young age that makes an individual discover himself, grow to the best of his potential, and be true to himself is education. Such an individual is strong enough to take on challenges and make the world a better place.
A place where there is no answer seen in its binary form, but areas of grey are yet to be discovered; a place where mistakes are celebrated; a place where individuality is honored; a place where reflective exercises are key to the learning process; a place where learners take the responsibility and ownership of their learning; a place where varied perspectives are welcomed and acknowledged; a place where leisure and love are in abundance is a place called school.
About the author:
Toral Shah
New Age Educator | Founder at Drishya | Principal of Domnics Group of Educational Institutions | Children's Author | Storyteller
A former Investment banker and MBA and Postgraduate in Commerce and economics Toral Shah is the school leader and principal of Domnics Group of Educational Institutions a K-10 educational institution in Hyderabad.
Domnics is a 45 years old reputed educational institution in Hyderabad and with her expertise and passion she is bringing about a paradigm shift in the four branches of the school. She believes in teaching by understanding the individual mindsets and capacities of the learners of her schools. She has worked with over 2000 children and coached, trained, and mentored about 500 teachers so far.
She believes that learning should be an endless exercise for a teacher and especially if the learning happens by interacting with children. Keeping this in mind, she has curated her own program called Drishya which means perspective. Recognising that children need an open platform to voice their ideas, thoughts, and feelings about a particular topic she founded Drishya in 2018. Drishya is a widely accessible program, inculcating the habit of questioning, self-expression, and creativity. Drishya provides a safe environment where children get to openly express their perspectives without biases, preconceived notions, or prejudices.
She has contributed immensely to the children from marginalised communities in the field of education and has revived a couple of schools in Hyderabad. Empowering the children by providing an opportunity for autonomy, creation, experimentation, and flexibility is what she is passionate about!
What is Hybrid/Blended Learning?
We are lifelong learners and need to keep pace with the fast-paced technology so that our students are ready to take the next leap. Our classrooms have to echo that thought and vision at all times through new pedagogies and teaching-learning strategies.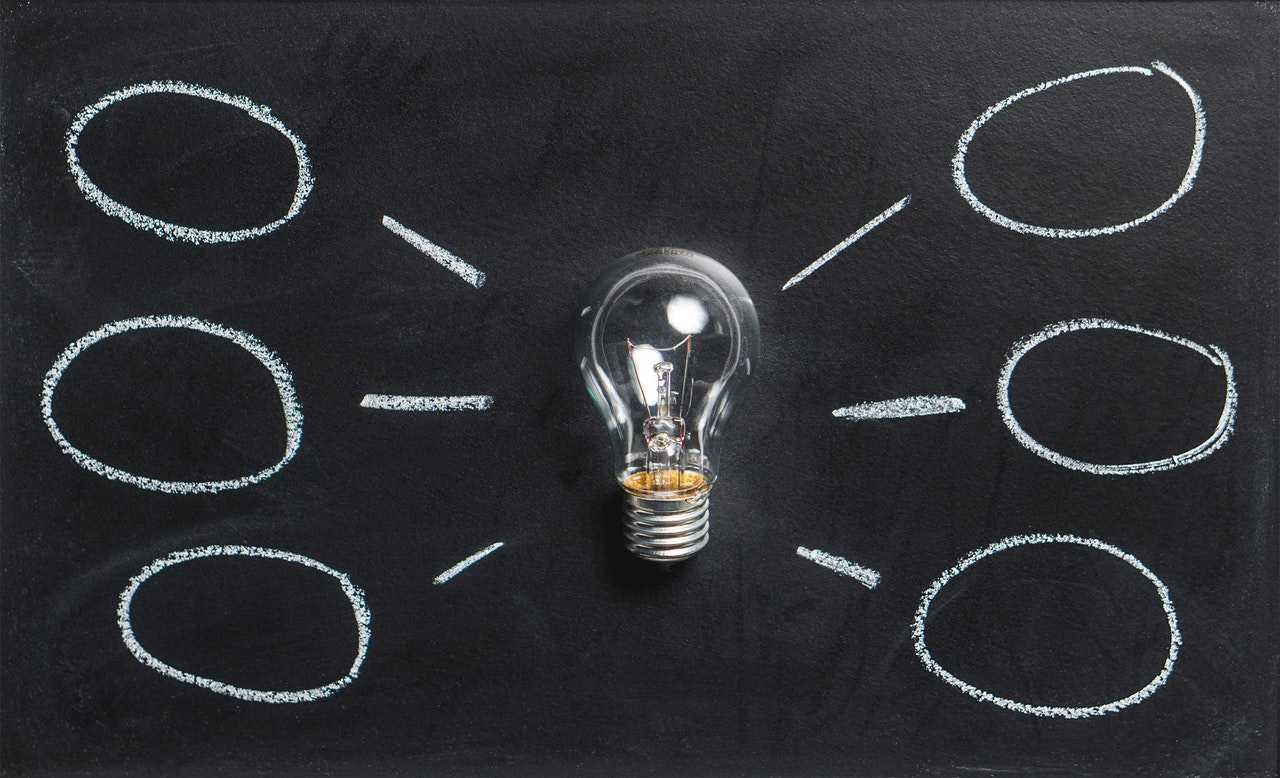 The COVID wave – consider it a bane or boon – but it somersaulted us to an array of digital world experiences. It propelled us to rethink and reorganize our mindsets, our practices, and our expectations. Overnight, we moved from an offline teaching mode to online, and credit to the teaching community for doing it so seamlessly. Now, we are back to offline teaching but do we continue with our old practices? An obvious no so we need to infuse our online experiences within the offline to ensure that quality education reaches one and all.
One key pedagogy to achieve the goal is blended learning, an approach that combines face-to-face learning with online learning incorporating certain elements that support students to have control over the pace, time, and place. The material resource investment is minimal but human resource investment is high till the ethos is assimilated within all.
So let's understand the varied types of blended learning and its implementation in the school teaching-learning process.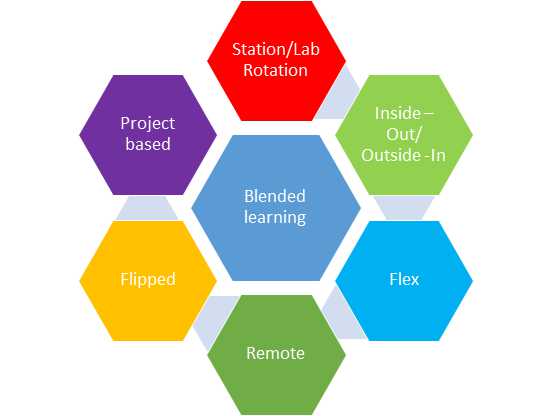 1. Station Rotation
In Station Rotation, students will rotate on a fixed schedule as per the teacher's discretion. The teacher begins her class of 40 students with instruction on narrative writing from 9:00 am to 9:15 am. She then splits the class into three groups where one group continues to learn with her. The second group works on a collaborative assignment on narrative writing and the third use their laptops or computers placed in the class and researches blended learning and after 15 minutes the group switches so that every group has varied experiences. A block class of English can support the various transactions and supports students to build research, collaborative and knowledge skills.
In the same format, if computers or laptops are not available in class then students use the computer laboratory in school and this rotation would then be called as Lab Rotation.
In this methodology, all students with varied learning needs are supported. The only challenge is the Technology and time management skills.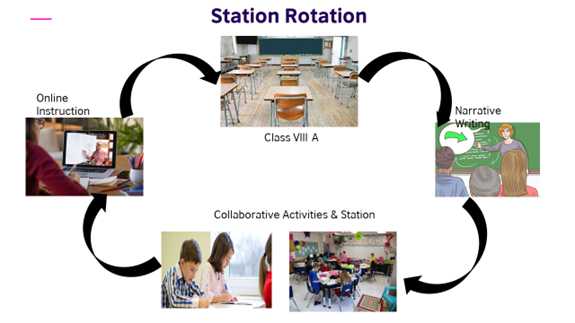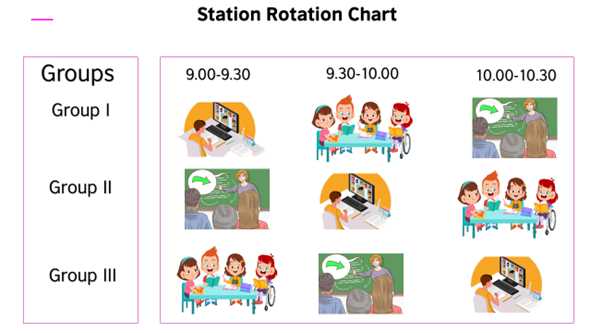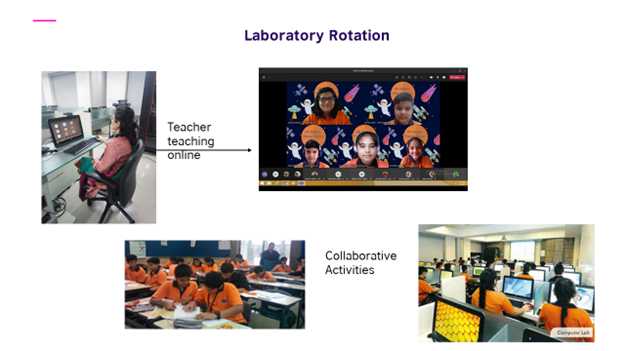 2. Remote & enriched virtual learning
It is a course or subject in which students have required face-to-face learning sessions with their teacher of record and then are free to complete their remaining coursework remote from the face-to-face teacher. In class, the teacher gives a project to students on 'Analysing any work of Shakespeare's or Rabindranath Tagore's Kabuliwalla' w.r.t. the criterion of plot, characters, theme, language, thought and values.
She briefs students on works of Shakespeare and the elements of a play within the school timetable and they complete all the work at home.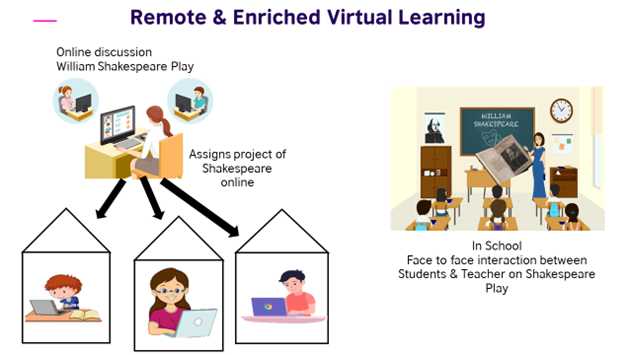 3. Flex blended learning
During certain weekends if the teacher wishes to support the students further in class especially if the concept has been challenging or students have underperformed in an evaluation, the teacher records her remedial teaching and uploads in-class computers. She designs a task around remedial teaching. She expects students to report to school wherein students enter the class on their own time, access the teaching, complete the task and leave. If they have any further doubts, they could approach the teacher in the school or their peers. A useful TIP would be for the teacher to Collaborate with their colleagues in club activities.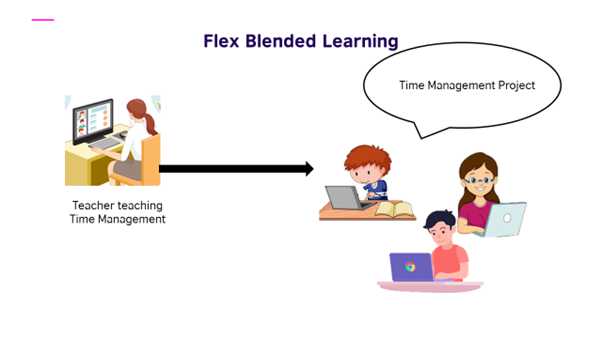 4. Flipped learning
As per TeachThought, a flipped classroom is a type of blended learning where students are introduced to content at home and practice working through it at school. This is the reverse of the more common practice of introducing new content at school, then assigning homework and projects to be completed by the students independently at home.
This methodology is most useful when you want students to have some knowledge of the content before analyzing it further. So if a teacher wishes to conduct a 'Book review'. She shares the e-book, 'Totto-chan' with the students. She asks them to read and shares certain discussion points. In school, students discuss the book and write personal book reviews. The teacher has used her class time constructively and has been to achieve greater learning outcomes.
5. Individual rotation blended learning
As per https://www.blendedlearning.org/models/, the Individual Rotation model allows students to rotate through stations, but on individual schedules set by a teacher or software algorithm. Unlike other rotation models, students do not necessarily rotate to every station; they rotate only to the activities scheduled on their playlists.
The teacher allows students to rotate through different kinds of classrooms called stations. A specific ILP [Individual learning plan] is created for each student. For example: Parth and Mona's examples work on clauses, Mona is struggling with Clauses so she attends classes and solves assignments whereas Parth will attend classes, watch a few videos, and also complete a research project on clauses. Thus the teacher knows her students' skills in greater depth and supports them individually to achieve her target learning outcomes.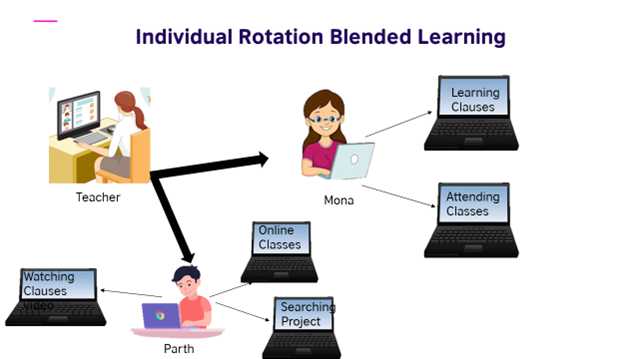 6. Inside-out and outside-in blended learning
In Inside-out, teaching and learning begin inside the classroom and move to an outside environment and in an outside-in classroom, it begins in an outside environment and moves inside the classroom. In a class environment, the Teacher discusses with students about 'Sound of Music' in class and ends the lesson by taking them to the theatre to watch the play. In Outside-In, Students watch the play in a digital environment and end the lesson in a physical environment by conducting role-plays.
The list of models is many but one has to review their resources and plan accordingly.
One can mention that they may face challenges in terms of technology, lack of training on digital platforms, lack of resources to create self-paced learning environments, or time management with vast syllabuses to complete.
Certain tips that can come useful are:
1. Teachers can begin with easily available digital content like Khan Academy, Pinterest, discovery Education, PBS Learning Media, and much more.
2. Review the available resources and plan a timetable. Most importantly, a team achieves more so collaborate with your colleagues in club activities.
3. Take small simple steps – "The journey of a thousand miles begins with one step." Lao Tzu. Choose the model that you are comfortable executing and then move forward.
As teachers, we are ever-evolving and we are that one profession that creates more professions so our responsibility and accountability stretch beyond the classroom. We are lifelong learners and need to keep pace with the fast-paced technology so that our students are ready to take the next leap. Our classrooms have to echo that thought and vision at all times through new pedagogies and teaching-learning strategies.
References:
Christensen Institute, Blended Learning definitions, https://www.christenseninstitute.org/blended-learning-definitions-and-models/
About the author:
Kavita Sanghvi holds a Masters in Physics, Masters in Education, Masters in Philosophy of Education, and CAEL [Certificate in Advanced Course in Educational Leadership] Diploma from Harvard University. She heads SVKM's CNM School, in Mumbai. She is a Teach SDG's Ambassador, Climate Action Ambassador, and Scientix Ambassador for India. She is a British Council Trainer and Ambassador.