Teacher Warrior 2019: Keshav Saran – SCHOOLING DREAMS
Ordinary people, extraordinary deeds… The ScooNews Teacher Warriors 2019 are a lesson in inspiration and hope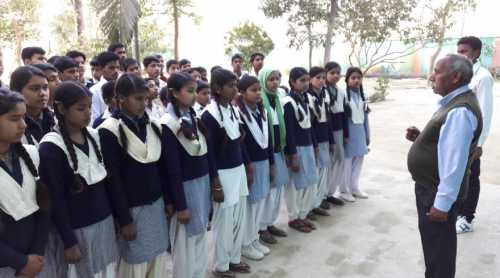 We often complain about our surroundings and how things should change. But strong leaders like Keshav Saran become the change they want to see in the world. A man of simplicity and humbleness, Keshav Saran was hesitant to attend the Teacher Warrior awards as he likes to stay away from the limelight but after some convincing, he happily told us his story and felt grateful to be receiving an award for his laborious years of changing the education atmospherics in his village.
A farmer from Khardia village of Rampur district in Uttar Pradesh, Saran was elected as the Pradhan of his village in 1988 for his dedication to improve the conditions of the village. His role and journey as a Pradhan made him realise the power of education and what it could help achieve.
INSPIRING CHANGE
Keshav Saran, a man of hard work and dedication, told us his story and inspired us to never give up, "I had passed my high school examination in 1970 with great difficulty. One of the reasons for this difficulty was the distance of the school from my village with lack of transport facilities. There were a few other reasons that resulted in my decision to stop my education. Thus, I became a farmer and eventually, the president of my village. My experiences made me realise that no one should ever go through what I've gone through. This realisation motivated me to start my own primary school in 1994 for the welfare of the village residents. And I'm proud to tell you that my primary school has given birth to an Inter College."
Remembering the several hurdles he had to cross, he tells us, "My journey wasn't easy. To start this institution, I had to face a huge array of problems. From my family to several parents in the village, I had to convince many people which involved going door to door and spreading awareness about the importance of education. Twenty to twenty-five years ago, people in my village had no knowledge of education; they didn't want to consider it even today because they only thought about earning money through farming or traditional jobs in the village. Thus, it took a lot of convincing to begin my initiative. In the beginning, we started with only 150 children. I've also provided night classes to adults in the year 1989. However, while educating these adults, I realised they weren't sending their children, especially girls, to the school. It was my eureka moment as I realised that this was prevailing illiteracy generation after generation."
He continues, "I had no knowledge on how to start or set-up an educational institution. I was totally unaware about the workings and ways of the system. Indeed, the journey was a difficult one but I did not lose hope since in my heart I was determined about bringing change. It was my love for education that I carried that impressed a few officers of the education department. They said words of encouragement, helped us and gave my school recognition."
Saran not only encouraged other parents to send their children to school but presented an example himself; he took his three daughters and a son to school, which was six to seven km away, every day by bicycle. A man of simple lifestyle, Saran shares, "I used to earn Rs. 200 through farming and it was enough to support my family. I started saving some money from my earnings to fulfil my dream and open an educational institute."
ENDURING VISION
When we ask Saran about his vision, with a smile he says, "It is my dream to see children from my school achieve great heights, do good work for the welfare of the society and become good human beings while progressing in all walks of life. I've always believed in inculcating great wisdom through education in children because they are the ones who will make up our tomorrow. To achieve this target, I'm always ready to provide them any kind of help at any moment of the day."
Saran wants to inspire more people to take such initiatives and educate more children to bring a positive transformation in society. "I shall wander from door to door and encourage more people to believe in the power of education till my last breath. For people who want to start their own educational institutions in villages, be prepared to help both the student and the parent mentally as well as economically. It takes a lot of hard work to establish your own institutes. I feel grateful to be able to educate 70% of children from my village. I hope my story inspires many more."
This Young Woman From A Tribal Village Is Teaching The Children While Schools Are Closed
The only graduate of a Tamil Nadu village has volunteered to teach the children of the village while the pandemic persists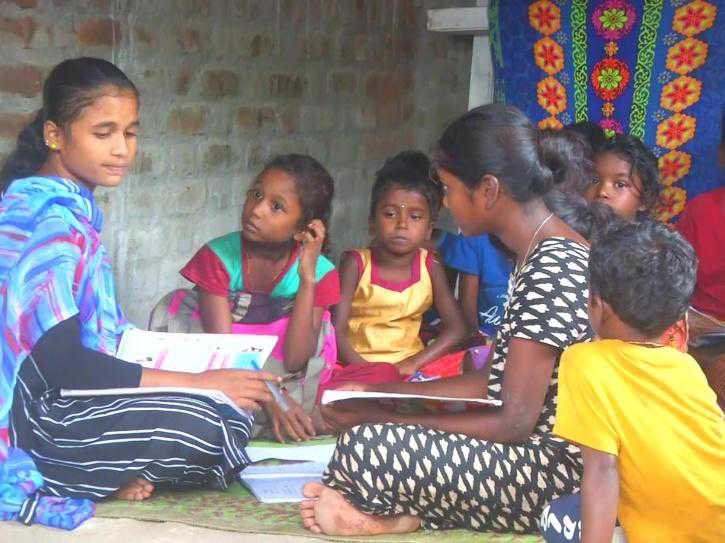 Where the digital network failed these tribal children in the southern part of India, their own stood to support them. Sandhya volunteers in teaching the kids of her village, Chinnampathy in Tamil Nadu. She is a graduate of B.Com, she is the only person from her village to have graduated college. Sandhya told India Today, "If it rains, we can't go to school. We only have one bus to our village and so after a certain age, people drop out of school."
Having gone through struggles herself, Sandhya knows how important a teacher and school is for growing children. So she volunteered to teach the children by herself, so they don't lag behind due to school closure. Sandhya said "When I was a child, I had no one to help me study. These children here have me to help them study."
One must ask the children from a remote rural or economically backward area, how it feels to not have the proper learning opportunities. The pandemic took more than the ability to roam about freely, it snatched away the ability to go to school for children on a global level. While it is easier for families with better income to support their child's online learning, most rural and financially challenged families are struggling.
The Indian government did start many projects for such students, but even learning via a television channel or free online course needs some basic gadgets and network connection. Many remote villages, like the tribal village, Chinnampathy, can not find enough network strength to have their children sit in front of a television and learn via the education channels.
On being asked how her classes are enduring she said, "The children come and ask me very freely all their doubt and they are not afraid of me. I see these children learning well and answering all the questions when I ask them."
Youth like Sandhya, who appreciate and signifies the work educators do and want to help the cause, are the future of the education sector!