Tech travails of a CHIRPY SIXTH GRADER
Tech travails of a chirpy sixth grader, Pragyanshu Dhyani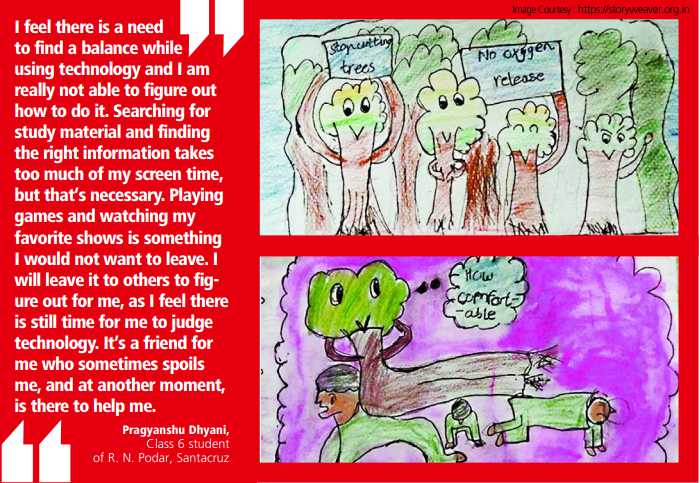 Technology is a fantastic thing. It excites, it engages, it entertains, it educates. Especially for kids like me, it has become an important part of our daily life. But using technology in almost everything around us, are we going too far from our real human side? The funny thing is that if you know technology too well, you are stamped as a geek and if you fear it, you are old fashioned. Living with or without it is not a choice. It's a compulsion. It is a need. There are a few observations I have made and I would like to confess it to you today. Student life is very hard these days. Stress, depression, mood swings are many of these nuisances. But there are more roots to them, which are further elucidated in my point of view as a student.
BOMBARDED WITH INFORMATION
The internet is full of information but having access to information is not enough for students. There are many difficulties I face while using technology.
• How to find right information In my one hour of studying science, 45-50 percentage of the whole hour goes into searching for the right link. It consumes both my time and energy. For example, while searching for "photosynthesis for grade 6", I don't know which link is relevant. Then I'll have problems with websites, which either have paid files with no info or useless info (for me at least) and it turns out to be just an advertisement. I really feel sorry for the ones reading and swatting off advertisements from their screen in the article. Then at some point of time I will get bored and then I see a familiar icon (videogame icon) and I tell myself, "Oh, just a few minutes will not make much difference". One hour passes with a blank notebook heading
PHOTOSYNTHESIS and I might end up playing some game on screen.
• Too many resources, too much confusion There are Byjus and Khan Academy and YouTube videos. So many resources are available but do they all have the same information for the same thing? No, and how do I find what suits my curriculum's work or any specific project?
• Difficult to select age appropriate information As I said, all things are not relevant for me on the Internet. As far as education is concerned, I wouldn't get info for my grade easily.
• How to control screen time When too much is happening on screen, I don't know how to control my screen time. There are guidelines made for me as far as using screen is concerned – that is half an hour per day or maximum one hour on weekends. Whereas whatever is mentioned below is possible on screen only. I really need suggestions as to where and what can be reduced as everything looks important to me.
• Study material on screen My worksheets, assignments, revisions and answer-keys are all on the screen as they are sent by the school and I have to use them.
• Extra information on screen There is so much beyond curriculum on the screen, like if I need extra information related to my curriculum or if I have to make any project, I have to surf the net. Source of information and research material for extracurricular activities is on the internet again. Apart from these, there are many WhatsApp groups for school and class groups and different activity groups which keep us updated about day to day happenings and God help us if we miss out on any class or event.
• Books on screen I love reading books. My library is already overloaded but that can't stop me from reading. In a city like Mumbai where distances are huge and commuting has become difficult, visiting the library regularly is not possible. So here comes Kindle, another gadget. Now I can read books anytime anywhere, as the advertisement says.
• Entertainment on screen In contrast to my parent's times, when they had one black and white box to watch one movie in a week that too of someone else's choice, I have Netflix, set top box, and YouTube to watch movies and shows of my choice. But then it's on screen.
• Games on screen I know most parents dread this screen time but when all my friends are playing online games, why shouldn't I? But it is screen, right? I understand how much my parents hate it but I love it, after all, you can now play sports or race or even be in the middle of a war without breaking a sweat!
• Less real life experience! I have no qualms admitting that I have difficulty in connecting technological information and real life experience. Honestly, I couldn't figure the working of screwdrivers without the help of YouTube. Big deal!
DIFFICULTY IN STRIKING A BALANCE
It has become very difficult for me and my fellow students to create a balance between…
• Study • School • Travelling • Social life • Screen time
THERE IS A POSITIVE SIDE TO IT
Let's move to a positive side now. You wouldn't be able to read this article without me keying it in. There was an online storytelling competition long back, the Story-weaver competition. It was a competition where I had to tell a story. I illustrated my story on save the earth. The best part about it was, I applied online, I relaxed and drew it sitting in a cozy corner of my bed and submitted it online. There was one more aspect to it which is the most important one: I learnt to draw with the help of a YouTube channel. So, it all happened with the help of technology.
Recently I reached the international level of Spelling Bee. I won the Storyweaver competition and Spelling Bee both, but while participating in Storyweaver I was relaxed and during the Spelling Bee competition at the state and national level I felt intimidated looking at the environment around me. Despite winning both, I was nervous at the Spelling Bee and unperturbed and chilled at the online competition.
TECHNOLOGY MAKES ME LAZY!
Technology is helping me at different levels but at the same time it is making me lazy as well…
• Writing on paper is boring while on computer it looks easy and cool. All of us can have beautiful handwriting that is neat and properly aligned. Well, I typed this as well!
• Autocorrect keeps us away from learning the right spellings. One can keep typing without even realising that many of the spelling mistakes have been corrected by software, while some just got a red underline. We click on a wrong spelling and there are suggestions for right spellings. We don't feel like memorising them; one more click and the right spelling is replaced over the wrong one.
• Technology makes us postpone our activities. You go to a library, and restlessly finish a book. But when you have Kindle or gadgets, you take it easy and then don't finish it in the end.
• The virtual world is easy to handle. Of course, I still can't remember whom Porus was defeated by but I do remember all the skill variations for my FIFA game.
• Watching hobby ideas and DIY makes me happy and satisfied. DIY is the abbreviation of Do It Yourself. But the only inspiration I am getting from watching someone else's pair of hands fold a simple piece of origami is – 'Oh, if they can do it, why can't I' But then when I mess it up I tell myself, 'It's better and more relaxing to just watch it'.
Education for Girls
Department of School Education and Literacy (DoSEL), Ministry of Education is implementing 'Samagra Shiksha', for universalization of quality education throughout the country in coordination with the States and UTs.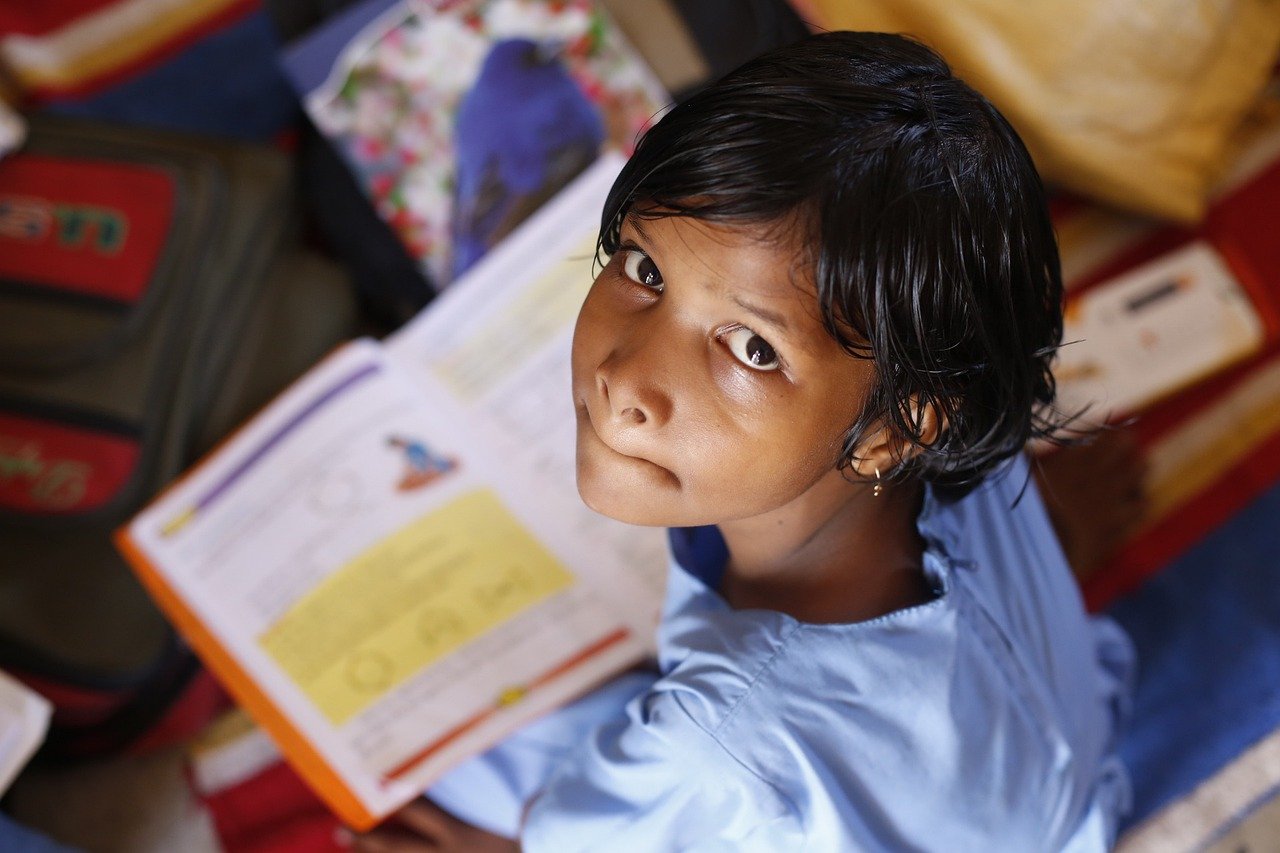 Education is a subject in the concurrent list of the Constitution and the majority of schools are under the jurisdiction of the State Government. Department of School Education and Literacy (DoSEL), Ministry of Education is implementing a centrally sponsored Integrated Scheme for School Education 'Samagra Shiksha', effective from 2018-19, for universalization of quality education throughout the country in coordination with the States and UTs. Bridging gender and social category gaps at all levels of school education is one of the major objectives of the Samagra Shiksha. From the year 2018-19 to 2020-21, the Drop-out rate of girls at the Secondary level decreased from 17.03% to 13.7%, Gross Enrolment Ratio (GER) at the secondary level increased from 76.93 to 79.45, and GER at the higher secondary level has increased from 50.84 to 54.65. (Source: UDISE+).
Under Samagra Shiksha, there is a provision for gender-segregated toilets in all schools. As per UDISE+ 2020-21, 97.45% of Government schools have gender-segregated toilets. Also, there is a provision of a Composite School Grant which may be used for annual maintenance and repair of existing school buildings, toilets, and other facilities to upkeep the infrastructure in good condition.
School Health Programme, under Ayushman Bharat which is a joint collaborative initiative of the Ministry of Health and Family Welfare and DoSEL, Ministry of Education, a module on 'Growing up Healthy' has been incorporated, which interalia includes information on physical challenges during adolescence and attaining puberty.
The National Council of Educational Research and Training (NCERT) is implementing the Adolescence Education Programme (AEP) as part of the National Population Education Project (NPEP). One of the learning outcomes of AEP is to make the learners aware of the concerns of adolescence, i.e. process of growing up during adolescence, and to inculcate in them a positive attitude regarding these concerns.
Additionally, vide a joint letter of Secretary, DoSEL, and Secretary, Ministry of Jal Shakti dated 08.03.2022, the states have been advised to utilize funds earmarked for Menstrual Hygiene Management (MHM) and management of menstrual waste under the Swachh Bharat Mission (Gramin) Phase-II at the village level, for installation or maintenance of incinerators in schools having girls from classes VI to XII and for creating awareness on MHM among adolescent girls and in the society in general.
Moreover, all States and UTs have been requested to take necessary steps to create awareness amongst adolescent girls in schools about the safe usage and the benefits of Sanitary Napkins. It has also been communicated that subsidized sanitary napkins are available at the Jan Aushadi Kendras set up by the Ministry of Chemical and Fertilisers, Government of India.
Under Samagra Shiksha, there is a provision of Kasturba Gandhi Balika Vidyalayas (KGBVs) in the Educationally Backward Blocks, which are residential schools for girls belonging to disadvantaged groups such as SC, ST, OBC, Minority, and Below Poverty Line (BPL). KGBVs were functional for classes 6th to 8th under the erstwhile Sarva Shiksha Abhiyan. Under Samagra Shiksha, a provision has been made to upgrade/converge the KGBVs with girls hostels to cover girls up to classes 10th (Type II) and 12th (Type III) to reduce dropout and enhance enrolment of girls at Secondary and Higher Secondary levels. In KGBVs, specific skill training is imparted to provide need-based vocational education to girls.
Further, Special State Specific Projects for varied interventions under equity are emphasized for enhancing access, retention, and quality of girls by promoting enrolment drives, retention and motivation camps, gender sensitization modules, etc. Financial Support is also being provided under State Specific projects as per the allocation of flexi funds under quality to the state subject to viable proposals received from the respective State and UTs. Such projects include Life Skills, Awareness programmes, Incinerators, Sanitary Pad Vending Machines etc.
Moreover, Samagra Shiksha aims at integrating Vocational Education with general academic education in all Secondary/Senior Secondary schools including KGBVs; enhancing the Employability and Entrepreneurial abilities of the students, providing exposure to working environment; and generating awareness amongst students about various career options so as to enable them to make a choice in accordance with their aptitude, competence, and aspirations.
The information was given by the Minister of State for Education, Smt. Annpurna Devi in a written reply in the Lok Sabha on 1st August 2022.