Eminent personalities including Social Entrepreneur Mr. Sonam Wangchuk confered Honorary Doctorates by The ICFAI University
The 7thConvocation ceremony of the ICFAI University, Hyderabad, was held today at its Campus, on Shankarpally Road, Hyderabad. 1,466 students were awarded degrees during the convocation.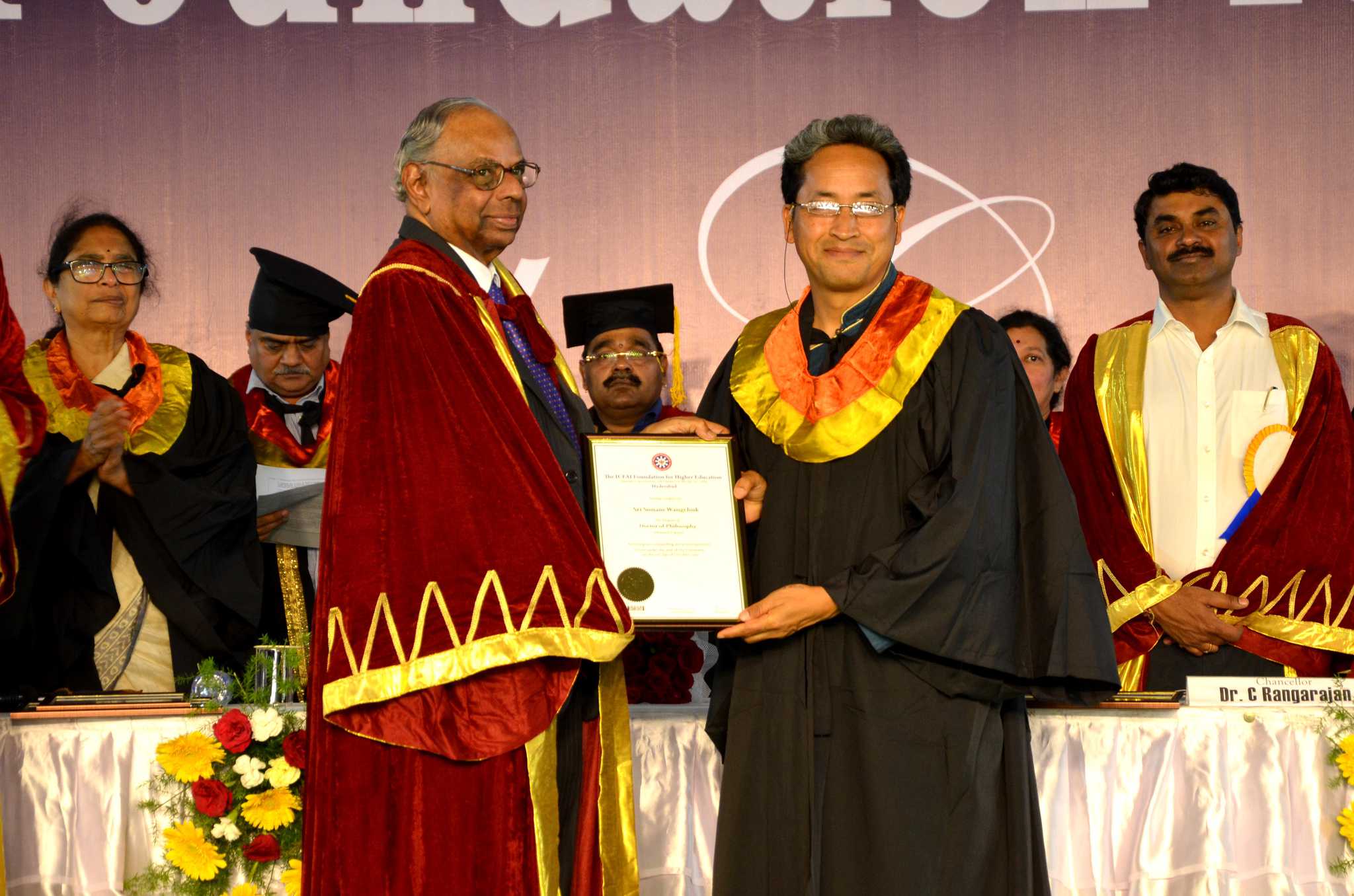 The 7thConvocation ceremony of the ICFAI University, Hyderabad, was held today at its Campus, on Shankarpally Road, Hyderabad. 1,466 students were awarded degrees during the convocation.
Delivering the convocation address, Dr G Satheesh Reddy, Scientific Adviser to Raksha Mantri and Director General, Missiles and Strategic Systems, Defence Research and Development Organisation highlighted the importance of the spirit of learning leading to research, resulting in technologies that benefit the mankind. He urged the students to distinguish themselves as responsible, enlightened and productive citizens of the country, and use the knowledge they have gained to benefit the country. He said, "You have an important role to play as future citizens and ambassadors of our great country." He asked the students to be innovative and adapt constantly to economic and technological changes taking place around us. He said that artificial intelligence would impact our lives in unimaginable ways in days to come. On the progress our country made in the missile and space technologies have made in our country, he said, "The success of Geo-Synchronous Launch Vehicles, Agni Series of Missiles, Interceptor missiles, guided munitions, nuclear submarine INS Arihant, fighter aircrafts and the Chandrayaan and Mangalyaan missions have propelled us into an elite club of nations possessing 'niche' technologies."
For the success of 'Make in India' programme, he urged the academic institutes to become hubs of innovation and entrepreneurship, and collaborate with other academic institutions and research organizations. He asked the students to also take part actively in the Startup India Programme. He told them to stand by the values and principles of the founders of the university. He asked the students to be a continuous learner, and said, "Be broad-minded and tolerant. Never lose the zeal and spirit to question. Have the strength to defend what you think is right. These qualities, which your alma mater has instilled in you, will be useful as you move forward in your career." He concluded by appreciating ICFAI for nurturing culture of excellence throughout.
In his message to the faculty members, he said "I would appeal to the faculty of ICFAI to lay emphasis in research on specific goal oriented research topics, which are relevant to national needs and sometime specific to the region."
Prof J. Mahender Reddy, Vice Chancellor presented a report on the progress made by the University during the year 2016-17. He informed that during the year the faculty members of the University published 245 papers in professional journals of repute of which 25 were in A*/A Journals listed in Australian Business Deans Council Journal Quality list and 159 in Scopus listed journals. He also highlighted the achievements of various departments and students in the University.
Dr C Rangarajan, Chancellor of the University, presided over the function. Delivering his address, he called for radical changes in higher education. The reforms in higher education, he said, have three dimensions – access, equity and quality. For ensuring quality he called for focusing on modernization of curriculum, efficient teaching, attitude of the students and reforms in examination system. Calling for change in the evaluation system he said, "the present evaluation system needs to be revamped to facilitate a more meaningful assessment of the students' competence." He also said that overhauling the examination system will bring improvement in the quality. "if that is done the rest will fall in place. A reformed examination system will keep teachers and students on their toes," he concluded.
Honorary Doctorates: The University confered Honorary Doctorates to three eminent personalities – Child Rights Protectionist Prof Shantha Sinha, Social Entrepreneur Mr. Sonam Wangchuk, and Indian Sand Artist Mr Sudarsan Pattnaik.
Graduating Students: During the convocation 1,466 students including 537 girls received their degrees. 15 students were awarded their PhD degrees and 1,078 MBA degrees. In the other streams 218-BBA, 131- B Tech, 16-BBA-LLB (Hons), MMS-7 and one LLM degrees were awarded.
Gold and Silver Medals – MBA Stream: Seven Gold Medals and five Silver Medals were awarded to students for academic excellence and all round excellence in all the streams.
Meghna Ramesh received the gold medal for academic excellence in the MBA program and Ravneet Chada won 'Saurabh Sharma Memorial Gold Medal' for being the Topper in the Marketing stream of the MBA program. Vamsi Yuvaraj Suggulareceived the silver medal for academic excellence and Gargi Nagpal won 'Faiyaz Ahmed Khan Memorial Gold Medal' as Topper in the Finance stream of the MBA program.
Gold and Silver Medals – BBA, BBA-LLB (Hons.) and B.Tech Streams: Sloka Reddyand Kuntluri Nikhila Reddy received the gold medal and silver medal respectively for academic excellence in the BBA program while Abhinav Preetuand Chandra Shekhar received the gold medal and silver medal respectively for academic excellence in the B.Tech. program. In the BBA-LLB (Hons) program the gold and silver medals for academic excellence were awarded to Manveen Sandhu and Yammanuru Siri Reddy respectively.
N J Yasaswy-Apollo Hospital Best Student Award: Vamsi Yuvaraj Suggula received Gold Medal and Rs.50,000/- cash rize for 'N J Yasaswy-Apollo Hospital Best Student Award' for allround excellence. In the same program P Abhilash was awarded Silver medal and a cash prize of Rs 25,000/-for allround excellence.
Best Teacher Award: Prof.Tamma Koti Reddy, Department of Economics won 'NJ Yasaswy – Apollo Hospital Best Teacher Award' for Overall Excellence.
New Early Childhood Education Report Explores Opportunities for Improving Curriculum and Classroom Resources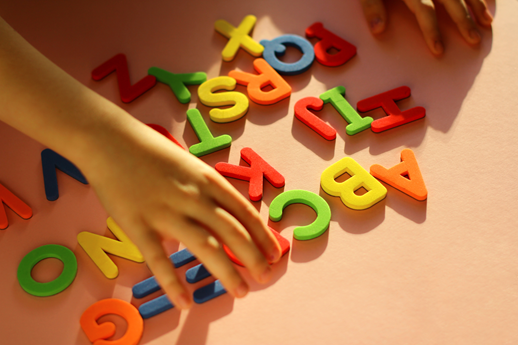 Central Square Foundation (CSF), a leading non-profit in India's primary and pre-primary education sector released a report titled Building Strong Foundations: Examining Early Childhood Education in India. The report stems from an in-depth Situational Analysis Study conducted across 200 Early Childhood Education (ECE) classrooms in India aimed at validating existing research data and identifying opportunities for enhancing ECE programs, shedding light on crucial aspects that call for urgent and immediate action.
Key Highlights:
* Study conducted across 200 ECE Classrooms in seven States in India
* The Report examines causes behind low learning outcomes in the 3-6 years age group of children
* The low priority given to ECE is reflected in the budgetary proposal and outlays
* Report highlights lack of consistent on-ground support to deliver quality ECE across the country
* The limited utilization of play-based materials and workbooks impacts student learning opportunities Recognising the imperative need for research on programmatic factors affecting the quality of ECE, CSF delved into the intricacies of the ECE ecosystem across select States. The primary and secondary research looked at aspects of ECE delivery including curriculum design, teaching-learning time, effectiveness of learning, teacher training, monitoring quality, and parental perception.
The report advocates for prompt remedial actions to address these gaps and ensure a robust learning foundation for young students. It further aims to understand the current models of public provisioning of ECE in India, study different aspects of delivery that affect learning in the classrooms, and outline the way forward for other stakeholders within the ECE ecosystem. For this study, CSF reached out to a mix of Anganwadis, co-located Anganwadis, and pre-primary sections in government primary schools (either as 1-year or 2-year pre-primary program) between March-May, 2023, across seven states – Andhra Pradesh, Assam, Madhya Pradesh, Maharashtra, Punjab, Telangana & Uttar Pradesh. The survey analysis was partly supported by the Key Education Foundation, a non-profit working in the space of early childhood education, which researched classroom curriculum analysis on pedagogy, ease of use, and teaching-learning resources.
The report recognizes the global outlook and progressive nature of India's ECE policies while at the same time, it observes that the country's early learning outcomes are sub-par. The Report recognises the need for "Play-based learning" as a fundamental curriculum for children to learn faster & effectively. The report also reveals the need for classroom resources to be more user-friendly to promote their usage among children.
Among the key "classroom-based observations", it was found that time spent on ECE activities was low. Zero ECE activities were observed in 23% of the ECE classrooms that were sampled. In classrooms where an ECE activity took place, it was found that these activities accounted for only an average of 35 minutes out of a two-hour observation period. There was also very little time for hands-on activities and practice by children. Only 14% of the observed ECE activities followed the recommended approach of carrying out age-appropriate and student-led small-group interactions. Interviews with monitoring stakeholders and teachers suggest that officials face competing priorities and don't have access to reliable ECE data. Strengthening monitoring protocols for ECE is crucial, as few officials observe teachers, indicating a need for enhanced ECE-specific feedback.
The report recognizes that the onus of delivering preschool education rests with two government ministries (the Ministry of Education and the Ministry of Women and Child Development) which has led to diffused responsibility, ownership, accountability, collaboration, and support in the sector. This approach has often resulted in duplicated efforts that have proven counterproductive, adversely affecting ECE quality and learning outcomes.
It also underlines the low priority given to ECE, reflected in the budgetary proposals and outlays by both ministries. This is also evident in the availability of dedicated teachers for ECE classrooms, especially in government primary schools. Further, the utilization of the funds also remains low.
Speaking at the release of the report, Shaveta Sharma-Kukreja, CEO and MD of CSF, emphasized, "The future of ECE in India hinges on addressing systemic challenges and operational hurdles to effectively implement well-crafted policies. Despite their forward-looking nature, these policies struggle to translate into optimal student learning outcomes and school readiness. Elevating the status of ECE and allocating increased financial resources are critical steps in that direction. Enhanced policy implementation aligns with Sustainable Development Goals and the NIPUN Bharat Mission, ensuring improved learning outcomes for all children."
Key recommendations from the Report:
1. Synergy between Ministries: To achieve ECE-specific goals in the country, collaboration between the Ministry of Education and the Ministry of Women and Child Development is vital.
2. Increase Funding: There is a need to increase ECE-specific funding with clear priorities for yearly expenses and incentivize states to meet their ECE goals.
3. Strengthen data systems and build a robust monitoring framework to get reliable data on critical ECE indicators for Anganwadis and Balvatikas/ pre-primary classrooms in government schools.
4. Promote parental awareness and encourage them to actively champion quality education. Equip parents with essential tools, resources, and guidance to actively engage in at-home learning activities.