Ministry of Women and Child Development will work with Sports Ministry for greater participation of girls and women in sports – Maneka Gandhi
On the occasion of the International Day of the Girl Child, the Ministry of Women and Child Development and UNICEF together organized a panel discussion on The Role of Sports in the Empowerment of Girls in New Delhi today.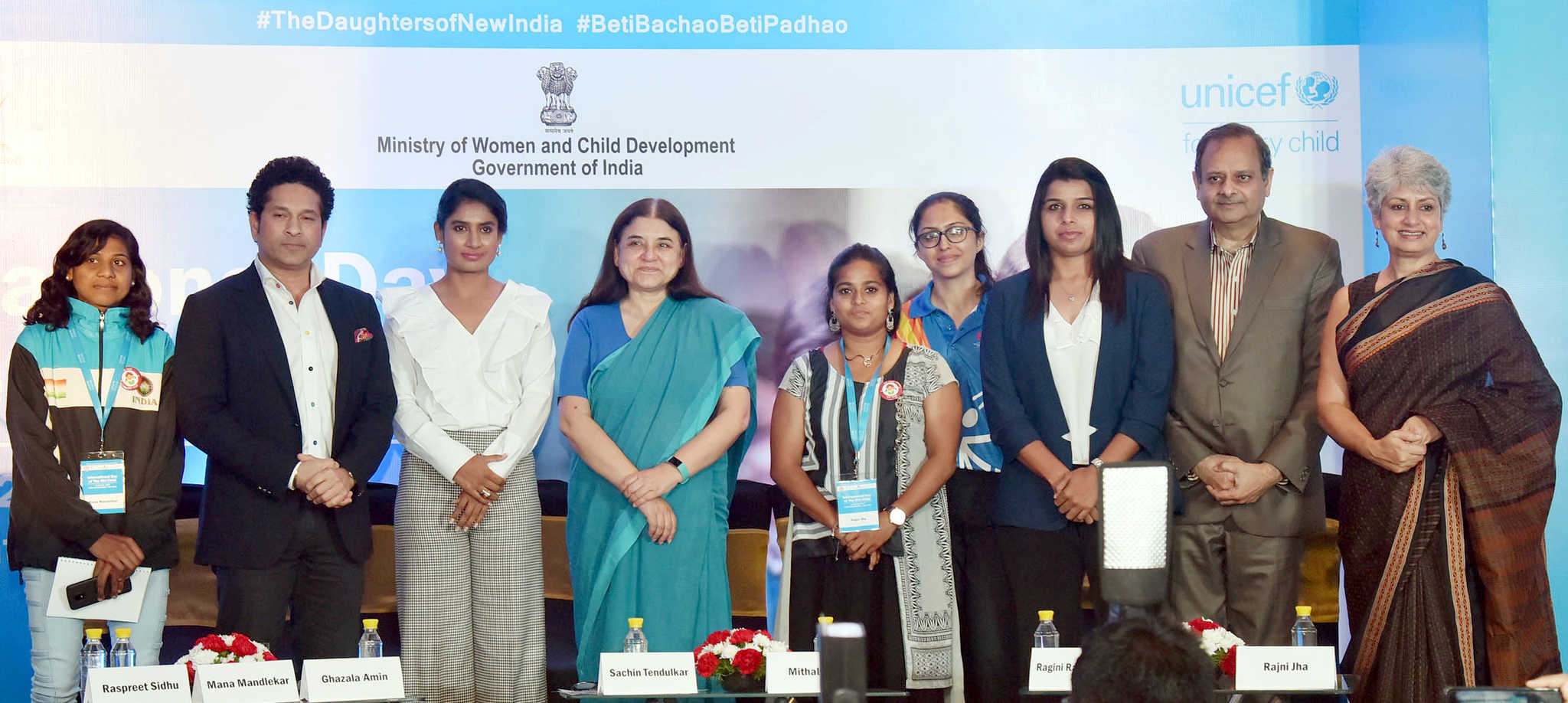 On the occasion of the International Day of the Girl Child, the Ministry of Women and Child Development and UNICEF together organized a panel discussion on The Role of Sports in the Empowerment of Girls in New Delhi today. A power-packed sports team comprising of UNICEF Goodwill Ambassador, Sachin Tendulkar, Indian Women's cricket team captain Mitali Raj, former captain Indian women's National Basketball Team, Raspreet Sidhu, Special Olympics athlete, Ragini Sharma, Karate champion, Mana Mandlekar and International para swimmer and BBBP Champion from Gwalior, Madhya Pradesh, Rajni Jha participated in the panel discussion.
The panel discussion was initiated by the Minister of Women and Child Development Smt Maneka Sanjay Gandhi. UNICEF India representative Dr. Yasmin Ali Haque and Secretary WCD, Shri Rakesh Srivastava were present on the occasion.
Opening the session, WCD Minister said that the Government is working hard for the empowerment of girls and women. Beti Bachao Beti Padhao program, which was conceived and launched by the Prime Minister as a national flagship program, is committed to increasing the value of girls and creating an enabling environment for them to enjoy their rights, the Minister explained. The results of this program are highly encouraging in the 161 districts in which it has been launched, the Minister disclosed. She said that between the period 2015-16 and 2016-17 an improving trend is seen is Sex Ratio at Birth (SRB) in 104 districts; 119 districts have reported progress in the first trimester registration against the reported ANC registrations and status of institutional deliveries has improved in 146 districts.
Smt Maneka Sanjay Gandhi said that Sports is another dimension to this program that can play a vital role in transforming and empowering lives of women and girls. Today we are recognizing better the role of sports as a platform for girls to demonstrate their skills and achieve their aspirations." It is for this reason that the Ministry of Women and Child Development and Ministry of Sports and Youth Affairs have decided to work together to promote greater participation of women in sports, the Minister said. A campaign will be launched to motivate girls and women to take up sports, more importantly, sports infrastructure for girls is proposed to be developed for which the Ministry of WCD is willing to contribute funds, Smt Maneka Sanjay Gandhi explained.
Dr. Yasmin Ali Haque, UNICEF Representative in India said, "The International Day of the Girl Child is a long term commitment of multi-sectoral partners to continue to draw attention to all girls' needs and opportunities. Three priorities that can change the paradigm completely are girls' education, preventing their early marriage and enabling their safe mobility."
Sachin Tendulkar, UNICEF Goodwill ambassador shared "My achievement in life is inspired by my parents and family who appreciated my talent as well as supported me as a young child. Parents and communities must see their daughters as assets – as individuals capable of standing on their feet and contributing to society, and not as burdens to be married in haste. This requires us to invest in daughters, as the Government of India is doing. We have to ease the financial burden on parents so that girls complete their education and take steps to fulfill their potential in their society and achieve their aspirations. We must address the concerns of parents, engage with them in making change possible. Child marriage and other social pressures hampers a child's growth. I stand to SAY NO to Child Marriage and make a better world for our girls".
"Irrespective of their gender, a sportsperson can overcome social, physical, and societal obstacles. I applaud the Government's 'Beti Bachao, Beti Padhao' program, which is bringing about a mindset change across India in how we can collectively ensure that the girl child survives and is given equal opportunity to flourish in every sphere of life," said Ragini Sharma, Olympian para-athlete.
"As a sportsperson, I believe gender doesn't matter," Mithali Raj said. "Each and every child should participate in sports, as it encourages teamwork, builds mental strength, keeps children healthy, and makes them confident to deal with life challenges."
Rashmi Jha, International para-swimmer lauded the BBBP programme of the Government and said that "Achieving equality for girls and boys, women and men, starts from our own homes and lives. An enabling and supportive environment at home, school, college can go a long way in dismantling barriers for girls and encourage more girls to take up sports and move towards gender equality".
The Valedictory Address was delivered by Sh. Rakesh Srivastava Secretary, WCD who reiterated Ministry of WCD's commitment to achieving gender equality and solicited support of media in highlighting positive stories of women achievers to influence national and mainstream discourse in favor of girls and women and to bring visibility to Beti Bachao Beti Padhao.
The Panel discussion was held on the occasion of International Girl Child Day as part of the celebration of "Beti Bachao Beti Padhao Week- The Daughters of New India" from 9th October-14th October, 2017 to create Value of Girl Child in the backdrop of the Government of India's Beti Bachao, Beti Padhao (BBBP) with its critical focus on survival, protection, education and development of the girl child. The panelists discussed long-term solutions which can be designed with and for girls to use sports as a catalyst to increase the value of the girl child, strengthen their resilience and provide transformational and lifelong opportunities and aspirations. The catalyzing role of sports in enhancing the value and empowerment of girls with education and life skills was also discussed.
The Government of India's existing multi-sectoral programmes such as the BBBP have empowered millions of girls and families across the country by providing opportunities and building futures for the girl child. As womens' sports grow more prominent, it is enabling girls, even from the most marginalized communities, to make informed choices, especially those who are at risk of child marriage or are already married and participate and achieve their dreams. BBBP acknowledges the potential of adolescent girls to become the change makers and champions, breaking the mould, to claim their rights and dignity and inspiring others to do the same.
GD Goenka's Shooting Championship 2023 to Honour the legacy of Abhinav Bindra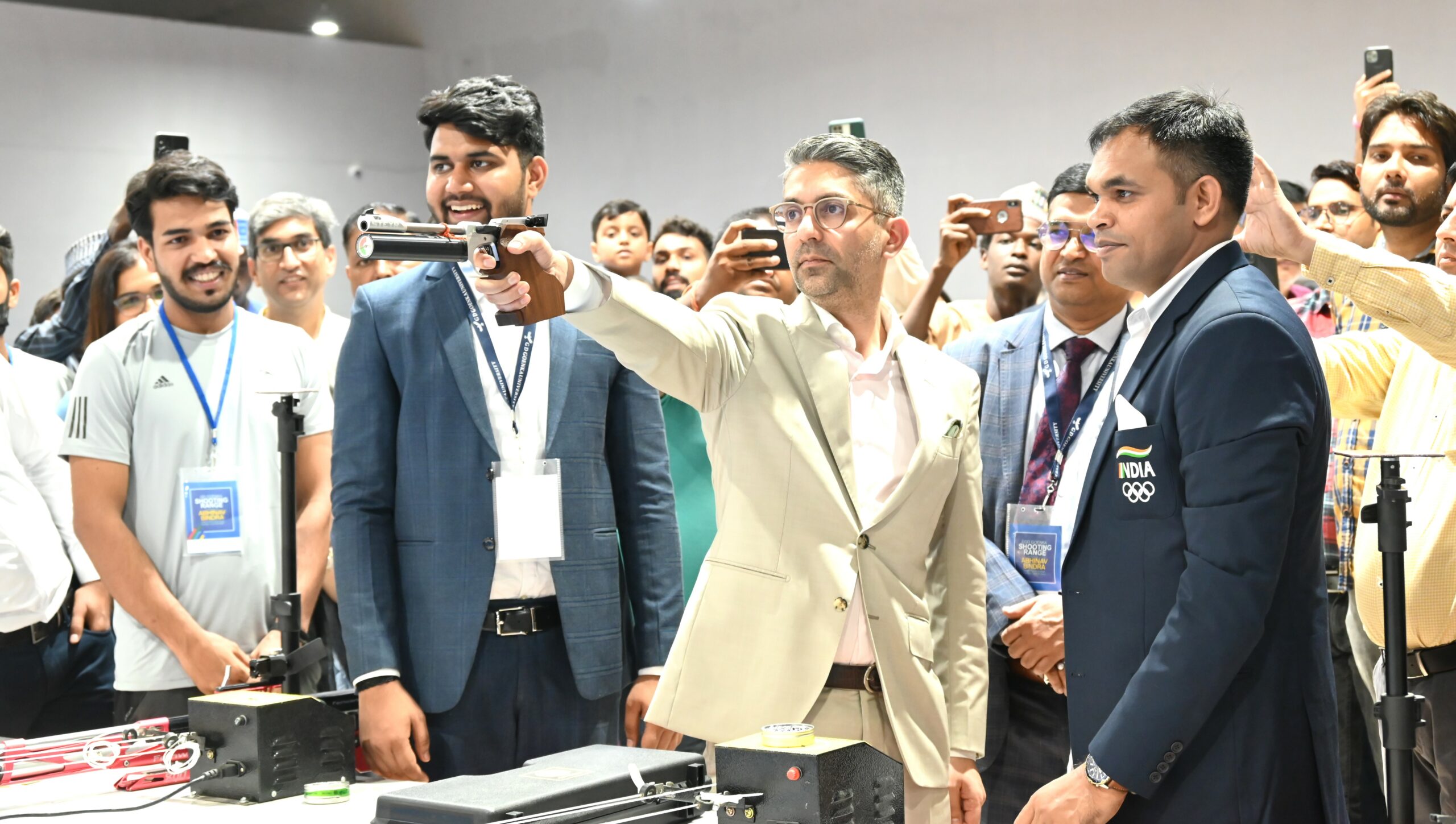 GD Goenka University is excited to introduce the inaugural Gayatri Devi Goenka Memorial Shooting Championship, a remarkable event that underscores the university's unwavering commitment to nurturing sports excellence and paying tribute to the exceptional sharpshooters from all corners of India. Set to be held from September 26 to September 29, 2023, at the GD Goenka Shooting Range featuring 25 professional lanes, this championship is poised to become one of the nation's most prestigious shooting competitions and will be conducted using Electronic Scoring Target System (EST).
This championship serves as a testament to promoting sportsmanship and fostering the talents of both emerging and seasoned shooters. With participation from over 500 competitors hailing from across India, the event promises to be a grand spectacle, celebrating the passion and precision of shooters who have honed their craft to perfection.
Notably, this championship holds particular significance as it pays homage to Abhinav Bindra, India's first individual Olympic gold medalist. The GD Goenka Shooting Range, dedicated in his honor in 2022, stands as a guiding light for aspiring shooters, offering world-class facilities and expert guidance to nurture their talents.
During the inauguration, Abhinav Bindra expressed his thoughts, stating, "I extend my heartfelt congratulations to GD Goenka for the remarkable facilities they have established and the emphasis they place on sports across their educational institutions. I am confident that the students will achieve remarkable success in various tournaments, but more importantly, they will imbibe the values that sports instill in us."
Nipun Goenka, Managing Director of GD Goenka Group, aptly remarked, "The Gayatri Devi Goenka Memorial Shooting Championship transcends mere competition; it's a celebration of the essence of sportsmanship, camaraderie, and unwavering dedication. We take immense pride in providing a platform for India's talented marksmen and markswomen to shine, and we firmly believe that this championship will serve as an inspiration to a new generation of shooting enthusiasts."