Ministry of Women and Child Development will work with Sports Ministry for greater participation of girls and women in sports – Maneka Gandhi
On the occasion of the International Day of the Girl Child, the Ministry of Women and Child Development and UNICEF together organized a panel discussion on The Role of Sports in the Empowerment of Girls in New Delhi today.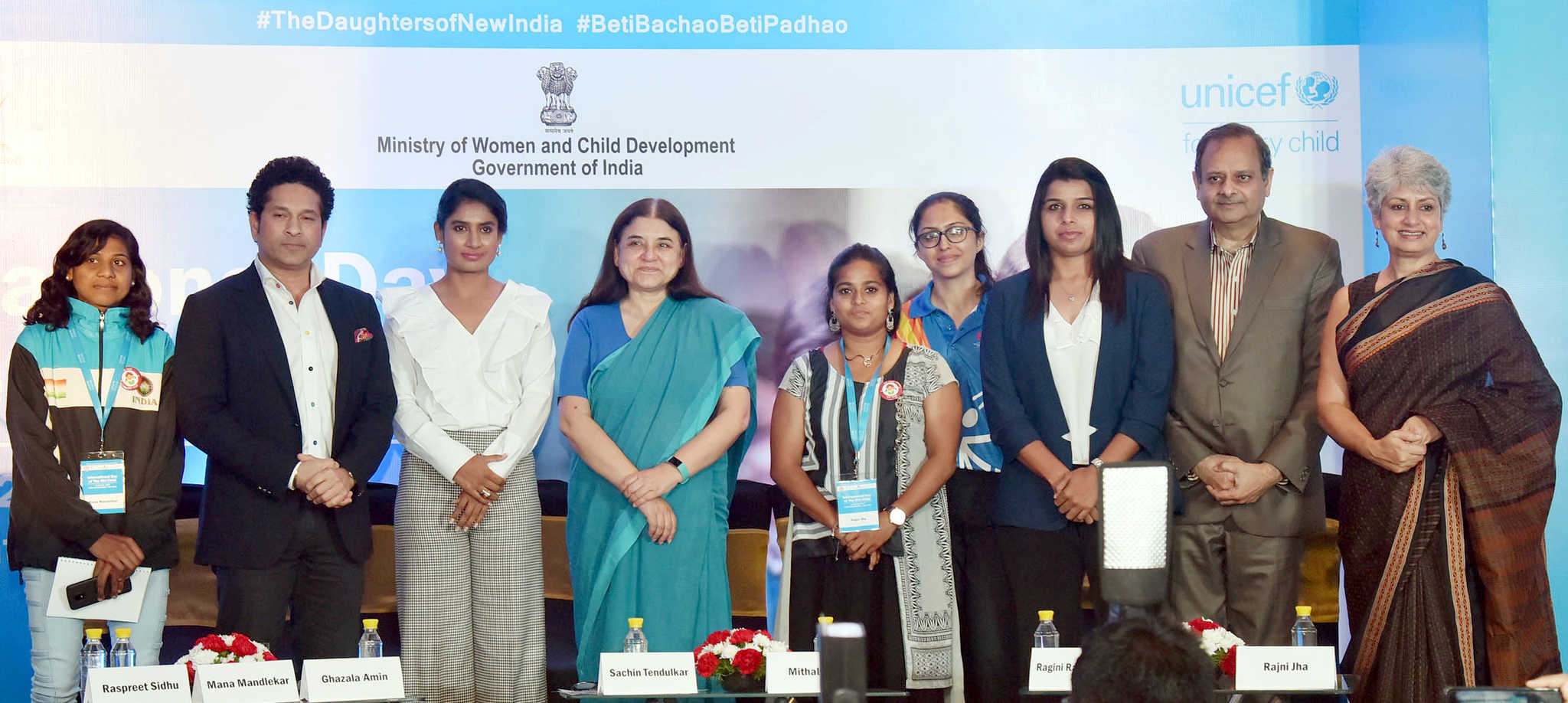 On the occasion of the International Day of the Girl Child, the Ministry of Women and Child Development and UNICEF together organized a panel discussion on The Role of Sports in the Empowerment of Girls in New Delhi today. A power-packed sports team comprising of UNICEF Goodwill Ambassador, Sachin Tendulkar, Indian Women's cricket team captain Mitali Raj, former captain Indian women's National Basketball Team, Raspreet Sidhu, Special Olympics athlete, Ragini Sharma, Karate champion, Mana Mandlekar and International para swimmer and BBBP Champion from Gwalior, Madhya Pradesh, Rajni Jha participated in the panel discussion.
The panel discussion was initiated by the Minister of Women and Child Development Smt Maneka Sanjay Gandhi. UNICEF India representative Dr. Yasmin Ali Haque and Secretary WCD, Shri Rakesh Srivastava were present on the occasion.
Opening the session, WCD Minister said that the Government is working hard for the empowerment of girls and women. Beti Bachao Beti Padhao program, which was conceived and launched by the Prime Minister as a national flagship program, is committed to increasing the value of girls and creating an enabling environment for them to enjoy their rights, the Minister explained. The results of this program are highly encouraging in the 161 districts in which it has been launched, the Minister disclosed. She said that between the period 2015-16 and 2016-17 an improving trend is seen is Sex Ratio at Birth (SRB) in 104 districts; 119 districts have reported progress in the first trimester registration against the reported ANC registrations and status of institutional deliveries has improved in 146 districts.
Smt Maneka Sanjay Gandhi said that Sports is another dimension to this program that can play a vital role in transforming and empowering lives of women and girls. Today we are recognizing better the role of sports as a platform for girls to demonstrate their skills and achieve their aspirations." It is for this reason that the Ministry of Women and Child Development and Ministry of Sports and Youth Affairs have decided to work together to promote greater participation of women in sports, the Minister said. A campaign will be launched to motivate girls and women to take up sports, more importantly, sports infrastructure for girls is proposed to be developed for which the Ministry of WCD is willing to contribute funds, Smt Maneka Sanjay Gandhi explained.
Dr. Yasmin Ali Haque, UNICEF Representative in India said, "The International Day of the Girl Child is a long term commitment of multi-sectoral partners to continue to draw attention to all girls' needs and opportunities. Three priorities that can change the paradigm completely are girls' education, preventing their early marriage and enabling their safe mobility."
Sachin Tendulkar, UNICEF Goodwill ambassador shared "My achievement in life is inspired by my parents and family who appreciated my talent as well as supported me as a young child. Parents and communities must see their daughters as assets – as individuals capable of standing on their feet and contributing to society, and not as burdens to be married in haste. This requires us to invest in daughters, as the Government of India is doing. We have to ease the financial burden on parents so that girls complete their education and take steps to fulfill their potential in their society and achieve their aspirations. We must address the concerns of parents, engage with them in making change possible. Child marriage and other social pressures hampers a child's growth. I stand to SAY NO to Child Marriage and make a better world for our girls".
"Irrespective of their gender, a sportsperson can overcome social, physical, and societal obstacles. I applaud the Government's 'Beti Bachao, Beti Padhao' program, which is bringing about a mindset change across India in how we can collectively ensure that the girl child survives and is given equal opportunity to flourish in every sphere of life," said Ragini Sharma, Olympian para-athlete.
"As a sportsperson, I believe gender doesn't matter," Mithali Raj said. "Each and every child should participate in sports, as it encourages teamwork, builds mental strength, keeps children healthy, and makes them confident to deal with life challenges."
Rashmi Jha, International para-swimmer lauded the BBBP programme of the Government and said that "Achieving equality for girls and boys, women and men, starts from our own homes and lives. An enabling and supportive environment at home, school, college can go a long way in dismantling barriers for girls and encourage more girls to take up sports and move towards gender equality".
The Valedictory Address was delivered by Sh. Rakesh Srivastava Secretary, WCD who reiterated Ministry of WCD's commitment to achieving gender equality and solicited support of media in highlighting positive stories of women achievers to influence national and mainstream discourse in favor of girls and women and to bring visibility to Beti Bachao Beti Padhao.
The Panel discussion was held on the occasion of International Girl Child Day as part of the celebration of "Beti Bachao Beti Padhao Week- The Daughters of New India" from 9th October-14th October, 2017 to create Value of Girl Child in the backdrop of the Government of India's Beti Bachao, Beti Padhao (BBBP) with its critical focus on survival, protection, education and development of the girl child. The panelists discussed long-term solutions which can be designed with and for girls to use sports as a catalyst to increase the value of the girl child, strengthen their resilience and provide transformational and lifelong opportunities and aspirations. The catalyzing role of sports in enhancing the value and empowerment of girls with education and life skills was also discussed.
The Government of India's existing multi-sectoral programmes such as the BBBP have empowered millions of girls and families across the country by providing opportunities and building futures for the girl child. As womens' sports grow more prominent, it is enabling girls, even from the most marginalized communities, to make informed choices, especially those who are at risk of child marriage or are already married and participate and achieve their dreams. BBBP acknowledges the potential of adolescent girls to become the change makers and champions, breaking the mould, to claim their rights and dignity and inspiring others to do the same.
NIOS celebrates 33rd Foundation Day
Dr. Subhas Sarkar addresses the 33rd Foundation Day Celebrations of NIOS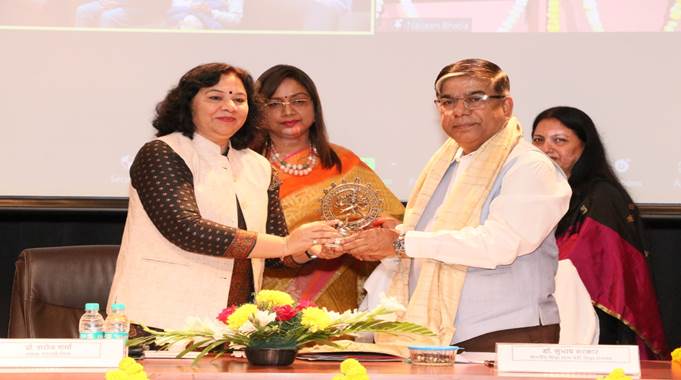 Union Minister of State for Education, Dr. Subhas Sarkar addressed the 33rd Foundation Day Celebrations of NIOS as the Chief Guest.
The function was attended by senior officials of the Ministry of Education, Chairpersons of educational institutions, Heads of Departments, officers, and staff of NIOS. Prof. Naval Kishore Ambasht, former Chairman, of NIOS and Pro-Vice Chancellor, of the Central University of Haryana, Prof. Sushma Yadav graced the occasion.
Dr. Subhas Sarkar in his address appreciated the various programmes and schemes of NIOS and said that NIOS is lighting the lamp of knowledge all over the world. Talking about the Azadi Ka Amrit Mahotsav, he mentioned that today's children will be young people in the age group of 30-40 years on the completion of 100 years of independence and will be responsible for building our nation.
He said that the Ministry of Education has entrusted NIOS with several responsibilities such as developing inclusive education resources, expanding the open and distance education system in states/UTs, translating all courses into more languages as required, creating Indian Knowledge Tradition based courses and propagating Indian culture by translating them into major foreign languages. He also praised the programmes of NIOS enrolling 10 crore adults under 'Basic Literacy Assessment', training of in-service teachers, Gender Green Project, and training in Yoga. He said that Indian Sign Language as a subject at the secondary level has been acknowledged on national and international platforms. He described the launch of an e-library called 'DEEP' by NIOS as a big step forward.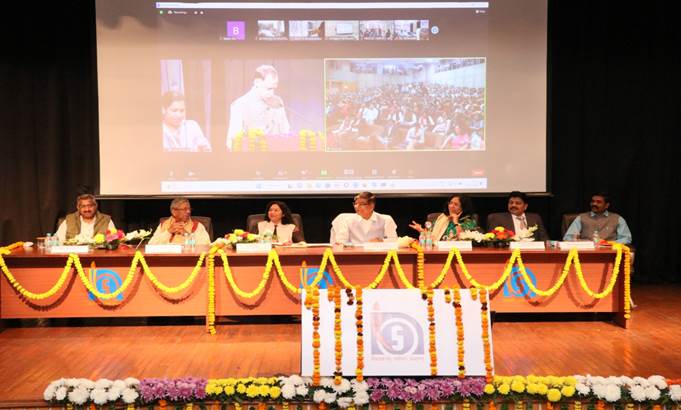 Prof. Saroj Sharma spoke about the journey of 33 years of NIOS and highlighted the special achievements. She said that NIOS is one of the two National Boards of Education under the Ministry of Education, which provides school education through Open and Distance Learning (ODL) for secondary, senior secondary, and vocational education. She elaborated on the role of NIOS in the field of education, efforts being made by NIOS for the successful implementation of the New Education Policy, Virtual Open School, Digital Library (DEEP), NEPIA Project, MoU with Ministry of Defence for Agniveer Project, setting up of Mukta Kaushal Kendras and subjects offered under Indian knowledge Tradition.
It was also conveyed by her that a curriculum called 'Aarambhika' is being developed by NIOS for catering to the Indian Diaspora.
A documentary based on the journey of 33 years of educational endeavours of NIOS was presented on the occasion. In this documentary, 'All England Badminton winner Pullela Gopichand said that most of the players in his badminton academy are getting an education from NIOS.
NIOS alumni, Ms. Niranjana and Vinod Kumar Chaudhary were also felicitated on the occasion. Shri Vinod Kumar said that only due to his education in NIOS, he was able to get the credit of making the Guinness Book of World Records 10 times (8 in Typing and 2 in sports). A proud learner of NIOS, Ms. Niranjana is a successful ventriloquist. Prof. N. K. Ambasht, former Chairman, NIOS said that in this age of technology, innovations must lead to developing 'standalone' courses for the Indian Diaspora, to achieve the goals of the National Education Policy- 2020. Pro-Vice Chancellor, Prof. Sushma Yadav said that the role of NIOS increases in the light of New Education Policy. NIOS has such potential that the institute will be able to achieve the ambitious goals of National Education Policy 2020 in the coming years.
The half-yearly magazine of NIOS 'Pragyan' was released by Dr. Subhas Sarkar on this occasion.