The most powerful and latest teaching tool: Subtitles
BookBox is focussing on developing the reading skills and language learning for all children through subtitle animated content (AniBooks). The concept hinges on the fact that a viewer cannot help but read subtitles while watching a video. The future plans are to develop TV shows.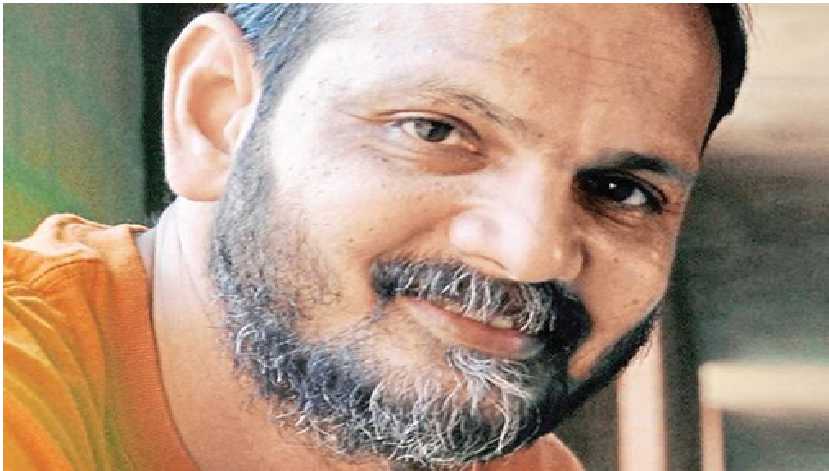 Do you remember watching Chitrahaar or Rangoli on Doordarshan with Hindi subtitles of the song's lyrics displayed on your TV screen? Now what if you were to discover that the innocuous subtitles can be turned into a very powerful and all pervasive education tool to boost literacy in children?
The subtitles in the same language as that of the programme being telecast, christened as the same-language subtitling (SLS), was conceived by Brij Kothari in 1996 while he was associate professor at the Indian Institute of Management, Ahmedabad (IIM-A). And that, in fact, led to the founding of BookBox in 2004.
"Can the reading experience get converted on TV and mobile phones?" This question led Kothari and others to start BookBox, a social venture producing content in the form of animated stories (AniBooks) for children, with the SLS feature, which are later offered on other digital platforms.
Though the primary focus of BookBox lies in reading skills' development and language learning for all children; incidentally they also contain several features that help children with special needs—dyslexic, autistic and hearing impaired children. "When sufficient content has been created, BookBox will create TV programmes from AniBooks to feed both, the demand for literacy and language learning. TV is where BookBox's benefit will be achieved, without compromising the need to make a sustainable profit," says Kothari, CEO and founder of Puducherry-based BookBox.
For its simple yet far-reaching vision and the content produced so far, BookBox has been nominated for the Digital Empowerment Foundation's mBillionth awards 2016.
The prequel
Kothari has an envious academic record. Growing up in Puducherry, he studied at the Sri Aurobindo International Centre of Education (SAICE) and later went to Indian Institute of Technology, Kanpur (IIT-K). He conceived and researched on the idea of using SLS for mass literacy in 1996 at IIM-A. He holds a doctorate from Cornell University, with a specialization in education and development communication.
Incidentally, the thought to create BookBox was born during a student-driven competition, Social e-Challenge, at Stanford University. Kothari, who is an adjunct faculty at IIM-A (from 2004 to present), went on to implement the SLS through PlanetRead, a not-for-profit organization. Former US president Bill Clinton once called SLS, a "small thing that has a staggering impact on people's lives."
BookBox focuses on 2 simple things: children like to watch cartoons and a viewer inescapably and automatically will try to read along, assuming a passing familiarity with the script while watching a video with subtitles. "Subtitled animation is, therefore, more than entertainment. Reading skills are subconsciously reinforced as part of entertainment," says Kothari.
BookBox has so far produced around 50 AniBooks in over 40 languages and aims to create sufficient content to eventually launch TV programmes.
Not every road is smooth
According to Kothari, poor internet connectivity in rural area poses the main challenge. However, he adds that certain groups are doing innovative work in developing last mile internet infrastructure.
A study by market researcher Nielsen found that only about 35% of Indian children become good readers at school. An interesting statistic to counter the dismal figure is that when exposed to just 30 minutes of subtitled film songs a week, that proportion doubles.
BookBox produces stories for children in languages such as English, Spanish, Mandarin, Hindi and 21 other languages. "It couldn't be done just through printed books. Children's books are necessary but ultimately limited option to transport the reading experience across the geographic spread and linguistic diversity of India, in a context of economic scarcity," says Kothari.
Also, for a variety of reasons, even if books are available most children do not grow up reading, or being read to, children's books. This may be due to poor reading habits in parents themselves or even in parents who read, the value of every day reading to children, from infancy to school and even beyond, is not commonly known or shared, nor socially and culturally promoted.
Currently, BookBox has started working on a project which aims to integrate AniBooks into the schools and lives of children in grades 1-3, or ages 6-10, to aid the development of reading skills. "We will be working in select schools in Madhya Pradesh, Jharkhand, Uttar Pradesh, Rajasthan, Bihar and Chhattisgarh, in partnership with organizations that have the experience and infrastructure to distribute and deploy AniBooks on existing screens in schools and homes," says a spokesperson from BookBox.
The organization has a 20-member full-time team and has also raised funding from Atlanta-based First Light Ventures, an affiliate of Gray Ghost Ventures, an investment firm which funds entrepreneurs who develop sustainable, market-based solutions for low-income customers globally.
So what does the future hold?
India currently has 900 million mobile users, of which only 10% have a Smartphone; telecom company Ericsson predicts that the number of Smartphone users will be around 520 million by 2020. By 2017, tablets are expected to command 63% of the PC (personal computer) market.
BookBox is ready to tap the market with its already launched Android and iOS apps. The apps provide free access to users. Going further, BookBox plans to develop more such Android apps using AniBook content in the required language mix and making it available on tablets for children in early grades. They feel that with the rapid growth of smartphones and tablets, the potential for scaling up is immense.
The Mental Health Algorithm
Before we talk about how to help children with their mental health it is important to remind ourselves of a safety instruction used on airplanes- put on your oxygen mask first before helping others.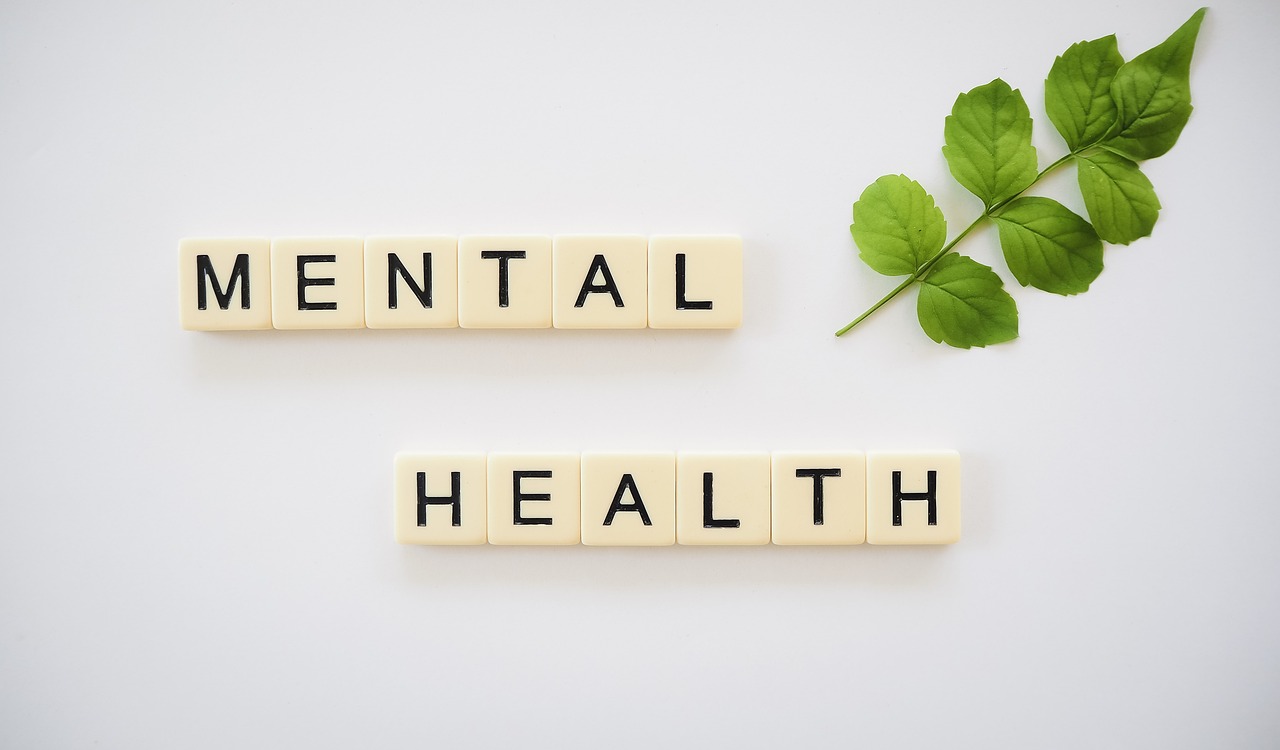 Why have I called it an algorithm? Because mental health needs the following –
Decomposition- breaking the task into smaller, manageable tasks. Breaking mental health into smaller, manageable things to do every day
Pattern recognition- finding a pattern in how children behave when confronted with certain situations or stress
Abstraction- teaching ourselves to focus on what matters and ignore the other things, so when children misbehave focus on the why and not the how, what, and other clutter.
Algorithmic thinking- creating a set of steps to follow to help children cope with their emotions, talk about mental health and be happy.
Can young children suffer from depression, anxiety, stress, and trauma? The answer is yes. But what does this look like? It can be any of these behaviors or a combination of them-
Children start having tantrums and start misbehaving
Become moody
Become aggressive
They start bedwetting, and nail-biting.
They are unable to focus or remember new learning
They start over or undereating.
Suffer from lack of sleep and start dozing off during the day.
Parents and teachers should be worried if these last for more than two weeks consistently.
Dr. Maria Kovacs, professor of psychiatry at the University of Pittsburgh School of Medicine says that when young children are depressed "the primary mood is irritability not sadness- children come across as being very cranky. The best way for parents and teachers to recognize depression in young children is not so much by what a child says as by what the child does- or stops doing."
Dr. Helen Egger until recently the chair of child and adolescent psychiatry at NYU Langone Health says, " in a preschool-aged child depression may look like a behaviour problem but is really driven by what the child is feeling inside."
But before we talk about how to help children with their mental health it is important to remind ourselves of a safety instruction used on airplanes- put on your oxygen mask first before helping others. Adults who take care of children especially teachers must first take care of their mental health and give it importance because if they do not consider it an important aspect of holistic health then they will never be able to take care of the mental health of their students. Teachers go through a lot of stress, and anxiety which if bottled up for a long time can trigger serious mental health issues.
Causes of stress in teachers-
Inability to handle workplace politics
Struggling with issues at the home and family front
The guilt of not being able to give their best to the special needs children in their class
Inability to handle workload due to lack of time management, prioritization and other issues.
Nervousness about handling upset parents.
So let's code teacher's mental health-
Taking care of your mental health should become a part of your daily routine, make time for it and prioritize it –
Set some time aside every day to unwind.
Plan and prioritize – time management is an extremely important life skill, but is not taught to us in any course. Learn and imbibe it. Don't use your brain to remember tasks, for that keep a diary or a reminder on your phone. Brains get stressed when we only use them to remember things, brains are for logic and thinking.
Set boundaries- especially for your texts, messages and emails, and most importantly social media.
Appreciate your skills and learn new ones- never stop learning, as they say still water stagnates.
Move. Move. – don't ignore physical exercise.
Seek help. Seek support. Seek advice- don't struggle alone with your personal or professional dilemmas, seek the right support.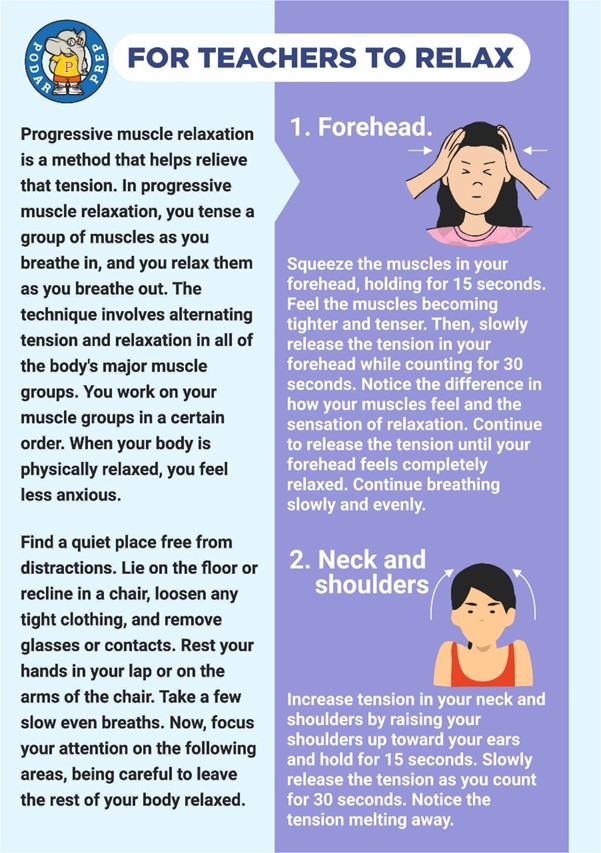 Teaching Coping and resilience-
It is said that those who survived the pandemic without facing mental health issues are those who were resilient. What is resiliency? It means the ability to bounce back from difficult situations, it means the ability to feel the negative emotions, let them wash over you like a super wave but not allowing them to engulf or drown you, it means surviving with your emotional health intact.
To be resilient one has to learn coping skills, and these need to be taught to children from a young age. Children learn by imitation so they will learn how to cope with the adults in their environment, hence it is important that we display good coping skills.
Coping is nothing but the ability to 'turn down' your reaction to a situation, emotion, or stress.
Some coping skills to teach children are-
Self-soothing- engage the body in a ritual of natural calming- deep breathing, counting to ten etc
Distraction- redirecting your attention to something more interesting and positive- look outside the window, start dancing, clap your hands, etc
Mindfulness- focussing on your feelings and what is happening to your body and how to calm down and reclaim your emotions. – deep breathing, labelling the emotion, knowing positive ways to react to that emotion instead of choosing negative ways.
Try these breathing games with children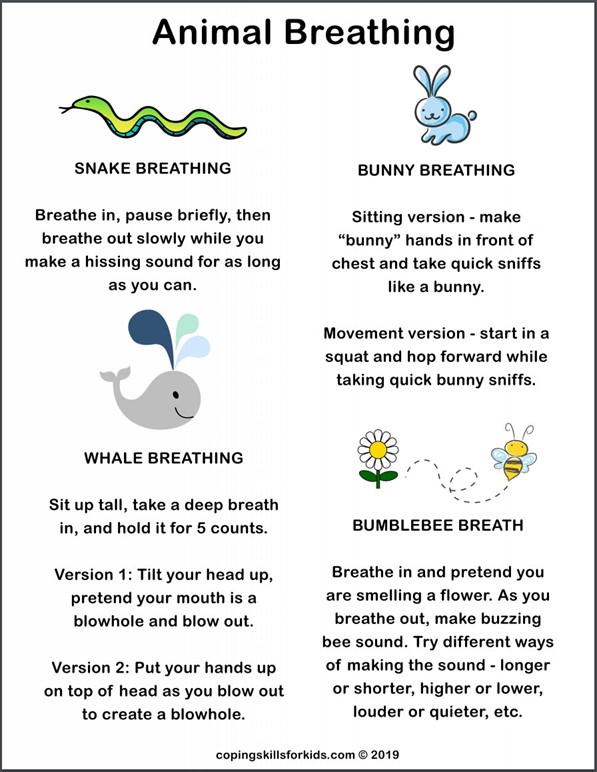 Mindfulness is the key…
The ability to reflect upon what is happening, while it is happening is called Mindfulness.  Mindfulness helps children be aware of their emotions and feelings and they are then better able to control and voice out their emotions. It works for everyone, have you ever said something that you later regret? Well, it means you were not 'mindful' about your speech, you blurted out whatever you were thinking and feeling! You responded to a stimulus without pausing and 'thinking'. Mindfulness is the pause that you take between a stimulus and a reaction. Teaching this to children will help them move from 'I can't, I don't want." to understanding 'I can, Why I don't want, what should I do.'
Mindfulness is being aware or mindful of your body and its needs and condition and meditation is the ability to control your body to calm your thoughts. That is why meditation requires an upright-seated posture. Deep breathing exercises while sitting upright with the eyes closed, is a great combination of both mindfulness and meditation.
One of the simplest mindfulness activities is to get children to close their eyes and listen to their breathing. Ask questions like-
Can you hear your breathing?
How is it fast or slow?
Put your hand on your chest, can you feel your heartbeat?
Now make them do rigorous jumping and then stop and again ask them the same questions, and ask them what is the difference in their breathing and heartbeat now? Now make them sit down, close their eyes, and take deep breaths in and out – now how do they feel?
The above will help children feel their breath, and their heartbeat and understand how their breathing and heartbeat change when they do any physical activity, it also changes when they are upset or angry. Explain to them what to do when they experience these feelings…take a deep breath to calm down and think.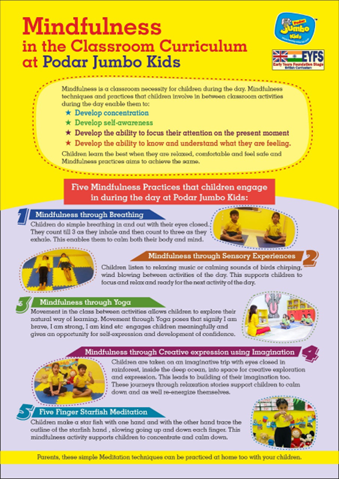 Emotional labelling –
Out-of-control emotions can make smart people stupid.- Daniel Goleman
In the early years, emotions and feelings are something that children are experiencing for the first time and it can lead to a lot of confusion if we always ask them to 'behave', 'don't cry' etc. because then they throw tantrums and have meltdowns. But there is a way we can have a balance between ignoring a strong emotion and completely indulging in it, it is called 'affect labelling' or 'emotion labelling'. By labelling something we are able to understand and acknowledge it and thus able to deal with it or quell it.
In any stressful situation, children experience a range of emotions and feelings of fear, boredom, irritability, sadness, etc. How we help them acknowledge those feelings or help them find acceptable ways of releasing them, will define their positive emotional development, which will also impact their social and cognitive development.
How can early childhood educators and parents help enhance emotional development in the early years?
Help children identify and label their feelings and thus enable them to deal with them appropriately. Use sentences like these to help them label emotions, "I see you are angry because you did not get the blue crayon…..", or "I see you are sad that your friend did not sit next to you….." and then extend the sentences to help enable them to cope with the emotions, "….but you can colour with the red one till the blue one is available." Or "….but you can sit with Yash today and maybe share with him all the fun."
Stories and story characters can be used as an important tool to help kids cope with and understand emotions. Use appropriate stories and then use discussion starters like-
Talking and discussing the emotions shown by the story characters, both positive and negative.
Asking the children how they think a character felt at the end of a story or when something important happened in the story. E.g. "How do you think baby bear felt on seeing his chair broken?"
Asking the children what they would do to help the character in the story feel better. E.g. "If you were Goldilocks what would you do to make the baby bear feel better?"
Accept emotional responses; learn to teach them to reject the emotional behaviour or to channel it. For example, if a child bites someone, the feeling is of anger or frustration. So teach the child to acknowledge the emotion by saying, "I know you are feeling angry or frustrated that you are unable to get a chance on the slide but you can talk to me about it but it is not acceptable to bite or hit someone."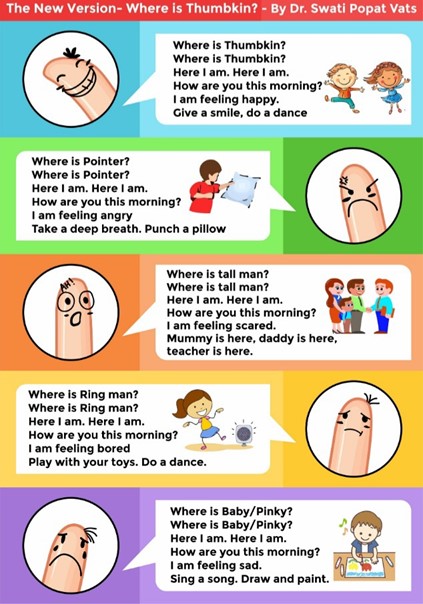 Use this new version of 'Where is Thumbkin?' to help children label emotions and understand safe and acceptable ways of showing emotion or dealing with it.
Let's talk about mental health and arm the child with the ability to cope, and this comes from emotional intelligence,  so understand children's emotional needs and give the support and care required to strengthen their emotional armour and mental health.
Happiness can always be found, even in the darkest of times, if only one remembers to turn on the light." – Dumbledore.
About the author:
Dr. Swati Popat Vats is President, Early Childhood Association India, Association for Primary Education & Research, and Podar Education Network.