The need to reflect at the end of every few years
Major General S S Nair, Director, Birla Education Trust, Pilani writes on the need to reflect at the end of every few years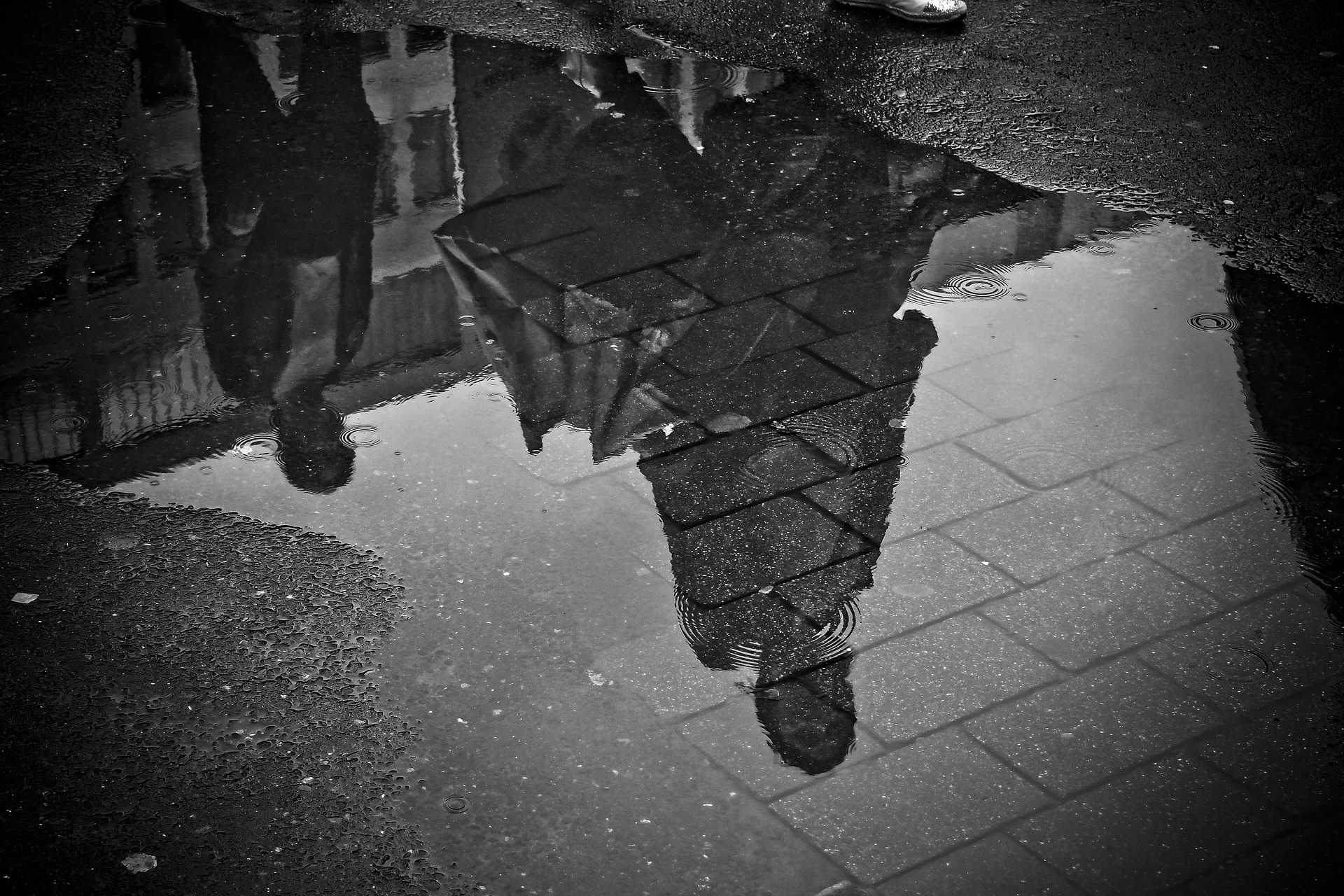 There is a tendency amongst people in organisational and institutional leadership positions to believe that the more years you spent on the lead, the more competent and efficient you become and that if you have seen it for so many years you have seen it all. There is nothing more fallacious than this. There is nothing more self-defeating than this.
Many of us in leadership positions of small and medium organisations suffer a 'second-half disaster' due to this, sadly common syndrome. A friend was lucky to be assigned the principalship of the school he had studied in. While exchanging notes during his journey to assume the position, I found him happy and confident. But the reasons for that worried me. He claimed that as an Old Boy he knew the school "like the back of his hand"; that is, he knew it brick by brick. Though I tried to caution him on his assessment, he brushed me aside. Naturally, he had to suffer an early, ignoble exit.
The organisation you head may be a better one, an improved version of what you inherited, after three or more years of your leadership. It is but natural that it deserves a better leader now to take it further up. Have you bettered yourself in these years in your knowledge, skills, strategies, outlook, and world view? Or, are you the same as you were six years ago? Or you have deteriorated in essential areas of competence? The answer to this is important as it will decide whether your chair needs a change! Oh no, not the chair, its occupant.
Those who are with you could have become tired, complacent or have developed blind faith in your abilities. Their energy, effort, support, and input may not be available to you in the same quantity and quality as you have received earlier. You must renew them and recruit new talent to your team. Have you done that?
On the contrary, those who are not with you are smart and never get tired. They are waiting for an opportunity to strike, looking for that Achilles Heel in you. May be their numbers might have increased as it is directly proportional to your success. New opponents, new challenges need new strategies and plans.
Status quo seekers and those who resist, dig their heel and grow roots, whereas those who want to stay with change and growth may look for better pastures, if not given opportunities. Has the volume of deadwood in your school increased and the creamy layer thinned during your time?
Reverse it or else the weight of deadwood will take you down. Redo the competency matrix styles and remap competency.
We are in the fallacy that the organisation is the same because we are the same. Look at the faces around you, your students. Not even one is the same. The whole school is new. Look at the teachers and staff.
More than 33% have changed. Then, how do you claim that you know them like the back of your palm? We keep telling the teachers that every student is different, and their teaching styles should cater to each one of them. In our case, the whole organisation has changed. Change in your style is a must.
Targets and objectives are set with time limits decided to achieve them. Some of them have been fully achieved, some partially and some may be beyond achievement and deserve to be dropped. There is no meaning in flogging a dead horse. New objectives in fulfillment of your vision and mission need to be selected, new benchmarks and milestones set, announced and plans for their attainment rolled out.
Direction, speed, and content of your efficiency may need a course correction. Do it. Reset directions, if need be. Accelerate so that you are not only there, but the environment perceives your presence. Go on a "People, Process, Technology, Behaviour" framework.
Riding the technology wave is one sure method of keeping you renewed and contemporary. Do you know that Python is not a snake but a computer language to be taught in your schools? Do you know that STEM is not that part of the plant that holds branches, leaves, plants, and fruits but Science, Technology, Engineering and Mathematics and that it becomes STEAM when Arts is added to it?
Have a huge toolbox. Change your tools to meet the changed situation.
Recently, I read a Buddhist story of a person who builds a raft to cross a river. Once he crosses the river, he feels so proud of the raft that he decides to carry it for the rest of the journey that is to climb a hill and he fails. Leadership behaviour is like this raft- it can become a part of it and pull you down. Change it at the right time despite it being the one that brought you up till here.
Small and medium-sized educational organisations that are run as one-person family businesses, Trusts and Societies that are managed in traditional styles rather than on corporate principles are likely to confront this challenge even more. The impact of the management principle "everyone grows to her/his level of incompetence" has contributed towards this situation.
Thus, leaders who head these types of institutions need to be on a constant "renew, review, reengineer, restructure, recycle, reinvent, renovate" mode to continue to be effective and successful. Standard Operating Procedures inherited/prepared need to be revisited and revised to make them contemporary. Responsibilities' charts need to be redrawn so that the tired and fatigued ones are replaced with fresh minds and performing ones rewarded with rest.
A false sense of performance is a pitfall into which many organisations with non-tangible, non-measurable performance indicators fall. Schools come under this category. Admissions and results are the figures seen, one at the beginning and the other, at the end. Both numbers being good (enough) one feels wellness. Systems and processes that helped you are now given a go-by as you start looking more at the figures. Fall in quality is slow and steady; unnoticed till a point of no return is reached.
So be forewarned and forearmed, Praemonitus Praemunitus.
Look at that mirror that tells the unvarnished truth before you start your next year at the helm. Have you run out of ammunition? Are you blank? Reinvent yourself, refresh, and restart as if it is your day one in the office. The chances of you being a better performer are higher.
But look at a reliable mirror, a mirror that reflects the truth and not the Photoshopped version of your own.
About the author:
Major General S S Nair is Director, Birla Education Trust, Pilani
What is Hybrid/Blended Learning?
We are lifelong learners and need to keep pace with the fast-paced technology so that our students are ready to take the next leap. Our classrooms have to echo that thought and vision at all times through new pedagogies and teaching-learning strategies.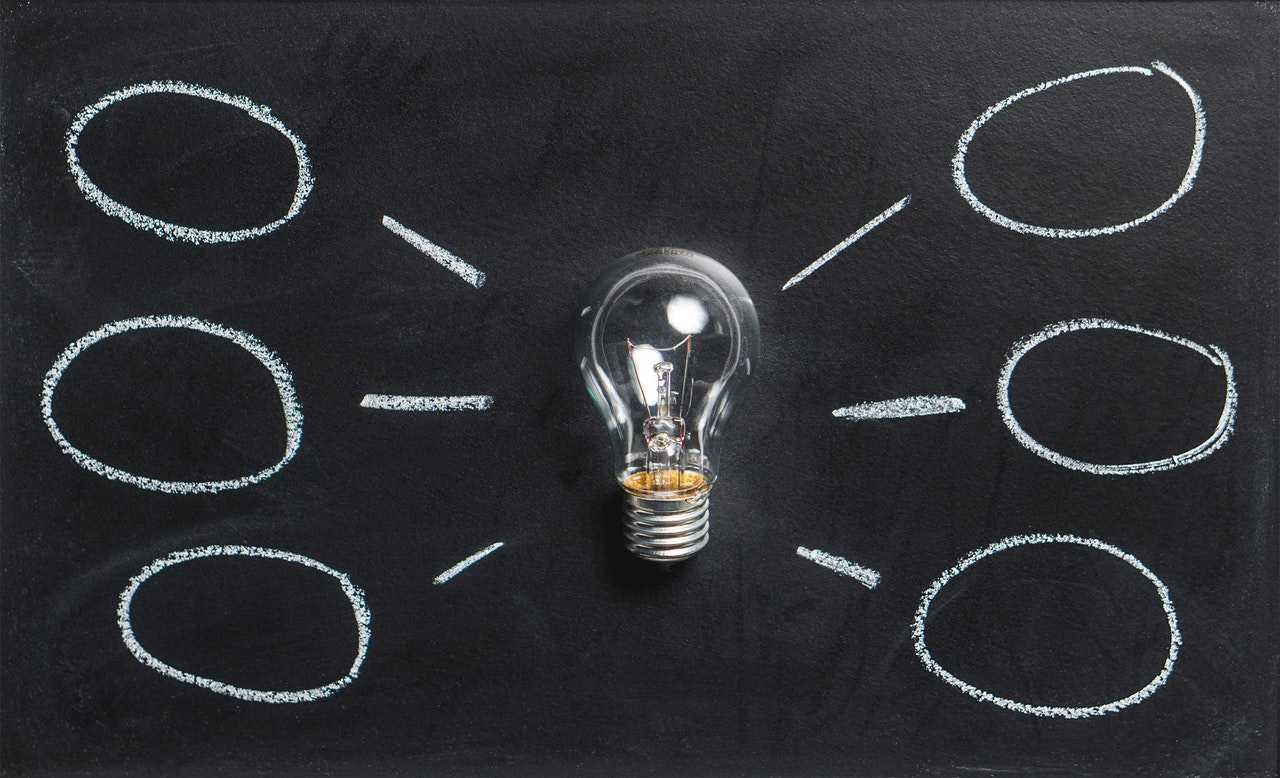 The COVID wave – consider it a bane or boon – but it somersaulted us to an array of digital world experiences. It propelled us to rethink and reorganize our mindsets, our practices, and our expectations. Overnight, we moved from an offline teaching mode to online, and credit to the teaching community for doing it so seamlessly. Now, we are back to offline teaching but do we continue with our old practices? An obvious no so we need to infuse our online experiences within the offline to ensure that quality education reaches one and all.
One key pedagogy to achieve the goal is blended learning, an approach that combines face-to-face learning with online learning incorporating certain elements that support students to have control over the pace, time, and place. The material resource investment is minimal but human resource investment is high till the ethos is assimilated within all.
So let's understand the varied types of blended learning and its implementation in the school teaching-learning process.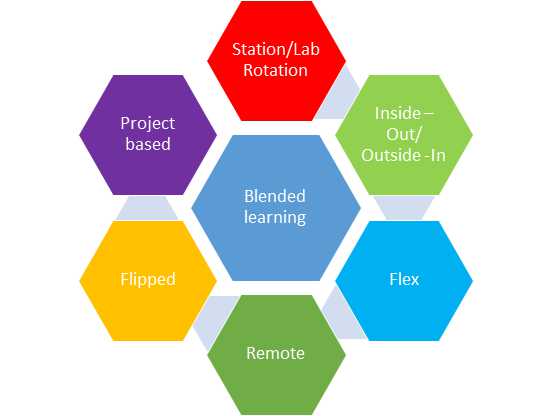 1. Station Rotation
In Station Rotation, students will rotate on a fixed schedule as per the teacher's discretion. The teacher begins her class of 40 students with instruction on narrative writing from 9:00 am to 9:15 am. She then splits the class into three groups where one group continues to learn with her. The second group works on a collaborative assignment on narrative writing and the third use their laptops or computers placed in the class and researches blended learning and after 15 minutes the group switches so that every group has varied experiences. A block class of English can support the various transactions and supports students to build research, collaborative and knowledge skills.
In the same format, if computers or laptops are not available in class then students use the computer laboratory in school and this rotation would then be called as Lab Rotation.
In this methodology, all students with varied learning needs are supported. The only challenge is the Technology and time management skills.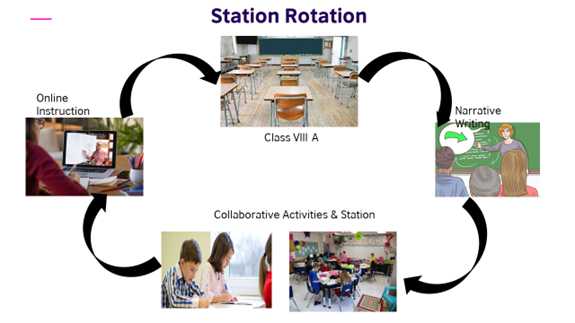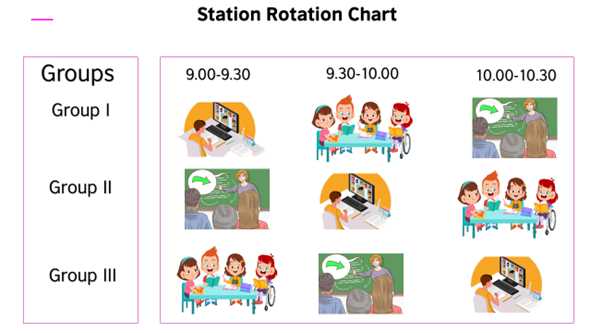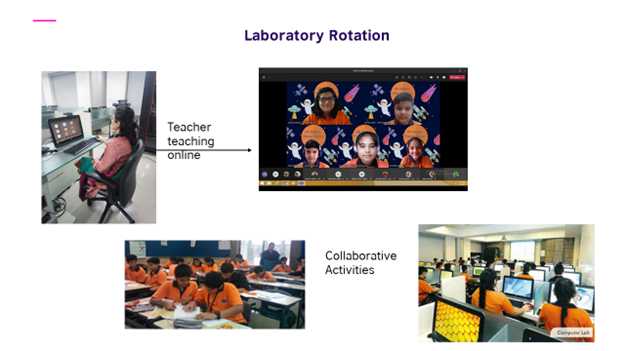 2. Remote & enriched virtual learning
It is a course or subject in which students have required face-to-face learning sessions with their teacher of record and then are free to complete their remaining coursework remote from the face-to-face teacher. In class, the teacher gives a project to students on 'Analysing any work of Shakespeare's or Rabindranath Tagore's Kabuliwalla' w.r.t. the criterion of plot, characters, theme, language, thought and values.
She briefs students on works of Shakespeare and the elements of a play within the school timetable and they complete all the work at home.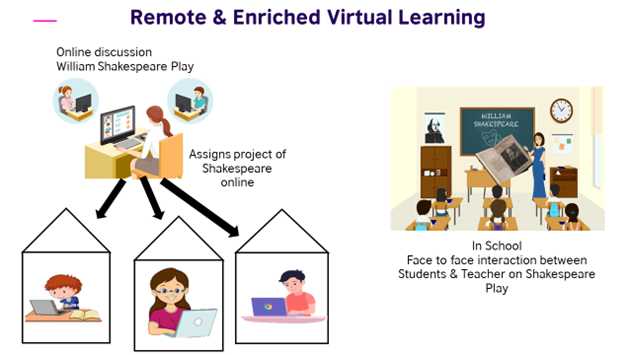 3. Flex blended learning
During certain weekends if the teacher wishes to support the students further in class especially if the concept has been challenging or students have underperformed in an evaluation, the teacher records her remedial teaching and uploads in-class computers. She designs a task around remedial teaching. She expects students to report to school wherein students enter the class on their own time, access the teaching, complete the task and leave. If they have any further doubts, they could approach the teacher in the school or their peers. A useful TIP would be for the teacher to Collaborate with their colleagues in club activities.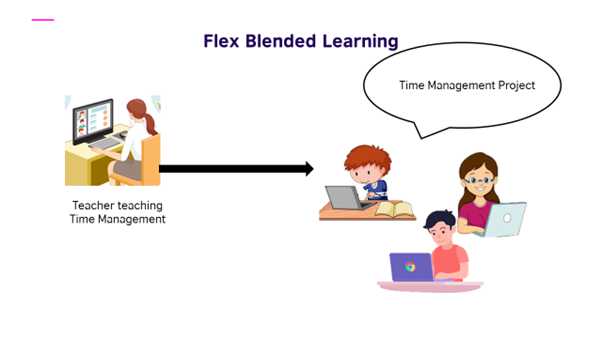 4. Flipped learning
As per TeachThought, a flipped classroom is a type of blended learning where students are introduced to content at home and practice working through it at school. This is the reverse of the more common practice of introducing new content at school, then assigning homework and projects to be completed by the students independently at home.
This methodology is most useful when you want students to have some knowledge of the content before analyzing it further. So if a teacher wishes to conduct a 'Book review'. She shares the e-book, 'Totto-chan' with the students. She asks them to read and shares certain discussion points. In school, students discuss the book and write personal book reviews. The teacher has used her class time constructively and has been to achieve greater learning outcomes.
5. Individual rotation blended learning
As per https://www.blendedlearning.org/models/, the Individual Rotation model allows students to rotate through stations, but on individual schedules set by a teacher or software algorithm. Unlike other rotation models, students do not necessarily rotate to every station; they rotate only to the activities scheduled on their playlists.
The teacher allows students to rotate through different kinds of classrooms called stations. A specific ILP [Individual learning plan] is created for each student. For example: Parth and Mona's examples work on clauses, Mona is struggling with Clauses so she attends classes and solves assignments whereas Parth will attend classes, watch a few videos, and also complete a research project on clauses. Thus the teacher knows her students' skills in greater depth and supports them individually to achieve her target learning outcomes.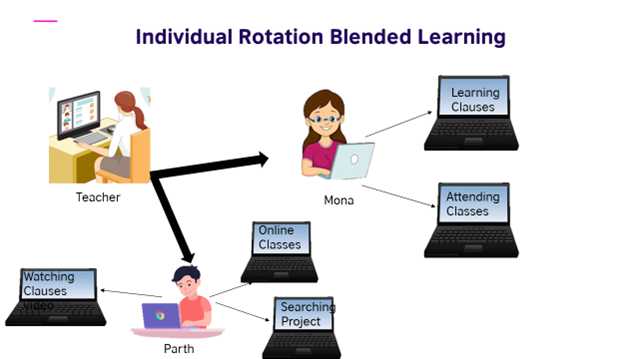 6. Inside-out and outside-in blended learning
In Inside-out, teaching and learning begin inside the classroom and move to an outside environment and in an outside-in classroom, it begins in an outside environment and moves inside the classroom. In a class environment, the Teacher discusses with students about 'Sound of Music' in class and ends the lesson by taking them to the theatre to watch the play. In Outside-In, Students watch the play in a digital environment and end the lesson in a physical environment by conducting role-plays.
The list of models is many but one has to review their resources and plan accordingly.
One can mention that they may face challenges in terms of technology, lack of training on digital platforms, lack of resources to create self-paced learning environments, or time management with vast syllabuses to complete.
Certain tips that can come useful are:
1. Teachers can begin with easily available digital content like Khan Academy, Pinterest, discovery Education, PBS Learning Media, and much more.
2. Review the available resources and plan a timetable. Most importantly, a team achieves more so collaborate with your colleagues in club activities.
3. Take small simple steps – "The journey of a thousand miles begins with one step." Lao Tzu. Choose the model that you are comfortable executing and then move forward.
As teachers, we are ever-evolving and we are that one profession that creates more professions so our responsibility and accountability stretch beyond the classroom. We are lifelong learners and need to keep pace with the fast-paced technology so that our students are ready to take the next leap. Our classrooms have to echo that thought and vision at all times through new pedagogies and teaching-learning strategies.
References:
Christensen Institute, Blended Learning definitions, https://www.christenseninstitute.org/blended-learning-definitions-and-models/
About the author:
Kavita Sanghvi holds a Masters in Physics, Masters in Education, Masters in Philosophy of Education, and CAEL [Certificate in Advanced Course in Educational Leadership] Diploma from Harvard University. She heads SVKM's CNM School, in Mumbai. She is a Teach SDG's Ambassador, Climate Action Ambassador, and Scientix Ambassador for India. She is a British Council Trainer and Ambassador.