These superheroes do not wear capes but their acts are nothing short of astonishing… and yes, they save lives.
It's that special time of year again, when ScooNews felicitates the real braves of education. ScooNews takes pride and pleasure in bringing the wonderful mission of these Teacher Warriors to the forefront.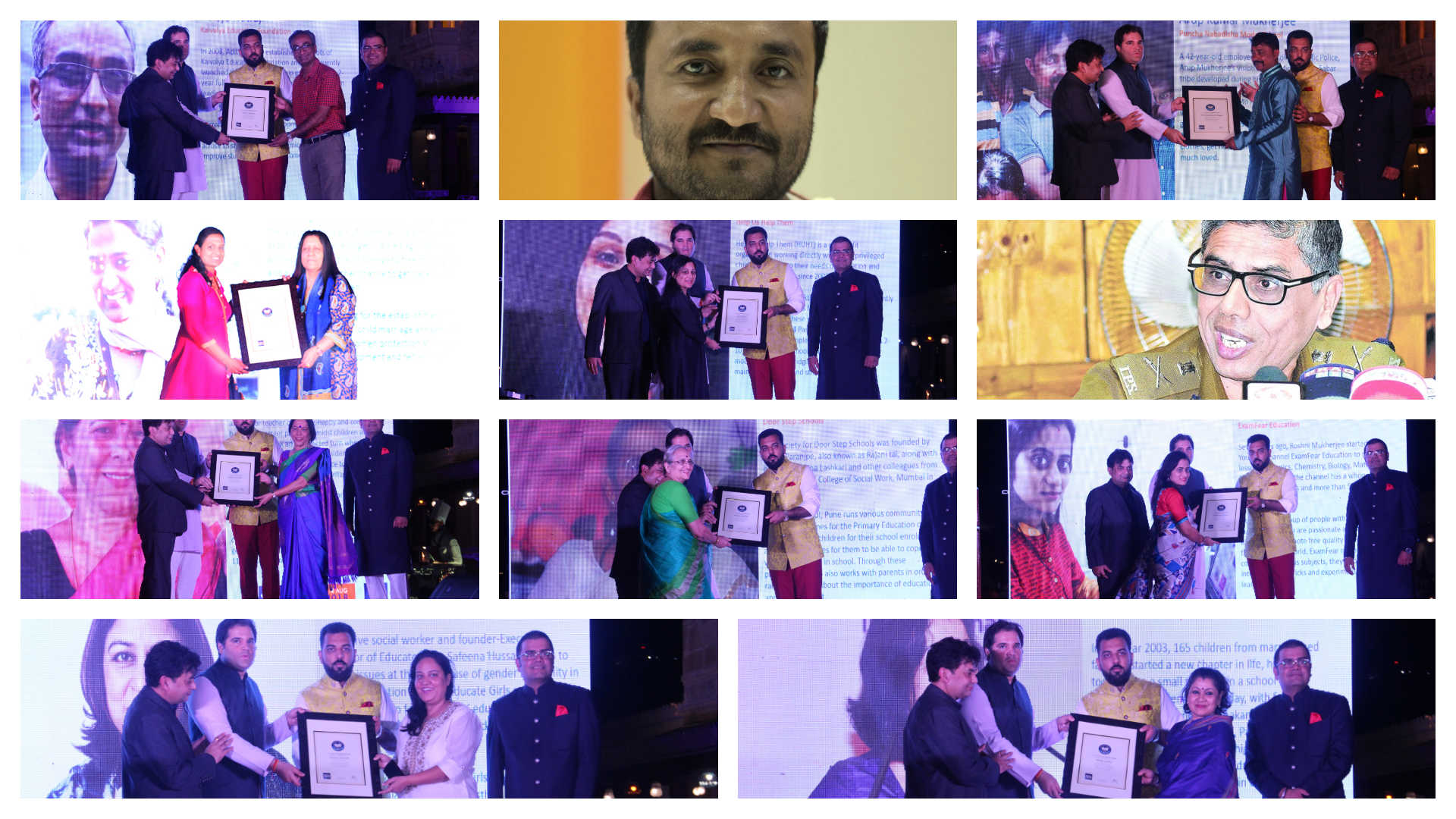 It's that special time of year again, when ScooNews felicitates the real braves of education. The ScooNews Teacher Warriors Awards 2017 put in motion the act of highlighting the heart-warming efforts of a dedicated band of men and women championing education rights for disadvantaged children. This year's winners are similarly worthy of complete respect and emulation.
ScooNews takes pride and pleasure in bringing the wonderful mission of these Teacher Warriors to the forefront. Their endeavours are bound to inspire, as we bring readers a closer look at their mission, their beliefs and their vision. The future of under-privileged children is significantly brighter thanks to the untiring efforts of these admirable individuals, driving change against tall odds.
While the chosen Teacher Warriors were felicitated at the awards ceremony at the ScooNews Global Educators Fest 2018 in Udaipur on August 3, we bring readers a closer look at their motivation and mettle, in their own words…
Teacher Warrior Dr. Kriti Bharti
Saarthi Trust
Education gives empowerment. Even today, there are many under-aged girl children who are forced to drop out of school and get married against their wishes. Taking up the challenge to free these girls and give them another chance to get back to life is Dr Kriti Bharti of Rajasthan. To fight this societal evil and give the girl child support, she founded the Saarthi Trust in Jodhpur in 2011 with a dream of establishing a society free of exploitation for children and women, along with a vision of implementing a curative approach to deal with such problems. Saarthi Trust has achieved the milestone of saving a number of children and women from exploitation. She believes that children are most vulnerable in our society and hence they shouldn't be abused or exploited in the name of customs and traditions. Else the future of our country is at stake.
Saarthi Trust is working for the establishment of child rights, women's rights, child marriage annulment, child protection and women protection along with supporting their development and rehabilitation.
Giving child brides a chance
"As you know, I work against child marriages. I am freeing girls who are forced into marriages through the Child Marriage Annulment. I have also put out a condition for these child brides: I will fight their cases in court but they have to continue studying from the point they had to drop out of school. All the child brides whose cases I am fighting in court are studying. Some are at primary level and some are pursuing higher education. All these girls are supported by the Saarthi Trust. The reason behind this condition is that in India, girls and women are exploited in a number of ways. After becoming free from child marriages, there are other malpractices via which these girls can be victimised. Education and empowerment is the only medium which will strengthen these vulnerable girls in every situation and save them from future exploitation."
Abandoned at birth
"My own childhood was difficult. My father had abandoned me before birth. My relatives didn't accept me and they were abusive towards me in my childhood days. At the age of 10 years, I was poisoned and had become bedridden. I was cured through Reiki therapy. I learnt to sit, walk and crawl again after two years. After that I had taken sanyas but I had to come back because of some reasons. While returning home, I decided to continue my studies which I had dropped out of in standard 4. I took a huge jump to standard 10 and then studied regularly. Now I have done my PhD on 'Children in Need of Care and Protection'. Education has helped me a lot in my survival which is why I feel the need to educate girls and teach them the importance of education."
Justice and smiles
"My motto in life is to make the world free from exploitation so that every child can prosper and fly in their own sky. Justice to victims and educating them plays an important role in achieving this. My motivation is the smiles of victim girls set free from child marriages and when they became empowered thereafter. This satisfies me to the fullest. Education always nourishes you with the knowledge to fight, knowledge to live, knowledge to establish a society free from exploitation. Everyone in this world has to face challenges and education is the medium that plays a vital role to fight against it. My dream is to establish a society where no child is exploited and where they can be free. For this, justice to victims and education are the only two things that can help."
– Parvathy Jayakrishnan
Teacher Warrior Arup Mukherjee
Puncha Nabadisha Model School
A 42-year-old employee of the Kolkata Traffic Police, Arup Mukherjee's vision of education for the Sabar tribe developed during his childhood. The people belonging to the Sabar tribe are found in Purulia district of West Bengal, along with a few other states like Jharkhand, Madhya Pradesh, Chhattisgarh and Odisha. The Sabars are mentioned in literature as old as the Mahabharata. The British listed them as a criminal tribe in the Criminal Tribes Act of 1871.
To walk into their village feels like taking a trip back to several decades. There is no electricity. The Sabars are shy of outsiders. They live in huts with no toilets (they go outdoors), entire villages have a single tube well to draw water from and for food, they catch tadpoles, snakes, mice, small birds, etc. Often to overcome the misery of an empty stomach, they get addicted to cheap liquor. Illiterate and ignorant, they do not know anything about the government's policies to help them or who to approach to receive such aids.
Arup bagged a humble job in the Kolkata Police, got married, and had twins, all the while holding on to his childhood resolution. The opportunity came when a kind neighbour offered him a plot of land. Arup took a loan at work and built a boarding school for the Sabar children.
He started bringing in children of the extremely impoverished families. The temptation of education would not be much. So he tempted them with the promise of good meals every day – an irresistible offer! Puncha Nabadisha Model School started with 20 children and now accommodates more than 80 children. Most of the children have families who lack access to even two meals a day or a sweater in the winters.
Arup employs a local husband and wife duo for the cooking, maintaining stock and other necessary work. Another Sabar woman sought refuge there to escape her abusive husband. She cleans the place, washes the children's clothes and does other chores. There are two local teachers, who teach the children all subjects in a somewhat informal, home-schooling manner. Though he can only afford to pay everyone a very meagre salary, Arup says the teachers as well as the domestic help are very sincere in their supervision of the children. The older children (between the ages of 10-15), go to the government's primary school that happens to be in the next building. The local hospital is also nearby.
Arup is determined to make these kids pass out of school, after which they will be eligible for government jobs reserved for scheduled tribes. They are also doing well in their studies. They wear decent clothes, get help with their studies, eat well and are much loved.
From hunting birds to attending school
"As you know, my work is for the most backward tribes of Purulia. You have to see to believe that people can live in such primitive conditions even in the 21st century. There are entire villages where not even a single villager owns a bicycle – villages without electricity or any proper means of transportation. People fall asleep intoxicated to avoid the pangs of hunger. I elaborate so much of the background, to make you realise how overwhelming it is to see children, who were hunting birds with bows and arrows, to wear clean uniforms, eat a filling meal and go to school every morning."
End to exploitation
"I have been hugely inspired by the work of Mahashweta Devi, the Padma Vibhushan winning Bengali writer who earned the name 'Mother of the Sabars'. The villages across Purulia are developing fast. We are adapting modern lifestyles. But the Sabars are still living in poverty and darkness. Their illiteracy is a weak spot that is being mercilessly exploited by people all around. This fact itself is my biggest motivator. I want to do what I can to change this scenario."
Education – the only chance
"My vision is for the Sabar children to get quality education, learn to interact with people outside their tribe, get government jobs and live lives of dignity. They can go back to their tribes and explain the value of education. Nothing drives home an idea as strongly as a real life example. Education is the only chance they have – to exposure, to broader perspectives, to jobs, technology and an end to abject poverty. That is where my goal lies, to educate one child at a time."
– Anushka Yadav
Teacher Warrior Roshni Mukherjee
ExamFear Education
In today's world where the internet is often more accessible than books, a young woman, who is so passionate about teaching decided to try out an experiment to help children learn. Seven years ago, Roshni Mukherjee started her YouTube channel ExamFear Education to put out lessons in Physics, Chemistry, Biology, Math, and English and today the channel has a whopping 552,502 subscribers and more than 5,000 educational videos.
ExamFear is a group of people with desired skills and qualifications who are passionate about teaching and they hope to promote free quality education throughout the world. ExamFear not only explains the concepts of various subjects, they also make it interesting with tricks and experiments to make learning fun. They also provide tips to make notes, revise before an exam and make a good timetable. Examfear has expanded their vision to include lessons in regional languages as well. ExamFear Education – Hindi is almost a year old now with 27,000 subscribers and counting.
Transformative initiative
"I have always been very passionate about teaching and I wanted to teach and reach the masses. When I see that the content we created is being used by millions of children across the country today, I feel great. I started off with a couple of Physics videos back in 2011. With time, I saw that the videos were truly helping kids understand and love learning science and math. This encouraged me to create more and more content. By now, I have created more than 6,000 videos on Physics, Chemistry, Math, Biology, English Grammar, Geography and Science experiments for Classes 6 to 12. There are numerous emails and comments that I receive every day with success stories from different parts of the country. Once a child from a small town wrote to me that there were no good teachers near their house, but with the help of ExamFear videos, she found studies interesting and could even score 96 percent in the Board exams. When a student, Deepal Jain, from a town in Madhya Pradesh became the Biology topper of MP Board, and gave credit to our free education platform, and said that she could totally rely on self-study and ExamFear Education, I was proud of her and satisfied with our work. It gives me immense satisfaction when a child says, 'What you could explain in 10 minutes, my teacher could not do in a week'. We have students from low economic backgrounds getting good grades in Board exams, cracking medical entrance exams and finding studies interesting. All such stories make us feel happy and satisfied with whatever we do! Something that I started as my passion is actually helping children achieve their goals. My initiative is truly able to transform lives. It is a feeling that is indescribable in words."
Equal education for one and all
"Equal education to one and all, is our motto at ExamFear Education. The idea is to build this free education platform so that every child can access good quality education irrespective of caste, creed, location or economic background. In our country, there are two sets of educational institutions – one that provides good quality education but is unaffordable for many, and another that is low cost or free but lacks quality. Therefore, our idea has always been to strike a balance between the two. We wanted to build a platform that provides free education maintaining the quality. I am highly motivated by the support that I receive from students, teachers and parents who use our content. I am strongly motivated by our students' success stories, and aim to create more and more such beautiful stories. The first thing that I do every morning when I start my work is read a few emails/ comments from children. They motivate me to work with more enthusiasm to build this free education platform bigger and better!"
Empowering every child
"Issues like child labour, poverty and child abuse, are very depressing. I strongly believe that education can definitely improve the lives of underprivileged kids, hence our idea of free education. Education in our country is often directly connected to good scores, which in turn often distracts children from real learning. Due to too much pressure from parents and teachers, children prefer rote learning rather than conceptual understanding. We, at ExamFear focus on conceptual understanding and discourage rote learning. We help children think about every minute concept with real-life examples.
"Our vision is to make good quality educational content available to everyone for free, so that every child enjoys learning, every child fulfils her/ his dreams, every child feels confident of what he/ she knows and learns, every child is empowered with education.
Education is everyone's right! Let's educate and empower!"
– Parvathy Jayakrishnan
Teacher Warriors 2022: The story of Sushil Kumar Meena, an Engineer turned Educator
This is the story of Sushil Kumar Meena, an engineer who found his purpose in working with underprivileged kids.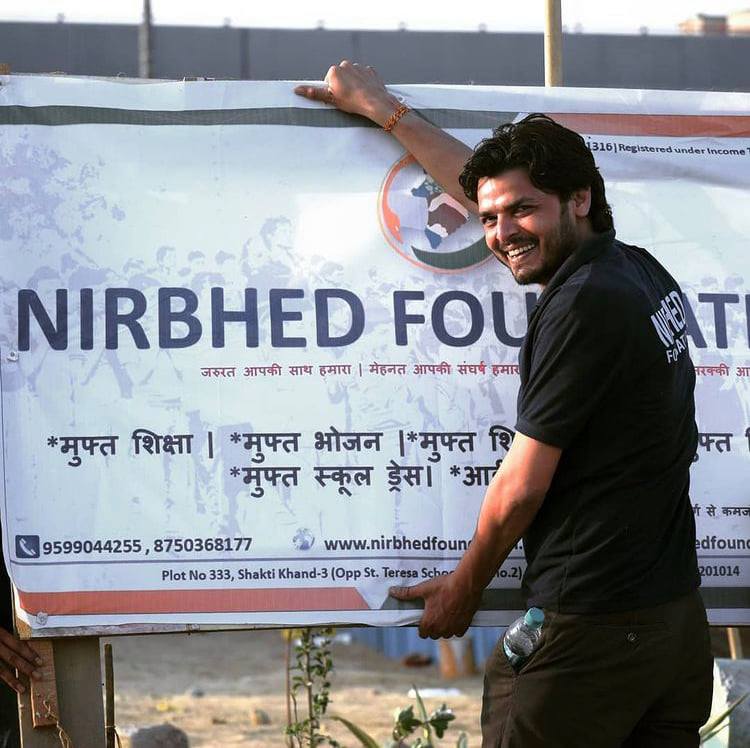 One night, a railway engineer was walking home from the station. With him, walked little kids from the nearby slums with a rag on their backs. It was an odd hour to be awake and he was surprised to see so many of them around the neighbourhood. They were collecting things that could be later sold for money; hair pins, pens, a scarf. Some were also looking for food and would find a half-eaten packet of biscuits along the road. Their parents were either missing or asleep but, they didn't seem to care what the children were going through. They needed money and kids as young as 4-year-old were trying to fend for themselves and their families. This wasn't his usual route home but, that night, what he saw changed his perception of life. This is the story of Sushil Kumar Meena, an engineer who found his purpose in working with underprivileged kids.
Sushil Kumar was always a keen observer. His family shifted to Delhi from a village in Rajasthan, in the early 2000s. Even as a child, he would observe the existing gaps in society. When he would go to school, many children of his age would only loiter around because their parents could not afford to send them to school. This would make him want to help those children.
In 2009, he was preparing for competitive exams and attending coaching classes. There, he saw that many students were very capable and intelligent but were not able to pay for the classes because of their weak financial background. After successfully clearing his exams, he was posted in Delhi and returned from his training in 2013. He already knew what he had to do; balance his job and start teaching the children.
He started a free-of-cost coaching class for students preparing for government exams and took 3-hour classes at least while juggling with work and also engaging in teaching children of the slums. Instead of taking fees from the students, he asked a few students to help him teach the little children after their coaching classes. Within months, he had 300 students studying with him.
When he approached a few government organizations and schools to get the children admitted, they would have their set of excuses ready for not taking them in. This left a bitter impression of such organizations in Sushil Kumar's mind. With only three teachers, they discontinued the government exam coaching classes and focused only on the primary education of the children with the hope of eventually getting them enrolled in mainstream school. The classes continued in a park where volunteers would join from time to time but, not regularly. However, with time the public came forward to contribute to the open school, and in 2015 Nirbhed Foundation was registered.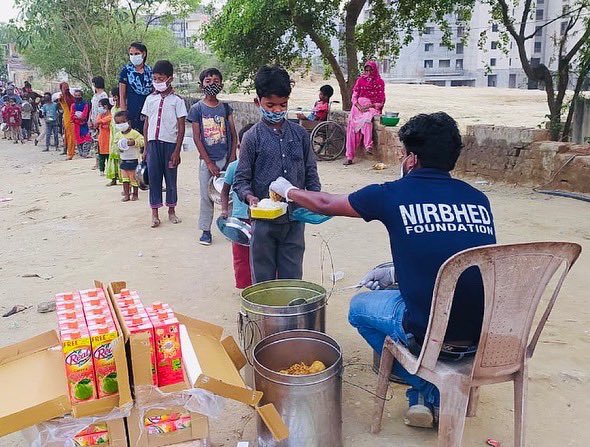 Challenges along the way
In 2019, a was study conducted on the sanitary facilities for adolescent girls in an urban slum in Central India. It was seen that privacy was a huge problem in the use of public toilets, use of sanitary napkins was very less, and changing of absorbent material in toilets was also a matter of concern for the girls.
During college, Sushil Kumar joined National Service Scheme (NSS). They would go to nearby villages to conduct awareness drives and campaigns. "We would organize awareness camps regarding sanitation, education, general cleanliness, availability and development of toilets by governments and provide the village with basic materials to build toilets or schools," he said. "Availability of sanitary pads was a huge issue because they wouldn't buy it from the shops and men had too big of an ego to do that for the females of the house. I observed all these issues during my time and now I teach the interns, the volunteers, the children, everybody about nutrition, sanitization, women's health, and safety," he added. Teaching the values of living life is just as important as education.
Nirbhed tries its best to improve the lives of neglected children. They came up with many initiatives but unfortunately, none received any assistance from CSR funds or the government. Members of the organization have been pitching their own money and using crowdfunding platforms for whatever little help they can get.
Sushil Kumar also played the role of a real-life superhero when his centre in Ghaziabad was set on fire in the middle of the night. Just as things were starting to come together, one April night of 2019, the center in Ghaziabad was burnt to the ground. There were two reasons for that; land disputes and the anger of people who were opposed to this initiative. At 12:30 am, the kids stood next to Shushil Kumar, crying as they watched their school, materials, and donations disappear into thick smoke.
"In Ghaziabad, it is common for people to illegally acquire land. Our centre was not built illegally but, some people wanted our piece of land too. We did not comply and would often fight them off if they came to harass us. We had set up tents and small lights because children would study as late as 2 am at the night," he said. "The night of the fire, we were all sitting close to the centre but nobody was studying inside. Thankfully, none of the children or staff members got hurt. I still remember the faces of the children and parents whose hopes were turning into ashes," he added.
The next morning, supporters of the centre, parents, and teachers gathered outside the police station. An FIR was lodged at the police station. The harassment continued still. The female staff of the organization was being followed on their way home, and children would spot the faces of the troublemakers from that night and share it with their teachers. Sushil Kumar gathered all the help he could get and built the centre again, this time with support from the police and government. The area of Ghaziabad is full of such incidents.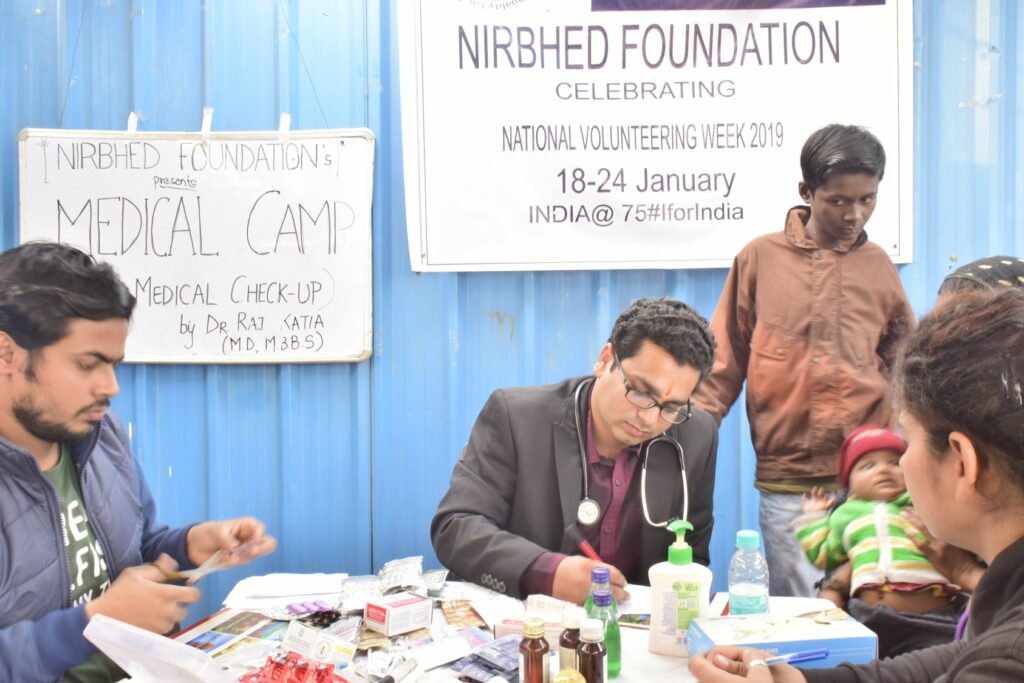 Innovative teaching method
"We follow Bal Bhasha Bharti Adhyapak Pustika that comes for just ₹25. It covers the basics for students. We follow NCERT books to cover the syllabus of CBSE as they enroll into schools later. We teach in Hindi to the senior secondary grades but for students who start with us from the beginning, we teach them in English and Hindi both. We conduct examinations at the centre after every grade and accordingly get their admissions into formal education. Our admissions are open throughout the year and the timing is equally flexible. We understand that some children still have to be the bread earners for their families so, we open as early as 7 am and go on till midnight. Our main aim is that the students are provided a safe environment to learn and study," he said.
In India, the closure of 1.5 million schools due to the pandemic and lockdowns in 2020 impacted 247 million children enrolled in elementary and secondary schools. In addition, there were over six million girls and boys who were already out of school even before the COVID-19 crisis began. Online education is not an option for all as only one in four children has access to digital devices and internet connectivity. Pre-covid, only a quarter of households (24 percent) in India had access to the internet and there is a large rural-urban and gender divide, according to a report by UNICEF.
During the pandemic, Sushil Kumar found a unique way of continuing the classes through an initiative called 'Main Bhi Hoon Shishak'. The students of grades 8, 9, and 10 were asked to teach the junior classes and the initiative paid them ₹3000 monthly, giving the family a source of income when everything was shut down. The volunteers would train the senior students and they would go door-to-door to help the junior class students. The homework and progress would be checked by the staff weekly. "If you ask me, I don't think we went through any loss in terms of education. We fully utilized the time we had during the lockdown and kept the classes going," he said.
When asked about different subjects, Sushil Kumar said, "we teach arts to the students like drama and theatre and host workshops for crafts like soap making, bag making, envelope making, etc. We also have yoga instructors, martial arts instructors dance and games teachers who assist in the overall development of the children. We also participate in exhibitions during festivals where the students display their creations at the stalls. Like festive goodies such as handmade Rakhi or diyas during Diwali. The girls of our school are very good at henna art."
"The Ghaziabad team of the Indian Medical Association also has a tie-up with us so they organize medical camps for our students twice a month. We are yet to provide medical facilities in other centres but, that should happen soon. We also send eatables to the centre in Bihar but, are yet to start meal systems in the other centres due to lack of resources," he added.
NEP 2020
India recently announced the National Education Policy 2020 which seems like a tremendous transformation in the education system. It promises high-quality education and global exposure to all. The policy aims to make the education system flexible, holistic and multidisciplinary; things that will meet the demand and needs of this century. This policy is also very different from those that have been governing the system, therefore it has also divided the opinions into two categories.
Shushil Kumar supported the views of NEP but highlighted the accessibility of schools in rural areas and urban slums of the cities. "While the policy has much to look forward to, it still seems to be neglecting the children of urban slums. The fundamental rights must be equally accessible to our children. We work with them from the root level, we must have the support of government schools to help them grow and receive a quality education," he said.
Pat on the back
"Often, we lie to our own families, fake a smile and hide our worries. I can't tell you how the number of times I've sat in the car by myself listening to Kishore Kumar as he sings Ruk Jana Nahi. The song also happens to be my callertune for the same reason; it motivates me to keep going. To the teachers working with the underprivileged, my message is to never stop trying, no matter how tough the situation. A problem is merely a delay of some time and the solution will get you a very positive result," he said.
Sushil Kumar and their NGO have provided almost 1000 children in the nearby slums with two-time meals while teaching many of them in his centre. His aim for them is to be able to earn through education instead of working as rag pickers. During the lockdown, the NGO distributed ration kits in UP and Bihar to over 4,300 families. It adopted 2,200 families who received regular meals. In total, the NGO distributed over 40 lakh meals to needy families.
When asked for a message to those students who want to study and turn their life in a different direction, he proudly said, "share my number with them. If I can't get them to my centre here in Ghaziabad, I will get their admission done and if they are unable to do that, I will arrange for their studies. My number is available on Google always."
Call for action
Nirbhed Foundation is always looking for volunteer teachers to reduce their student-teacher ratio. All 27 centres need helping hands. We urge the readers to visit their website and reach out to the members to contribute and engage in this cause for change.