Under privileged children depend on erratic Mid-day meals at school for daily food in Budgam.
Budgam schools have an erratic mid-day meal implementation. The village in Budgam depend heavily on agriculture which is repeatedly failing due to adverse weather conditions. That's why sometimes Mid-day meals are the only meals that these children eat in a day.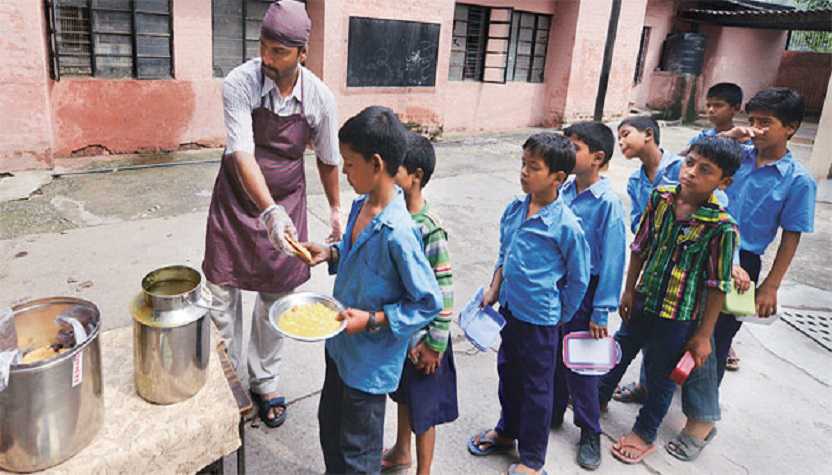 "She faints almost every afternoon in the class," says Nisar Ahmad, English and Mathematics teacher at Government Middle School, Lakhripora, in Central Kashmir's Budgam district. For weeks together her diagnosis and that of other students with the same mysterious symptoms eluded the school authorities until finally one day when she asked the teacher in a meek voice whether he had any information about the distribution of rice at Ration Ghat in the village.
Believe it or not, Ishrat Jan, all of 10, and a student from class V hadn't eaten since 3 days, as the family had no rice to cook, Ahmad was told by this girl. "I was shocked after listening to these words," he said, adding, her family's financial condition was very bad, which was why they could not afford 2 square meals a day.
"4 children of the family are enrolled in the school and all of them are very weak with pale faces because of insufficient food, which has affected their health and growth, and they hardly remain focused in the class," he said.
"It is unbearable to live without food in the class for the whole day, but we have to bear it at times," Saher, a 4th standard student said.
Their family is dependent on agriculture and manual labour with its head only bread earner.
This tiny Budgam village with around 275 households ekes out a living by toiling the land with rugged terrain, a meagre output and little access to basic services. 36 villages depend on a single irrigation canal, and as luck would have it this village is the last one – as a result, it hardly gets water to irrigate their fields on time, because of which the agriculture has a poor yield. Successive poor harvests have eaten into their household food stocks and the family's nutrition status. These subsistence farmers have "literally' learnt to live with hunger.
Seeing the condition of these children and plight of their families, Ahmad many a times instructs the school cook to serve more rice to ensure that these "marginalized" children get more to eat.
Arshid Hussain, another teacher, adds that one in eight students are unable to gain regular access to enough food to be able to study, grow, ward off disease, and otherwise live healthy lives.
At the global level, India has made concerted efforts to expand and strengthen its national flagship programs on nutrition, early learning, and health through the Integrated Child Development Services Scheme (ICDS) and the National Health Mission (NHM) to meet the basic requirements of young population. But the Global Nutrition Report 2016 on global and country-level nutrition mentioned in its latest report that the challenge remains high, especially in India's poorest states. World Bank Group president Jim Yong Kim also said that India's malnutrition is still high.
Schemes and programs including Anganwadi centers and Mid Day Meal scheme have reached the state but due to the lackadaisical approach of the successive government and administrative hiccups, these schemes couldn't be properly implemented because of which the marginalized sections is bearing the brunt today.
Even the Comptroller and Auditor General of India (CAG) in its report has pointed out that the Mid-day meal scheme has not been implemented properly. The CAG revelation questions the department's ability to provide proper nutrition to the deserving children enrolled in government schools.
The CAG report also indicated that there is lack of coordination between the hierarchy of the department and those working on the ground. Despite being a serious issue, the government does not have proper data on malnutrition in children in the district.
Deputy Commissioner Budgam, Mir Altaf Ahmad said that the administration has taken major steps to ensure proper delivery and implementation of people friendly schemes. "The district administration has been tasked to prepare a detailed report, once the concerned officials submit their findings, quick action will be taken to fill the loopholes in the system," Ahmad said.
Images used for representational purposes only
Smile Foundation and Shell Launch STEM Project on Pi Day
The initiative will benefit less-privileged students from government schools.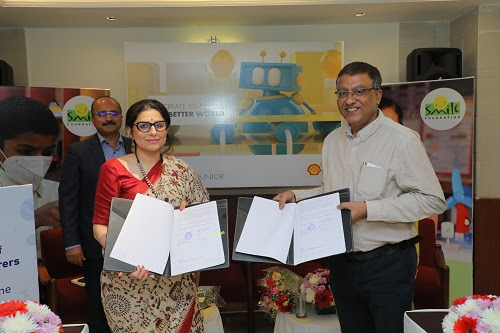 On the occasion of International Pi (π) Day, Smile Foundation and Shell launch 'NXplorers Junior' programme in three Indian states. NXplorers is Shell's global flagship Social Investment STEM (Science, Technology, Engineering, and Mathematics) educational programme aims to benefit over 25,000 children during the first year by enabling them to understand, navigate and address local and global challenges, as underlined in the Sustainable Development Goals (SDGs). NXplorers is also aligned with the National Education Policy 2020 and delivers societal benefits.
The innovative initiative will benefit less-privileged students from government schools and affordable private schools, studying in rural and hard-to-reach areas in the states of Andhra Pradesh, Telangana and Kerala. Its design also includes endeavour to create awareness amongst parents on the importance of STEM education, especially for girl children.
"Shell firmly believes that, provided with the necessary skills and guidance, young people can be a driving force to find sustainable solutions to the major global challenges of our time. Launched in 2018, Shell's global flagship STEM programme NXplorers is aligned with the National Education Policy 2020 that aims to transform India into an equitable and vibrant knowledge society. With the Smile Foundation partnership, we aim to expand this programme to Andhra Pradesh, Kerala, and Telangana and offer young minds the platform to design sustainable solutions to ease the pressure on food, water, and energy," said Ms. Latika Taneja, Head of Corporate Relations – India.
The programme is being rolled out in concurrence with the educational authorities of the respective state governments. Besides students, teachers, parents and communities are involved actively while implementing the programme so that it remains sustainable in the long-term.
"We are excited to roll out this innovative programme in India. We are hopeful that our children will not only leverage STEM education in building their future career but also will grow up and develop leadership ability in finding sustainable solutions in various walks of life," said Mr. Santanu Mishra, Co-founder & Executive Trustee, Smile Foundation.
The NXplorers Juniors will train both 6th and 7th grade students. NXplorers Juniors Level-I course will be delivered through a combination of teacher's guide, PowerPoint slides, and several instructional videos. The facilitator guide will outline the essentials to be covered in each session, exercises, discussion, checkpoint questions, a summary, assessment, and research to be undertaken by students after the session.
The United Nations Sustainable Development Goals (SDGs), exploring SDG Solutions, researching global goals, and developing a challenge and choosing a solution etc. are covered in the NXplorers Juniors Level-1.
NXplorers – Learning for a Life Time, envisions to provide a minimum of 3-5 years of NXplorers exposure to the students at various levels. The objectives include developing strong knowledge and skill set among students so that local and global challenges can be addressed by them. Developing sustainable models of implementation by engaging teachers, school leaders and communities effectively, creating awareness amongst parents regarding the importance of STEM education, especially concerning girl education are part of the overall goals.
About Smile Foundation
Smile Foundation is a national development organization directly benefiting over 1.5 million underprivileged children and their families every year through more than 400 welfare projects in education, healthcare, livelihood and women empowerment spread across 2,000 remote villages and urban slums in 25 states of India.
About Shell
Shell is one of the most diversified international energy company in India with over 10,000 employees and presence across upstream, integrated gas, downstream, renewable energy, and deep capabilities in R&D, digitalisation, and business operations; with a retail presence across six states – Karnataka, Tamil Nadu, Telangana, Maharashtra, Gujarat, and Assam.