We Hiked 17000 ft to Learn About 'Tablet in Every Hamlet'
Sujata Sahu the founder of 17000ft foundation that works for the better education of children in Ladakh spoke to ScooNews about the latest initiative for learning while COVID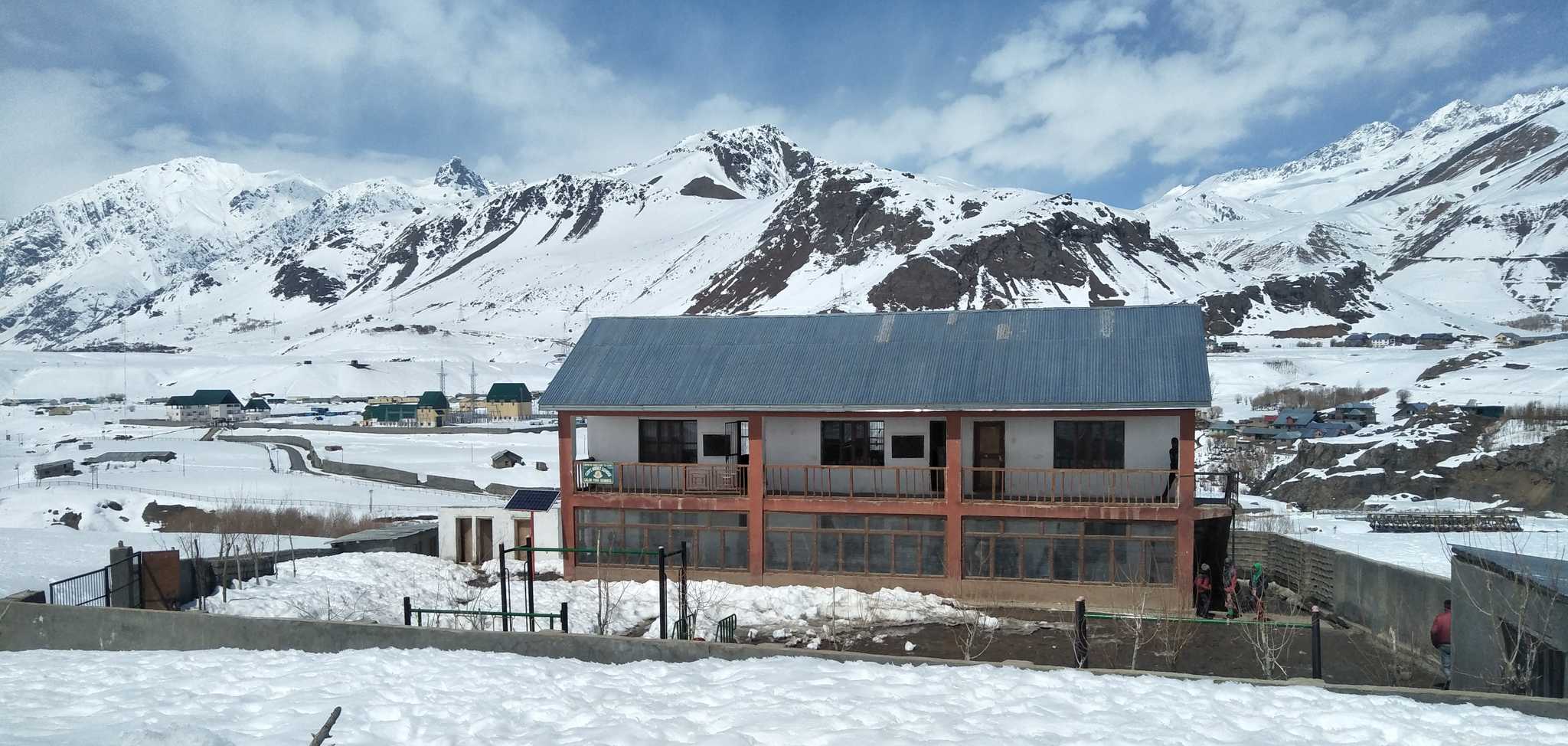 17000 ft foundation, in collaboration with the Ladakh government, has launched the 'Tablet in Every Hamlet' Project across 100+ remote govt. schools of Ladakh, in which the students from Grade 4 to 8 were given Tablets to take home. Conceptualized by Sujata Sahu, the Founder of 17000 ft, a non-profit organisation working to improve the quality of education in remote, inaccessible villages of Ladakh, the 'Tablet in Every Hamlet' Project takes the power of Digital Education even to children living in remote, inaccessible villages, most of which have neither continuous electricity nor mobile connectivity, ensuring that they have the opportunity to continue their learning at home, even during this unexpected school closure due to the COVID pandemic.
ScooNews spoke to Sujata Sahu to learn about her experiences and the new initiative.
Excerpts.
FLASHBACK
I worked in the corporate sector for years before I hung up my boots to start teaching Math and Computer Science at the Shri Ram School in Gurgaon. I have always been an outdoor person and loved the freedom of the mountains.
A solo trek to Ladakh a few years back was the turning point in my life. I trekked across and stayed in some incredibly beautiful villages, home to really tiny government schools and was completely amazed at how isolated and remote these schools were. Some of these villages had just under 50 homes, with the next nearest village being a few hours walk ahead! Though most of these schools have very basic infrastructure, just a handful of children, limited resources and barely trained teachers, what was incredible to see was the fact that not only were these children in full attendance but the teachers, too, were teaching to the best of their abilities. Looking at happy, smiling eager children, sometimes walking for a few hours, crossing mountain passes, in minus 20-degree temperature, just to get to school, was extremely inspiring. The children in these remote hamlets were so eager to learn that I was even asked by multiple locals to stay there and teach their kids.
Watching the grit and determination of parents who sometimes walked a few days to enrol their children in good schools, or teachers, who themselves hailed from far away villages, deal with their transfers into remote areas, was a lesson in life that was simple and deep.
Going back to a cushy job was not easy.
THE BEGINNING
I established 17000 ft Foundation, finally in early 2012, with a mission to transform the lives of people living in high altitude frontier hamlets of the Indian Himalayan region and live better lives in their chosen regions, without having the need to migrate.
The first year and a half saw a lot of our own investment and small contributions from friends and family. Our biggest support, however, was from other larger non-profits that shared their knowledge and time with us.
MANAGING THE FINANCES
From the early days when we had just set up the Foundation, one of our biggest challenges was encouraging donors, volunteers, and even corporates to focus on remote regions of Ladakh. While corporates are sympathetic to the cause, the remoteness and the inability to visit the project sites deter them from supporting the cause. Moreover, corporates also look to support causes near their manufacturing sites or head offices which puts Ladakh at a disadvantage. However, eight years of continuous hard work and advocacy helped us garner CSR support for this region.
But, COVID-19 affected us, and though our board members are chipping in from their own pockets, some of our team members have had to take pay cuts. Getting funding, in these unprecedented times, for our education programs is getting difficult, but we are hopeful.
FAVOURITE PROJECTS
Today, we have transformed over 220 govt. schools across 65,000 sq. km. of harsh mountain terrain in Leh and Kargil districts of the UT of Ladakh where we have set up Libraries, Playgrounds, Solar Powered Digital Learning Labs, trained over 1500 teachers & headmasters and conducted multiple community workshops in these villages. It is a matter of pride and joy for us to watch more and more children enrol in government schools.
[email protected] is one of our earliest programs, aimed at connecting travellers to remote villages where they can work in some incredibly tiny and beautiful schools, and have an opportunity to be a tourist as well. A Voluntourist fulfils a large part of our mandate to bring attention to remote, off the track villages, to contribute to the local economy and help tiny schools in the area. However, this year due to COVID, we have not taken in any Voluntourist.
Being an IT professional, one program that is closest to my heart is the [email protected] The [email protected] brings the benefits of Digital Learning to remote, inaccessible and off-the-grid schools of Ladakh, through offline Digital Solutions that depend neither on the presence of electricity nor mobile connectivity.
The DigiLab is an in-school, Solar Powered, standalone, hybrid-online Learning system with customized, personalised and adaptive Digital Content for students, which also tracks and monitors performance, delivering near real-time reporting via a last-mile connectivity app manned by a team of travelling facilitators. Under this program, each school is provided with a fully furnished lab, Solar and Digital Infrastructure, Training and the support needed to function. Each 10" Tablet is loaded with a personalized Digital Learning App customized to the local Board in Math, EVS/ Science, English Reading/Grammar, General Knowledge and Non-academic content like stories, videos and games, aimed at increasing exposure, increasing comprehension and foundational clarity.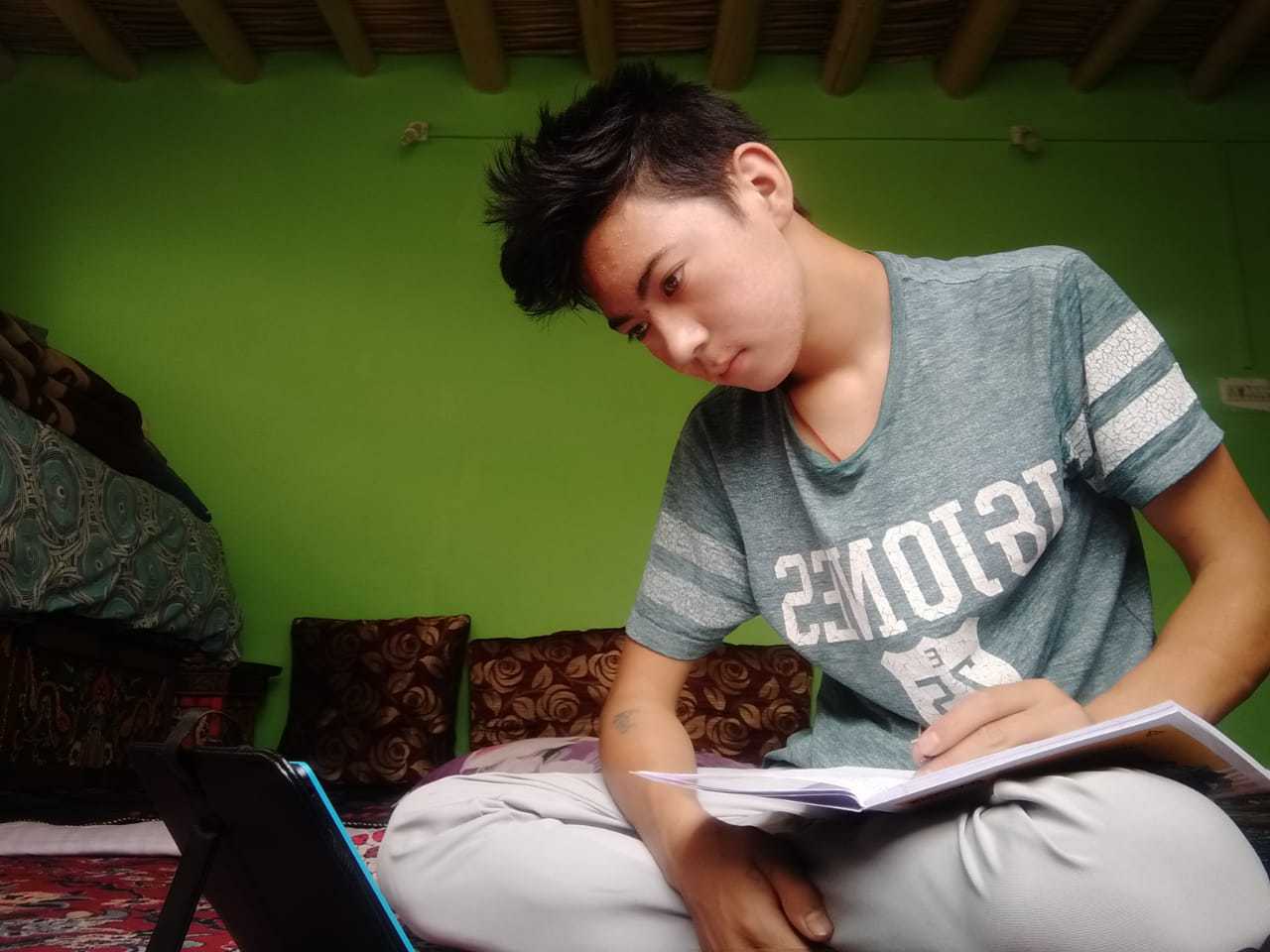 'TABLET IN EVERY HAMLET'
The 'Tablet in Every Hamlet' project is an extension of [email protected] and was conceptualized to take the learning home to children. Under the 'Tablet in Every Hamlet' project, children from grades 4 to 8 across 100+ villages of Ladakh are being issued tablets from their school DigiLabs to be taken home and from which they can learn.
The headmasters are instructed to sanitize and issue the tablets to the students, who come once to the school to get their tablets. The teachers build a schedule for their children and set the lesson plan for each week. The students are required to come to school once a week to enable their performance data recorded in their tablet, to automatically sync to the Solar Powered local server present in the school. Once a month, the headmasters sync the entire school performance data to his smartphone/tablet and during his monthly visit to the zonal education office, this data gets synced into the cloud for everyone to access, through a specially designed App and Monitoring Dashboard.
Till date, over 900 tablets have been issued to children across 100+ remote villages of Ladakh for children to learn during the lockdown, something that was never thought possible in an area known for its challenging terrain, harsh temperatures and lack of basic infrastructure.
MESSAGE
The Ladakh UT government, along with the Ladakh Hill Council (LAHDC), has been extremely supportive towards this program and we are looking to expand the reach of digital education through the DigiLab program across all the 800+ govt. schools of Ladakh. Initially, COVID-19 had put a halt to education, especially in the remote areas, but the 'Tablet in Every Hamlet' program has proved to be a game-changer. It's a new-age solution to a new-age problem.
28th edition of CBSE Sahodaya Schools Conference begins at Vadodara
The 28th National Annual Conference of Sahodaya School Complexes on the theme of Education 4.0-Reinventing
Education 2030 and beyond begins.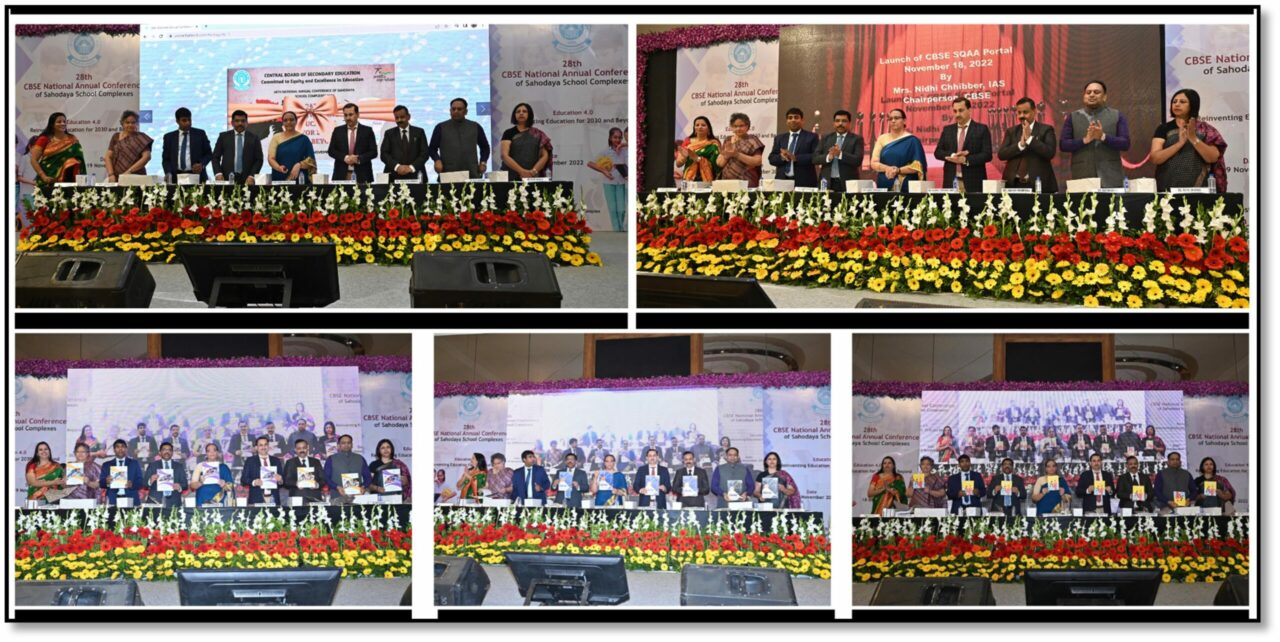 The 28th National Annual Conference of Sahodaya School Complexes (2022) began on 18th November 2022. This year the conference is being held in collaboration with Gyan Sarovar Sahodaya –The Central Gujarat CBSE Schools Sahodaya Complex.
The theme of the conference is "Education 4.0: Reinventing Education for 2030 and Beyond" with the objective to sensitize school leaders and prepare them for the era of education 4.0 with the necessary changes in the design of curriculum and pedagogy.
Sub Themes
Social dynamics and development of education
School Leadership for futuristic schools
Technology is indispensable for education
Capacity Building of teachers
AI in school education
Creative Learning
Positioning curriculum for 2030 and beyond
Moving from Transactional Leadership to Transformational Leadership
Building Learning Communities
Schooling Vs. Education: Bridging the gap for a better India for 2030 and beyond
Community School Partnership for quality education
This year's conference is hosting the representatives of more than 200 Sahodaya School Complexes and educationists from around the world in a two-day event at Vadodara.
Principals from 800 plus CBSE affiliated schools in the country and abroad, academics, and senior officers of the Board are participating in this two-day conference which will dwell upon various themes such as Community School Partnership, Schooling versus Education, Technology for Education, Artificial Intelligence in Education, Building Learning Communities, Leadership, Creative Learning, and Capacity Building of Teachers.
The inaugural session of the conference began with the address of the Chairperson CBSE Smt. Nidhi Chhibber highlighting the roles and responsibilities of school principals and administrators in realizing the objectives of NEP 2020 and making schools future ready.
A number of publications prepared by the Board were also launched by the Chairperson, on this occasion.
Conference Souvenir
A compilation of the probable best practices received from different schools across the country in the area of curriculum, pedagogy, capacity building of teachers, school leadership, school community partnership, and use of technology.
CBSE SQAA Portal
As per NEP 2020 recommendations, CBSE has developed a 'School Quality Assessment and Assurance (SQAA)' Framework based on 7 domains covering all the aspects of school functioning and can be useful as a tool for accomplishing individual and institutional excellence.
Practice Books in Science and Mathematics have been developed for Students of classes IX and X in the subjects of Mathematics and Science to strengthen the skills and competencies of students and help them apply the learned concepts in real-life situations and draw inferences.
These workbooks present a series of questions organised as themes, mapped to concepts from the curriculum of the respective class.
Item Banks
The board has designed and developed Competency Focussed Practice Questions aligned to the NCERT curriculum in the subjects of English, Mathematics, Science, and Social Science for Class X students to test conceptual understanding and application.
SAFAL Assessment Frameworks for grades 3, 5, and 8 were also launched today in the subjects of Language (English/Hindi), Mathematics, and EVS/Science. These include domains, strands, and competencies, and define learning outcomes at various proficiency levels.
PRAYOG
Pradhanacharya Yojna for Growth, has been designed in view of the important role of the Principals in the effective implementation of NEP 2020 in CBSE schools and covers various themes such as Innovative Pedagogy, Competency Focussed Education, Experiential Learning, Art integrated learning, Story Telling and Sports Integrated Learning, Systemic Reforms via initiatives such as SAFAL, HPC, SQAA, and Competency-based assessments, and other topics like Peer Education and Life Skills, Inclusive Education, Environmental Education, Pedagogy Leadership and Expectations from Principals.
Skill Education
A number of Skill Modules for Class VI-VIII on Travel and Tourism, Marketing, Media, Beauty & Wellness, Design Thinking, and Innovation were also launched today along with new modules for classes IX-XII in Library and Information Science, Cost Accounting, Early Childhood Care and Education.
Hand Book on Positive Parenting – A Ready Reckoner
The Board has always been sensitive and proactive regarding the mental health and wellness of students. Positive Parenting – A Ready Reckoner has been brought out by CBSE with the hope of adding value to the nuances of parenting and nurturing skills in a very simplistic and easy-to-follow manner. This publication by no means attempts to undermine the concerns and care of the parents already in place but may help in deepening the understanding and in building positive relationships amongst schools, parents, and students. The contents have been carefully curated post-COVID challenges and include topics such as the Mental and Emotional Wellness of Children, Parenting the Pre- teens, Gender Equality and Child Abuse Protection, Children with Special Needs, Online Learning for Parents, and more.