G20 Member Countries Reaffirm Commitment to Ensuring Education Continuity & Safety For All
In a virtual meeting, G20 Education Ministers resolve to work together in the areas of Education Continuity, Early Childhood Education and Internationalization in Education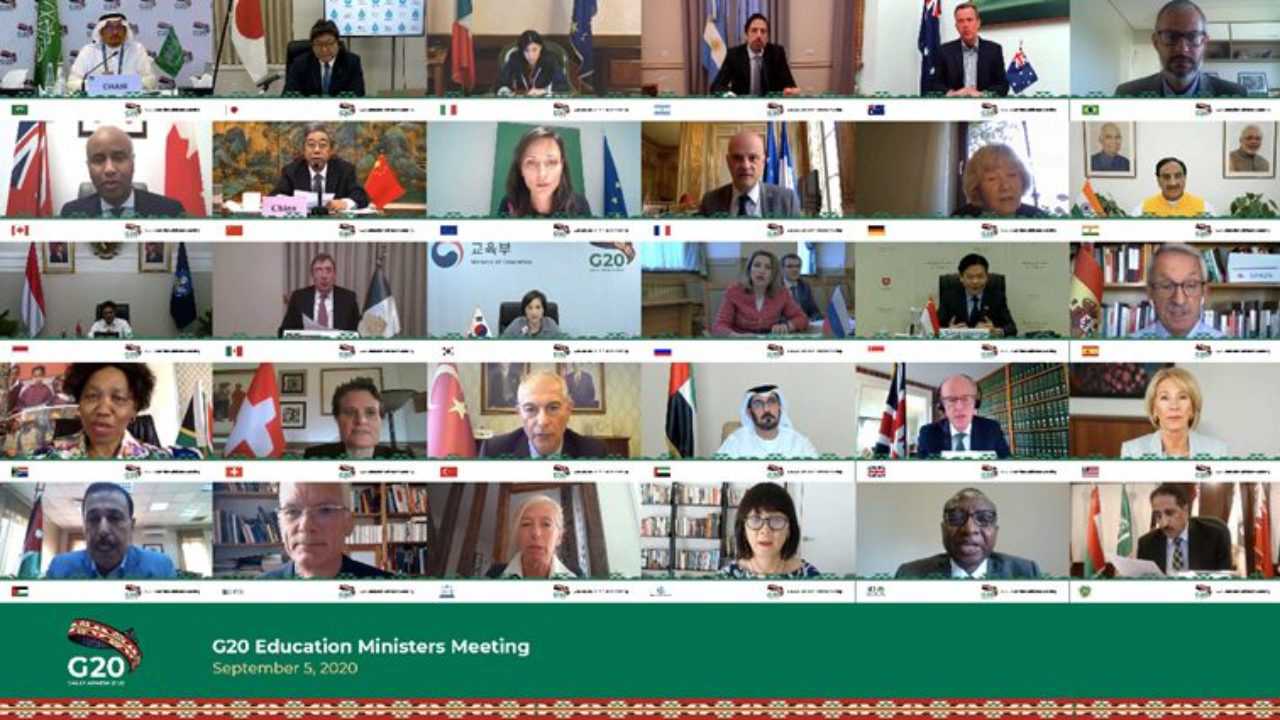 Education Ministers of G20 nations have resolved to work together and share best practices in the area of education so that member countries can ensure inclusive and equitable quality education and promote lifelong learning opportunities for all, even in times of crises. A virtual meeting of G20 Education Ministers was held on 6 SEP to discuss and share experiences of member countries in the three identified areas of Education Continuity in Times of Crises, Early Childhood Education and Internationalization in Education. This meeting was the culmination of ongoing discussions on these themes, conducted virtually due to the COVID-19 pandemic.
Representing India, Union Minister of Education Shri Ramesh Pokhriyal Nishank said that, these themes are also priority areas that the Government of India has been pursuing. India's commitment for these themes is reflected in the new National Education Policy 2020 that seeks to bring in transformational changes in the education landscape of the country. He said, "India will continue the efforts it has taken to reform and transform its education system and mitigate the challenge posed by the COVID 19 pandemic." He also said, "India is committed to collaborating with G 20 member countries in the area of education."
The Education Ministers adopted a communique at the end of the meeting. Regarding ensuring education continuity in times of crises, the communique recognizes the value of distance and blended teaching and learning and underscore the importance of enhancing access to high-quality education, professional development for educators, digital infrastructure and content, cybersecurity awareness, appropriate teaching methodologies and active learning, while recognizing that these approaches complement face-to-face learning. The importance of research and data to assess the learning outcomes and quality of distance learning has also been stressed.
On the importance of Early Childhood Education (ECE) the communique emphasizes the importance of improving the accessibility and affordability of quality ECE for all children, especially those in vulnerable groups. It also stresses on the need to raise family and community awareness of the vital role of quality ECE that is delivered in accordance with children's developmental needs at each stage.
The communique expresses the resolve to encourage internationalization in education by sharing of best practices in education and the adaptation of such practices at the local, national, and international levels, as appropriate. It also supports advancing the discussion on internationalization at the K-12 level. The communique emphasizes the impact of internationalization practices in a country in broadening students' intercultural and global competencies and in providing equal learning opportunities and experiences for all.
The Kingdom of Saudi Arabia is hosting the G20 Leaders' Summit in 2020. The G20 members are Argentina, Australia, Brazil, Canada, China, France, Germany, India, Indonesia, Italy, Japan, Mexico, Republic of Korea, Russia, Saudi Arabia, South Africa, Turkey, the United Kingdom, the United States and the European Union (EU).
Click here for full Statement of India at the G20 Virtual Education Ministers' Meeting on September 5, 2020
Click here for Ministerial Declaration G20 Education Ministers Meeting
India's Data Science Education Market to Reach $1.39 BN by 2028: Report

Imarticus Learning, a leading Indian ed-tech platform, recently released the "Data Science Education Report 2023," forecasting a significant surge in the global data science education sector. According to the report, the sector is poised to reach an impressive $378.7 billion by 2030, with India's data science education market expected to reach $1.391 billion by 2028—a remarkable leap from $204.23 million in 2023, exhibiting a compound annual growth rate (CAGR) of 57.52%.
This substantial growth is attributed to a paradigm shift toward data-driven decision-making across diverse industries. Simultaneously, the online education sector is predicted to experience remarkable expansion, escalating from $76.20 million to $533.69 million.
In the realm of job market and recruitment trends, the report identifies data scientists, data analysts, business analysts, and big data engineers as the most in-demand roles. Presently, there are 215,793 open positions in the big data and analytics job market, with projections indicating a surge to over 338,000 by 2028. Key players such as Amazon, AWS, Bain and Company, Deloitte, Ernst & Young, and Google are actively seeking data science professionals, offering competitive annual remuneration packages ranging from Rs 6.5 lakh to Rs 35.1 lakh.
India is solidifying its position as a global powerhouse for big data analytics with an estimated 30.1% CAGR. The industry is set to grow from $5.7 billion in 2022 to a substantial $30.7 billion by 2027. During this period, India is expected to capture 32% of the global analytics market, creating significant educational and employment opportunities.
The report identifies key roles driving the expansion of the data science sector, with Data Scientists (10.9%), data analysts (10.7%), and business analysts (10%) leading the pack. Financial analysts (5.3%), big data engineers (4.2%), data specialists (1.2%), business intelligence analysts (1.2%), and data science managers (0.9%) are also in high demand. Furthermore, the report highlights a growing demand for professionals with expertise in natural language processing (NLP) and computer vision, technologies fueling innovation in AI applications across various industries.
Imarticus Learning recommends sustained investments in AI research and development as crucial areas for educational institutes to align with industry demands. Nikhil Barshikar, Founder and CEO of Imarticus Learning, emphasizes the importance of nurturing the data scientists of tomorrow, stating, "The Data Science Education Report 2023 reflects India's growing interest in data science education. It's more than simply education; it's a journey into the future, one data scientist at a time."