What it takes for a dalit to earn a PhD in India?
36-year-old Sunkanna Velpula has spent years toiling to get his PhD. Inspite of numerous stints outside the education system, this determined dalit man did not give up on his dream to pursue an education and make it big for himself and his family.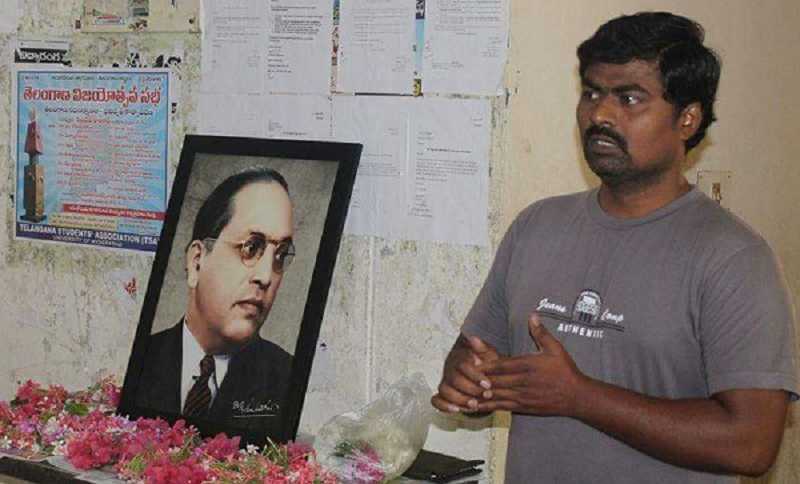 At 36, Sunkanna Velpula has spent too many years pursuing and obtaining education and in the way has taken detours, navigated too many dead ends. It is a day of double joy as on the day that his fellow students were to be released on bail, he had just received his provisional PhD certificate from the Hyderabad Central University. Being awarded his PhD in Philosophy, is now just a formality. But the battle for Rohith will continue; after all, he didn't come all this way to give up now.
Sunkanna's journey may seem nothing less than extraordinary but sadly it is the story of almost every Dalit student who dreams of getting a decent education and make a career. He hails from Damagutla village in Kurnool district where getting even water and electricity was a big deal so schools were definitely out of the question.
Whatever little education was available was through the efforts of 2 Dalit government teachers Krupakar Rao and Susheelamma who taught kids in the village church. Having classes in church was the most natural thing as temples don't allow Dalits, in that way even religion is an automatic choice for Dalits.
When the government eventually built schools in the area, he says, they built 2 — one for Dalits and the other for non-Dalits. However due to a poor foundation in basics the going was tough in that school. His father, decided to discontinue his studies so that Sunkanna could help with the farming. A couple of years later Sunkanna went back to studies as he felt that it was easier than farming under the merciless sun.
High school was even harder. He failed in English, Maths and Science in Class10, and had to appear for the supplementary exams. 4 days before the results came out, anxiety overwhelmed Sunkanna and he took Rs 100 from his father's pocket and absconded.
He found himself in Hyderabad with just Rs. 45 in his pocket. As luck would have it he stumbled in a canteen where he found work for Rs 20 per day along with food and a place to sleep. After a few months and a couple of different jobs including a waiter at a bar, a job at an electronics showroom and a lorry cleaner he found himself again at the same canteen in Hyderabad. That very day, when he was eating in a canteen, he spotted a familiar– it was another boy from his village who had run away like him.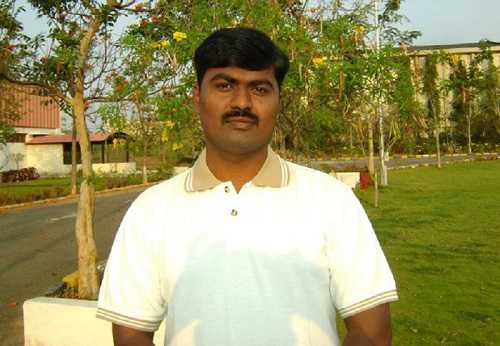 Some days later, Sunkanna was woken up to a knock and the sight of his friend from the village. But little did he know that his father was accompanying his friend. The meeting was doubly joyous as his father declared that Sukanna had passed class X and that his other friends were appearing for inter (11th and 12th grade).
Sukanna once again went back to his village but things were never the same for him again. After living in an urban setting he became acutely aware of the caste discrimination that he had faced all his life. He realised that he couldn't freely move around the streets of his village clearly demarcated for higher castes like the Reddy Street, Brahmin street and so on.

Once again he left home, this time to enroll in a government college in Kurnool for an arts degree. He eventually earned a B.Ed. His thirst was not to be quenched by being a graduate, he decided to attempt the civil service exams. He decided to go to Hyderabad, hoping to find work that could financially support him while he studied. He joined a security agency which posted him as a guard at the Indian School of Business.
All his efforts in vain, he returned to Kurnool to work as a lecturer in government colleges. Again, money proved to be a great obstacle, and he was forced to drive an auto at nights to make ends meet.
Yet again, he failed to make the cut and reached Hyderabad where he had an extremely short stint in the local film industry which he lost because he was late by 30 minutes.
Once again providence turned him towards education as he chanced to meet his friend Jilakara Srinivas, who was a PhD scholar in the Telugu department Hyderabad University. After listening to his travails, Srinivas urged Sunkanna to study further. Taking his advice, Sunkanna applied for an MA in philosophy in 2005.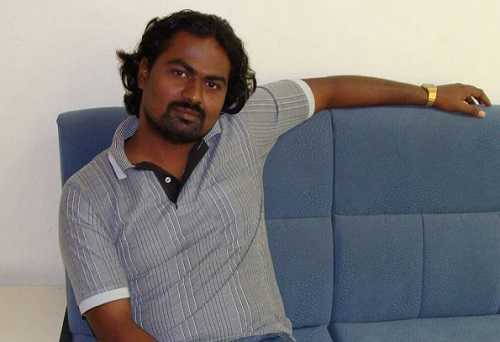 He achieved the 13th rank in the university, but it was not easy as Sunkanna spoke very little English.
He proudly says, "My graph was always going higher — in 10th standard I scored 40%, 46% in the Inter level, 56% in my degree, 61% in BEd, 72% in MA and then a distinction in Ph.D."
He added, "But it's not just me. Many Dalits are struggling." And that's what he discovered with the Ambedkar Students Association. "I don't care about other students' groups, but in ASA there is a lot of love and care which is a moral support for students on campus," he says. "When I joined the university I felt like an alien but due to our group I started feeling comfortable," he adds.
Recently, Sunkanna successfully defended his PhD, and was granted his provisional certificate. Now his only focus is to din a job that will allow him to support his family.
"I only want to become an assistant professor in Philosophy, and I am willing to do that anywhere in India. I will apply and will help my family financially. I have no other plans right now."
Teacher Warriors 2022: Ranjitsingh Disale – The Accidental Teacher
When he was appointed for his first post as a teacher, he found himself in a remote village, looking for a school that did not exist. This is the story of Ranjitsinh Disale, the accidental teacher.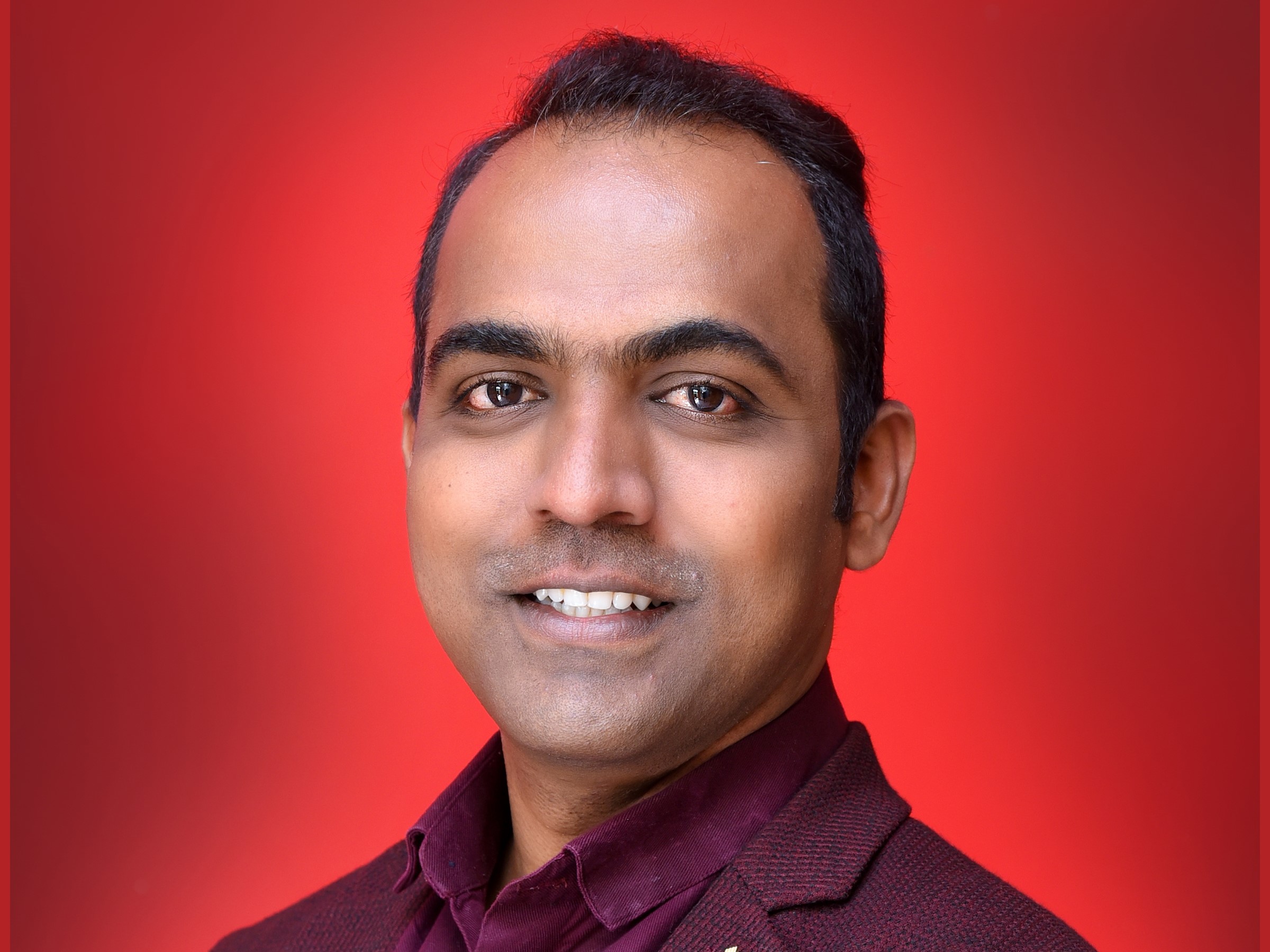 A young student pursuing an IT engineering degree was starting to lose interest in it. Perplexed, he went to his father for advice. The retired headmaster did not convince his son, he asked him to enroll in a teacher-training college. Teaching was never his interest but, he respectfully followed his father's advice and joined the college. He was taught to empathize with children, understand their questions and solve their problems. He wasn't very sure at the beginning about this profession. Especially, because when he was appointed for his first post as a teacher, he found himself in a remote village, and the school did not exist. This is the story of Ranjitsinh Disale, the accidental teacher.
In 2009, he was sent to Paritewadi Zilla Parishad Primary School in Solapur, Maharashtra for his first teaching experience. When he entered the quiet village, he realized neither the children nor the parents were interested in the concept of school. Not even a handful of students were going to the school and there were no female students enrolled. So, for the first six months, Disale did not even mention textbooks to them. He would have conversations and share facts and stories on his laptop and mobile phone. This started having a magical effect on the local children of the village. They wanted to spend more time around him, learning without having the fear to be scolded or punished. He would teach the students through their observations and with the help of videos, audio, and sometimes field trips.
In 2014, Disale came up with an innovative idea that enabled easy access to learning resources. He knew that the children enjoyed audio-visual aid to study. So, he created QR code-enabled textbooks that were embedded with audio poems, video lectures, stories, and assignments. He curated the content for each of the children he was teaching so that they could learn at their own pace.
The word spread fast and in 2015, the Maharashtra government adopted Disale's idea and made QR codes available in Balbharti textbooks. As a result of these efforts, the school was awarded Best School for the district in 2016, and 98 percent of students achieved their expected learning outcomes before completing the school year. The Ministry of Human Resource & Development (MHRD) encouraged the use of QR codes and in 2017, launched the project 'Diksha', which used an open-source platform called Sunbird to produce the content. Subsequently in 2018, the then Union Human Resource Development Minister Prakash Javadekar announced that all National Council of Educational Research and Training (NCERT) textbooks will have embedded QR codes. Even with schools closed, 20 lakh students in Maharashtra used QR-code learning to continue with their studies.
Innovative method of teaching
The students of the Zilla Parshad school in Solapur's Paritewadi study with Disale where he teaches grades 3 and 4. The school is only until grade 4 but, there is a possibility of introducing higher grades in the school. They follow Marathi as their medium of teaching. The students often study with the help of visual aid. "I don't have a single method of teaching. I try to use multiple methods for the same topic. We also have guest lecturers and expert teachers for different subjects so the children don't lose interest by studying all subjects from just one teacher," he said.
Disale made the transition from entertainment to edutainment very smooth for the children. He understood the learning style of each student, whether it was visual media, face-to-face explanations, or others, and grouped the children accordingly. He would modify his teaching methods according to each group. Within a year and a half, the school had achieved 100 percent attendance and the children were performing excellently in their academics.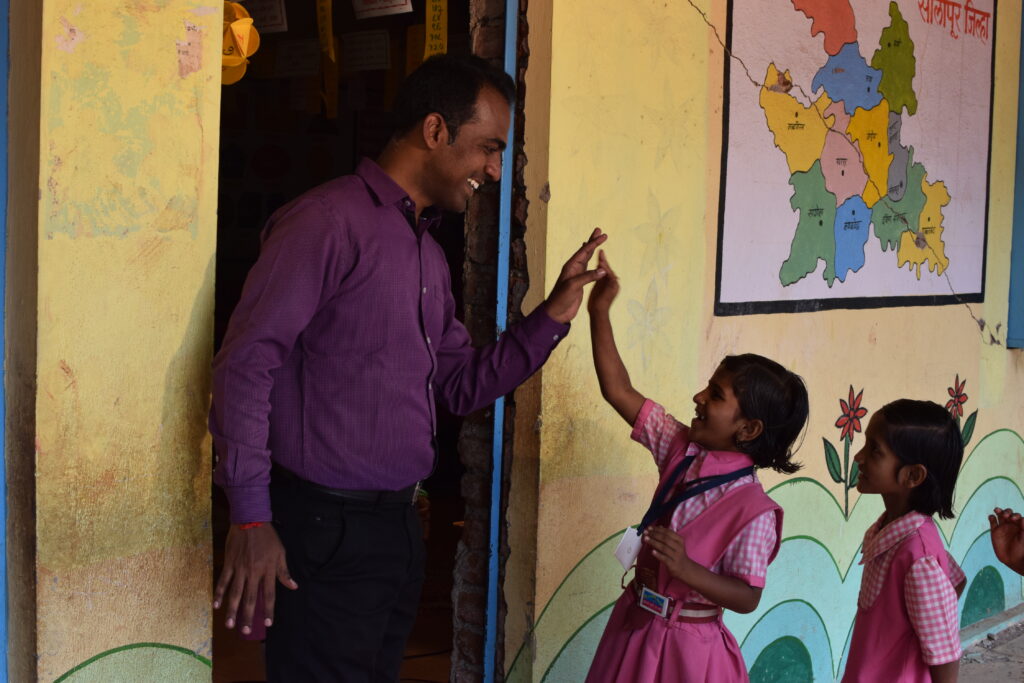 Challenges on the way
The tribal people of the village were the local inhabitants. Due to poor economic conditions, and backward thinking, not many children were sent to school. Attendance was as low as two percent. The parents did not seem to mind that too much. This also led to the conversion of the school rooms into cowsheds and storerooms. However, this did not break the spirit of this teacher who was determined to make a change.
His first step involved visiting the families of the village. He would initiate informal dialogue with them and spend time trying to understand their perspective on education. Gradually, he established polite friendships with the people. To persuade them, he would share the achievements of the children living in the nearby villages and ask a simple question – wouldn't you want to see your child reach great heights? It took about six months for Disale to gain their trust and convince them.
His second step was to be friends with the children and come up with an idea to make the classroom interesting. So, for the first semester, he did not even mention textbooks. Disale borrowed money from his father and bought a laptop for the class where children would watch movies, interesting videos, and presentations. With this technique, he was sending a message to the children – a school is a place of fun and enjoyment, just as much as it is a place of education. The remaining few students who were yet to start school were soon sitting amongst the rest of the children. His method had worked.
School closures had devastating consequences on children's learning during the covid-19 pandemic. In these, most vulnerable children come from remote areas which have do not have access to learning and are at risk of never returning to classrooms and even being forced into child marriage or child labor. According to a report by UNESCO, the education of more than 888 million children worldwide faced disruptions due to full or partial school closures. In India, most government and rural students rely on schools for peers, support, access to a safe environment, and a nutritious meal. The shutdown of schools affected these children the most.
For Disale, the biggest challenge during the pandemic was to stay connected with the students. He appealed to people through social media and requested to donate old mobile phones. He collected 67 devices and distributed them amongst his students, convincing their parents to buy an internet pack to ensure effective learning. However, in the post-pandemic era, the effect of the intense two years can be seen in the progress of the students. While some have been able to maintain their level of learning, many students have to struggle because the online method of teaching wasn't the easiest to adapt.
NEP 2020
This National Education Policy 2020 is the first education coverage of the 21st century and aims to increase the growth and development of the education sector. The new policy proposes the revision and revamping of all aspects including regulation and governance, to create a brand new system that is aligned with the aspirational goals of 21st-century education including SDG4 while building upon India's traditions and value system. Along with appreciation, there is also criticism that focuses on the drawbacks of this new education policy.
In an article written by Disale on the recruitment, training, and assessment of teachers, he highlighted challenges that teachers face and said, "considering the diversity and different socio-economic strata in the society, there is a need for tailored teachers training. The training should be customized/need-based, continuous, practical, and more focused."
"The NEP looks promising as it rightly highlights the changes necessary in the 21st century. With the addition of some more alterations to teachers' training program and their implementation, the system will achieve greater goals, assist teachers to think out of the box to attain great heights," he added.
Pat on the back
Ranjitsinh Disale was the first Indian teacher to win the Global Teacher Prize 2020. He was among 12,000 educators from 140 countries, who were nominated for the prize, which was set up to recognize teachers making outstanding contributions to the profession as well as to shine a spotlight on the important role teachers play in society. He promptly shared half of his $1 million win with the nine other finalists.
With his share of the prize, he has been able to provide scholarships of Rs 1 lakh each to 10 girls who are completing their graduation. Currently, he is particularly focused on the teachers of the country. "The country needs to invest more in its teachers. We are not respecting their work and status in society. There is also no system to support teachers for their innovative teaching projects. So, I am trying to give incentives to teachers and support their initiatives towards education and especially for rural education," he said. He has also invested in his 'Let's Cross the Borders' project, which connects young people from India and Pakistan, Palestine and Israel, Iraq and Iran, and other conflict zones.
The CEO of Microsoft (Satya Nadella) has recognized Ranjitsinh's work as one of three stories from India in his book Hit Refresh. The central government named Ranjitsinh 2016 Innovative Researcher of the Year, and he also won the National Innovation Foundation's Innovator of the Year award in 2018. He has communicated his methods by writing more than 500 newspaper articles and blogs, as well as participating in television discussions on educational topics.
Disale spends a lot of time with fellow teachers to keep himself motivated. He believes in sharing his methods of teaching and also appreciates critical feedback on them to improve every day.
Call for action
From sharing knowledge and skills to contributing to the school's infrastructure, and contributing to children's resources like bicycles, mobile devices, or stationary, Disale's school accepts donations in both, cash and kind. Whether you would like to support them or become a volunteer, we would urge the readers to visit their website and reach out to the members to contribute and engage in this cause for change.