What was considered while drafting the National Education Policy draft?
A look at the current education scenario in India and what forms the foundation for the recommendations of the TSR Subramanian.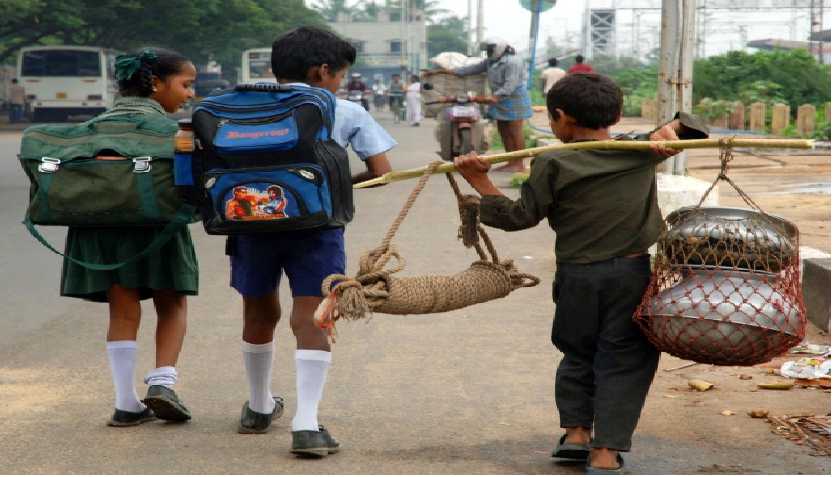 The past 2 months has seen a flurry of activities in conjunction with the HRD Ministry to create a draft National Education Policy. The formulation of a committee and mass public consultations are efforts that have been taken for the first time to create a truly nation-facing policy. When finally the draft of the policy was out, media was rife with news about the tussle between the head of the committee T.S.R. Subramanian and the HRD minister Smriti Irani over making the recommendations of the public consultations public.
Amidst all this, the committee recommendations have been made public. Here we try to peep into the mind of T.S.R. Subramanian – the man of the moment and the head of the committee tasked with assisting the ministry in formulating the policy. The following thoughts belong to Subramanian.
For most people the images of flagrant mass copying at Bihar examination centres are firmly etched in their minds and are synonymous with the state of Indian education in 2015. Then, the "topper" scam was revealed in the media last week; again, originating from Bihar and quickly became the symbol of all that is wrong with the examination system. However, spare a moment to think, is this only a Bihar phenomenon? What is the state of education in the rest of India?
In terms of sheer size, the Indian education system is among the largest in the world, with about 26 crore children enrolled in Classes I to XII located in 36 States and Union Territories, 683 districts, about 7,300 blocks and more than 82,000 clusters, covering more than 15 lakh schools; the total number of teachers functioning in the system (in public and private schools) is to the tune of 80 lakh. These figures don't include enrolment figures from higher education institutions, which cover more than 3 crore students. In many senses, this is one of the largest areas of direct contact between the state and the citizen, with nearly 20% of the population directly involved daily in the teaching or learning process.
The National Education Policies of 1968, and 1986 as modified in 1992, had endorsed a norm of 6% of the gross domestic product (GDP) as the minimum expenditure on education. However, this target has never been met. The expenditure by Education Departments of the Centre and the States has never risen above 4.3% of the GDP, and is currently around 3.5%.
As compared to a meagre 12% in 1947, the overall literacy rate in India in 2011 was 74%, with a male literacy rate of 82.1% and a female literacy rate of 65.5%. However, having travelled such a long road we are still below the world average literacy rate of 84%, and India currently has the largest illiterate population in the world.
Let's look at the state of Elementary education (Classes I-VIII) today
The Sarva Shiksha Abhiyan programme launched for the universalisation of education (Education for All), along with the no-detention policy, has resulted in a significant enhancement both in the Gross Enrolment Ratio (GER) to over 95%, and in the enrolment of girls.
In 2014-15, there were 14 lakh schools in the country imparting elementary education, with a total enrolment of 19.77 crore. Of these, government schools numbering 11 lakh accounted for an enrolment of 11.9 crore students at the elementary level.
In 2014-15, the retention rate at the primary level was 83.7% and it was as low as 67.4% at the elementary level. Roughly, 40% children enrolled in Class I were leaving school before completing Class VIII (U-DISE, 2014-15).
Focussing on the Quality of education
NGO Pratham's The Annual Status of Education Report (ASER) 2014 survey found that nearly half of the Class V students were not able to read at Class II level; nearly the same proportion of Class V students did not have basic arithmetic skills, which they should have learned by the end of Class II (ASER 2015). It is a telling sign of the quality of education being imparted today. Here a special mention needs to be given to Gunotsav, a mass assessment process, first introduced in Gujarat in 2009, which is now being implemented with variations in some other States as well.
All the surveys reveal that at an all-India level, the percentage of older girls (in the 11-14 age groups) not enrolled in school has dropped from 10% in 2006 to close to 5% in 2014. Except for Rajasthan and Uttar Pradesh, the figure has dropped significantly for many States, with Bihar showing the steepest decline from 17.6% in 2006 to 5.7% in 2014. In fact, if we were to account on ground figures attendance rate checked randomly at government schools stood at about 71% of enrolled children, though these figures need to be taken with a pinch of salt.
While these are encouraging figures, the quality of education, in terms of learning outcomes, is undeniably poor, particularly in the government school system. This figure is of grave concern because approximately 80% of all recognised schools at the elementary stage are government-run or supported. Reading is a foundational skill; without being able to read well, a child cannot progress in the education system and it is found that reading outcomes are unacceptably poor, particularly in government and rural schools.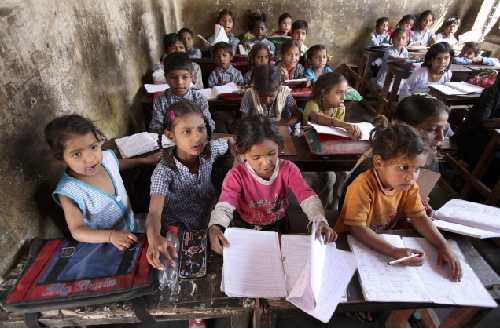 For example, ASER 2014 found that over 75% of children in Class III and over 50% in Class V could not read texts meant for the Class II level. At the national level, children in rural schools in Class II who could not even recognise letters of the alphabet increased from 13.4% in 2010 to 32.5% in 2014. Further, when compared year-on-year, reading levels for children enrolled in government schools in Class V showed a decline between 2010 and 2012. While reading levels in Class V in private schools were also not very high, the gap in reading levels between children in government schools and private schools appears to be growing over time.
In sum, half of all children in Class V have not yet learned basic skills that they should have learned by Class II. Close to half of all children will finish 8 years of schooling but will still not have learned basic arithmetic. However, it is also important to know that the Indian child, given the opportunity, is a fast learner—a fact which cuts across every district in every corner of India. The failure to provide the opportunity for a decent education to every child, even 7 decades after Independence, is a severe indictment of our governance standards.
Noteworthy news from recent times is that the Allahabad High Court took cognisance of the poor quality of education in government schools and directed all government servants in Uttar Pradesh to send their children only to public schools run by the State Basic Education Board.
Let's move on to understand the state of the Secondary & higher secondary education (Classes IX to XII)
At the secondary stage, the Rashtriya Madhyamik Shiksha Abhiyan (RMSA) is the most important programme rolled out by the HRD Ministry. It has the twin aims of enhancing access to and improving the quality of secondary education in the country.
Enrolment numbers are sought to be increased by establishing a secondary school within a reasonable distance of all habitations and by removing gender, socio-economic and disability barriers to education. A list of prescribed infrastructural and physical facilities is already present including adequate number of classrooms, laboratories, libraries, art and crafts rooms, toilet blocks, drinking water availability, electricity connection, telephone and Internet connectivity and disabled-friendly amenities. However, the fact is that even minimum infrastructure standards are not available in most schools, particularly in the hinterland.
Bringing equity in the system is important and that aspect is addressed by focusing on micro-planning and opening schools in areas with concentrations of Scheduled Castes/Scheduled Tribes/Minorities. Undertaking a special enrolment drive for the weaker sections, providing more female teachers in schools and separate toilet blocks for girls are some of the other significant moves.
The RMSA aims at achieving a GER of 100% by 2017 and universal retention by 2020. While the first target could be seriously addressed, it is highly doubtful if it would be realistic to retain the "retention" target by 2020, even if major remedial steps are urgently undertaken.
The spread of secondary education throughout the country remains uneven. Regional disparities continue as do differences in access depending on the socio-economic background of students. Absence of teachers, lack of incentives and low academic standards in government schools has contributed to the rise of the private sector in secondary school education.
Where does Higher education stand today?
There has been a virtual explosion in the number of universities and colleges in the country. Many students join university courses merely to obtain a degree, which has come to be considered as a sine qua non for white (and even blue) collar employment and social status.
At last count, there were 46 Central universities and 128 deemed-to-be universities in the country (UGC Annual Report 2014-15). The Indian higher education system, which includes technical education, is one of the largest in the world. The number of universities has grown from 27 in 1950-51 to 621 in 2010-11 and further to 712 in 2013-14. The number of institutes has grown from 11,095 in 2010-11 to 11,443 in 2012-13.
The private sector is playing a more active role in the growth of colleges and institutions in India. In 2011-12, 63.9% of the total number of colleges and institutes were in the private sector and 58.9% of the total number of students were enrolled in private colleges and institutes. State institutes accounted for 35.6% and Central institutes for 0.5% of the total number of colleges and institutes.
Even today the utility of higher education in assuring employment is questionable. Many graduate and postgraduate students do not get jobs in their respective fields even after spending several years in acquiring higher education. While the problem of educated unemployed youth remains acute, there is also, paradoxically, a shortage of skilled manpower in the labour market.
The global ranking of universities is a useful indicator of their institutional performance, based on a relative assessment in the areas of research and teaching, reputation of faculty members, reputation among employers, resource availability, share of international students and activities and other factors. Hence the recommendation of a rating scale for higher education institutes on a scale of 1-8.
In conclusion, the most noteworthy point that emerges is that while issues of accessibility and enrolment have dramatically improved in the past decades and much progress has been made in relation to equity in opportunities, issues relating to quality of education at both school and higher levels have not been addressed adequately either in policy or in practice; indeed, there is a secular decline in the overall quality of education. Necessarily, issues of equity, as also of quality have to be the main focus of any new national policy.
Serious reforms are imperative and brook no delay. Major new directions now need to be taken. Issues of immediate concern and administrative constraints should not be allowed to override the medium- and long-term measures essential for major reforms. The country is now looking to the Government of India to give a new direction in the field of education. The steps taken now will determine if India will be a leading nation in the world this century.
This post is based on an article originally published here.
New Age Instructional Techniques
Traditional pedagogical techniques, based on a teacher explaining a topic and students taking notes, may still be helpful occasionally. Still, education today revolves more around encouraging the students to awaken their curiosity and desire to learn.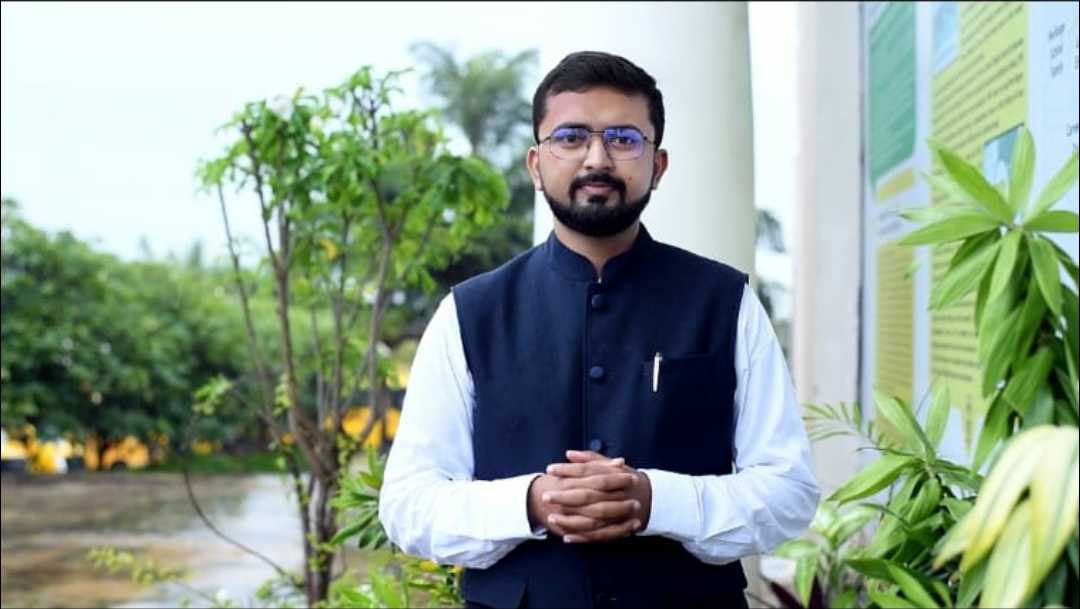 Education and its purposes have evolved over time. The meaning of 'knowing' has changed from remembering and repeating information to finding and applying it. Education helps students identify their critical purpose in life. It is really a tool to enable young minds to become lifelong learners. It empowers them to be able to tackle any challenge that life throws at them.
The purpose of being an educator is to make the world a better place. Where people are empathizing, caring, and capable of understanding each other. The prime objective of education is to nurture the leaders of tomorrow. To impart quality knowledge and learning so that the young generation becomes responsible and future global leaders and citizens.
Advanced research in education philosophy and brain science has had a tremendous impact on instructional strategies for the classroom. As a result, the educational paradigm has seen a transitional shift in instructional strategies over the past few years. Educators now are required to step out of their comfort zone of the traditional mode of teaching confined to classrooms.
Teachers are now bound to integrate the new instructional strategies to make a mark in the educational arena. A number of different teaching techniques have emerged during this transition and due to this change in education. Some of the research-backed pedagogical practices that are appropriate for 21st-century classrooms are:
Reciprocal Teaching:
Reciprocal teaching is a method in which students in small groups predict, clarify, question, and summarize a scaffolded reading comprehension. It is similar to a small group of students sitting in circles and using a communal constructivism approach to making meaning. Here each student takes the role of both learner and teacher within the group. This technique allows the students to develop a shared understanding of the text and supports the students who find it difficult to comprehend complex texts.
Student-generated questions :
This technique allows students to work individually or collaborate with peers to generate their own set of questions based on Bloom's Taxonomy template. This technique enables students to go through a rigorous thinking process of divergent and convergent thinking that ultimately ends with a reflection-based task to summarize their learning.
Higher-order thinking questions:
This technique of instructional learning is a must-have in every classroom. Critical thinking is essential as it allows students to apply the knowledge to a context different from the one that was initially learned. Using this strategy and adding cases and real-life situations to these questions allows children to develop relevance and motivation.
Reflection questions:
Metacognition – the science of thinking about learning is a potent tool that should be used in every classroom. This allows children to strengthen their understanding and retain the information for a longer period of time. Questions like the muddiest point today? What were my three takeaways from the last 30 minutes? How would I use this learning to make my day better? And many more allow students to reflect on their learning and evolve themselves as lifelong learners.
Taking a constructivist approach, these techniques or strategies allow the learners to accommodate and assimilate knowledge. When a teacher uses group work he/she is leveraging the true nature of learning. This collective activity allows and enables the students to find relevance in the learning environment. Moreover, it will enable learners to have agency over their learning by modeling a real-world situation. Often when a teacher starts using collaborative approaches, various reasons like unequal participation deter it. The classroom space dons a chaotic look, and the teacher has no control. All these have to be minutely dealt with by developing as a facilitator rather than a sage on the stage. Working in groups allows children to develop essential life skills like empathy, compassion, and critical thinking.
Traditional pedagogical techniques, based on a teacher explaining a topic and students taking notes, may still be helpful occasionally. Still, education today revolves more around encouraging the students to awaken their curiosity and desire to learn.
About the author:
Siddharth Rajgarhia is Chief learner and Director at Delhi Public School Nashik, Varanasi, and Lava Nagpur. Having 10 years of experience in leading schools. He is an avid Mindfulness practitioner and believes in lifelong learning