Why does Adhitya Iyer think that the Indian Education system is the deadliest terror organisation?
At the age of 27 years, Adhitya Iyer is a maverick, having floated his own start-up, worked in another startup, won the country's top 30 young entrepreneurs award, wrote a hugely popular book and took a 10 state tour of the country. An interview with him reveals why he think that the Indian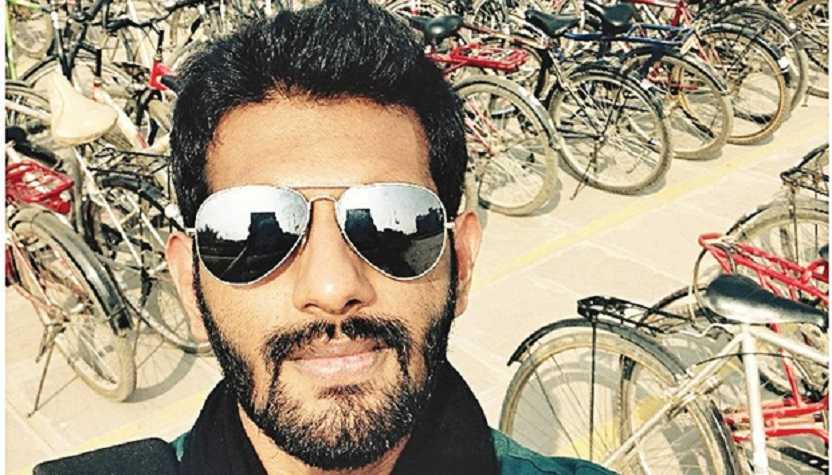 Adhitya Iyer has much in common with Amir Khan's Rancho from 3 Idiots. He values learning more than mere college degrees and logic is the be all of all conversations. In fact his dislike for engineering also stems from his attitudes about education. Instead he floated a start-up which sells T-shirts with lines from the average frustrated engineering student printed on them. And, ironically, that's what exactly got him into the list of the country's top 30 young entrepreneurs. But that's just the beginning of the story.
He then moved to Bengaluru, and picked up a job with another startup that sold chai (tea). He ended up speaking to several IT workers and quit that job to travel across 10 states to find the answer to one simple question — "How did I end up here?" This journey of self exploration blossomed into The Great Indian Obsession —the highest selling crowdfunded book in India and the sixth highest in Asia.
This journey became the fodder for Adhitya to form the world's most interesting educational story. Here are excerpts from an extra witty interview…
How did you go from taking a trip to writing a book?
It was a series of experiences. Firstly, even I was tricked into getting into an engineering college because I was good with Maths and Physics. And as we know, this combination is pretty lethal, by default. During my college days, I realised that engineering is not my thing. So to vent my frustration, I set up this start-up while in college. This earned me a lot of laurels, including the tag of top 30 young entrepreneurs of the country. Then I moved to Bengaluru where I essentially sold tea. Ummm well, it was a start-up. Bengaluru has more engineers than all of Silicon Valley. Not just engineers, they are engineers frustrated with life. Most of these customers I used to talk to, while at the start-up, had similar experiences about how they were tricked. That was the last straw and I wanted to write a book on this issue.
You said you sold tea? Really?
Yeah, it sounds weird, I know. But we are so intrigued by our lives that people fail to see the absurdity of it. For me, it was a start-up founded by a Howard graduate and I wanted to explore things. But for my mother, it was a nightmare. I had so many cousins and not surprisingly, they were all engineers. It is embarrassing to tell people that you work at a chai point. "Can you tell me something fancy about it or at least make it sound fancy in front of the relatives," she used to tell me.
Coming back to the book, the funds were all from random people?
I took to crowd funding and 301 generous people gave me money to write a book, so it turned out pretty well. My challenge was to make people understand what crowdfunding is and then make them pay. We had a good campaign video that helped. But the usual engineering student's last moment brain did wonders and things fell in place. I could write another book on the crowdfunding experience.
Did your childhood play any role in writing this book?
I come from a TamBrahm family, so you can do the math (chuckles). We moved from Saudi to India just so that they could put me into engineering. It is just a natural thing in my family. Ever since a kid, I didn't know anything else. Growing up, I wanted to figure out the cause of this obsession.
So, what do really think of the Indian Education system?
The Indian education system is India's deadliest terrorist organisation. Even if you look at the numbers, the number of kids that have killed themselves due to the pressure of academics is just disturbing. But the only bright spot is the competitive environment. So, I knew there was no point competing with these people because no matter how hard I try, this is not something I want to do. It was not my thing and thus I started exploring other things, started reading, and then the start-up happened. That's where I found my space.
Let's talk about your 10-state tour. What was that like?
I quit in 2013 and thought a small tour will help me write the book. But my visit to Kanpur changed this. There were people shooting each other in Kanpur, there was a proper gang war. Unfortunately, these were not gangsters but educated coaching class teachers. That day, I knew that there is a larger story and I should spend more time travelling.
Let's talk about the highest and the lowest points of your journey.
My lowest point of the journey was in Hyderabad. I basically call it the prison journey. Have you seen the movie The Shawshank Redemption? There are places in Hyderabad where students are locked inside a room and they are not allowed to come outside. They are cut off from the outside world. In that coaching institute, one boy had blood cancer. His mother did not know it, his father knew it, I knew it and the hostel dean knew it. He was still made to study in that institute. How crazy was that? For all we know that guy may not have lived till the exam and still, his father wanted him to crack IIT. That was the darkest point in my journey. To be very honest, the journey did not have many high points. It is just the way the book is written that people find it interesting and can relate to it.
There must have been something that kept you going?
It was curiosity. I wanted to know how I ended up like this. We are such a diverse country and we have been given so many choices in everything from language to food etc. How are we obsessed with this? In the process, I knew I was also catering to the curiosity of other people like me.
So, how is your super-traditional family taking it?
They were not really happy. But fortunately, I had awards; I had a good 10-minute coverage on TV. So, they had something to tell others. But now that I am 27, the alarm is ringing again.
What's next? Another witty book?
The book has taken a lot of my energy, both emotionally and physically. But, I want this same story to come out from some other medium. I want this to reach people in every way it can. So, maybe it will be a movie or a short video. Well, I am an engineer; I will figure it out at the last moment somehow. (laughs)
* Read the original story by Punita Maheshwari at www.newindianexpress.com
SHE STEM 2022 honours and celebrates women
SHE STEM 2022 encourages students to 'Unleash their imagination' as part of the Sweden India Nobel Memorial Week.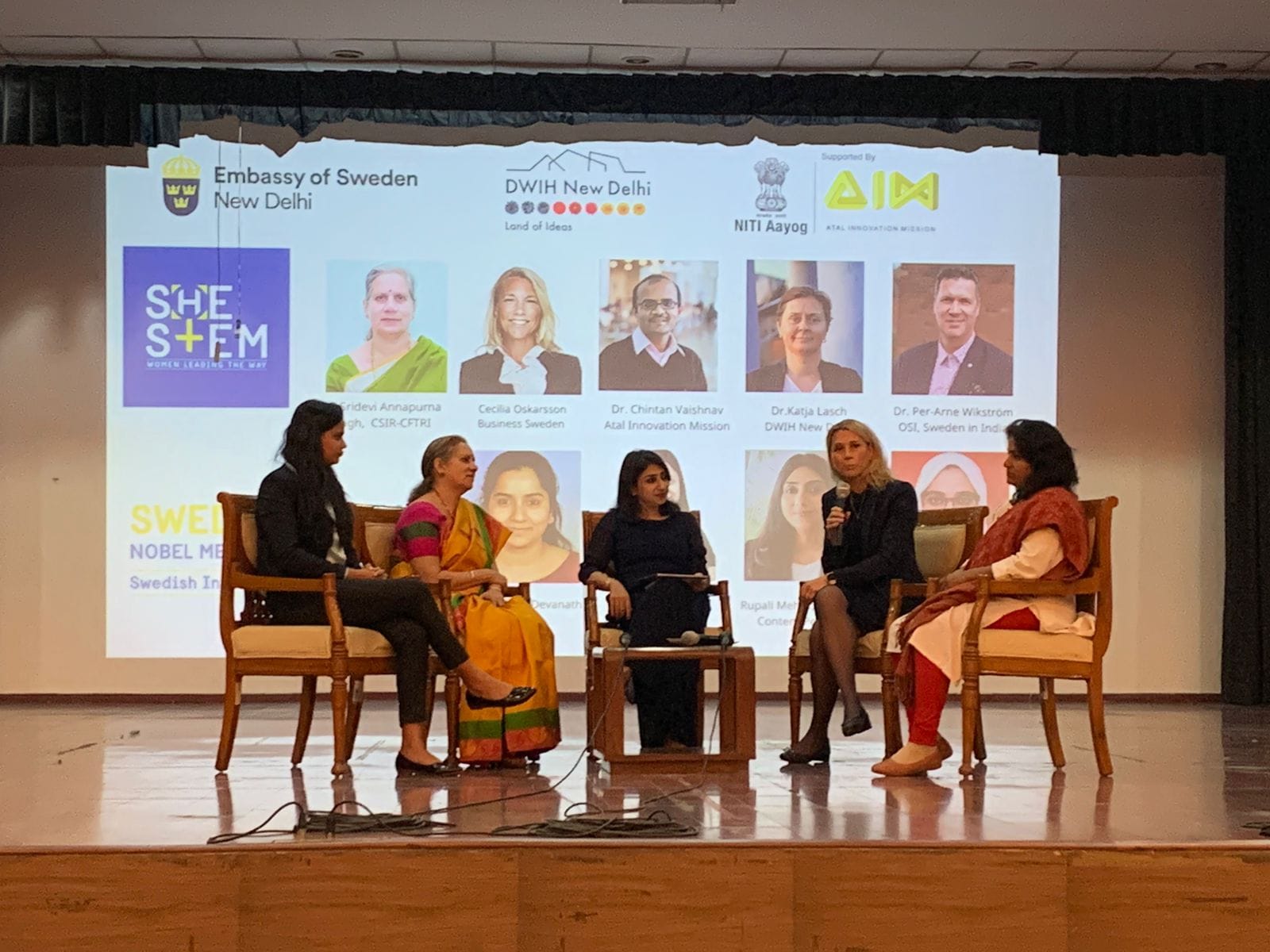 As part of the Sweden-India Nobel Memorial Week, SHE STEM, the annual event to celebrate women in the fields of science, technology, engineering, mathematics, and sustainability, was successfully held for the third year in a row.
The annual event is organized by the Sweden Embassy in India in partnership with the Atal Innovation Mission of the Government of India and the German Centre of Innovation and Research (DWIH New Delhi).
Ambassador of Sweden to India H.E. Jan Thesleff, who also addressed the students via a video message said, "We are very happy to continue the tradition of SHE STEM – it is a flagship event of the Sweden-India Nobel Memorial Week. Congratulations to all the winners of this year's SHE STEM Video challenge."
Dr. Chintan Vaishnav, Director of ATAL Innovation Mission said, "Today, the face of women's involvement in STEM is changing and the rate of participation has increased. It was in ATL Marathon 2021, that there was a spike where the women's participation was 49%. A strong STEM education will go a long way in cultivating such critical thinkers."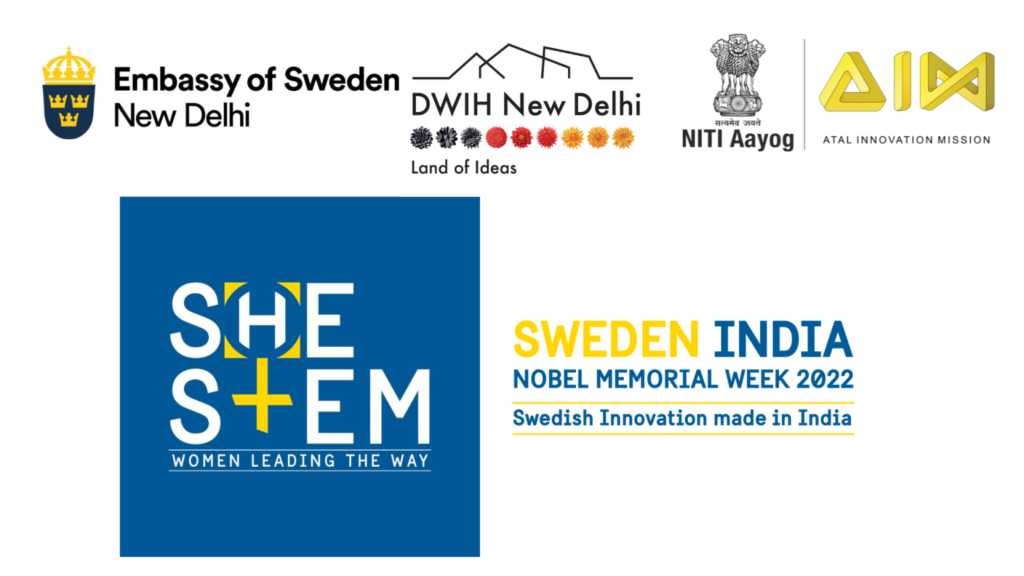 SHE STEM 2022 began with a musical performance by the students of Darbari Lal DAV Model School, New Delhi, the host school for SHE STEM 2022, followed by talks, and a panel discussion with women in the fields of STEM and business, including D. Sridevi Annapurna Singh, Director of Council of Scientific and Industrial Research – Central Food Technological Research (CSIR-CFTRI), Ministry of Science and Technology, Government. of India.
Dr. Annapurna Singh has done extensive work in the development of supplementary foods for undernourished children and in studying the impact of protein-rich food on children. She spoke to the audience about the need for women in fields of STEM to bring in their unique perspectives to problem-solving for a sustainable future.
Other participants included Cecilia Oskarsson, Trade, and Invest Commissioner of Sweden to India, who shared her thoughts on the role of diversity in triggering and enabling positive changes for girls and women, Mamta Kumari, co-founder and CEO of Prepbytes, an ed-tech company in India, and Dr. Vasudharani Devanathan, Neurobiologist and Professor of Biology at the Indian Institute of Science Education Research (IISER). Rupali Mehra, Founder of Content People AB moderated the event.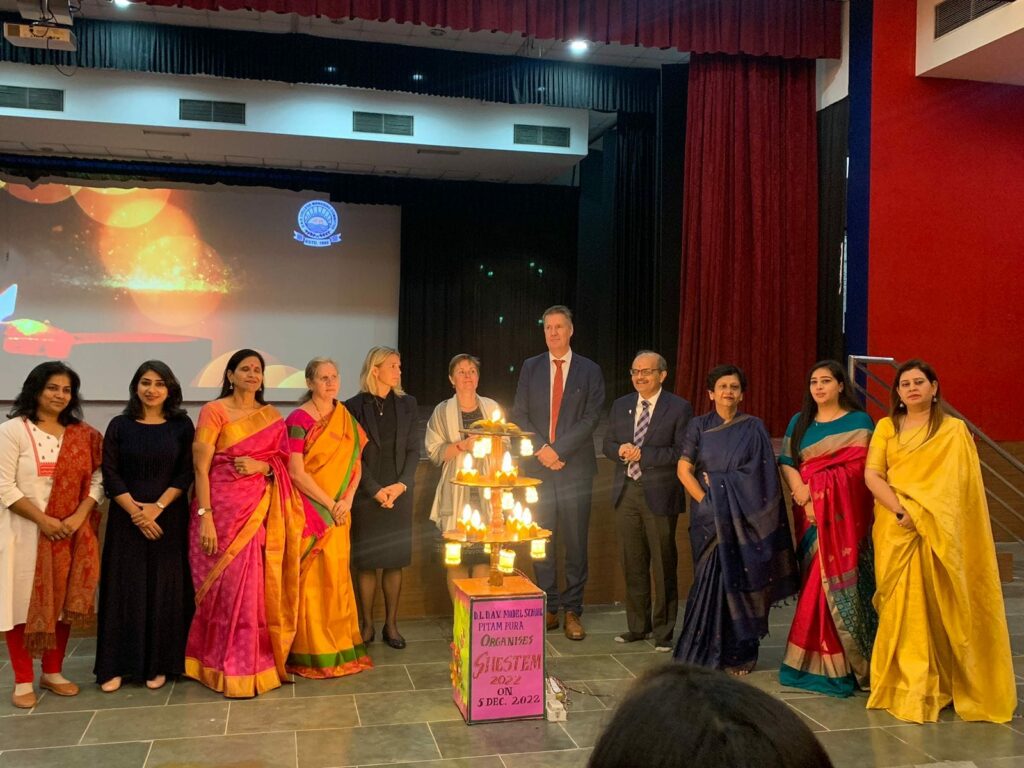 Dr. Per-Arne Wikström, Head of Office of Science & Innovation, Embassy of Sweden in New Delhi said: "When women and girls provide their talent, their knowledge, and their capabilities to science and technology on equal terms with men and boys, then we know that societies prosper and that innovation capacity actually increases. So for us, gender equality is an integrated part and an important aspect of everything that we do. We would like to thank our Indian partners for their support for this very important initiative."
"As Johann Wolfgang von Goethe said, 'who is not curious will not gain knowledge,' so keep your curiosity on, drive your knowledge forward and who knows maybe one or other idea will be implemented," said Dr. Katja Lasch, responsible for Strategy Management at the German Centre for Research and Innovation (DWIH New Delhi) and head of German Academic Exchange Service (DAAD) Regional Office in New Delhi.
Following the success of the Insta-reels Video Challenge in 2021, SHE STEM hosted the #SHESTEM2022 Video Challenge across Instagram, Youtube, Facebook, and Google Drive for students of ages 13 to 17, asking them to imagine themselves in the year 2047, and speak about an innovation of theirs that has helped in tackling climate change. The response was overwhelming with over 930 videos of which 15 were shortlisted. SHE STEM had an extensive jury round of 3 jury teams; Atal Innovation Mission Team led by Dr. Chintan Vaishnav, the Swedish Embassy team, led by Dr. Per-Arne Wikström, and the German Centre for Research and Innovation, represented by Dr. Katja Lasch.
The videos were assessed on the:
Novelty of idea
Clarity of thought and articulation
Sustainability or climate action angle
G. Nivethiga Rani who created a video on how she as a STEM Leader in 2047 had invented a robot that collected and converted biodegradable and non-biodegradable waste into electricity, won the first prize in the video challenge. The second prize was tied between T Shatananda Dhanwantari and Shreya Singh and Nistha Aswal, who participated as a team. Gaurav Hanjoora won third place.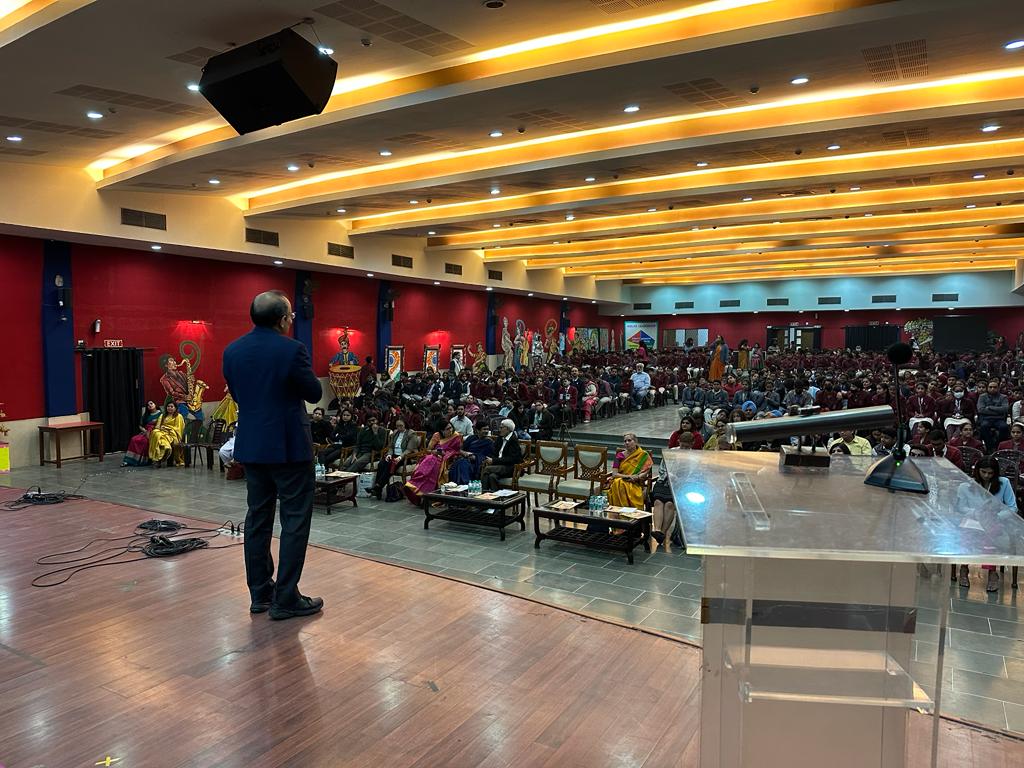 "I congratulate all the winners of the SHE STEM 2022. I have to say what caught my attention was that every single idea was addressing a fundamental constraint confronting us," said Dr. Chintan Viashnav.