Salient Features of NEP-2020
The National Education Policy 2020 proposes various reforms in school education as well as higher education including technical education.
National Education Policy 2020 was announced on 29.07.2020. The National Education Policy 2020 proposes various reforms in school education as well as higher education including technical education. A number of action points/activities for implementation in school education as well as higher education are mentioned in the National Education Policy 2020. Details of the salient features of NEP 2020 are as follows-
Ensuring Universal Access at All Levels of schooling from pre-primary school to Grade 12;
Ensuring quality early childhood care and education for all children between 3-6 years;
New Curricular and Pedagogical Structure (5+3+3+4);
No hard separations between arts and sciences, between curricular and extra-curricular activities, between    vocational and academic streams;
Establishing National Mission on Foundational Literacy and Numeracy;
Emphasis on promoting multilingualism and Indian languages; The medium of instruction until at least Grade 5, but preferably till Grade 8 and beyond, will be the home language/mother tongue/local language/regional language.
Assessment reforms – Board Exams on up to two occasions during any given school year, one main examination and one for improvement, if desired;
Setting up of a new National Assessment Centre, PARAKH (Performance Assessment, Review, and Analysis of Knowledge for Holistic Development);
Equitable and inclusive education – Special emphasis is given to Socially and Economically Disadvantaged  Groups (SEDGs);
A separate Gender Inclusion fund and Special Education Zones for disadvantaged regions and groups;
Robust and transparent processes for recruitment of teachers and merit based performance;
Ensuring availability of all resources through school complexes and clusters;
(xiii) Setting up of State School Standards Authority (SSSA);
(xiv) Exposure to vocational education in school and higher education system;
Increasing GER in higher education to 50%;
(xvi) Holistic and Multidisciplinary Education with multiple entry/exit options;
NTA to offer Common Entrance Exam for Admission to HEIs;
Establishment of Academic Bank of Credit;
(xix) Setting up of Multidisciplinary Education and Research Universities (MERUs);
Setting up of National Research Foundation (NRF);
(xxi) 'Light but Tight' regulation;
The single overarching umbrella body for the promotion of the higher education sector including teacher education and excluding medical and legal education- the Higher Education Commission of India (HECI)-with independent bodies for standard setting- the General Education Council; funding-Higher Education Grants Council (HEGC); accreditation- National Accreditation Council (NAC); and regulation- National Higher Education Regulatory Council (NHERC);
Expansion of open and distance learning to increase Gross Enrolment Ratio (GER).
Internationalization of Education
Professional Education will be an integral part of the higher education system. Stand-alone technical universities, health science universities, legal and agricultural universities, or institutions in these or other fields, will aim to become multi-disciplinary institutions.
Teacher Education – 4-year integrated stage-specific, subject-specific Bachelor of Education
Establishing a National Mission for Mentoring.
Creation of an autonomous body, the National Educational Technology Forum (NETF) to provide a platform for the free exchange of ideas on the use of technology to enhance learning, assessment, planning, and administration. Appropriate integration of technology into all levels of education.
Achieving 100% youth and adult literacy.
Multiple mechanisms with checks and balances will combat and stop the commercialization of higher education.
All education institutions will be held to similar standards of audit and disclosure as not-for-profit entities.
The Centre and the States will work together to increase the public investment in the Education sector to reach 6% of GDP at the earliest.
Strengthening of the Central Advisory Board of Education to ensure coordination to bring overall focus on quality education.
NEP 2020 aims to increase the GER to 100% in preschool to secondary level by 2030 whereas GER in Higher Education includes vocational education from 26.3% (2018) to 50% by 2035.
The Central Sector Scheme Pandit Madan Mohan Malaviya National Mission on Teachers and Teaching (PMMMNMTT) was launched in 2014 to address comprehensively all issues related to Teacher Training/ Capacity Building and Professional Development of Teachers. Under the components, a total of 95 Centres were established throughout the country through which faculties/Teachers have been trained. Currently, The Standing Finance Committee has appraised the Scheme and recommended it for continuation till 2025-2026 with a total outlay of Rs. 493.68 crores. Under the PMMMNMTT Scheme Centres are established on the basis of the proposals received from education institutions, their screening by the Screening Committee, and approval by the Project Approval Board.
The information was given by the Minister of State for Education, Dr. Subhas Sarkar in a written reply in the Lok Sabha on 1st August 2022.
Here is a set of infographics highlighting the fundamental principles of National Education Policy 2020: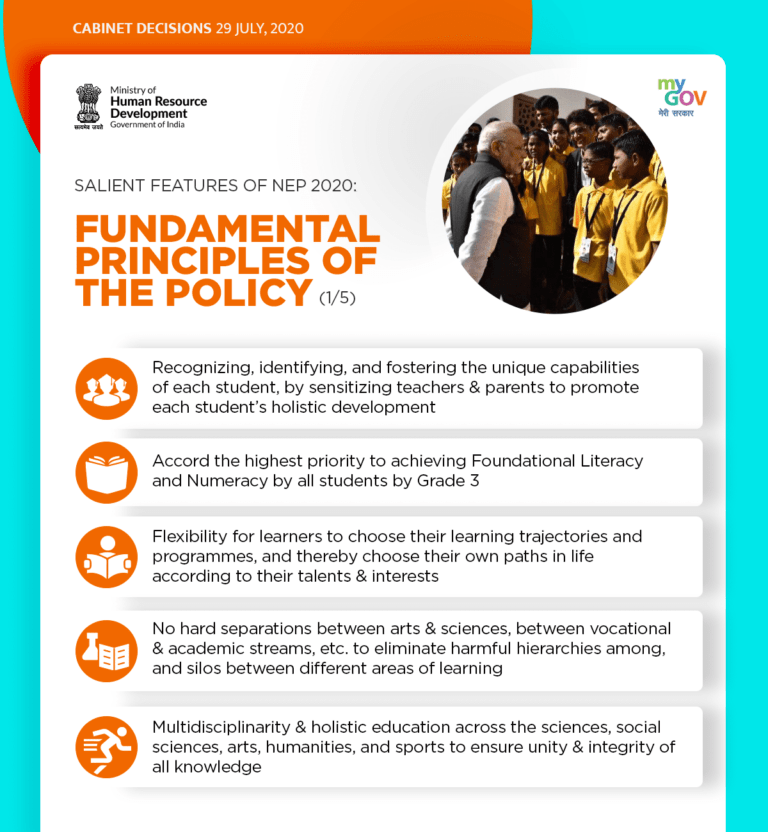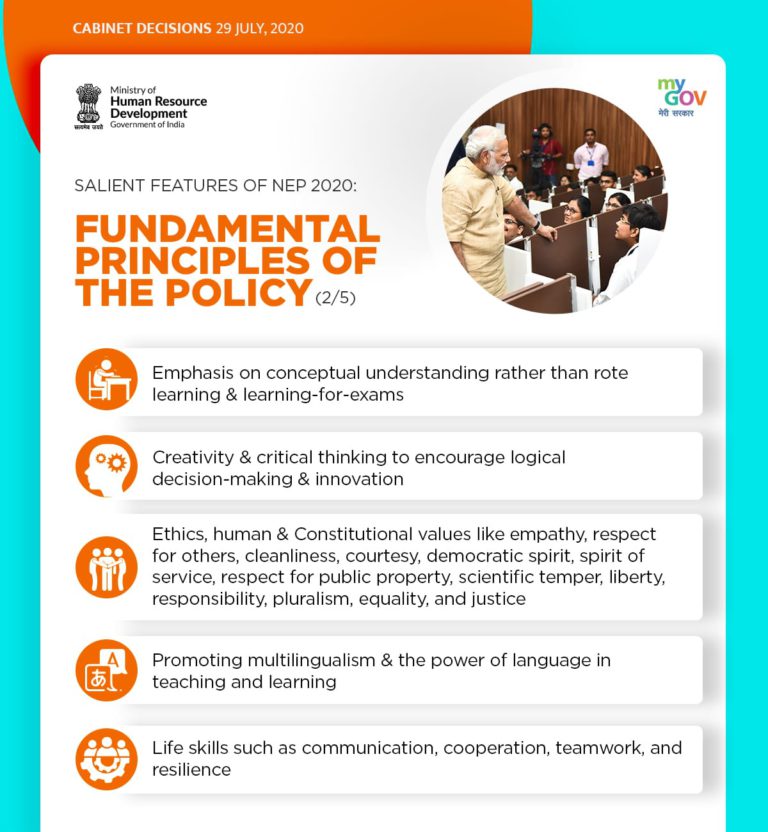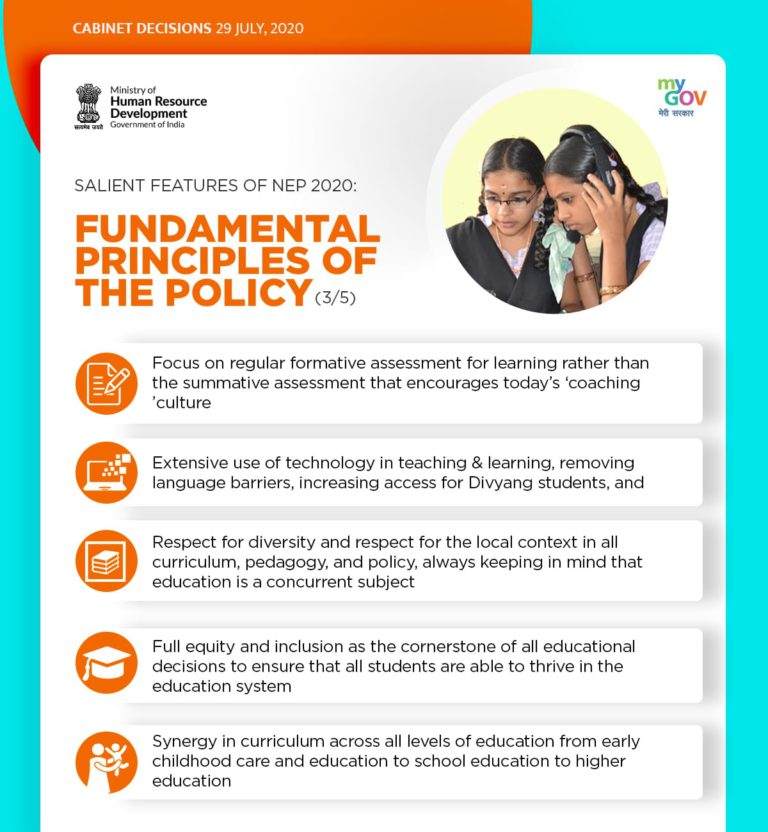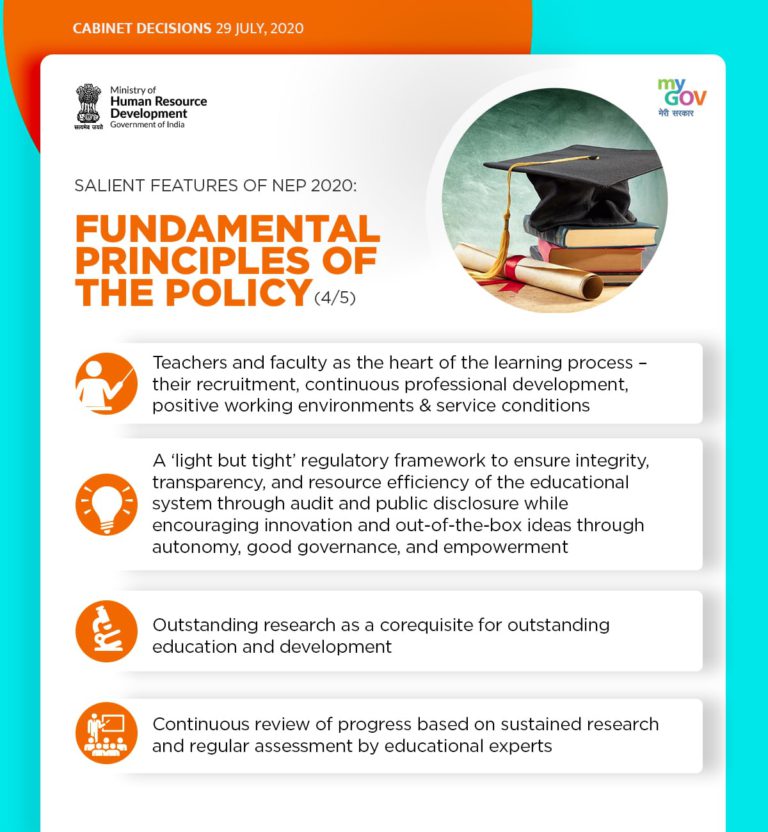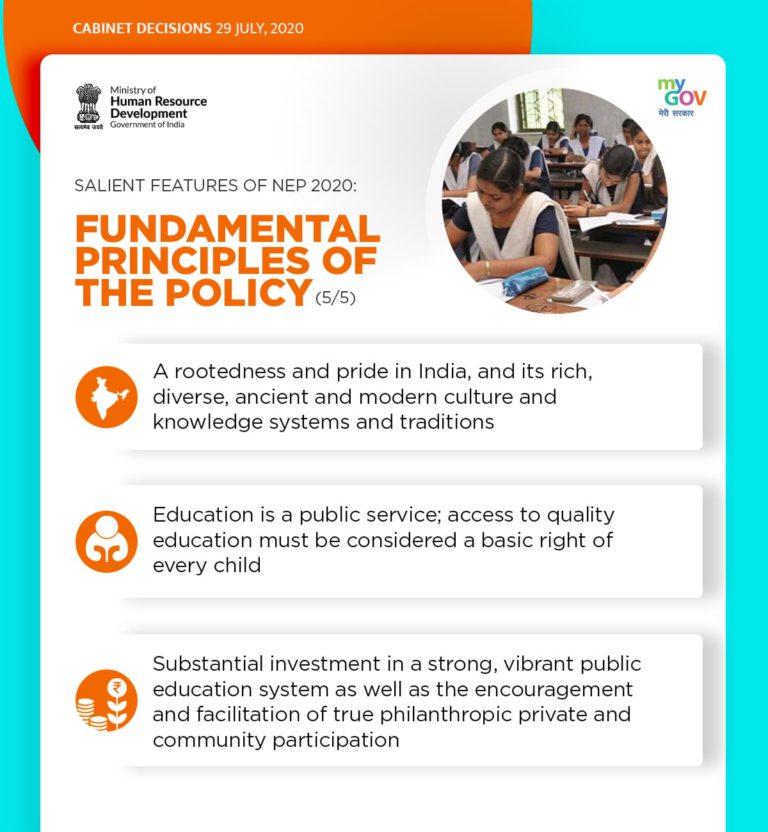 The Power of Emotional Intelligence: How SEL Can Transform Learning
Creating a culture of respect and kindness in the classroom fosters a sense of community and belonging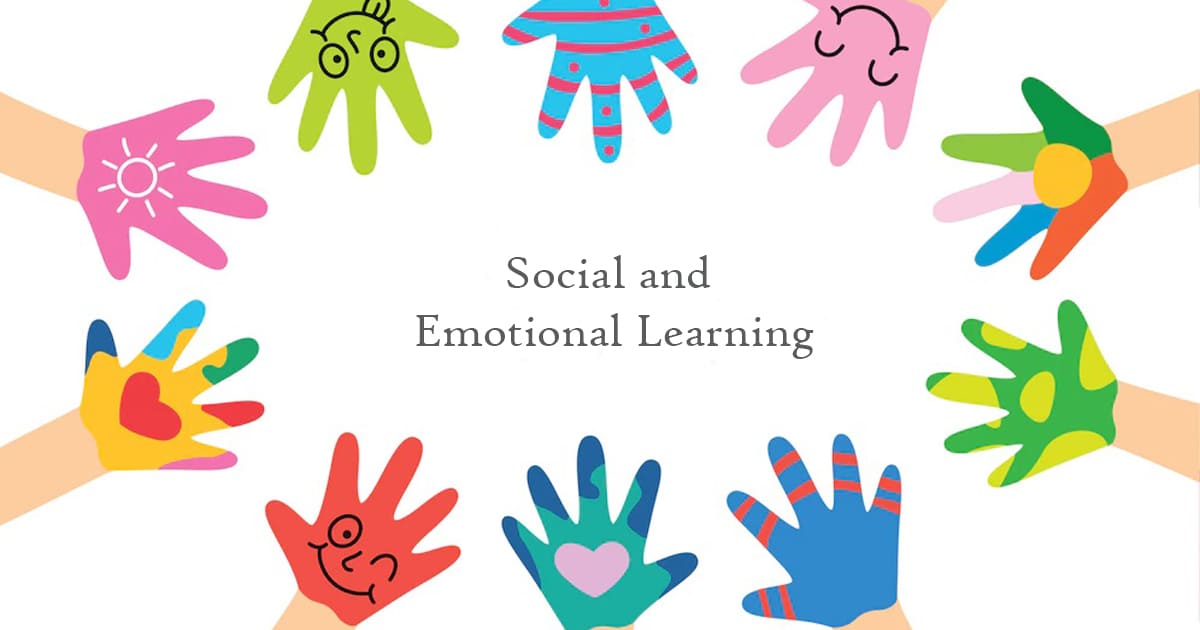 Empathy and understanding are critical elements of a positive and supportive learning environment in the classroom. These qualities help the students to develop a sense of belonging and connection to their classmates and teachers. These elements also promote effective communication, cooperation with one another, and collaboration among students.
Empathy is the ability to understand and share the feelings of others. It involves the awareness of the emotions of others and responding to them with sensitivity, compassion, and kindness. Empathy is a fundamental skill for building healthy relationships, resolving conflicts, and creating a supportive community.
Understanding, on the other hand, involves the comprehension of information, ideas, or situations. It is the ability to perceive and interpret the world around us. Understanding is essential for critical thinking, problem-solving, and decision-making.
To build empathy and understanding in the classroom, teachers need to create a positive and safe learning environment where students feel valued, respected, and supported. Here are some strategies that can help achieve this goal:
Model empathy and kindness – Teachers should model empathy and kindness in their interactions with students. It begins with the promotion of a comfortable environment. Teachers should practice actively listening, expressing gratitude, and showing appreciation for diversity. When students see their teachers practicing empathy and kindness, they are more likely to develop these qualities themselves.
Create a culture of respect and kindness – Teachers should establish a model code of conduct and should expect cordial behaviour. Students should be provided with consistent feedback when students fail to meet those expectations. They should also encourage students to be respectful and empathetic towards one another. Creating a culture of respect and kindness in the classroom fosters a sense of community and belonging.
Provide opportunities for students to share their perspectives and experiences – Teachers can create opportunities for students to share their personal experiences and perspectives through class discussions, group projects, or personal reflection assignments. When students are given the chance to express themselves in a safe and supportive environment, they are more likely to develop empathy toward others and gain a deeper understanding of the world around them.
Expose students to diverse perspectives and cultures – Students grow empathy towards other people when they realize that their perspective is not absolute. This can be achieved only when students are exposed to diverse perspectives and cultures. They can do this by incorporating multicultural literature, films, and other media into the classroom curriculum. By exposing students to a range of experiences and perspectives, teachers can help them appreciate the richness and complexity of the world around them.
Encourage acts of kindness and service – Teachers can build empathy and understanding in the classroom by encouraging their students to engage in acts of kindness and service. An efficient way to achieve this is by way of engaging students in community service projects and volunteer work. Teachers can arrange field visits to different NGOs. On daily basis, small acts of kindness such as holding the door open for someone or offering a word of encouragement to a classmate will also go a long way in molding students' mentality. With this, students will develop a greater sense of empathy and compassion towards others, and they learn to appreciate the value of giving back to their community.
Empathy and understanding are not only critical for building a positive and supportive learning environment but also for promoting social-emotional learning. Social-emotional learning (SEL) is the process of developing social and emotional skills that help individuals build healthy relationships, manage emotions, and make responsible decisions. SEL is essential for overall success in life.
Empathy is one of the five core SEL skills. The other skills are self-awareness, self-management, responsible decision-making, and relationship skills. These skills work together to help individuals navigate the social and emotional challenges of life.
Research has shown that schools that prioritize SEL have higher academic achievement, improved social skills, and better mental health. Moreover, students who have strong SEL skills are more likely to carry their academic life to higher education.
Conclusion
Teaching empathy and understanding in the classroom is not a one-time event, but an ongoing process that requires consistent effort and attention. It is essential to incorporate these skills into the curriculum and to model them in classrooms.
In conclusion, building empathy and understanding in the classroom is essential for creating a positive and supportive learning environment. I would further go on to say that more than being part of the curriculum, it must be a part of the school's culture. It is only by establishing a culture of respect and kindness; promotions and acceptance of sharing of personal experiences and perspectives, and encouraging simple acts of kindness and service, that teachers can help their students to develop a greater sense of empathy and understanding towards others. When students learn to appreciate the diversity of experiences and perspectives that exist in the world around them, they are better equipped to navigate the challenges and complexities of the modern world.
Author – Mandvi Tripathi, Principal, Lucknow International Public School, Lucknow