Salient Features of NEP-2020
The National Education Policy 2020 proposes various reforms in school education as well as higher education including technical education.
National Education Policy 2020 was announced on 29.07.2020. The National Education Policy 2020 proposes various reforms in school education as well as higher education including technical education. A number of action points/activities for implementation in school education as well as higher education are mentioned in the National Education Policy 2020. Details of the salient features of NEP 2020 are as follows-
Ensuring Universal Access at All Levels of schooling from pre-primary school to Grade 12;
Ensuring quality early childhood care and education for all children between 3-6 years;
New Curricular and Pedagogical Structure (5+3+3+4);
No hard separations between arts and sciences, between curricular and extra-curricular activities, between    vocational and academic streams;
Establishing National Mission on Foundational Literacy and Numeracy;
Emphasis on promoting multilingualism and Indian languages; The medium of instruction until at least Grade 5, but preferably till Grade 8 and beyond, will be the home language/mother tongue/local language/regional language.
Assessment reforms – Board Exams on up to two occasions during any given school year, one main examination and one for improvement, if desired;
Setting up of a new National Assessment Centre, PARAKH (Performance Assessment, Review, and Analysis of Knowledge for Holistic Development);
Equitable and inclusive education – Special emphasis is given to Socially and Economically Disadvantaged  Groups (SEDGs);
A separate Gender Inclusion fund and Special Education Zones for disadvantaged regions and groups;
Robust and transparent processes for recruitment of teachers and merit based performance;
Ensuring availability of all resources through school complexes and clusters;
(xiii) Setting up of State School Standards Authority (SSSA);
(xiv) Exposure to vocational education in school and higher education system;
Increasing GER in higher education to 50%;
(xvi) Holistic and Multidisciplinary Education with multiple entry/exit options;
NTA to offer Common Entrance Exam for Admission to HEIs;
Establishment of Academic Bank of Credit;
(xix) Setting up of Multidisciplinary Education and Research Universities (MERUs);
Setting up of National Research Foundation (NRF);
(xxi) 'Light but Tight' regulation;
The single overarching umbrella body for the promotion of the higher education sector including teacher education and excluding medical and legal education- the Higher Education Commission of India (HECI)-with independent bodies for standard setting- the General Education Council; funding-Higher Education Grants Council (HEGC); accreditation- National Accreditation Council (NAC); and regulation- National Higher Education Regulatory Council (NHERC);
Expansion of open and distance learning to increase Gross Enrolment Ratio (GER).
Internationalization of Education
Professional Education will be an integral part of the higher education system. Stand-alone technical universities, health science universities, legal and agricultural universities, or institutions in these or other fields, will aim to become multi-disciplinary institutions.
Teacher Education – 4-year integrated stage-specific, subject-specific Bachelor of Education
Establishing a National Mission for Mentoring.
Creation of an autonomous body, the National Educational Technology Forum (NETF) to provide a platform for the free exchange of ideas on the use of technology to enhance learning, assessment, planning, and administration. Appropriate integration of technology into all levels of education.
Achieving 100% youth and adult literacy.
Multiple mechanisms with checks and balances will combat and stop the commercialization of higher education.
All education institutions will be held to similar standards of audit and disclosure as not-for-profit entities.
The Centre and the States will work together to increase the public investment in the Education sector to reach 6% of GDP at the earliest.
Strengthening of the Central Advisory Board of Education to ensure coordination to bring overall focus on quality education.
NEP 2020 aims to increase the GER to 100% in preschool to secondary level by 2030 whereas GER in Higher Education includes vocational education from 26.3% (2018) to 50% by 2035.
The Central Sector Scheme Pandit Madan Mohan Malaviya National Mission on Teachers and Teaching (PMMMNMTT) was launched in 2014 to address comprehensively all issues related to Teacher Training/ Capacity Building and Professional Development of Teachers. Under the components, a total of 95 Centres were established throughout the country through which faculties/Teachers have been trained. Currently, The Standing Finance Committee has appraised the Scheme and recommended it for continuation till 2025-2026 with a total outlay of Rs. 493.68 crores. Under the PMMMNMTT Scheme Centres are established on the basis of the proposals received from education institutions, their screening by the Screening Committee, and approval by the Project Approval Board.
The information was given by the Minister of State for Education, Dr. Subhas Sarkar in a written reply in the Lok Sabha on 1st August 2022.
Here is a set of infographics highlighting the fundamental principles of National Education Policy 2020: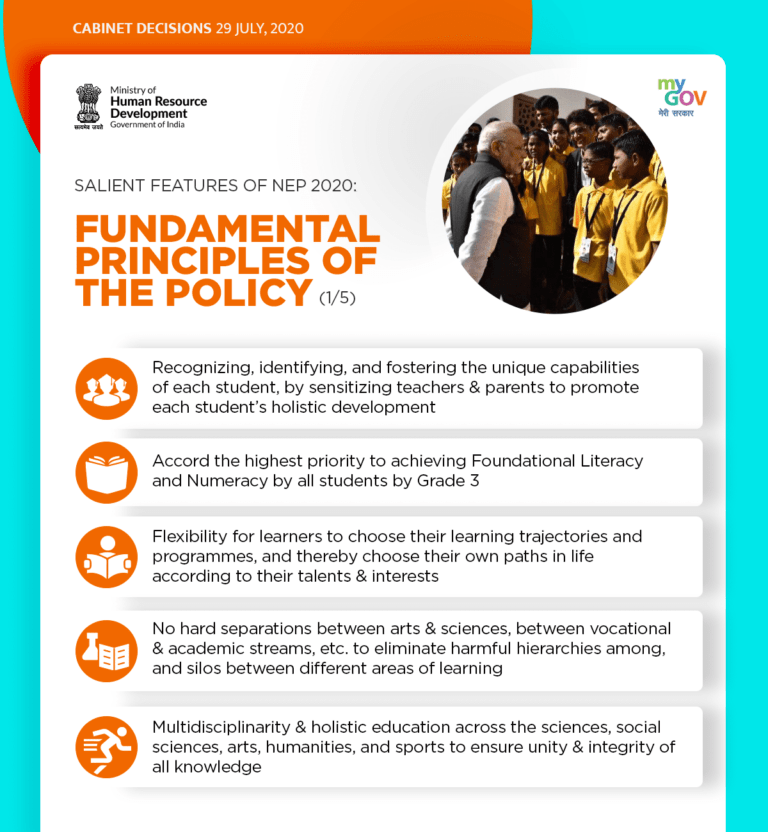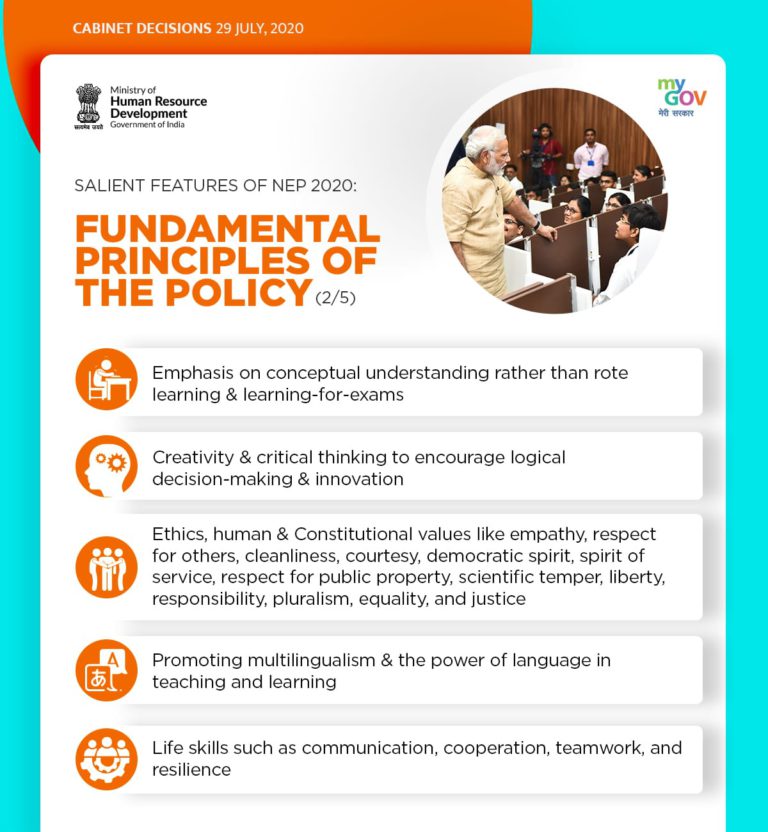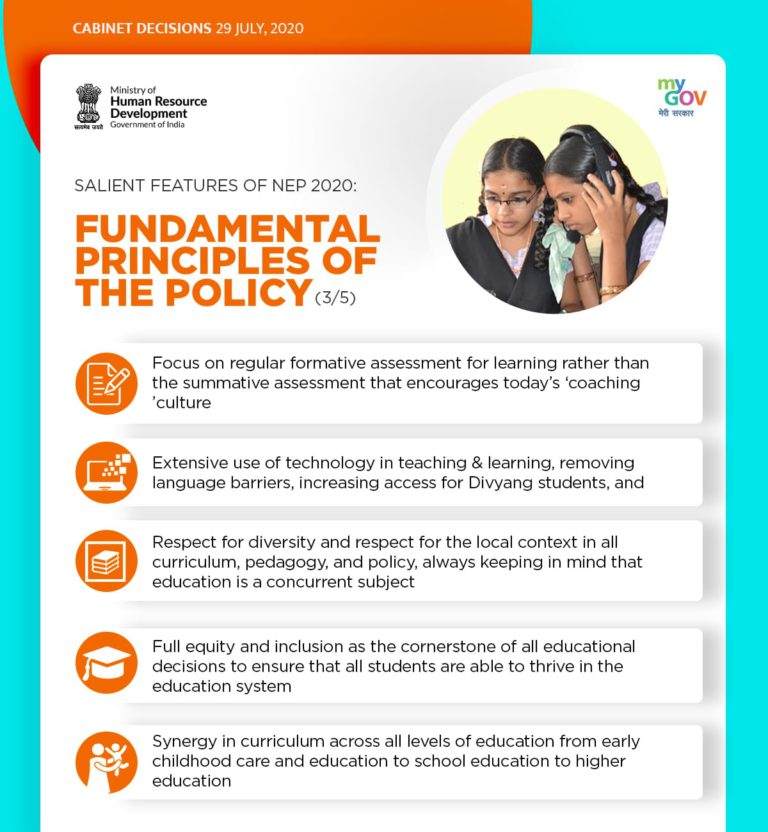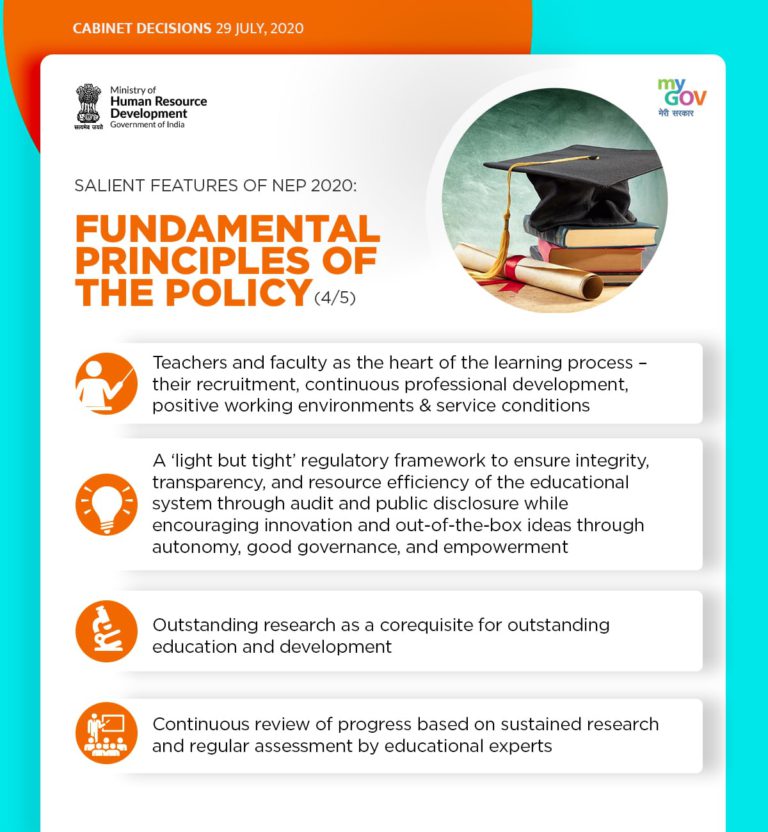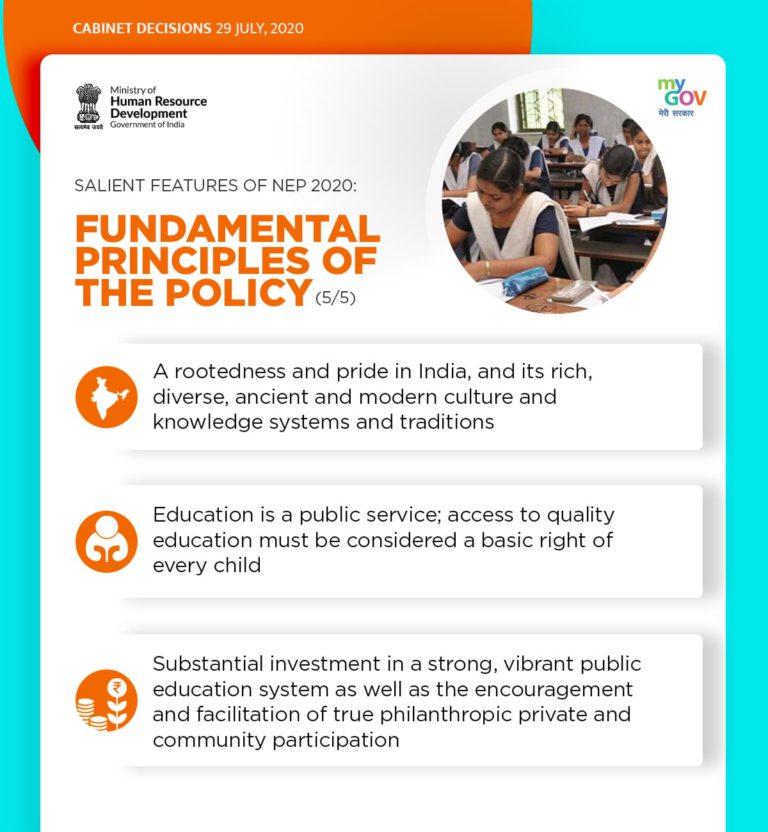 Education for Girls
Department of School Education and Literacy (DoSEL), Ministry of Education is implementing 'Samagra Shiksha', for universalization of quality education throughout the country in coordination with the States and UTs.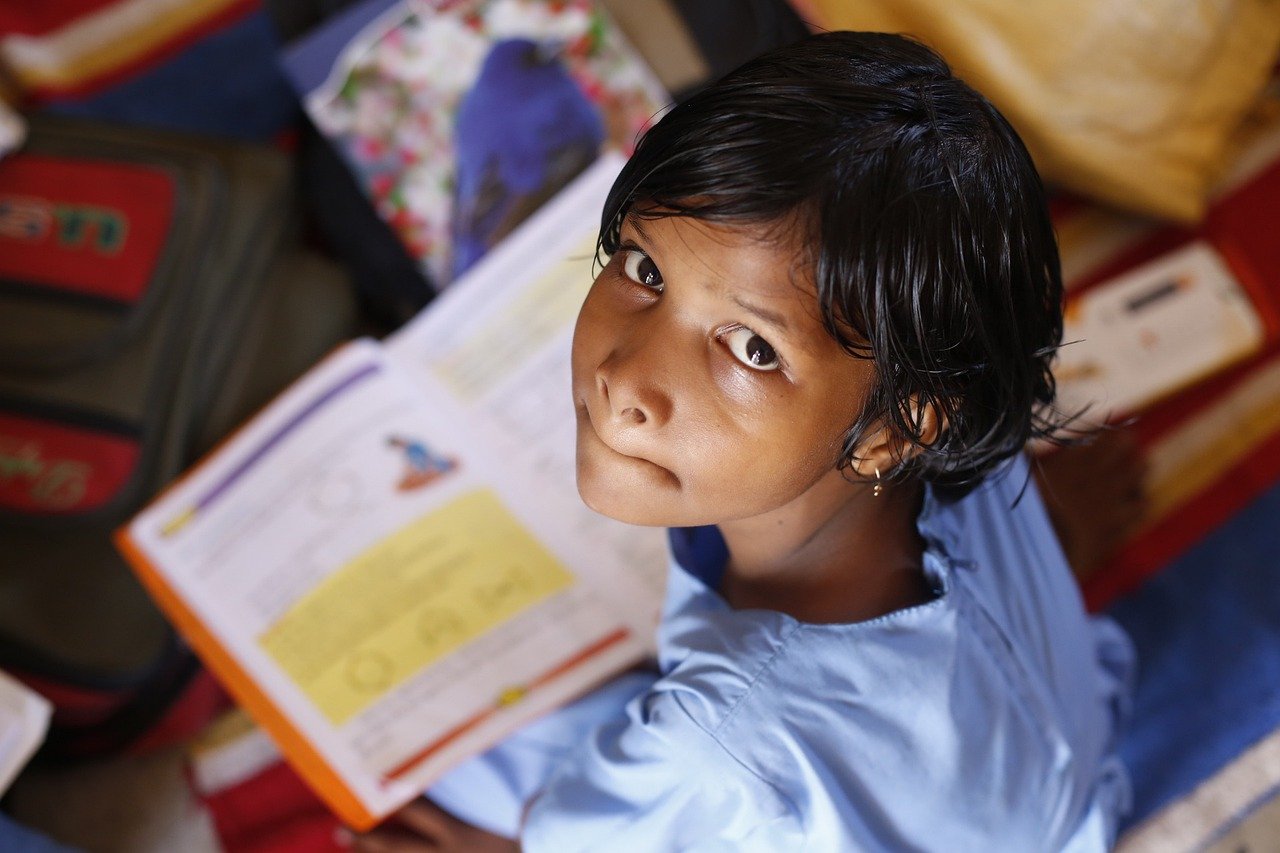 Education is a subject in the concurrent list of the Constitution and the majority of schools are under the jurisdiction of the State Government. Department of School Education and Literacy (DoSEL), Ministry of Education is implementing a centrally sponsored Integrated Scheme for School Education 'Samagra Shiksha', effective from 2018-19, for universalization of quality education throughout the country in coordination with the States and UTs. Bridging gender and social category gaps at all levels of school education is one of the major objectives of the Samagra Shiksha. From the year 2018-19 to 2020-21, the Drop-out rate of girls at the Secondary level decreased from 17.03% to 13.7%, Gross Enrolment Ratio (GER) at the secondary level increased from 76.93 to 79.45, and GER at the higher secondary level has increased from 50.84 to 54.65. (Source: UDISE+).
Under Samagra Shiksha, there is a provision for gender-segregated toilets in all schools. As per UDISE+ 2020-21, 97.45% of Government schools have gender-segregated toilets. Also, there is a provision of a Composite School Grant which may be used for annual maintenance and repair of existing school buildings, toilets, and other facilities to upkeep the infrastructure in good condition.
School Health Programme, under Ayushman Bharat which is a joint collaborative initiative of the Ministry of Health and Family Welfare and DoSEL, Ministry of Education, a module on 'Growing up Healthy' has been incorporated, which interalia includes information on physical challenges during adolescence and attaining puberty.
The National Council of Educational Research and Training (NCERT) is implementing the Adolescence Education Programme (AEP) as part of the National Population Education Project (NPEP). One of the learning outcomes of AEP is to make the learners aware of the concerns of adolescence, i.e. process of growing up during adolescence, and to inculcate in them a positive attitude regarding these concerns.
Additionally, vide a joint letter of Secretary, DoSEL, and Secretary, Ministry of Jal Shakti dated 08.03.2022, the states have been advised to utilize funds earmarked for Menstrual Hygiene Management (MHM) and management of menstrual waste under the Swachh Bharat Mission (Gramin) Phase-II at the village level, for installation or maintenance of incinerators in schools having girls from classes VI to XII and for creating awareness on MHM among adolescent girls and in the society in general.
Moreover, all States and UTs have been requested to take necessary steps to create awareness amongst adolescent girls in schools about the safe usage and the benefits of Sanitary Napkins. It has also been communicated that subsidized sanitary napkins are available at the Jan Aushadi Kendras set up by the Ministry of Chemical and Fertilisers, Government of India.
Under Samagra Shiksha, there is a provision of Kasturba Gandhi Balika Vidyalayas (KGBVs) in the Educationally Backward Blocks, which are residential schools for girls belonging to disadvantaged groups such as SC, ST, OBC, Minority, and Below Poverty Line (BPL). KGBVs were functional for classes 6th to 8th under the erstwhile Sarva Shiksha Abhiyan. Under Samagra Shiksha, a provision has been made to upgrade/converge the KGBVs with girls hostels to cover girls up to classes 10th (Type II) and 12th (Type III) to reduce dropout and enhance enrolment of girls at Secondary and Higher Secondary levels. In KGBVs, specific skill training is imparted to provide need-based vocational education to girls.
Further, Special State Specific Projects for varied interventions under equity are emphasized for enhancing access, retention, and quality of girls by promoting enrolment drives, retention and motivation camps, gender sensitization modules, etc. Financial Support is also being provided under State Specific projects as per the allocation of flexi funds under quality to the state subject to viable proposals received from the respective State and UTs. Such projects include Life Skills, Awareness programmes, Incinerators, Sanitary Pad Vending Machines etc.
Moreover, Samagra Shiksha aims at integrating Vocational Education with general academic education in all Secondary/Senior Secondary schools including KGBVs; enhancing the Employability and Entrepreneurial abilities of the students, providing exposure to working environment; and generating awareness amongst students about various career options so as to enable them to make a choice in accordance with their aptitude, competence, and aspirations.
The information was given by the Minister of State for Education, Smt. Annpurna Devi in a written reply in the Lok Sabha on 1st August 2022.