Ministry of Education launches YUVA 2.0
YUVA 2.0 – Prime Minister's Scheme for Mentoring Young Authors is an Author Mentorship programme to train young and budding authors (below 30 years of age) in order to promote reading, writing, and book culture in the country, and project India and Indian writings globally.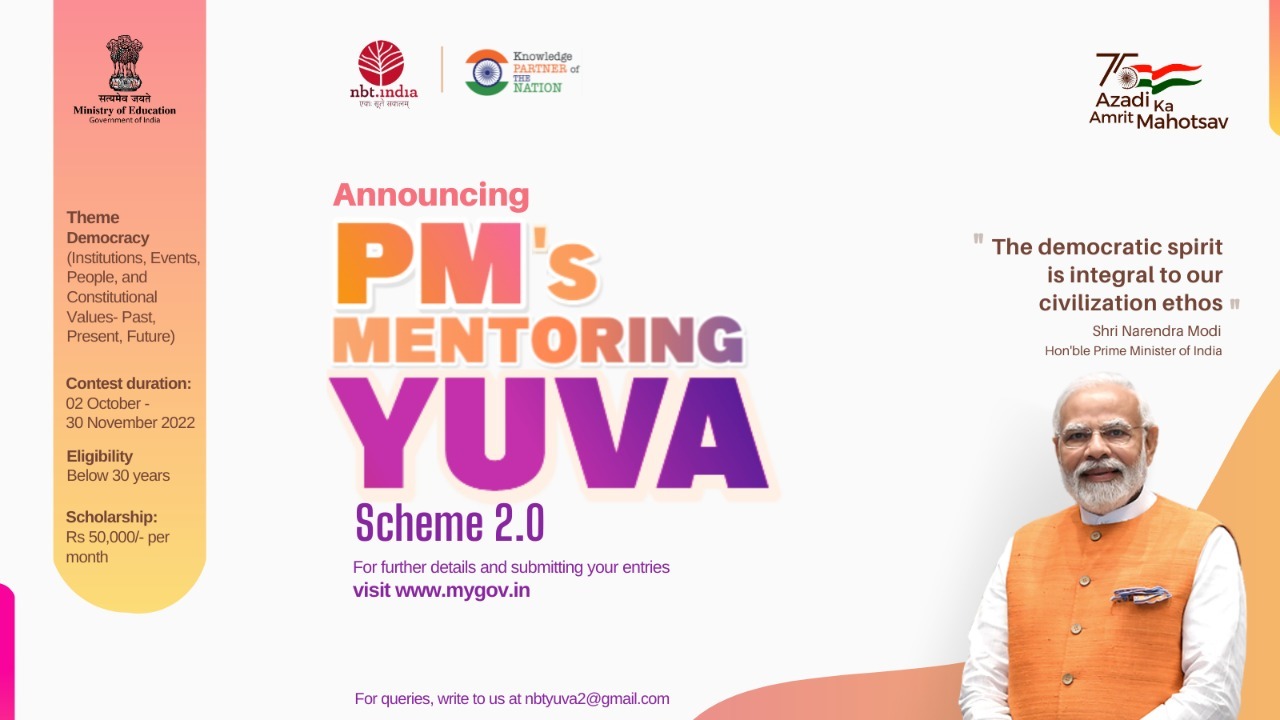 On the occasion of Gandhi Jayanti, the Ministry of Education, Department of Higher Education launched YUVA 2.0 – Prime Minister's Scheme for Mentoring Young Authors. YUVA 2.0 is an Author Mentorship programme to train young and budding authors (below 30 years of age) in order to promote reading, writing, and book culture in the country, and to project India and Indian writings globally.
In view of the significant impact of the first edition of YUVA with large-scale participation from young and budding authors in 22 different Indian languages and English, YUVA 2.0 is now being launched.
The launch of YUVA 2.0 (Young, Upcoming and Versatile Authors) is in tune with the Prime Minister's vision to encourage the youth to understand and appreciate India's democracy. YUVA 2.0 is a part of the India@75 Project (Azadi Ka Amrit Mahotsav) to bring to the fore the perspectives of the young generation of writers on the THEME: 'Democracy (institutions, events, people, constitutional values – past, present, future)' in an innovative and creative manner. This scheme will thus help to develop a stream of writers who can write on a spectrum of subjects to promote Indian heritage, culture, and knowledge system.
NEP 2020 has emphasised empowering young minds and creating a learning ecosystem that can prepare young readers/learners for leadership roles in the future world. India tops the chart in youth population being 66% of the total, waiting to be tapped for capacity building and thereby nation building. With the purpose of mentoring a new generation of young creative writers, there is an imminent requirement to take initiatives at the highest level. In this context, YUVA 2.0 will go a long way in laying the foundation for the future leaders of the creative world.
The National Book Trust, India, under the Ministry of Education as the Implementing Agency will ensure phase-wise execution of the Scheme under well-defined stages of mentorship. The books prepared under this scheme will be published by National Book Trust, India, and will also be translated into other Indian languages ensuring the exchange of culture and literature, thereby promoting 'Ek Bharat Shreshtha Bharat'. The selected young authors will interact with some of the best authors in the world, participate in literary festivals, etc.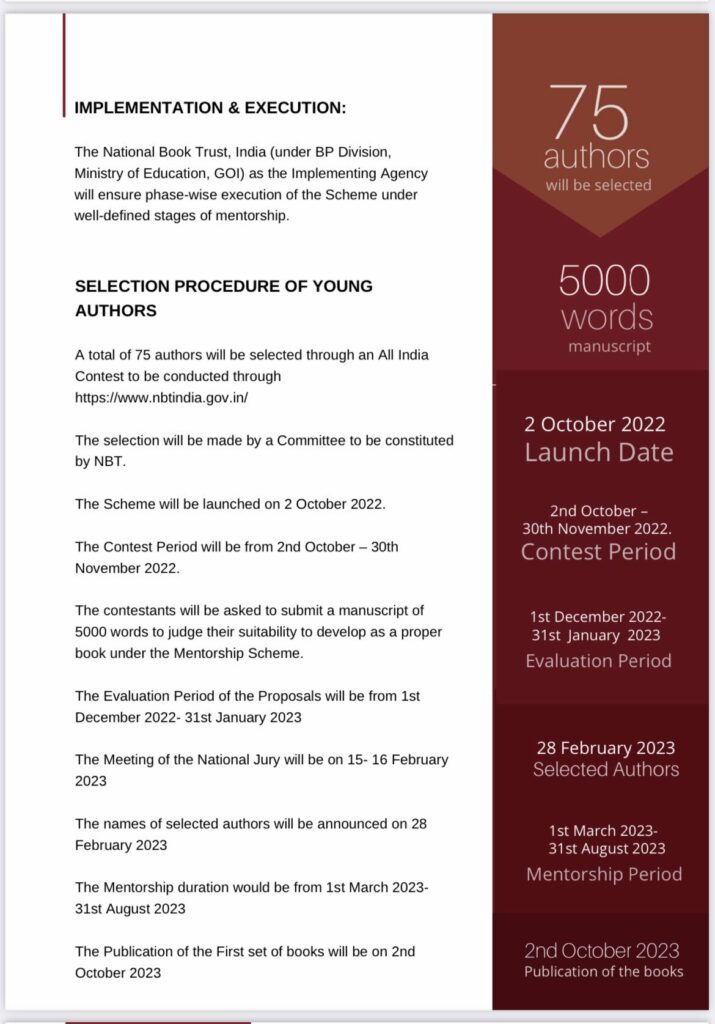 The scheme will help to develop a stream of writers who can write on various facets of Democracy in India encompassing the past, present, and future. Besides, it will also provide a window to the aspiring youth to articulate themselves and present a comprehensive outlook of Indian Democratic values on domestic as well as international platforms. This scheme has been conceptualized on the premise that 21st-century India needs to groom a generation of young authors to create ambassadors of Indian literature. In view of the fact that our country is ranked third in the arena of book publishing and we have a treasure trove of indigenous literature, India must project it on the global stage.
The Schedule of YUVA 2.0 (Young, Upcoming and Versatile Authors) is as follows:
Announcement of the Scheme 2 October 2022.
A total of 75 authors will be selected through an All India Contest to be conducted through https://www.mygov.in/ from 2 October 2022 – 30 November 2022.
The received proposals would be evaluated from 1 December 2022 – 31 January 2023.
The winners will be announced on 28 February 2023.
The young authors will be trained by eminent authors/mentors from 1 March 2023 – 31 August 2023.
Under the mentorship, the first set of published books will be launched on 2 October 2023.
International Baccalaureate Experiences 31% Surge in Authorized IB World Schools Across India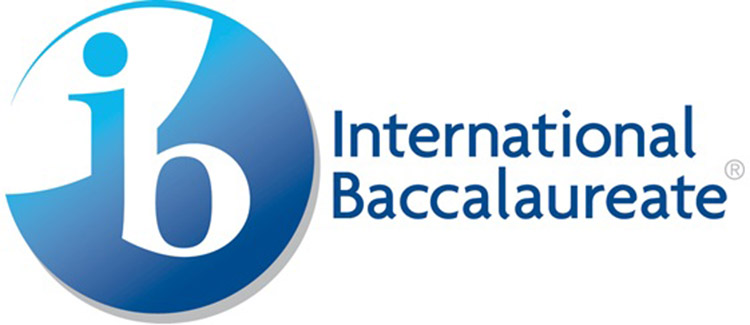 The International Baccalaureate (IB), a global educational foundation headquartered in Switzerland, reports substantial growth over the past five years in India. The surge, amounting to a 31% increase in authorized IB World Schools, reflects the growing preference for IB programs among schools nationwide. According to Haif Bannayan, the Global Director of Business Development at IB, the organization offers four comprehensive programs for students aged 3-19: the Primary Years Programme (PYP), Middle Years Programme (MYP), Diploma Programme (DP), and Career-Related Programme (CP).
As of 2023, there are now 226 authorized IB World Schools across India, collectively delivering 378 authorized IB programs. This breakdown includes 138 schools offering PYP, 59 schools providing MYP, 155 schools delivering DP, and 26 schools offering CP. However, the current distribution of IB World Schools remains concentrated in metropolitan areas like New Delhi, Gurugram, Mumbai, Kolkata, Bengaluru, and Chennai.
To address this imbalance and make IB education more accessible and affordable nationwide, the Delhi Board of Secondary Education (DBSE) collaborated with IB as part of Delhi's educational reforms under Arvind Kejriwal. In August 2021, they signed a Memorandum of Understanding to introduce IB programs in 30 government schools in Delhi. This initiative aims to encourage more schools to adopt the IB curriculum in the future.
Recognizing the evolving educational landscape in India, IB is actively collaborating with Indian institutions and educational authorities to extend its framework to students from diverse backgrounds and regions. Haif Bannayan expressed eagerness for ongoing dialogues with leaders to facilitate the delivery of high-quality, globally-oriented education to an even greater number of students.
The Diploma Programme (DP) offered by IB stands out globally, consistently aligning with or surpassing international standards, as indicated by the DP Country Alignment Study 2023. The study emphasizes the adaptability of DP courses to diverse national contexts, showcasing their seamless integration. Furthermore, it underscores the meticulous crafting of DP curricula to facilitate substantial depth and breadth of learning, illustrating their rigor and comprehensive educational value.
Bannayan highlighted the IB's acclaim for its emphasis on languages and global principles, coupled with a consideration of students' cultural backgrounds. This approach fosters a profound comprehension of the world, shaping graduates into multilingual thinkers poised to make a positive impact on a global scale.