21st Century Pedagogy and Teaching Methods
Imparting 21st-century skills has become the need of the hour, with schools and institutions emphasising more on the imparting of the same since it is these skills that give a student an edge over the others.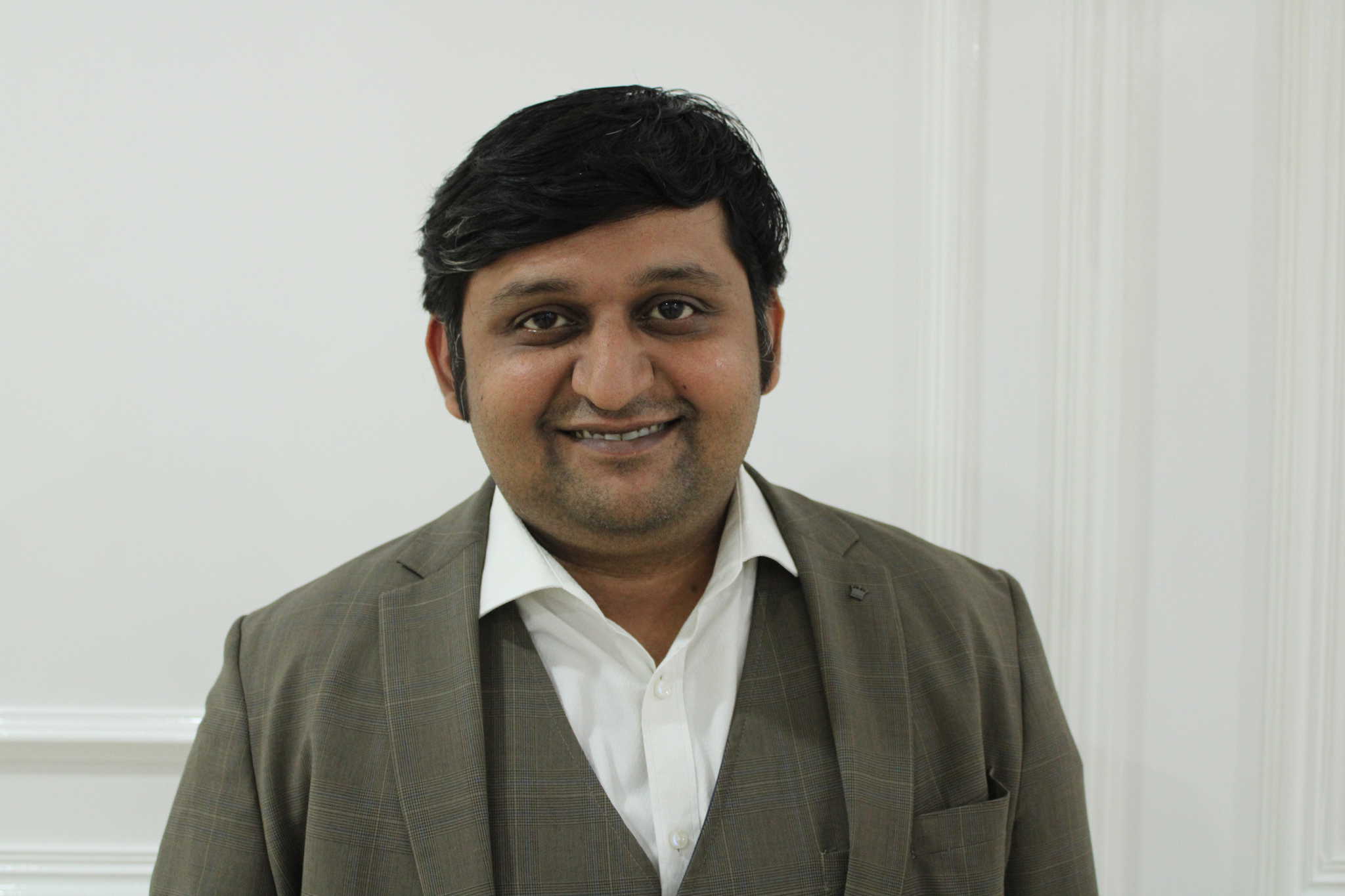 The 21st century is an era that is looked upon with unlimited hopes and expectations. There has been rapid progress and development in every domain and man's hunger and thirst to unravel the mysteries of undiscovered realms has compelled him to come up with the most astonishing discoveries. There have been major advancements in the field of technology which has pervaded all of life's realms, including the education sector, which has witnessed a sea-change in all its procedures.
Imparting 21st-century skills has become the need of the hour, with schools and institutions emphasising more on the imparting of the same since it is these skills that give a student an edge over the others.
Well understanding the importance of 21st-century skills and the need for the same to be instilled in our students, we at Adani World School, are making every effort towards raising confident 21st-century learners, who would not only possess knowledge but also be equipped to come up with creative problem-solving skills, critical thinking, logical analysis, to name a few of the 21st-century skills. One would thus agree with me, when I say, that these skills cannot be instilled with traditional teaching methods. Teaching methods, strategies, and pedagogies need to be worked upon and revised on a regular basis to keep our students abreast with the times. What once seemed to be a far-fetched idea, is now a reality, with our students living in that reality. A whole lot of exposure and information at the click of a button makes classroom sessions stand at a huge risk of becoming redundant and even ineffective. A teacher's hard work of preparing for the lectures and classroom sessions, thus becomes futile and the entire exercise proves to be a sheer waste of time and effort. At AWS, significant emphasis is laid on devising new teaching strategies, to not only retain a learner's interest but also stimulate his thinking to know more and comprehend better, since, we believe, that once these two important skills are achieved, we have done half the job. The other half, then lies in instigating a student to self-exploration and trying out new methods, thus being enlightened with answers to his queries.
Towards the imparting of these 21st-century skills, some of the teaching pedagogies that we implement at AWS are as follows:
Experiential Learning: Experiential learning or 'learning by doing' is what is followed strongly for subjects such as PBL and Mathematics. Once students themselves get involved in learning a certain concept, the results are noteworthy. This strategy is implemented through the making of a vertical garden, tailor visits to help young ones understand the types of fabrics and the process of cloth stitching before the final product, holiday projects, field visits, and laboratory experiments to name a few. Moreover, events such as Odyssey – Science Fest, Math Fest, ArtFest, etc. enable students to put all their learning to the test and explain the procedures in a clear and concise manner to the audience. The Jodo Gyan technique used to impart Math makes calculations not only easy but also attracts the students to try out new methods. One of the most dreaded subjects now become one of the most interesting ones.
Besides, getting the students gripped to the sessions, and the absorption of procedures, experiential learning also develops their thought processing skills and analytical skills, not to forget patience and appreciation for the happenings that they see around them. Once a student himself becomes a part of the process and goes through it, the comprehension and retention achieved are amazing. He/She then sets out to analyse the reason for the happenings and in this quest does a lot of back working, research, observations, etc., and finally arrives at a logical conclusion. Our aim here is achieved. It then doesn't take much to put all that has been observed, into writing, in a systematic manner.
Story Telling: This kind of strategy is applied more to teach language subjects and subjects like History. When a student narrates a story, it develops his/her communication skills. Is that all? Certainly not…it also develops in the student's thought-processing skills, nuances of storytelling, such as intonation, voice modulation, expressions (both facial and voice), retention, and comprehension. Also, when a student narrates a story, he is taken over by the feeling that his story must sound as interesting as possible.
This is done in AWS by way of conducting story-telling activities across grades, the story length varying for different age groups. 'Literati' or Language Fest is conducted every academic session, which witnesses various events such as Debates, Poetry-recitation competitions, Elocution competitions, and Drama activities, to hone communication skills in our students. Such events also lead to literary enrichment of our students who also learn about the rich heritage and culture of nations across the world, through stories. Moreover, they gain knowledge about the different genres of writing and also learn about the literary festivals held in our country, the Jaipur festival, being one of them. A whole lot of information is gained by the students through this festival, by way of projects and research work. Group discussions which are carried out at the end of every story or topic of history, enables students to come together and discuss a certain topic or issue, helping them to agree with their group members, voice out their opinion, and work together as a team to come up with a solution. Group discussions are thus conducted to promote team spirit, teamwork and tolerance for others' viewpoints, different from their own.
Certain times, teachers force the creative juices in students to flow by asking them to give a different ending to a story, or a twist in the plot, etc. This makes the air light, lends humour, and enables students to freely communicate their ideas without any inhibitions.
The Spell Bee competition is the most awaited competition, which also marks the culmination of Literati. As the name suggests, this competition tests the spelling power of students, to bring out perfection in their writing.
Value Education: Although not a separate subject, as we believe that values need to be exercised day-in and day-out and do not have a specific calling, at AWS, values are instilled in our students through theme-based assemblies, observing of World Food Day and Earth Day, etc. A sense of gratitude and appreciation and the need for honesty, integrity, helpfulness, and sincerity are woven into the classroom sessions, in every way possible. Moreover, students are made to understand the value of possessing a positive attitude and being optimistic at all times. This also ensures the socio-economic well-being of the students, which leads to happy students and a happy environment.
Enquiry Learning: A spirit of inquiry is encouraged and evoked in all our students. We believe that it is the spirit of inquiry that would help our students identify problems and come up with solutions. These are done across grades, for all subjects through situation-based activities, or even a question thrown to the class, throwing open a platform for discussion. I must state here, that students, as tender and young as they may seem, are filled with ideas and come up with the most unthought, novel solutions.
Future Problem Solving: Our students have been participating in the Model United Nations for the past two years and as they are being prepared for the same, they learn the art of predicting and foreseeing future problems that may arise and think of creative ways t solve such problems. Here they go above and beyond the boundaries of our nation and devise solutions for global peace, as they represent countries across the world. They do extensive research on the problems being faced by the particular country, its relationships with its neighbours, alliances, etc, and then present their argument at the MUN. One of our students also came back with the 'Best Recommendation Award' at MUN.
Outside Classroom Learning: A field trip and a visit to the Neelapattu Bird Sanctuary ensured that learning does not remain confined to the four walls of a classroom, rather that our young 21st-century learners, need more to walk with the times and be well informed. Several times, our Art educator, takes the children out on the ground or under a tree and asks them to draw what best attracts them.
These are a few of the teaching strategies that we are implementing in our school to ensure that we raise confident learners. Our objective does not stop here – for we seek to raise educated, confident, aware adults endowed with sensitivity to contribute to the upliftment of society and spread happiness wherever they go, towards which we have:
N-Embark: Greaders'Club and Nature's Club – While in Greaders'Club the focus is more on instilling a love for reading and books and giving an insight into the publishing industry and what it takes to become an author, the Nature's Club, focuses more on evoking sensitivity towards nature and devising ways to save it from further harm.
All efforts are made towards maintaining a happy school by keeping our students and staff happy. Each one is made to feel special and the overall well-being of every individual is looked into with their problems being solved to the best possible. Student-led conferences are encouraged to develop their confidence and drive away fear. Classroom sessions are often student-led with the teacher's talk time forming only 20 -40% of the entire session.
Students are allowed to make independent decisions and then their strengths and weaknesses are discussed in the decision to help them become wide decision-makers. This also makes them independent decision-makers, from small decisions to what they should wear for a class party to making a choice that could affect them in some way or the other.
Meaningful relationships between students and adults are encouraged to help them understand the meaning of one of the most important factors of a happy life. In this technology-driven world, where students are hooked to electronic devices, relationships are fast taking a backseat. Students are thus encouraged to forge new relationships and experience happiness when they form meaningful relationships with their friends, relatives, parents, teachers, etc.
Resolving conflicts is another important aspect that we seek to develop in our students, as they come together to resolve a conflict that could either be within the class or school or discuss on national and global issues, it helps them perceive things from multiple angles and thus broadens their horizon of thinking.
After reading all of the above, can we safely say then, that through the imparting of 21st-century skills, we at Adani World School seek to raise global citizens, who would devise solutions and strategies to make this world a better and a happier place?
Cheers
About the author:
Ritesh V. Mehta is the Principal of Adani World School.
What is Hybrid/Blended Learning?
We are lifelong learners and need to keep pace with the fast-paced technology so that our students are ready to take the next leap. Our classrooms have to echo that thought and vision at all times through new pedagogies and teaching-learning strategies.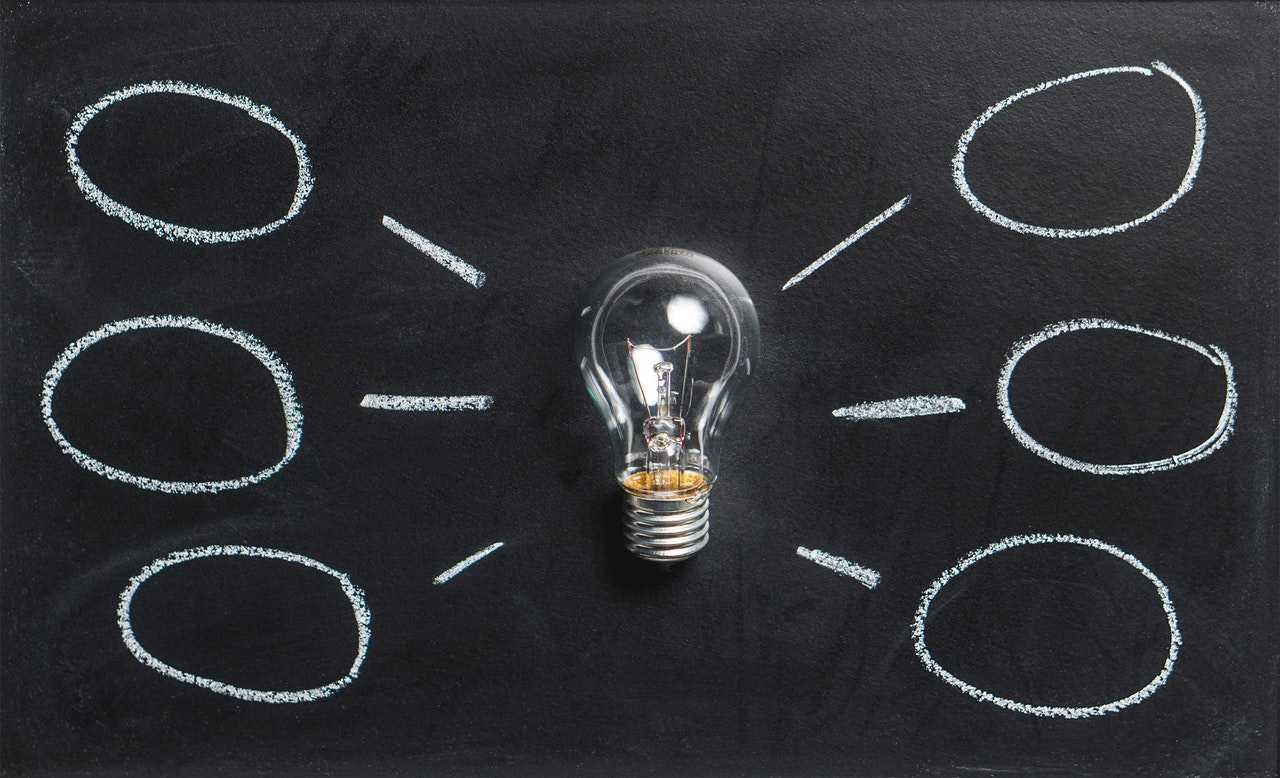 The COVID wave – consider it a bane or boon – but it somersaulted us to an array of digital world experiences. It propelled us to rethink and reorganize our mindsets, our practices, and our expectations. Overnight, we moved from an offline teaching mode to online, and credit to the teaching community for doing it so seamlessly. Now, we are back to offline teaching but do we continue with our old practices? An obvious no so we need to infuse our online experiences within the offline to ensure that quality education reaches one and all.
One key pedagogy to achieve the goal is blended learning, an approach that combines face-to-face learning with online learning incorporating certain elements that support students to have control over the pace, time, and place. The material resource investment is minimal but human resource investment is high till the ethos is assimilated within all.
So let's understand the varied types of blended learning and its implementation in the school teaching-learning process.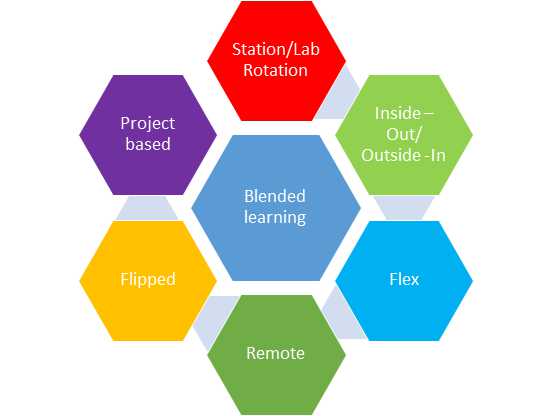 1. Station Rotation
In Station Rotation, students will rotate on a fixed schedule as per the teacher's discretion. The teacher begins her class of 40 students with instruction on narrative writing from 9:00 am to 9:15 am. She then splits the class into three groups where one group continues to learn with her. The second group works on a collaborative assignment on narrative writing and the third use their laptops or computers placed in the class and researches blended learning and after 15 minutes the group switches so that every group has varied experiences. A block class of English can support the various transactions and supports students to build research, collaborative and knowledge skills.
In the same format, if computers or laptops are not available in class then students use the computer laboratory in school and this rotation would then be called as Lab Rotation.
In this methodology, all students with varied learning needs are supported. The only challenge is the Technology and time management skills.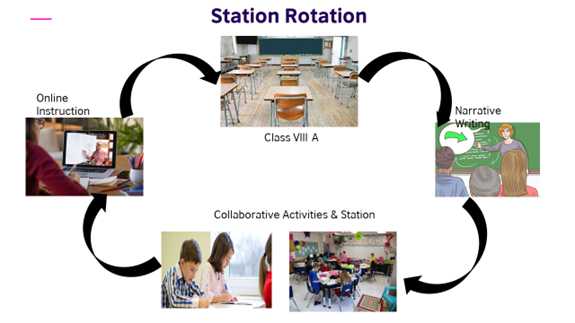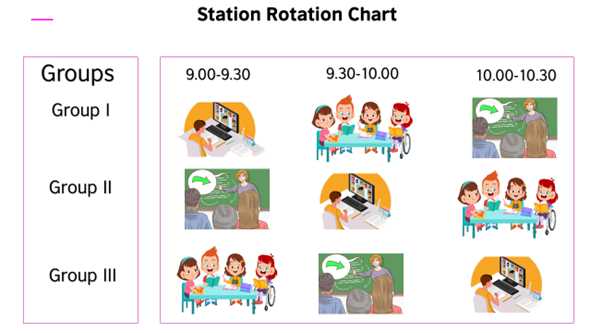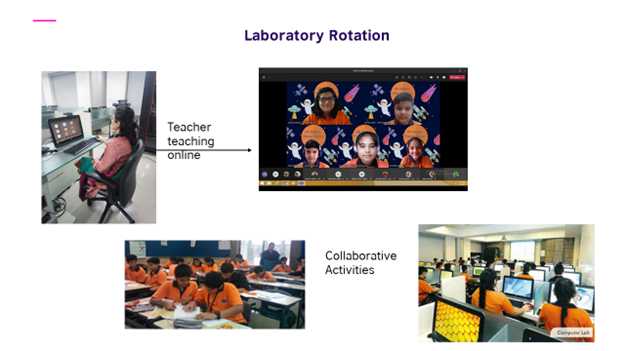 2. Remote & enriched virtual learning
It is a course or subject in which students have required face-to-face learning sessions with their teacher of record and then are free to complete their remaining coursework remote from the face-to-face teacher. In class, the teacher gives a project to students on 'Analysing any work of Shakespeare's or Rabindranath Tagore's Kabuliwalla' w.r.t. the criterion of plot, characters, theme, language, thought and values.
She briefs students on works of Shakespeare and the elements of a play within the school timetable and they complete all the work at home.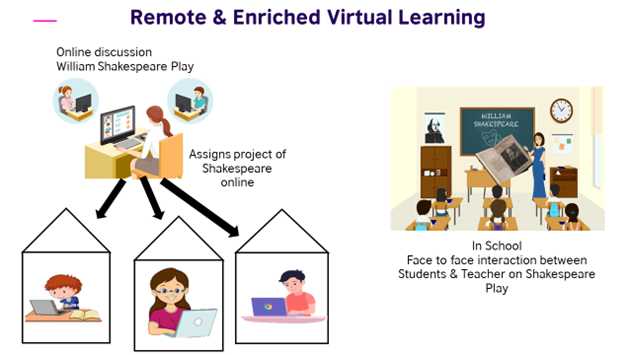 3. Flex blended learning
During certain weekends if the teacher wishes to support the students further in class especially if the concept has been challenging or students have underperformed in an evaluation, the teacher records her remedial teaching and uploads in-class computers. She designs a task around remedial teaching. She expects students to report to school wherein students enter the class on their own time, access the teaching, complete the task and leave. If they have any further doubts, they could approach the teacher in the school or their peers. A useful TIP would be for the teacher to Collaborate with their colleagues in club activities.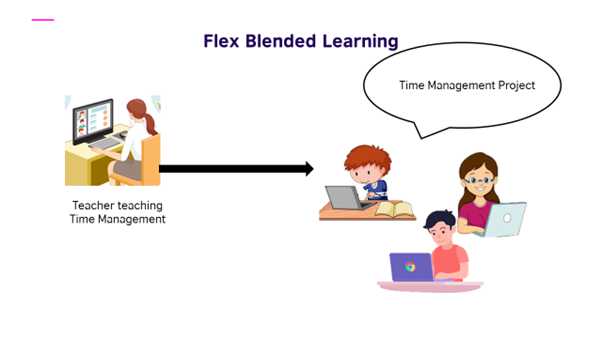 4. Flipped learning
As per TeachThought, a flipped classroom is a type of blended learning where students are introduced to content at home and practice working through it at school. This is the reverse of the more common practice of introducing new content at school, then assigning homework and projects to be completed by the students independently at home.
This methodology is most useful when you want students to have some knowledge of the content before analyzing it further. So if a teacher wishes to conduct a 'Book review'. She shares the e-book, 'Totto-chan' with the students. She asks them to read and shares certain discussion points. In school, students discuss the book and write personal book reviews. The teacher has used her class time constructively and has been to achieve greater learning outcomes.
5. Individual rotation blended learning
As per https://www.blendedlearning.org/models/, the Individual Rotation model allows students to rotate through stations, but on individual schedules set by a teacher or software algorithm. Unlike other rotation models, students do not necessarily rotate to every station; they rotate only to the activities scheduled on their playlists.
The teacher allows students to rotate through different kinds of classrooms called stations. A specific ILP [Individual learning plan] is created for each student. For example: Parth and Mona's examples work on clauses, Mona is struggling with Clauses so she attends classes and solves assignments whereas Parth will attend classes, watch a few videos, and also complete a research project on clauses. Thus the teacher knows her students' skills in greater depth and supports them individually to achieve her target learning outcomes.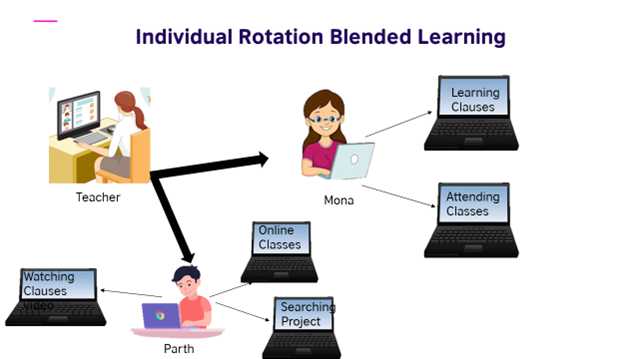 6. Inside-out and outside-in blended learning
In Inside-out, teaching and learning begin inside the classroom and move to an outside environment and in an outside-in classroom, it begins in an outside environment and moves inside the classroom. In a class environment, the Teacher discusses with students about 'Sound of Music' in class and ends the lesson by taking them to the theatre to watch the play. In Outside-In, Students watch the play in a digital environment and end the lesson in a physical environment by conducting role-plays.
The list of models is many but one has to review their resources and plan accordingly.
One can mention that they may face challenges in terms of technology, lack of training on digital platforms, lack of resources to create self-paced learning environments, or time management with vast syllabuses to complete.
Certain tips that can come useful are:
1. Teachers can begin with easily available digital content like Khan Academy, Pinterest, discovery Education, PBS Learning Media, and much more.
2. Review the available resources and plan a timetable. Most importantly, a team achieves more so collaborate with your colleagues in club activities.
3. Take small simple steps – "The journey of a thousand miles begins with one step." Lao Tzu. Choose the model that you are comfortable executing and then move forward.
As teachers, we are ever-evolving and we are that one profession that creates more professions so our responsibility and accountability stretch beyond the classroom. We are lifelong learners and need to keep pace with the fast-paced technology so that our students are ready to take the next leap. Our classrooms have to echo that thought and vision at all times through new pedagogies and teaching-learning strategies.
References:
Christensen Institute, Blended Learning definitions, https://www.christenseninstitute.org/blended-learning-definitions-and-models/
About the author:
Kavita Sanghvi holds a Masters in Physics, Masters in Education, Masters in Philosophy of Education, and CAEL [Certificate in Advanced Course in Educational Leadership] Diploma from Harvard University. She heads SVKM's CNM School, in Mumbai. She is a Teach SDG's Ambassador, Climate Action Ambassador, and Scientix Ambassador for India. She is a British Council Trainer and Ambassador.