5 Educators Share Dos & Don'ts of Turning Home Into a Classroom During The Lockdown
When asked how to help children perform better learning, these were the answers educators gave.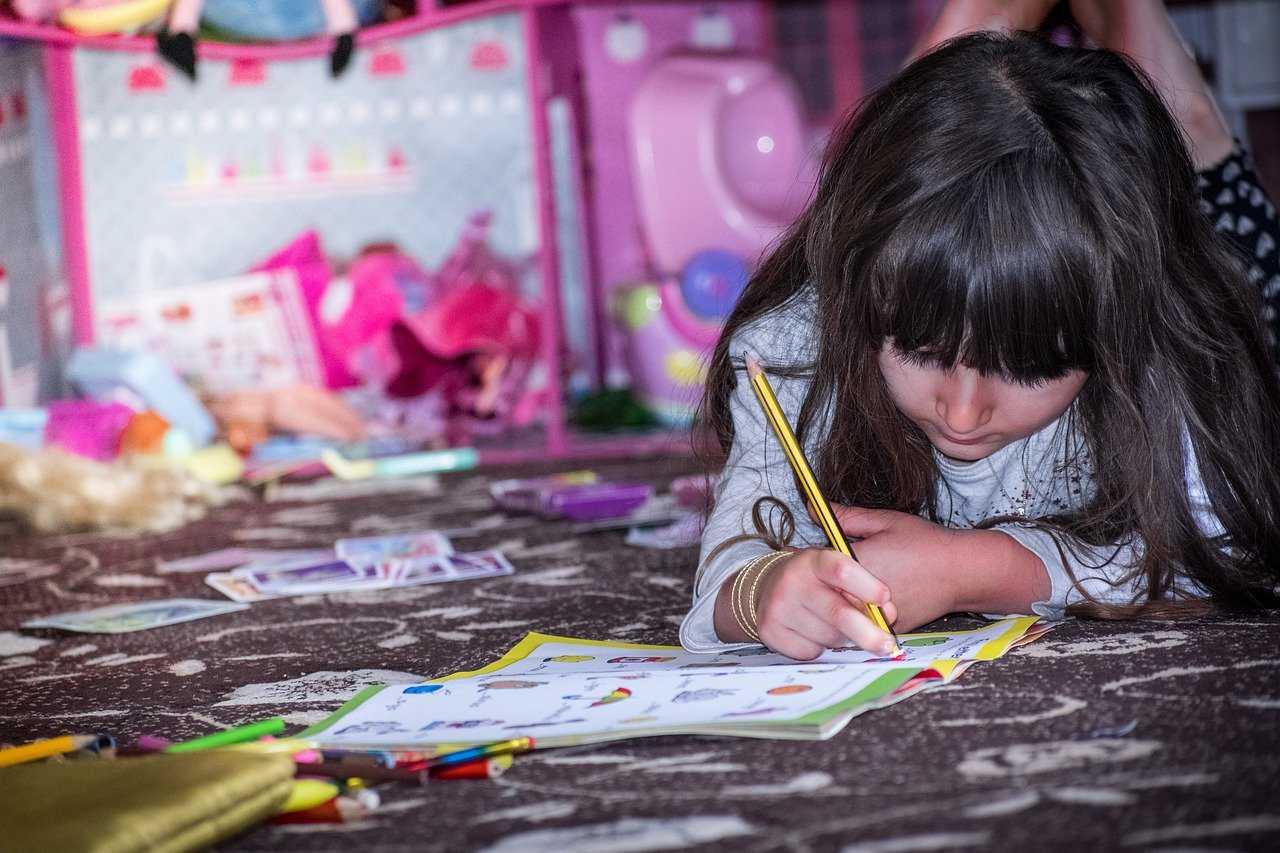 Currently, it's a 360-degree change that the educational sector is witnessing in the view of Coronavirus pandemic. While the teachers are struggling to educate themselves about virtual learning and bracing themselves up to conduct classes online, the parents, on the other hand, are worried about balancing work from home and looking after their child's education simultaneously. Sounds like chaos? We've got some solutions!
ScooNews reached out to a few Indian educationalists who shared with us the Dos & Don'ts regarding having to transform homes into a (temporary) classroom for the kids during this lockdown. From revealing their personal time-table to instructing parents how to make one, they say it all.
Shalini Kapur, PGT Teacher, Little Angels School, Sonipat
Give them a corner which should be free from any clutter and well-lighted. There should not be any noise of other family members, especially when an activity is going on.
The parents can ensure the screentime with the help of great quality learning resources which are now easily accessible at home with platforms like Byjus, Fliplearn, Khan Academy and many more.
No one should visit to see the child's activity; only one person should sit with the child to mentor him.
Timetable and routine can help students stay focused. Morning and evening routines are primed for success as they help achieve more, think clearly, and do work that actually matters. They keep you from stumbling through your day and make sure you get the most important things done. Simple things like getting up early, getting ready and making the bed can also help achieve a sense of achievement. It's all about the small things; hence help your child follow small routines every day.
Many educators are using platforms like Teamie, FLiplearn, etc. for allocating homework and sessions with the help of Hangout and Zoom. Teachers can talk to the child amicably and lovingly while interacting to facilitate the child's participation. The parents should encourage the child to focus during the interaction. In between the session, the child is guided to do the assigned activity with interest and to perfection.
Nisha Bhakar, Principal, Navayuga World School
Parents can share their childhood stories. It's always exciting for kids to know about their parents beyond what they have experienced – who gave them their names, what were their favourite games, about their best friends, favourite food, etc.
Read a book before sleeping each night as it helps develop reading skills. Parents could read one page and the child the next. The family could also set aside time as reading time before sleeping where everyone reads a book.
Allow kids to do household chores like washing undergarments even though they have a washing machine, dust their rooms, lay and clear the table before and after meals.
Ensure all 3 meals are had together on the dining table with light conversations. Teach basic dining etiquettes to them. Most people don't know how to use a fork and knife or a napkin. Parents could use the internet to develop their understanding and teach their kids. Sometimes, the students from so-called fancy schools/affluent families also have very poor dining etiquette.
Lt Col A Sekhar, Educational Consultant
Allow time and space for some chaos in the beginning.
Create work-out breaks every 20 minutes or so.
Get a full and unconditional buy-in from other family members especially if you are in a joint family.
6 to 7 hours of learning? Forget it! Be realistic, make sure that the student speaks to one teacher a day for 120 seconds.
Shalini Nambiar, Education Consultant
Don't turn your home into a school. Children are equally tensed as they are missing school contact and friends. Yes, we are all worried about children learning but what they need at the moment is emotional support, mental support rather than turning the home into a school. Have empathy for the teachers who, besides doing all work, are also needed to take care of their families.
If you support children emotionally, they will learn important skills so stop loading them with school timetables. Play with them, sing to them, let them do household work.
Parents can let them be creative, give them puzzles to solve and take out those board games which are getting rusted. Let the children know and learn what a family is all about. This is an important and crucial phase in our lives so give the quality time which you have been wanting to and missed out due to our over-stressed and fast-paced lives.
Also, if you are cooking exotic foods, please stop as there are millions of people who are not getting food. God bless and may all this end soon!
Rajeshree Shihag, Principal, FabIndia School, Bali
Talking specifically about the students from rural areas, setting up a classroom can be a challenge. The houses here are small and sometimes five people are sharing a smartphone, which is another limitation.
Our school is focusing on Reading and Writing Skills through value-based stories while the household chores take care of their physical activities. Our time-table looks like this:
8 AM to 10 PM – We share assignments/activities to be done.
5 PM to 8 PM – The feedback time. Students send in the work. *Social connection*
Educators connect with students/parents by a phone call, 3 to 4 calls a day.
We send out a message every day to the community on Telegram/Cellular.
Have more ideas to share? Write to us at [email protected]
SHE STEM 2022 honours and celebrates women
SHE STEM 2022 encourages students to 'Unleash their imagination' as part of the Sweden India Nobel Memorial Week.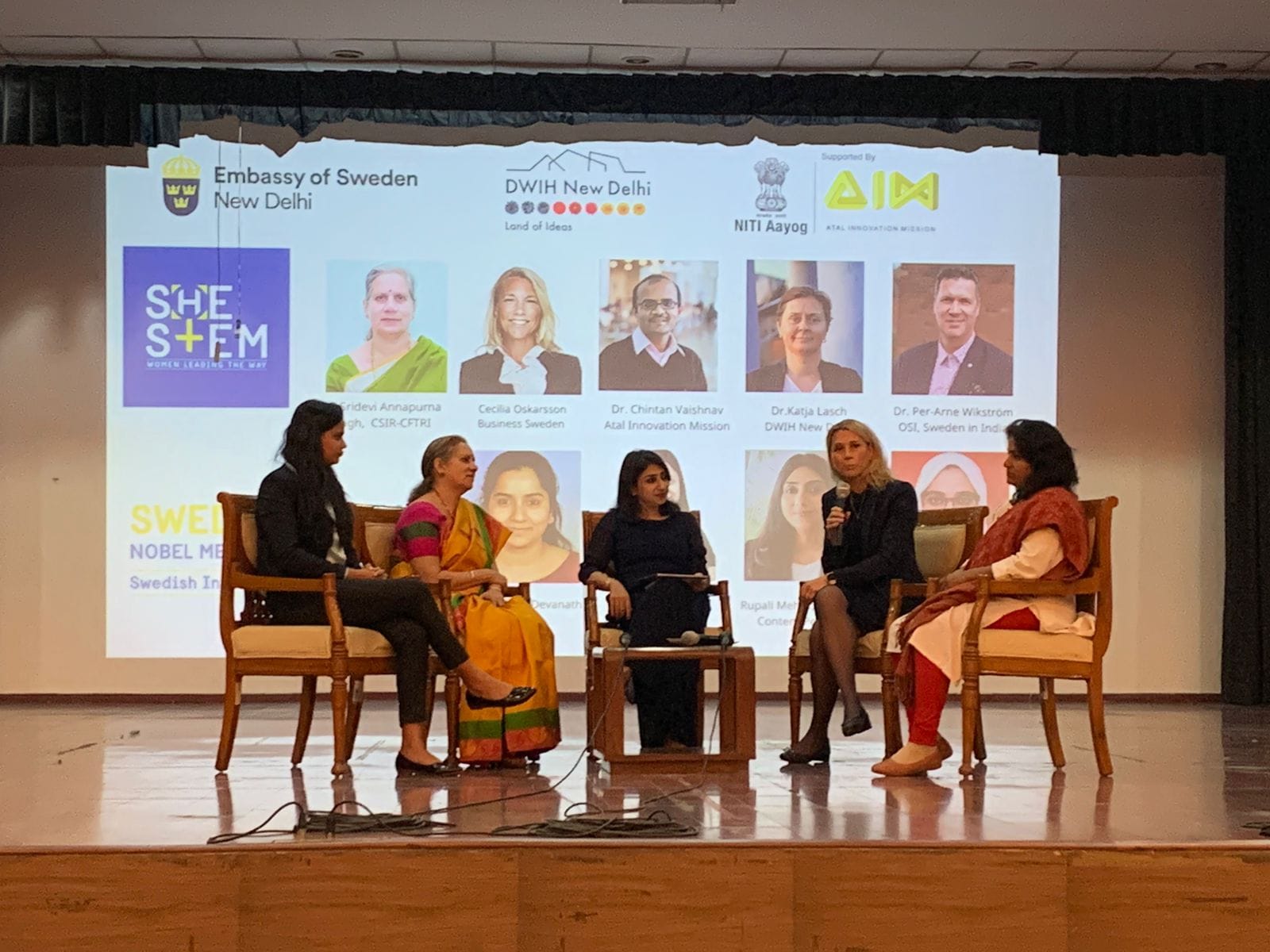 As part of the Sweden-India Nobel Memorial Week, SHE STEM, the annual event to celebrate women in the fields of science, technology, engineering, mathematics, and sustainability, was successfully held for the third year in a row.
The annual event is organized by the Sweden Embassy in India in partnership with the Atal Innovation Mission of the Government of India and the German Centre of Innovation and Research (DWIH New Delhi).
Ambassador of Sweden to India H.E. Jan Thesleff, who also addressed the students via a video message said, "We are very happy to continue the tradition of SHE STEM – it is a flagship event of the Sweden-India Nobel Memorial Week. Congratulations to all the winners of this year's SHE STEM Video challenge."
Dr. Chintan Vaishnav, Director of ATAL Innovation Mission said, "Today, the face of women's involvement in STEM is changing and the rate of participation has increased. It was in ATL Marathon 2021, that there was a spike where the women's participation was 49%. A strong STEM education will go a long way in cultivating such critical thinkers."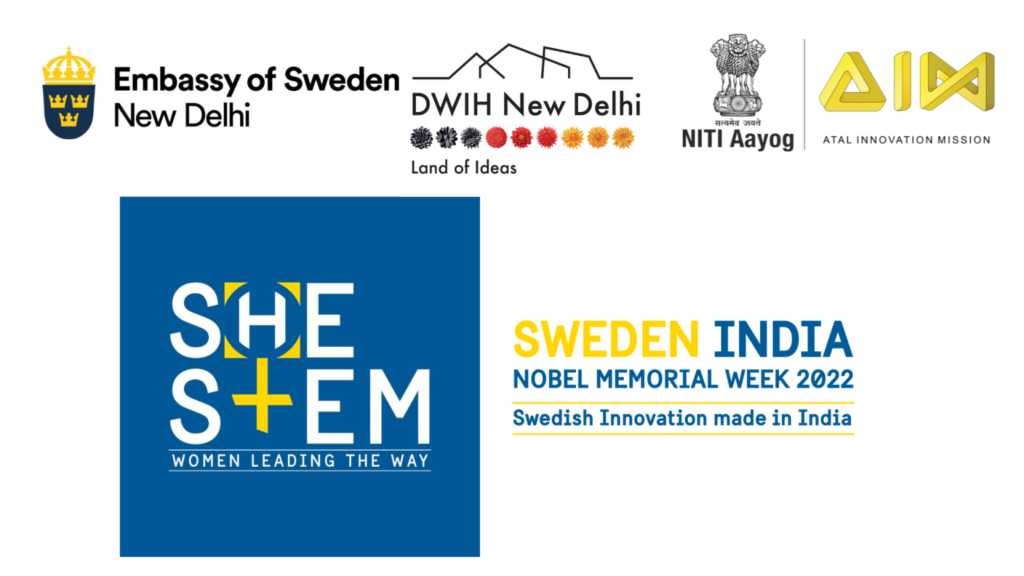 SHE STEM 2022 began with a musical performance by the students of Darbari Lal DAV Model School, New Delhi, the host school for SHE STEM 2022, followed by talks, and a panel discussion with women in the fields of STEM and business, including D. Sridevi Annapurna Singh, Director of Council of Scientific and Industrial Research – Central Food Technological Research (CSIR-CFTRI), Ministry of Science and Technology, Government. of India.
Dr. Annapurna Singh has done extensive work in the development of supplementary foods for undernourished children and in studying the impact of protein-rich food on children. She spoke to the audience about the need for women in fields of STEM to bring in their unique perspectives to problem-solving for a sustainable future.
Other participants included Cecilia Oskarsson, Trade, and Invest Commissioner of Sweden to India, who shared her thoughts on the role of diversity in triggering and enabling positive changes for girls and women, Mamta Kumari, co-founder and CEO of Prepbytes, an ed-tech company in India, and Dr. Vasudharani Devanathan, Neurobiologist and Professor of Biology at the Indian Institute of Science Education Research (IISER). Rupali Mehra, Founder of Content People AB moderated the event.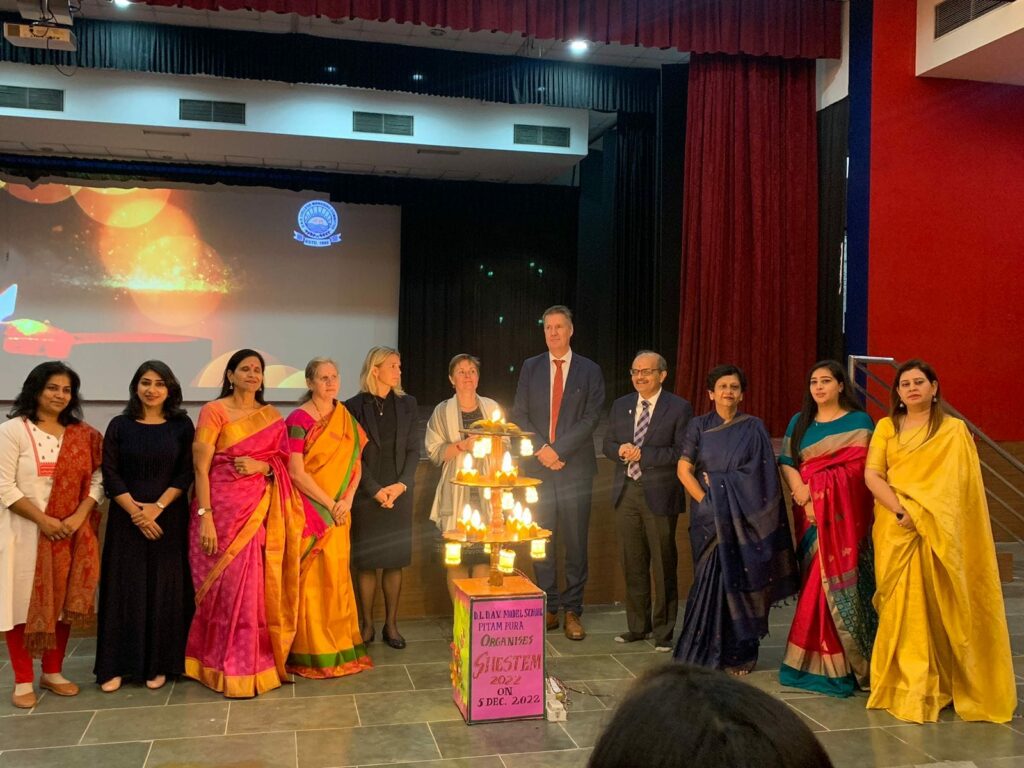 Dr. Per-Arne Wikström, Head of Office of Science & Innovation, Embassy of Sweden in New Delhi said: "When women and girls provide their talent, their knowledge, and their capabilities to science and technology on equal terms with men and boys, then we know that societies prosper and that innovation capacity actually increases. So for us, gender equality is an integrated part and an important aspect of everything that we do. We would like to thank our Indian partners for their support for this very important initiative."
"As Johann Wolfgang von Goethe said, 'who is not curious will not gain knowledge,' so keep your curiosity on, drive your knowledge forward and who knows maybe one or other idea will be implemented," said Dr. Katja Lasch, responsible for Strategy Management at the German Centre for Research and Innovation (DWIH New Delhi) and head of German Academic Exchange Service (DAAD) Regional Office in New Delhi.
Following the success of the Insta-reels Video Challenge in 2021, SHE STEM hosted the #SHESTEM2022 Video Challenge across Instagram, Youtube, Facebook, and Google Drive for students of ages 13 to 17, asking them to imagine themselves in the year 2047, and speak about an innovation of theirs that has helped in tackling climate change. The response was overwhelming with over 930 videos of which 15 were shortlisted. SHE STEM had an extensive jury round of 3 jury teams; Atal Innovation Mission Team led by Dr. Chintan Vaishnav, the Swedish Embassy team, led by Dr. Per-Arne Wikström, and the German Centre for Research and Innovation, represented by Dr. Katja Lasch.
The videos were assessed on the:
Novelty of idea
Clarity of thought and articulation
Sustainability or climate action angle
G. Nivethiga Rani who created a video on how she as a STEM Leader in 2047 had invented a robot that collected and converted biodegradable and non-biodegradable waste into electricity, won the first prize in the video challenge. The second prize was tied between T Shatananda Dhanwantari and Shreya Singh and Nistha Aswal, who participated as a team. Gaurav Hanjoora won third place.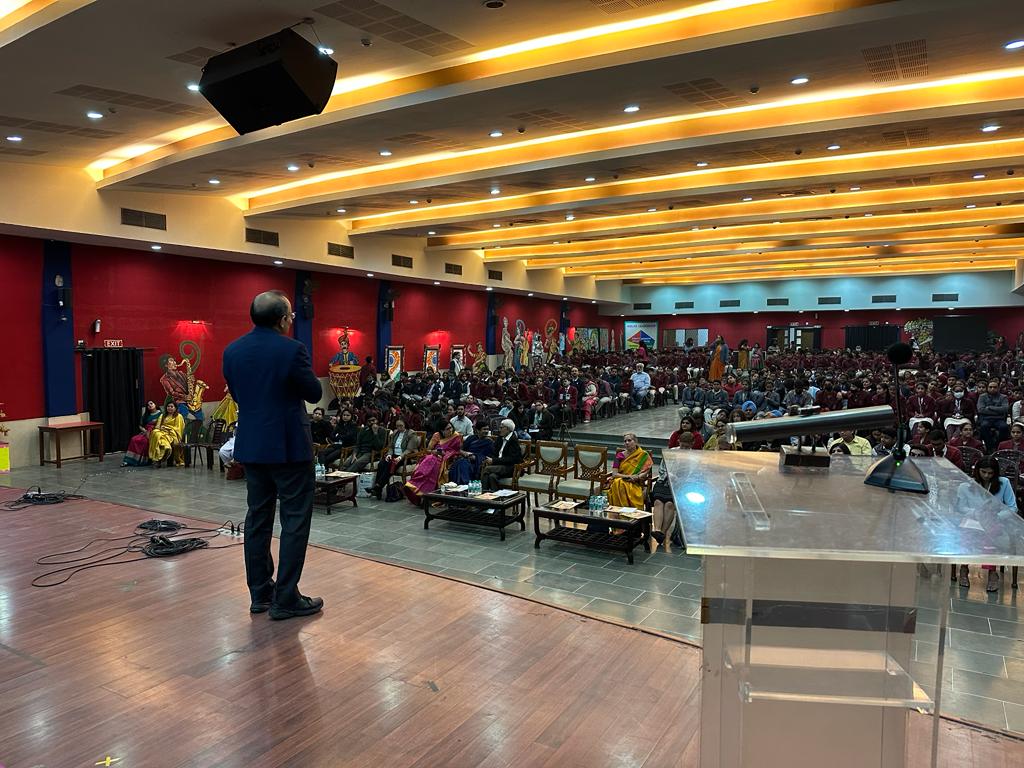 "I congratulate all the winners of the SHE STEM 2022. I have to say what caught my attention was that every single idea was addressing a fundamental constraint confronting us," said Dr. Chintan Viashnav.