A reflection on how India is treating its girls.
Girls are slowly finding their feet in India. Decades of fighting infanticide, discrimination and child marriages they are finally finding their voice. They are discovering what it is to attend school, make a career, and be proud and independent. Yet it will take time before they truly have the free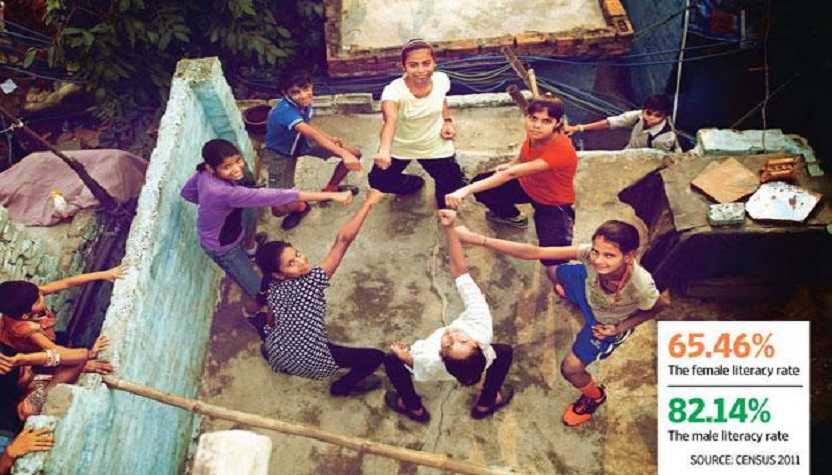 Today Nindi Kumari from Delhi is 20 years old and is nicknamed the karate queen of Jahangirpuri. It is surprising to know that she started to learn Karate only 4 years ago and today in her dimly lit shanty 3 small trophies and 6 medals hold pride of place. Her parents, 2 younger brothers and a sister swell up in pride when showing it to everyone who comes to their home.
The entire cash prize won at the tournaments was spent on basic necessities while a track-suit she won with danger written on the back is reserved for special occasions. Today she is a martial arts teacher to a dozen or so girls – all children of daily-wage labourers, household help and thelawalas (hawkers). All of them are bound by the common thought that learning karate will help them protect themselves when out in the world.
While Nindi's story or other stories that you may come across in the media may give you an understanding that things are looking up for girls in India. The reality is far harsher and completely removed from it. Even today a majority of girls in India have to put in much more just so that they can access the basic things in life – education, right to dream, some time to themselves these are just some of the luxuries for which girls are revolting every day in corners of India. However, they derive their strength from a strong belief that has taken root that they have a right to dream and that with hard work and minimal support; she can become what her heart desires.
The first hurdle the girls face is right at home, often their own family. "No government policy addresses the structural problem within the family," says Komal Ganotra, director, policy, research, advocacy and documentation at Child Rights and You (CRY), an NGO that has been working in the area of child rights for 30 years. The girls are the most vulnerable in their adolescence, aged between 14 -18 of which there are 58.6 million according to the 2011 census of India.
Ganotra points out that they face a serious problem of personal security which impedes there mobility, ultimately limiting their access to learning resources. Sons are given preferential treatment for skill development while daughters are largely relegated to looking after siblings or entering the unorganized labour market to supplement the family income.
Then girls have to put up with spectre of early marriages. A 2014 UN report pointed out that India was only second in the world after Bangladesh in terms of the highest number of child marriages. Almost 20% of the girls marry before the age of 15.
Under the burden of poverty and local customs, the parents resort to early marriage of the girl child. However, what they don't foresee is the early motherhood of these adolescent girls. Every year a sizeable 4 million of these young girls will enter the threshold of becoming mothers—some will die while giving birth, others will become chronically anaemic.
Though the government is working at the grass root levels to raise awareness against the evils of child marriage it is declining at a snail's pace of 1% per year which means it will take 50 years to be wiped off completely.
The Indian society can be very brutal and discriminating against the girl child. The proof lies in the 2,000 female foeticides that take place across the country every day. Maneka Gandhi, Union minister of women and child development, recently launched the Prime Minister's flagship Beti Bachao Beti Padhao (BBBP) mission in January 2015.
The preference for the male child has heavily skewed our child sex ratios. The ratio stands at 918 girls, aged 0-6, for every 1,000 boys and this is the lowest since 1961, reports the 2011 census. The story is worse in the 14-18 age group, where it is a mere 884 girls for every 1,000 boys.
Standing tall amidst all the gloomy statistics is the fact that if a girl manages to take birth today, she is as likely as her brother to go to school. The overall enrolment figures for girls in schools as been rising steadily. A back of the envelope calculation shows that this rise in enrolment was most dramatic for class I-VIII level and this momentum was sustained at the secondary IX-X level. Save for four Union territories and nine states, including West Bengal, Telangana and Jharkhand, this number drops for higher classes.
At this point of time, what may not be translating to a ground reality is the indomitable spirit building up in girls across the nation. Here is a case from Hutup village in Jharkhand. When American Franz Gastler organised the first football match after moving here he was surprised to see that no boys turned up, instead almost 100 eager girls did. This set the ball rolling in his mind and the idea of setting up a football academy struck him.
Yuwa, an NGO focused on empowering girls through football and education, was born. "The girls wanted to play. They were ready to wake up at 4.30am, 7 days a week, because this was the one time in their day when they got to be in a positive place; got to be somebody," says Gastler.
Football gave the girls what was sorely missing in their lives. Pride. The pride swelled from the fact that they could be aggressive and could play football like boys and lastly, attend school like the boys.
With growing confidence and pride they begin to question the traditional methods and messages of the society, said Gastler.
From football coaching, Yuwa opened its own girl's school in its football programme. 86 students have enrolled in the school already. From the first football batch, Sita Oraon completed a BSc in chemistry and is preparing for exams in order to apply to universities in the US—she still plays football twice or thrice a week.
* Read the original story by Namita Bhandare on www.livemint.com
NIOS celebrates 33rd Foundation Day
Dr. Subhas Sarkar addresses the 33rd Foundation Day Celebrations of NIOS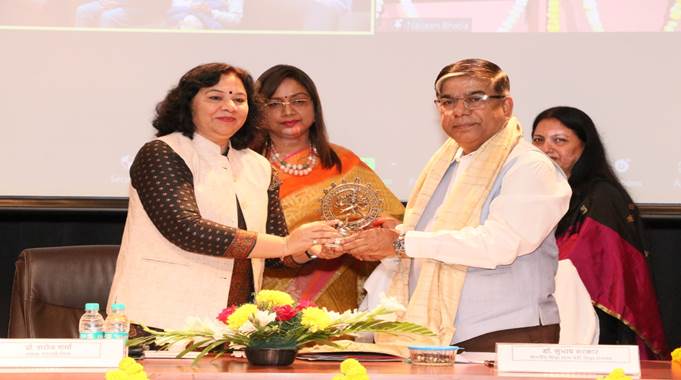 Union Minister of State for Education, Dr. Subhas Sarkar addressed the 33rd Foundation Day Celebrations of NIOS as the Chief Guest.
The function was attended by senior officials of the Ministry of Education, Chairpersons of educational institutions, Heads of Departments, officers, and staff of NIOS. Prof. Naval Kishore Ambasht, former Chairman, of NIOS and Pro-Vice Chancellor, of the Central University of Haryana, Prof. Sushma Yadav graced the occasion.
Dr. Subhas Sarkar in his address appreciated the various programmes and schemes of NIOS and said that NIOS is lighting the lamp of knowledge all over the world. Talking about the Azadi Ka Amrit Mahotsav, he mentioned that today's children will be young people in the age group of 30-40 years on the completion of 100 years of independence and will be responsible for building our nation.
He said that the Ministry of Education has entrusted NIOS with several responsibilities such as developing inclusive education resources, expanding the open and distance education system in states/UTs, translating all courses into more languages as required, creating Indian Knowledge Tradition based courses and propagating Indian culture by translating them into major foreign languages. He also praised the programmes of NIOS enrolling 10 crore adults under 'Basic Literacy Assessment', training of in-service teachers, Gender Green Project, and training in Yoga. He said that Indian Sign Language as a subject at the secondary level has been acknowledged on national and international platforms. He described the launch of an e-library called 'DEEP' by NIOS as a big step forward.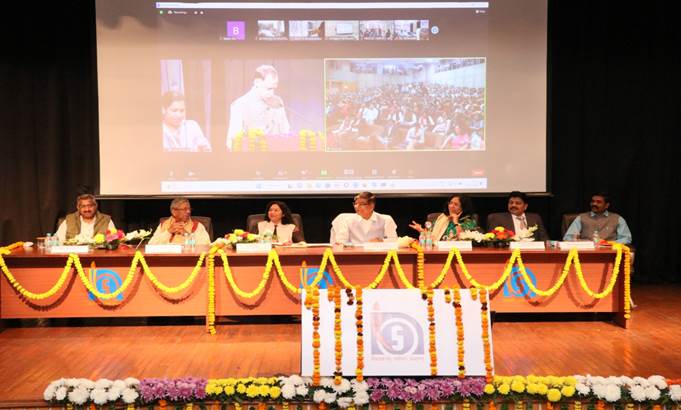 Prof. Saroj Sharma spoke about the journey of 33 years of NIOS and highlighted the special achievements. She said that NIOS is one of the two National Boards of Education under the Ministry of Education, which provides school education through Open and Distance Learning (ODL) for secondary, senior secondary, and vocational education. She elaborated on the role of NIOS in the field of education, efforts being made by NIOS for the successful implementation of the New Education Policy, Virtual Open School, Digital Library (DEEP), NEPIA Project, MoU with Ministry of Defence for Agniveer Project, setting up of Mukta Kaushal Kendras and subjects offered under Indian knowledge Tradition.
It was also conveyed by her that a curriculum called 'Aarambhika' is being developed by NIOS for catering to the Indian Diaspora.
A documentary based on the journey of 33 years of educational endeavours of NIOS was presented on the occasion. In this documentary, 'All England Badminton winner Pullela Gopichand said that most of the players in his badminton academy are getting an education from NIOS.
NIOS alumni, Ms. Niranjana and Vinod Kumar Chaudhary were also felicitated on the occasion. Shri Vinod Kumar said that only due to his education in NIOS, he was able to get the credit of making the Guinness Book of World Records 10 times (8 in Typing and 2 in sports). A proud learner of NIOS, Ms. Niranjana is a successful ventriloquist. Prof. N. K. Ambasht, former Chairman, NIOS said that in this age of technology, innovations must lead to developing 'standalone' courses for the Indian Diaspora, to achieve the goals of the National Education Policy- 2020. Pro-Vice Chancellor, Prof. Sushma Yadav said that the role of NIOS increases in the light of New Education Policy. NIOS has such potential that the institute will be able to achieve the ambitious goals of National Education Policy 2020 in the coming years.
The half-yearly magazine of NIOS 'Pragyan' was released by Dr. Subhas Sarkar on this occasion.