AIM, NITI Aayog's Atal Tinkering Labs & UNICEF India Launches 'The Gandhian Challenge'
The contest celebrates 70 years of partnership between Government of India and UNICEF India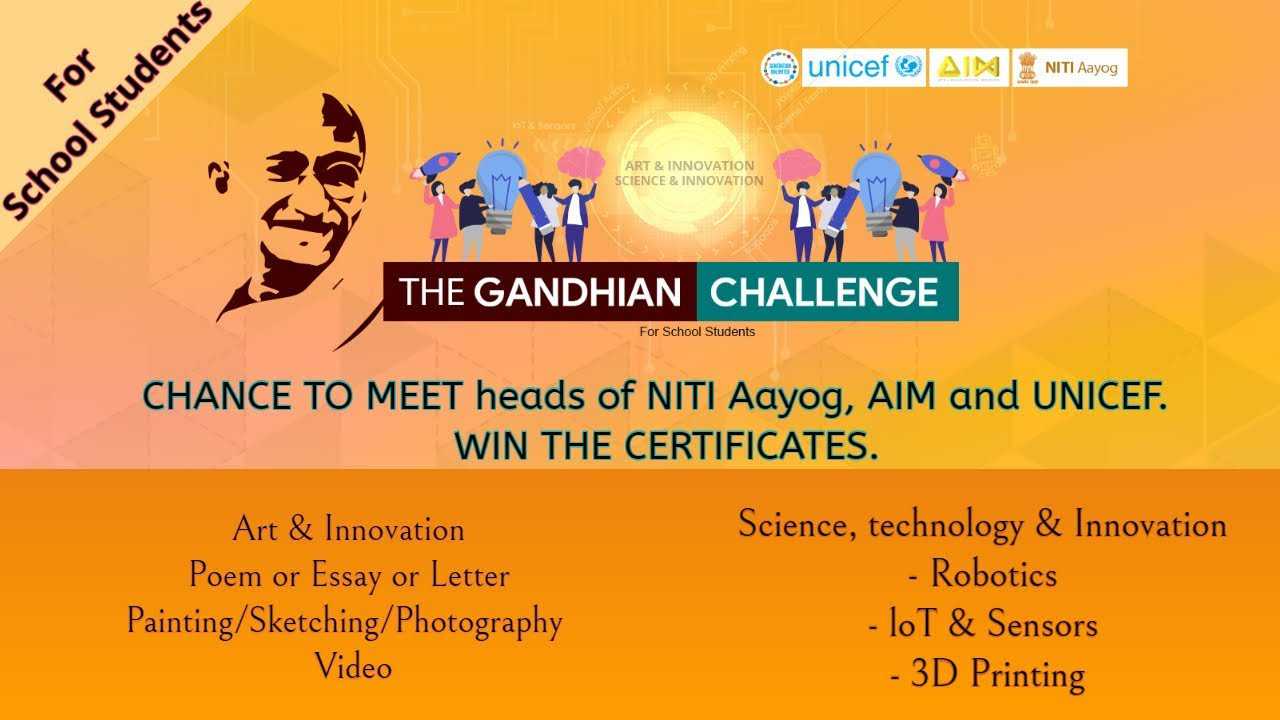 On the 150th birth Anniversary of Mahatma Gandhi, AIM, NITI Aayog's Atal Tinkering Labs (ATL) and UNICEF India, including Generation Unlimited, have launched 'The Gandhian Challenge'. This innovation challenge provides a platform for every child across India to ideate innovative solutions for a sustainable India of their dreams, using Gandhi's principles.
The winners of The Gandhian Challenge will be awarded in New Delhi by NITI Aayog's Atal Innovation Mission and UNICEF on the occasion of Children's Day in November. The contest – open for every child in India from 2 October to 20 October – also celebrates 70 years of partnership between Government of India and UNICEF India to enable Every Right for Every Child.
"Through this partnership, AIM and UNICEF recognize every child's ability and right to voice their dreams for a world of their choice, following Gandhi's principles. Our aim is to support them to thrive as young innovators and entrepreneurs," said Mr. R Ramanan, Mission Director AIM.
The problem statement for the Gandhian Challenge is: "Share your innovative solutions/ideas to create a futuristic and sustainable world of your dreams, following Gandhi's principles."
Ideas and solutions to the Gandhian Challenge may be expressed through broad categories: Art & Innovation (Letters, poems, painting, videos and photos, among others) and Science, Technology & Innovation (Robotics, IoT, sensors and 3D printers, among others).
All applications must be submitted on the challenge page on https://innovate.mygov.in/the-gandhian-challenge/, Government of India's citizen engagement portal. All applications must have an ATL code. Children in schools without an ATL can obtain the ATL code by visiting or calling the nearest ATL school. The list of nearest ATL schools in every district can also be accessed on the challenge page mentioned above.
"Participation is a core right of every child and enabling their meaningful participation is of critical importance," said Dr.Yasmin Ali Haque, Representative, UNICEF India. "Challenges like this help us understand children's point of view with a willingness to re-examine our own opinions and attitudes, and envisage solutions through a child-rights lens."
The most innovative, sustainable solutions/ideas will be showcased as a symbol of a larger movement by children taking root in every district of India. Children across India can access to more than 8000 Atal Tinkering Labs across all districts to support their innovative ideas.
In ATLs, students of class 6th to 12th acquire a problem-solving attitude, develop innovative solutions leveraging technologies like 3D printers, robotics, miniaturised electronics, IOT and programming and DIY kits, with support from teachers and mentors.
About AIM:
AIM is the Government of India's flagship initiative to promote a culture of innovation and entrepreneurship in the country. AIM's objective is to develop new programmes and policies for fostering innovation in different sectors of the economy, provide platform and collaboration opportunities for different stakeholders, create awareness and create an umbrella structure to oversee innovation ecosystem of the country.
Six major initiatives of AIM:
Atal Tinkering Labs: Creating a problem-solving mindset across schools in India.

Atal Incubation Centers: Fostering world-class start-ups and adding a new dimension to the incubator model.

Atal New India Challenges: Fostering product innovations and aligning them to the needs of various sectors/ministries.

Mentor India Campaign: A national Mentor network in collaboration with the public sector, corporates and institutions, to support all the initiatives of the mission.

Atal Community Innovation Center: To stimulate community-centric innovation and ideas in the unserved/underserved regions of the country including Tier 2 and Tier 3 cities.

ARISE: To stimulate innovation and research in the MSME industry.
About UNICEF India and Generation Unlimited:
UNICEF, an integral part of the United Nations, works with governments, communities, civil society organizations, the private sector, and other partners worldwide to advance children's rights, and is guided by the Convention on the Rights of the Child. Generation Unlimited is a new UNICEF-led global partnership that aims to ensure that every young person age 10-24 is in some form of school, learning, training, self-employment, or age-appropriate employment by 2030. It aims to co-create and scale up proven solutions related to secondary age-education, skills for learning, employability and decent work, and empowerment, with a focus on girls.
(Source: PIB)
During A National Consultation Discussions Were Conducted For Class 12th Exams & Entrance Exams
Education Ministry with other significant departments of the Indian government will come to a conclusion soon regarding the 12th Board Exams & Professional Entrance Exams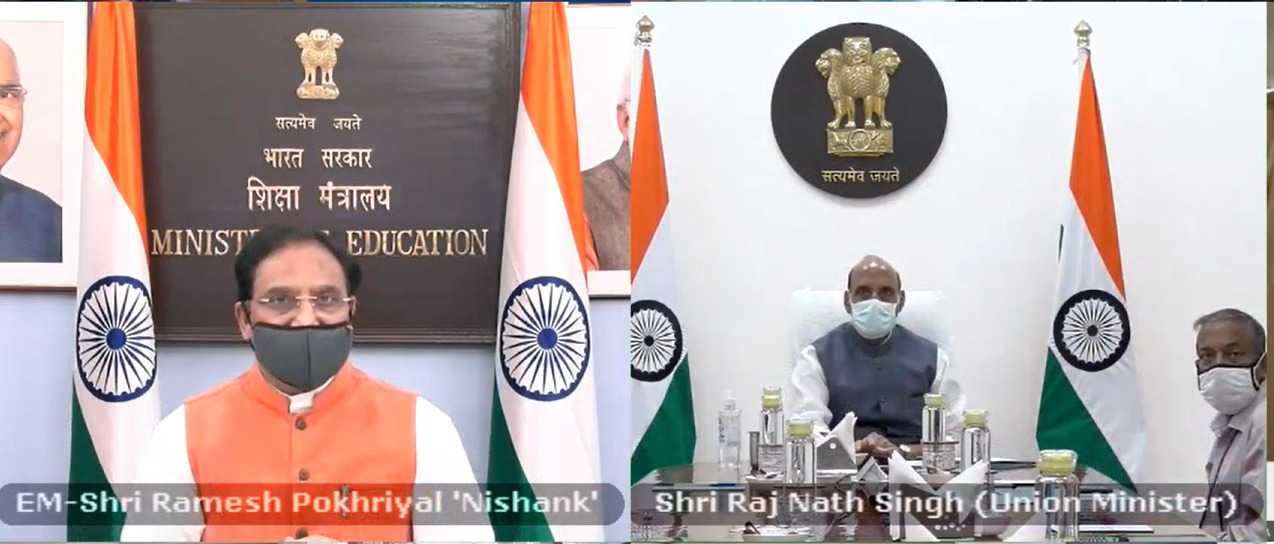 A national consultation was arranged on 23 May 2021 by the Ministry of Education, Government of India with the Education Ministers and Administrators of all States and UTs. The consultation was chaired by the Union Defence Minister Shri Rajnath Singh and was attended by Union Education Minister Shri Ramesh Pokhriyal 'Nishank', Union Minister for Women and Child Development and Textiles, Smt. Smriti Zubin Irani, Union Minister for Forest, Environment and Climate change and Information and Broadcasting, Shri Prakash Javadekar and Minister of State for Education Shri Sanjay Dhotre. Secretary, Higher Education Shri Amit Khare; Secretary, School Education Smt Anita Karwal and senior officials of the Ministry also attended the meeting.
I thank all the Hon'ble Chief Ministers, Education Ministers, and officers associated with the world's largest education system for participating in the high-level meeting chaired by Hon'ble Minister of Defence Shri @rajnathsingh Ji. pic.twitter.com/i4e8p5lH90

— Dr. Ramesh Pokhriyal Nishank (@DrRPNishank) May 23, 2021
While opening the forum for discussions, the Minister for Education, Shri Ramesh Pokhriyal"Nishank' expressed his gratitude to the cabinet ministers from the Government of India who attended the meeting on 23 May 2021, for their extensive support in the preliminary discussions leading to this consultation and for remaining present in the meeting. It may be mentioned that a high-level meeting was held on 21 May 2021 under the chairmanship of the Prime Minister with nine Union Cabinet Ministers and senior officials to discuss about the conduct of Board exams for Class XII and All India Entrance exams. The Minister expressed his gratitude to Defence Minister Shri Rajnath Singh for giving his time and valuable suggestions relating to the exams. He thanked the Union Minister for Women and Child Development, Union Minister for Information and Broadcasting, Minister of State for Education for attending the meeting. The Minister of Education also expressed commitment towards the safety and security of children as the first priority of the Government of India. The Minister said the entire country has come together to ensure the safety and academic welfare of the students and the smooth functioning of the education system. He said that despite challenges posed by Covid-19, the Government has left no stone unturned to successfully bring education to online mode. He said that the homes were converted into schools.
The Minister discussed the importance of the Class XII Board exams and the All India Entrance exams in shaping the future and defining the careers of students. The Minister said keeping in view the present circumstances we decided to cancel the CBSE Board examinations of Class X and evaluate through internal assessment but Class-XII examinations are very important to decide the future of a student.
He said that this meeting was called to enable Central and State Boards and other examination agencies to be able to examine various options available in the present challenging circumstances through a consultation process. Shri Pokhriyal assured that the deliberations with all stakeholders in the meeting on 23 May 2021 will help in reaching a suitable decision on exams in the interest of all the students and ensuring a bright future for our children.
The discussions were held around two themes, i.e, board exams to be conducted for Class XII by the Central Board of Secondary Education and other State Boards and the All-India Entrance examinations for various higher education institutions and professional courses. Various options regarding the methodology, process, duration and timings of the exams were discussed. While a broad consensus was there, however, it was decided that States and UTs may like to further examine the matter and send their feedback in writing by the 25th of May,2021.
The meeting was attended by Chief Minister of Jharkhand and Goa, Deputy Chief Minister of Uttar Pradesh and Delhi and State Education Ministers, State Education Secretaries, Chairpersons of Examination Boards, Administrators of Union territories, Secretaries of Higher Education Department and School Education Department of Government of India, Chairman CBSE, UGC and AICTE, DG NTA and several other officials.
While summing up, Union Defence Minister, Shri Rajnath Singh thanked all the participants for putting forth their positive suggestions on the proposals for conducting examinations. He requested States and UTs to submit other suggestions, if any, to the Ministry of Education by this Tuesday i.e. 25th May. The Ministry will consider all those suggestions and take a final decision soon, he added. He reiterated that the priority of the Government is to conduct all the examinations in a safe and secure environment.
Earlier on 14th April, the Central Board of Secondary Education had notified that Class XII exams have been postponed and that further information with regard to Class XII board exams would be given to students by the 1st of June. In this context, following the consultative meeting with the States and UTs on 23 May 2021, the Government of India will examine the suggestions received from the various State Governments this week and convey further information in this regard to the students by or before the 1st of June 2021.