Almost 30% entries at White House Science Fair by Indian-origin kids
The White House science bash is the highpoint of STEM related events in America. Almost 30% entries were from Kids of Indian origin reinforcing the fact that Indians are at the forefront of STEM related research.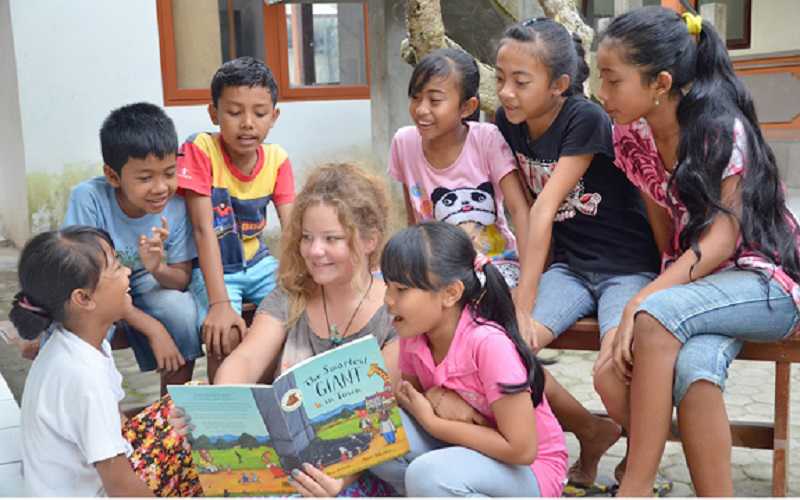 For several years it has been a known fact that Indians shine brilliantly in academics and scientific fields in the USA. Once again this fact is firmly in the spotlight at the Science Fair hosted by President Obama on Wednesday where a sizeable presence of Indian-origin participants were showing off their projects.
Nearly a third of the projects, demos, and experiments involve kids of Indian-origin, and are a testimony to how this ethnic group, along with other Asian-Americans, completely dominate school-level STEM (science, technology, engineering, math) competitions, including events hosted by companies such as Intel, Google, and Westinghouse. However, the White House event is the high point of high-school STEM events.
None of this is new to President Obama, whose frequent hosting of such STEM galas in the White House has seen a fair sprinkling of Indian-American achievers, from his recognition of Stanford's Pune-born Tom Kailath with the Presidential Medal for Science, to his socialising with high-schoolers Shree Bose and Anand Srinivasan, who went on to Harvard and MIT respectively.
Few students take this challenge – and invitation – more seriously than Indian-Americans, most of them children of parents who themselves migrated to the USA on the back of STEM. This year's finalists invited to the White House includes Yashaswini Makaram, 17, from Massachusetts. She created a cell phone security tool that records and identifies the distinctive arm and hand motions people use to lift a cell phone from a table to uniquely identify the cell phone's owner. The technology is so accurate that it correctly identifes a cell phone's owner 85 % of the time and differentiates among people with 93 % accuracy. Yashaswini's biometric research, which was lauded as part of the 2016 Intel Science Talent Search, may help in greater personalization of mobile devices, according to a White House factsheet.
18-year old Sanjana Rane from Kentucky helped discover how a particular protein could be used to detect and treat renal fibrosis. She began to look into the dangers of air pollution after reading an article how the air quality in Kentucky is the worst in America. She discovered that the chemical acrolein, found in both cigarette and industrial smoke causes kidney damage. She determinedly worked on how to shift acrolein's influence on the kidneys by using a particular protein as a therapeutic target. Her innovative thinking won her a scholarship at the Siemens Competition in Math, Science & Technology.
At least 2 projects displayed at the White House were inspired by Indian experiences of students. The sight of children in India drinking dirty, unsafe water led New Hampshire's Deepika Kurup to develop a solar-powered technology to quickly remove bacteria from water, making her a finalist in the 2015 Google Science Fair and a winner of the National Geographic Explorer Award. The second project by Anurudh Ganesan, now 16, recalls how his 10 mile trek to a remote clinic with his grandparents was for nought when the vaccines were ineffective due to the high temperatures and lack of refrigeration. Now living in Maryland, Anurudh determined to explore ways of refrigerating vaccines immediately prior to use, particularly in developing countries. His creation, VAXXWAGON, can effectively transport vaccines in the last leg of distribution without the use of ice and electricity, saving potentially thousands of lives throughout the world.
Some of the projects also involve frugal engineering or the world famous Jugaad. Dismayed at the price of diagnostic spirometers San Jose, California high schooler Maya Varma developed a 3D printed version that costs a mere $35. Maya's (literally) breathtaking invention earned her a finalist' slot at the 2016 Intel STS, where her spirometer was selected as one of the top 40 projects in the nation.
Obama has always been a vocal alarmist about the decline of STEM studies in the US, but also a cheerleader for restoring American leadership in the field.
The White House factsheet also gives a shout-out to Infosys Foundation and Tata Consultancy Services (TCS) among many institutions and companies that are promoting computer science education in the US.
NIOS celebrates 33rd Foundation Day
Dr. Subhas Sarkar addresses the 33rd Foundation Day Celebrations of NIOS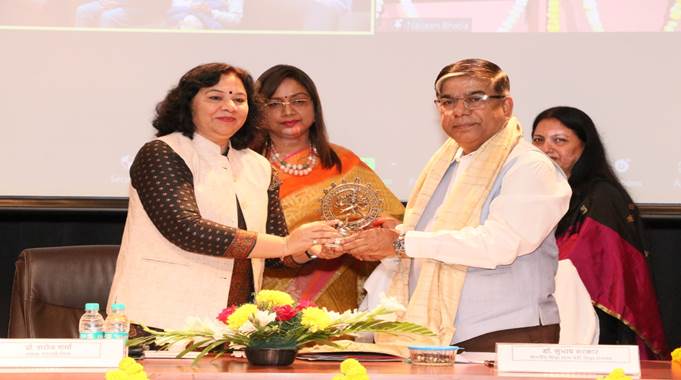 Union Minister of State for Education, Dr. Subhas Sarkar addressed the 33rd Foundation Day Celebrations of NIOS as the Chief Guest.
The function was attended by senior officials of the Ministry of Education, Chairpersons of educational institutions, Heads of Departments, officers, and staff of NIOS. Prof. Naval Kishore Ambasht, former Chairman, of NIOS and Pro-Vice Chancellor, of the Central University of Haryana, Prof. Sushma Yadav graced the occasion.
Dr. Subhas Sarkar in his address appreciated the various programmes and schemes of NIOS and said that NIOS is lighting the lamp of knowledge all over the world. Talking about the Azadi Ka Amrit Mahotsav, he mentioned that today's children will be young people in the age group of 30-40 years on the completion of 100 years of independence and will be responsible for building our nation.
He said that the Ministry of Education has entrusted NIOS with several responsibilities such as developing inclusive education resources, expanding the open and distance education system in states/UTs, translating all courses into more languages as required, creating Indian Knowledge Tradition based courses and propagating Indian culture by translating them into major foreign languages. He also praised the programmes of NIOS enrolling 10 crore adults under 'Basic Literacy Assessment', training of in-service teachers, Gender Green Project, and training in Yoga. He said that Indian Sign Language as a subject at the secondary level has been acknowledged on national and international platforms. He described the launch of an e-library called 'DEEP' by NIOS as a big step forward.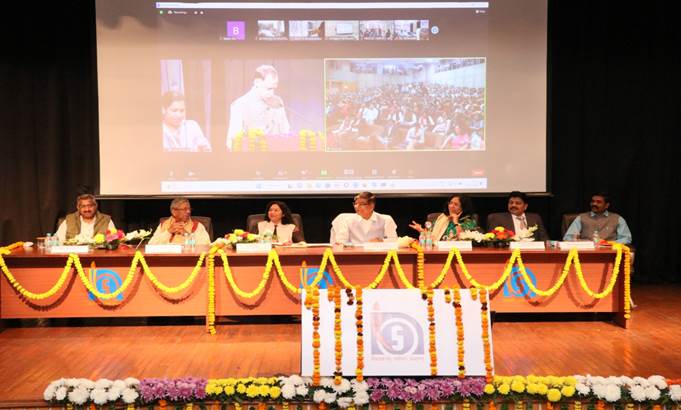 Prof. Saroj Sharma spoke about the journey of 33 years of NIOS and highlighted the special achievements. She said that NIOS is one of the two National Boards of Education under the Ministry of Education, which provides school education through Open and Distance Learning (ODL) for secondary, senior secondary, and vocational education. She elaborated on the role of NIOS in the field of education, efforts being made by NIOS for the successful implementation of the New Education Policy, Virtual Open School, Digital Library (DEEP), NEPIA Project, MoU with Ministry of Defence for Agniveer Project, setting up of Mukta Kaushal Kendras and subjects offered under Indian knowledge Tradition.
It was also conveyed by her that a curriculum called 'Aarambhika' is being developed by NIOS for catering to the Indian Diaspora.
A documentary based on the journey of 33 years of educational endeavours of NIOS was presented on the occasion. In this documentary, 'All England Badminton winner Pullela Gopichand said that most of the players in his badminton academy are getting an education from NIOS.
NIOS alumni, Ms. Niranjana and Vinod Kumar Chaudhary were also felicitated on the occasion. Shri Vinod Kumar said that only due to his education in NIOS, he was able to get the credit of making the Guinness Book of World Records 10 times (8 in Typing and 2 in sports). A proud learner of NIOS, Ms. Niranjana is a successful ventriloquist. Prof. N. K. Ambasht, former Chairman, NIOS said that in this age of technology, innovations must lead to developing 'standalone' courses for the Indian Diaspora, to achieve the goals of the National Education Policy- 2020. Pro-Vice Chancellor, Prof. Sushma Yadav said that the role of NIOS increases in the light of New Education Policy. NIOS has such potential that the institute will be able to achieve the ambitious goals of National Education Policy 2020 in the coming years.
The half-yearly magazine of NIOS 'Pragyan' was released by Dr. Subhas Sarkar on this occasion.