LEARNIT DAY 2: Interacting with FICCI Arise, hanging out at Google
Anushka Yadav reports from Learnit Conference, London. Day 2 was all about hanging out with the FICCI Arise delegation and the visit at the Google Office.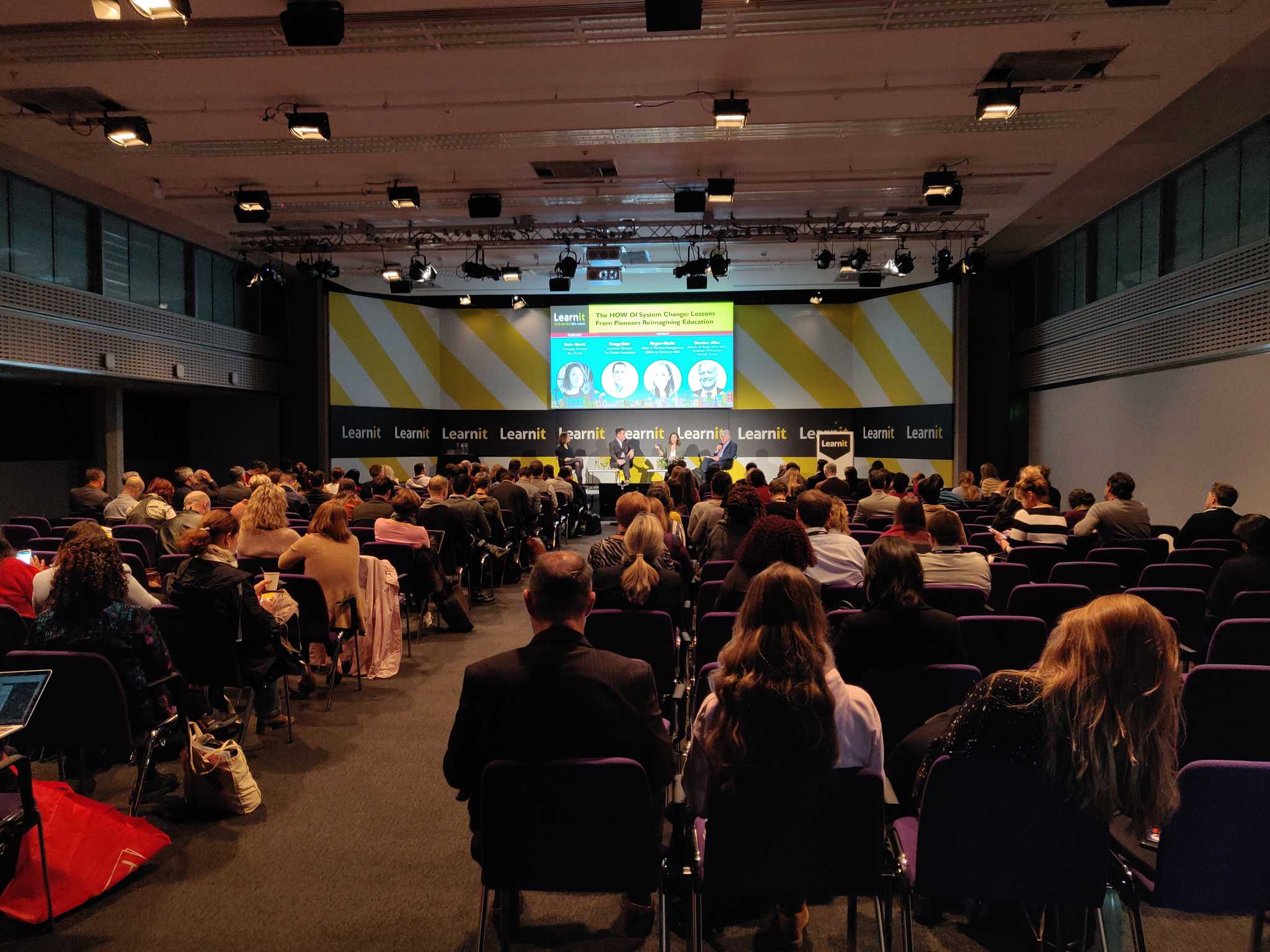 A rainy morning called for a cup of hot chocolate. Walking towards the venue and looking at the Westminster Abbey, it seemed like a good start to Day 2 of Learnit. The Indian delegation reached the venue on time after an early morning walk around the city. Honest confession: I couldn't motivate myself to get up early. Yes, the youngest one in the delegation couldn't wake up early.
It seemed like I was back to school as we walked towards our "classes". It was a special day as there were two speakers from the Indian delegation; the first session 'Investing in Early Childhood Education' had the esteemed Dr. Swati Popat Vats, President, Podar Education Network & Early Childhood Education along with Milla Kokko, CEO & Co-Founder, Hei Schools and Jen Lexmond, CEO, Easy Peasy, as speakers.
It was warm and motivating to see the support and presence of the entire delegation in the room brought together by FICCI Arise. The enlightening session focused on teacher training while stressing on the need to focus on the environment in terms of architecture, interior design, and the learning environment, which should be based on the current reality. Personally, I admired how the speakers spoke of building an international community to share ideas. The panel urged educators to help in improving the quality and the quantity of interactions between parents and kids at the very beginning; even the home environment needs to be kept under check. Further, the speakers pointed out with utmost honesty the lack of education about Early Childhood Education on the part of parents and policymakers. When asked the reason for the lack of investment in the field, Dr. Swati Popat Vats responded, "Now, people are coming to understand the economics of careers that investing in early years actually brings you returns, which are not only in money."
While I was busy clicking photographs, my attention was caught by a session on the 'Global Learning Landscape' where the speakers praised the "incredible progress in edtech in India." Dear Indians, we're being praised internationally for improving the education atmospherics. Be proud this Republic Day, we're doing something good!

Another session where the Indian delegation was seen marching to was 'Raising India's Next Generation of Entrepreneurs', a session by Arunabh Singh, Chairman, Western UP, FICCI Arise and Director, Nehru World School, Ghaziabad as well as the man responsible for bringing together the wonderful delegation of dedicated professionals. Singh narrated the success of his project Startup Superstars. "We (India) have a population of 1.3 billion growing on to become 1.5 billion. Larger populations bring many challenges. We have also been called the world's youngest country, because more than 50% of our population is below 25 years of age. We'll need 12 billion jobs for our future generations which is more than Greece's population. It will call for a tremendous level of competition. So, we came up with a simple solution – each student will have their own business idea for a startup. There will be a networking event for which one full year will be spent in planning by everyone in the school. So you come up with an idea, you then convince your classroom, you set up business, do your reports and eventually file your balance sheet. Concurrently, that's also dynamic teaching that suppresses tradition. While the school funds the business, the parent is also onboard from day one. At the end of the project, only the principal amount is returned to the school, the rest is kept by the student. If they lose the money, they don't have to give the money back. We work like venture capitalist funds who don't expect anything in return. We try to get the students to succeed but here failure was an acceptable outcome as well. Because even if kids fail, learning is a process." Further, he explained to the audience the challenges that come with the project. Closing his presentation, Singh thanked the Indian delegation comprising of educators, policy makers and entrepreneurs, and said "We can and we will make a difference together."
After a refreshing session, I thought it was a must to interact with officials from FICCI Arise, India. Facing the majestic Westminster Abbey, Shobha Mishra Ghosh, Assistant Secretary General, FICCI and I sat over a cup of English tea. She was filled with joy and zeal, pointing out, "Initially, we thought we wouldn't have many people in our delegation. But the offer which Learnit and Google made generated a lot of excitement. It was, particularly, interesting for me because 15 to 20 policymakers were onboard. We learned it was technology in education that attracted them. The government seemed keen at bringing back home the thrust of Digital India. A lot of interest was generated when we spoke to Katy about the spread of education technology across the globe. We should learn from Learnit and recreate something similar with many boards that we have including state boards. And I'm very happy to say that with the CBSE leadership over here, we are finally talking about doing something together in terms of getting the technology companies from within the country. FICCI wanted to bring together the domains of technology and education leading to an enhanced educational experience."
Naga Prasad Tummala, Chairman, FICCI Arise, also told us about his experience at Learnit, "It has been good to witness the technological innovations in education. Learnit has a compact and ready design programme. Platforms such as Learnit and BETT help us to understand what are those technologies that are staying. You get a clear-cut idea of tested products in comparison to vendors' constant proposal to buy certain products."
The delegation brought together by FICCI is commendable for another reason: they invited an interesting group of leaders from all age groups and backgrounds. I got the opportunity to meet one of the youngest leaders in the field, Roshan Gandhi.
Gandhi's journey from London to Lucknow is an inspiration for the youth to give back to society. "I was born and raised in the UK. Post my undergrad from Oxford, I decided to move to Lucknow after consultation with my family. It was a sudden decision but my extended family is in the education sector, running the City Montessori Group of Schools. I really felt that the opportunity to contribute to Indian education and to make an impact in improving and changing Indian education as well was such a great thing to do that I wanted to go and serve in India instead," the 24 year old said. Gandhi was particularly interested in attending sessions on edtech at the Learnit Conference, "It's interesting to see how technology is evolving the role of a teacher as well as driving the learning process. I'd like to extend my gratitude to FICCI for providing this huge learning experience. There has been a lot I'm taking back and look forward to implementing it back in India and to make an impact." Summarising his thoughts, the young leader pointed out the need to maintain a balance between social and emotional well-being in teaching to encourage the development of well-rounded and happy individuals.
The insightful chats were followed by some wonderful sessions. Day 2 of Learnit was dominated by sessions on Early Childhood Education and edtech in schools across the world and we thoroughly enjoyed attending each. However, you could tell many of us seemed tired after the long walks post the conference followed by early mornings.
Not to forget, Day 2 of Learnit was closed by an interesting turn. The Indian delegation visited the Google office in London and learned how simple basic tools and products by Google can be used in schools to improve the quality of education and make it efficient.
My favourite part was meeting Raymond, the doggie at the Google office. With some drinks, snacks and a pink sky, we said goodbye to a delightful day. On our way back to the hotel, I could hear the delegation making plans to do some shopping, have an English breakfast and be touristy for one final day.
UNESCO Launches 2020 State of the Education Report for India: Vocational Education First
The second edition of the State of Education Report focuses on technical and vocational education and training (TVET).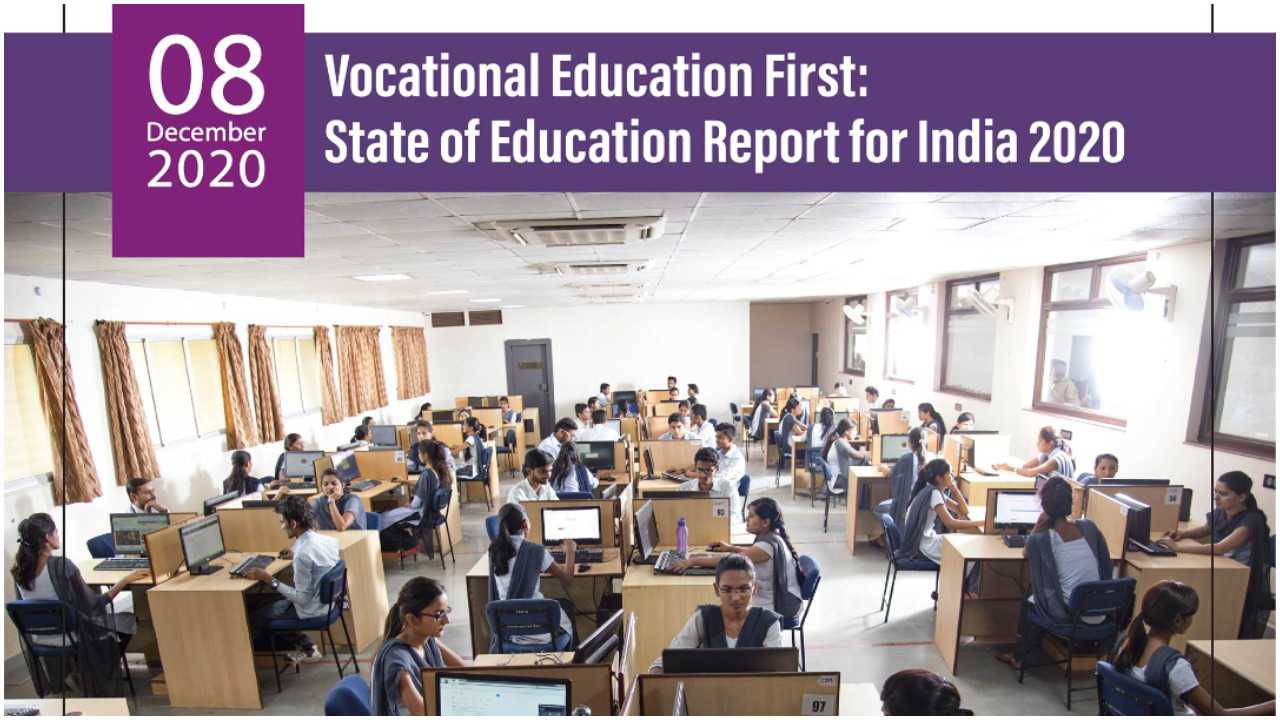 New Delhi, 3 December: The 'State of the Education Report for India 2020: Technical and Vocational Education and Training (TVET) ' was launched virtually today by UNESCO New Delhi, with over 400 attendees, including representatives from the government, civil society, academia, partners and youth.
The second edition of the State of Education Report focuses on technical and vocational education and training (TVET). India's often cited demographic dividend, the aspirations of its youth and the skill requirements of the growing economy – all hinge on a well-functioning TVET system for achieving an inclusive and equitable growth that will propel the country to the next phase of socio-economic development. The report aims to support the Government of India which has already announced skills development as a key national priority under the Skill India Mission.
"The Report identifies TVET as a key tool for recovery and rehabilitation through a rapid response system of skilling, upskilling and re-skilling. Despite the challenges, the global COVID-19 pandemic has provided an opportunity to expand the digitalization of vocational education and training ensuring the use of distance learning and digital tools", said Eric Falt, UNESCO New Delhi Director.
"With the recent launch of the National Education Policy (NEP) 2020, the relevance of this report is enhanced further as it provides useful inputs for implementing the ideas proposed in the 2020 NEP. I hope this publication will enable cross-learning among the multiple stakeholders of the vast vocational education ecosystem and adoption of best practices," said Shri Ramesh Pokhriyal 'Nishank', Hon'ble Minister of Education, Government of India.
"Our Ministry is making continuous efforts to enable social justice and livelihoods through quality lifelong learning opportunities for all. This report, I am sure will provide useful guidance and promising practices towards our endeavour and ongoing efforts towards the achievement of the Skill India mission", said Shri Mahendra Nath Pandey, Hon'ble Minister of Skill Development and Entrepreneurship, Government of India.
As a technical and financial partner to UNESCO's TVET State of the Education Report 2020, the American India Foundation aims to build upon its strong legacy of education and livelihood programmes for India's youth and women, through remote learning and virtual skilling methods, thereby aligning with the National Education Policy 2020. A rapidly evolving employment landscape, brought on by the COVID-19 pandemic, has necessitated that skilling is reoriented towards the needs of the hour", said Mathew Joseph, AIF's India Country Director.
With an in-depth analysis of the current state of TVET in India highlighting next practices and recommendations, the report aims to serve as a reference tool for enhancing and influencing the policies and programs related to skills development in India. It can be used by TVET practitioners, policymakers, private sector and donor agencies for planning future engagements in the TVET sector in India.
India is at an exciting stage today, having made considerable progress towards its goal of creating a skilled workforce of 110 million people by 2022, as stated in the National Policy of Skill Development and Entrepreneurship (NPSDE), released in 2015 [NPSDE 2015]. It is presently training 10 million1 youth annually through the many schemes that are ongoing.
The Report provides an overview of the present capacity for TVET provision through short-term and long-term courses, by the state as well as non-state actors, and also through educational institutions such as schools, colleges and universities. It discusses previous education policies and the approach to TVET provision in the light of the priorities of the country as reflected in NEP 2020, as also the priorities that have come with the adoption of the 2030 Agenda for Sustainable Development of the United Nations (UN).
Finally, in order to achieve evidence-based results, the Report outlines a set of ten recommendations that should be adopted to help achieve the stated vision for TVET in the country. These include critical recommendations for informal workers who make up the largest portion of India's workforce. In particular, the Report makes important recommendations towards preserving and promoting India's vast reserves of tangible and intangible cultural heritage, an activity that can create livelihoods for large numbers of its citizens and also instil a sense of pride and ownership among the youth.
The ten recommendations are:
· Place learners and their aspirations at the centre of vocational education and training programmes
· Create an appropriate ecosystem for teachers, trainers and assessors
· Focus on upskilling, re-skilling and lifelong learning
· Ensure inclusive access to TVET for women, differently-abled and disadvantaged learners
· Massively expand the digitalization of vocational education and training
· Support local communities to generate livelihoods by engaging in the preservation of tangible and intangible cultural heritage
· Align better with the 2030 Agenda for Sustainable Development
· Deploy innovative models of financing TVET
· Expand evidence-based research for better planning and monitoring
· Establish a robust coordinating mechanism for inter-ministerial cooperation
The substance of the Report has been developed by an experienced team of researchers from the Tata Institute of Social Sciences, Mumbai, under the guidance of UNESCO New Delhi. The technical and financial partner — American India Foundation (AIF), is a leading not-for-profit organization committed to improving the lives of India's underprivileged, with a special focus on women, children, and youth.
As part of the launch, the media will have access to the following audio-visual products that include:
Note to the Editors:
The State of the Education Report for India is one of UNESCO New Delhi's flagship reports to be published annually. Its main objective will be to monitor progress towards the education targets in the Sustainable Development Goals (SDGs).
UNESCO has developed a Strategy for TVET (2016-2021) in alignment with Sustainable Development Goal 4 and the Education 2030 Framework for Action to strengthen TVET systems of Member States and advance youth employment, access to decent work, entrepreneurship and lifelong learning opportunities in specific national contexts.
The TVET Strategy for 2016 – 2021 has three priority areas:
· Fostering youth employment and entrepreneurship
· Promoting equity and gender equality
· Facilitating the transition to green economies and sustainable societies
About UNESCO:
UNESCO is the United Nations Educational, Scientific and Cultural Organization. It seeks to build peace through international cooperation in Education, the Sciences and Culture. UNESCO's programmes contribute to the achievement of the Sustainable Development Goals defined in Agenda 2030, adopted by the UN General Assembly in 2015.
In this spirit, UNESCO develops educational tools to help people live as global citizens free of hate and intolerance. UNESCO works so that each child and citizen has access to quality education. By promoting cultural heritage and the equal dignity of all cultures, UNESCO strengthens bonds among nations. UNESCO fosters scientific programmes and policies as platforms for development and cooperation. UNESCO stands up for freedom of expression, as a fundamental right and a key condition for democracy and development. Serving as a laboratory of ideas, UNESCO helps countries adopt international standards and manages programmes that foster the free flow of ideas and knowledge sharing.