Anil Pant, CEO & MD Aptech Ltd, discusses the factors behind Aptech's huge success and growth
Anil Pant spoke to ScooNews at the Aptech Career Quest, Doha 2017. Career Quest is an annual student confluence which also serves as a valedictory function for graduating students, along with a platform to attend seminars and talks delivered by leading names in the industry.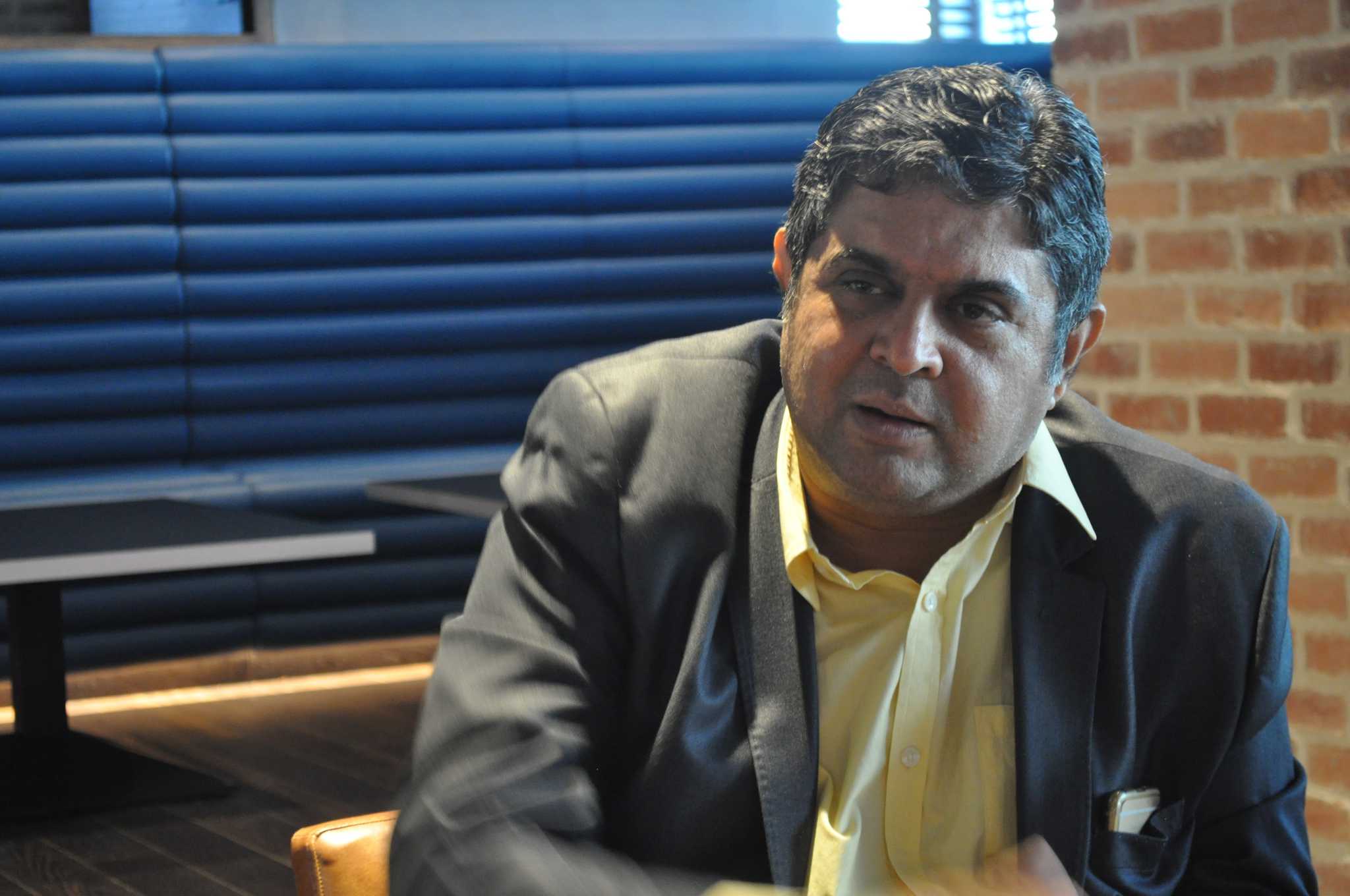 Aptech Ltd is the largest Indian non-formal education company with presence in around 40 countries. Since its commencement in 1986, Aptech has effectively ventured into ten diverse sectors ranging from IT training to personal development.
Anil Pant took over as the CEO and MD of the company in November 2016 and within a year, he has been setting new benchmarks and taking the company to new heights. He firmly believes that India is on a path towards the trend of micro-entrepreneurship, and that the discussion of jobless growth is far from reality. Under his leadership, Aptech has made a strategic shift from enrollment-driven employment to employment-driven enrollment and Aptech has been registering a 100% placement record.
A shrewd businessman and a charismatic leader with gestures as sharp as his looks, Anil Pant spoke to ScooNews at the Aptech Career Quest, Doha 2017. Career Quest is an annual student confluence which also serves as a valedictory function for graduating students, along with a platform to attend seminars and talks delivered by leading names in the industry.
Excerpts from the interview:
Could you tell us what Aptech is focussing on today?
Everybody thinks of Aptech as a software training company. Aptech is much more than that today. Today, the software education part of the business is less than 5 per cent. We have an 85 per cent share in the media and entertainment space where our children, who are trained in our two brands Arena and MAAC (Maya Academy of Animation and Cinematics) – and we train around 40,000 students every year – are placed in almost every media house, every studio. Our children have worked in films like The Mummy, Harry Potter series, Life of Pi; these are some of the famous ones but they have worked in almost every space. Name any studio in the world, our kids are there!
When you look at what we bring to the table for these children, we actually give them a career. The skills that they learn from Arena and MAAC are adequate for them to become a studio head. Some of them are even ambitious to start their own studio.
We also have brands in the aviation, hospitality and retail space. You go to any airport in India and shout, "How many of you studied in Aptech?". You will find a whole host of people who are working in either baggage-handling, ticketing, in the retail or in the lounges.
We have started courses in banking, finance and insurance as well. Our focus on employability is increasing enrollments.
How are these new courses validated?
We have banking partners like Axis and HDFC. They have validated our courses and based on that they tell us that if a student scores more than a certain percent in our course, they will hire them automatically. Here we are talking about tens of thousands of jobs. They will, of course, be hired at an entry level and they need to work their way up, like they need to in any job they get into.
We spend a lot of money on creating content that is cutting edge, relevant and most importantly, makes a child job-ready. Otherwise, a graduate joins a job and spends ten months learning it and leaves for a new job. So the benefit goes to someone else. What I tell my employers is that I have a child who is job-ready, who needs just a week of induction and he/she can start work. Our business, after we made this change, has been growing at the rate of 35 per cent plus, which is huge in the perspective of education and this has happened in the last one year. Even with resistance from some business groups, I took the best minds in Aptech and I created a group called the Industry Connect and Placement Group. They are the ones who have actually been making a difference. They know everything about content, delivery and what the customer wants, and they are the ones driving this initiative.
What are the challenges you face?
Today the biggest challenge is convincing parents that media and entertainment is a great place to send our children. They still want their children to either be a doctor, engineer, lawyer or a chartered accountant. I'd say media and entertainment is a great space to be in because even if there is a recession, people will cut down on jewellery, clothing and buying a house but they will not cut down on content. They are still going to consume content. Some of you may disagree saying that some of the TV channels are in trouble but I would say that content is still being consumed and jobs are still there.
Just two years back, people were not ready to pay for NetFlix but today every upper middle class home is subscribing to NetFlix. So, people will pay for content.
Look at Bangladesh as a country. It is the second largest country that is exporting software on the independent platform, not as IT service companies. There are platforms today where people post software work as services and you can quote and bid for that. Almost 300 million dollars of revenue came into Bangladesh because of foreign exchange through this one source. People are willing to outsource a lot of this editing and VFX work to small enterprises because something that cost $12 a frame now costs $1-$2 a frame.
How important is updation of curriculum for Aptech courses?
In this age of Internet of Things, Cloud, Big Data, Analytics, Artificial Intelligence, Robotics, Gaming, we need to keep our courses updated with whatever new comes in. For example, when GST came in, we created a course on GST. Every small city needs a GST consultant. We have created at least 5,000 people who are capable of supporting small businesses with GST implementation in the country.
Do you plan to diversify into providing services for schools?
We are already doing that now with a product called Learning Ladder. We have content right from nursery to high school. We haven't monetised it yet. It's an investment that we have made in the content. We have landed our first customer in Australia. We are looking at how to structure this so that we can embed it in schools. We may not even bring this to India because India is too regulated a market. We would rather go to a market where people will value the content for what it is. Learning Ladder is about experiential learning.
Do you give a cent percent guarantee for placement?
We do not give a guarantee. If we do, then the demands will increase. The student will say he wants a job that will give him Rs.1 lakh a month, a car, a 4-day work week etc. But we still have a record of hundred per cent placement.
Could you tell us about Aptech Qatar's collaboration with Middlesex University?
It is a matter of great pride for us. Middlesex University is ranked 73rd in the world and IIT Bombay is 179th. They have entered into an articulation with us that a child has to study there for a year post two years in Aptech and they will get a UK degree. Children can save so much money that way. They can choose to study in any of their four campuses – London, Dubai, Malta and Mauritius.
Do you conduct a screening process for admissions to Aptech courses?
No, we don't. Let me be honest, we want as many students as we can get. Our job is to take someone in the unemployable segment of society and make him/her employable. Most of our students come from typically SEC B and below.
Are you focussing on expansion in India or internationally?
Both. I have a domestic team that drives business in India and another team that drives the international business. We are moving into new countries. We are looking to expand to developed countries. We have just started our initiative in Australia. We are looking at Germany as a focus area. The problem with Western Europe is an aging population. A lot of the low-end IT, hospitality, beauty training and retail jobs don't have too many people. So there is a big scope for this business in these countries, especially with immigrants. For example, one of the programmes that we have proposed is in Germany for Syrian refugees, saying that why don't we take these women, create a 9-month programme to teach culture, language and skill so that they can become a part of society. We will roll this out in townships in South Africa next year.
What is your message to the youth of our country?
I just have one message: Just don't run after attaining educational degrees because merely earning a degree will not help you attain a skill for doing a job. There are enough and more jobs available. Just make yourself skilled enough so that you are fit for the job.
This interview appears in our October 2017 issue.
What is Hybrid/Blended Learning?
We are lifelong learners and need to keep pace with the fast-paced technology so that our students are ready to take the next leap. Our classrooms have to echo that thought and vision at all times through new pedagogies and teaching-learning strategies.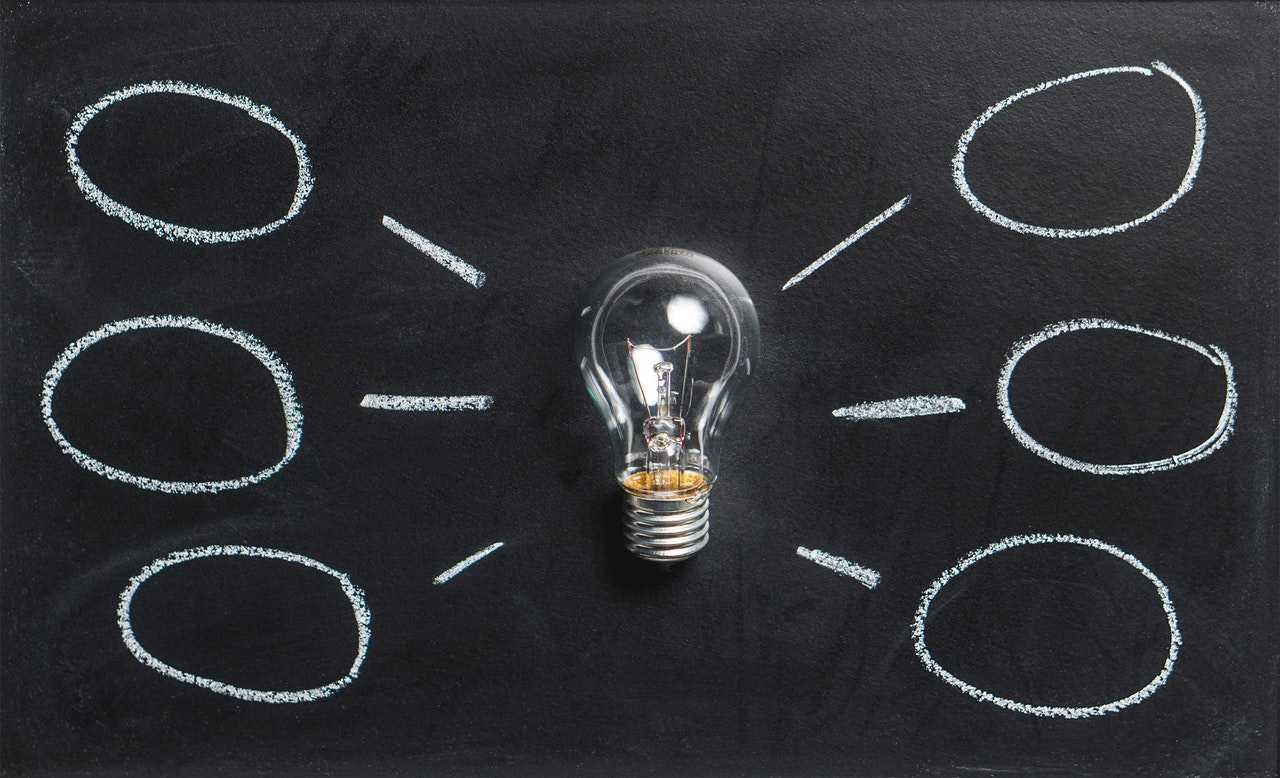 The COVID wave – consider it a bane or boon – but it somersaulted us to an array of digital world experiences. It propelled us to rethink and reorganize our mindsets, our practices, and our expectations. Overnight, we moved from an offline teaching mode to online, and credit to the teaching community for doing it so seamlessly. Now, we are back to offline teaching but do we continue with our old practices? An obvious no so we need to infuse our online experiences within the offline to ensure that quality education reaches one and all.
One key pedagogy to achieve the goal is blended learning, an approach that combines face-to-face learning with online learning incorporating certain elements that support students to have control over the pace, time, and place. The material resource investment is minimal but human resource investment is high till the ethos is assimilated within all.
So let's understand the varied types of blended learning and its implementation in the school teaching-learning process.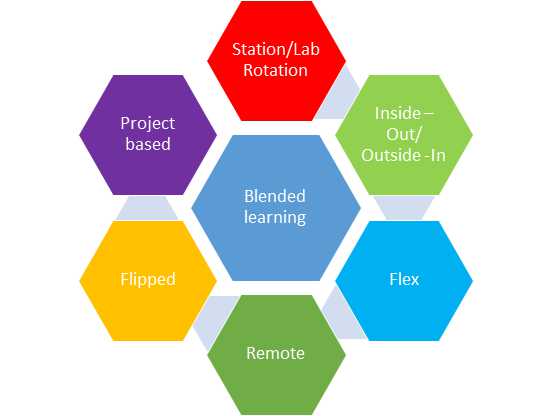 1. Station Rotation
In Station Rotation, students will rotate on a fixed schedule as per the teacher's discretion. The teacher begins her class of 40 students with instruction on narrative writing from 9:00 am to 9:15 am. She then splits the class into three groups where one group continues to learn with her. The second group works on a collaborative assignment on narrative writing and the third use their laptops or computers placed in the class and researches blended learning and after 15 minutes the group switches so that every group has varied experiences. A block class of English can support the various transactions and supports students to build research, collaborative and knowledge skills.
In the same format, if computers or laptops are not available in class then students use the computer laboratory in school and this rotation would then be called as Lab Rotation.
In this methodology, all students with varied learning needs are supported. The only challenge is the Technology and time management skills.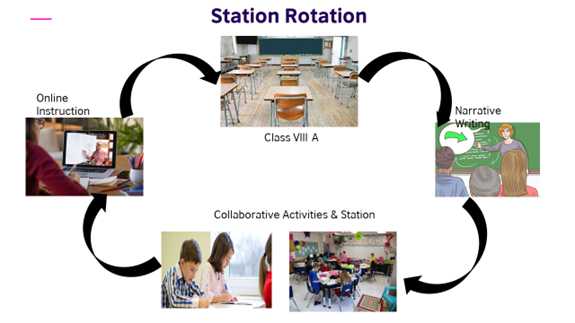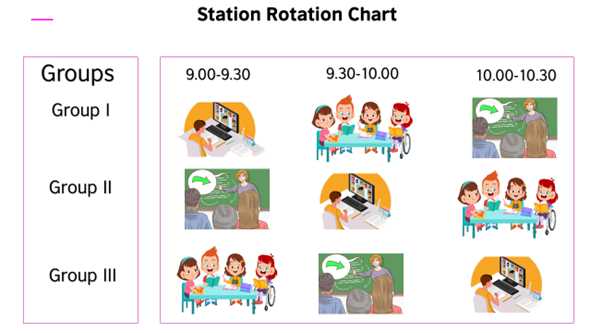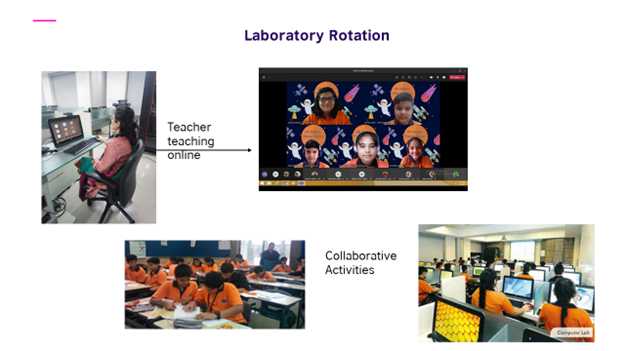 2. Remote & enriched virtual learning
It is a course or subject in which students have required face-to-face learning sessions with their teacher of record and then are free to complete their remaining coursework remote from the face-to-face teacher. In class, the teacher gives a project to students on 'Analysing any work of Shakespeare's or Rabindranath Tagore's Kabuliwalla' w.r.t. the criterion of plot, characters, theme, language, thought and values.
She briefs students on works of Shakespeare and the elements of a play within the school timetable and they complete all the work at home.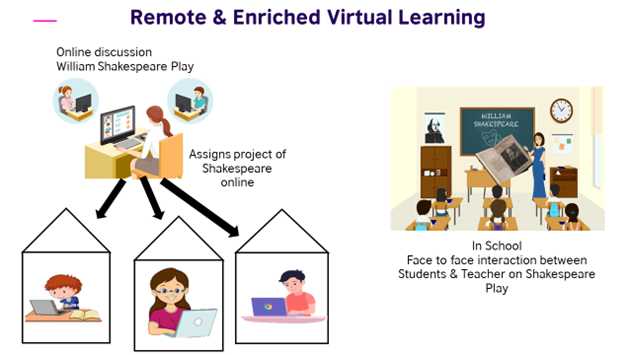 3. Flex blended learning
During certain weekends if the teacher wishes to support the students further in class especially if the concept has been challenging or students have underperformed in an evaluation, the teacher records her remedial teaching and uploads in-class computers. She designs a task around remedial teaching. She expects students to report to school wherein students enter the class on their own time, access the teaching, complete the task and leave. If they have any further doubts, they could approach the teacher in the school or their peers. A useful TIP would be for the teacher to Collaborate with their colleagues in club activities.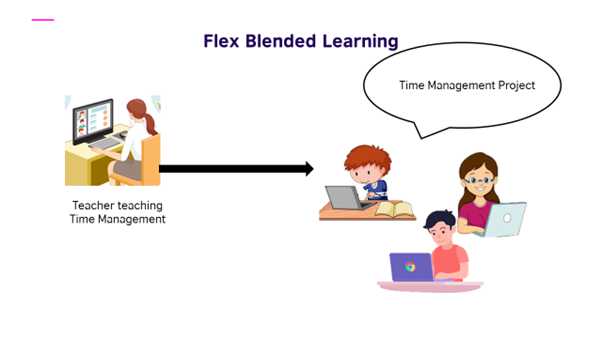 4. Flipped learning
As per TeachThought, a flipped classroom is a type of blended learning where students are introduced to content at home and practice working through it at school. This is the reverse of the more common practice of introducing new content at school, then assigning homework and projects to be completed by the students independently at home.
This methodology is most useful when you want students to have some knowledge of the content before analyzing it further. So if a teacher wishes to conduct a 'Book review'. She shares the e-book, 'Totto-chan' with the students. She asks them to read and shares certain discussion points. In school, students discuss the book and write personal book reviews. The teacher has used her class time constructively and has been to achieve greater learning outcomes.
5. Individual rotation blended learning
As per https://www.blendedlearning.org/models/, the Individual Rotation model allows students to rotate through stations, but on individual schedules set by a teacher or software algorithm. Unlike other rotation models, students do not necessarily rotate to every station; they rotate only to the activities scheduled on their playlists.
The teacher allows students to rotate through different kinds of classrooms called stations. A specific ILP [Individual learning plan] is created for each student. For example: Parth and Mona's examples work on clauses, Mona is struggling with Clauses so she attends classes and solves assignments whereas Parth will attend classes, watch a few videos, and also complete a research project on clauses. Thus the teacher knows her students' skills in greater depth and supports them individually to achieve her target learning outcomes.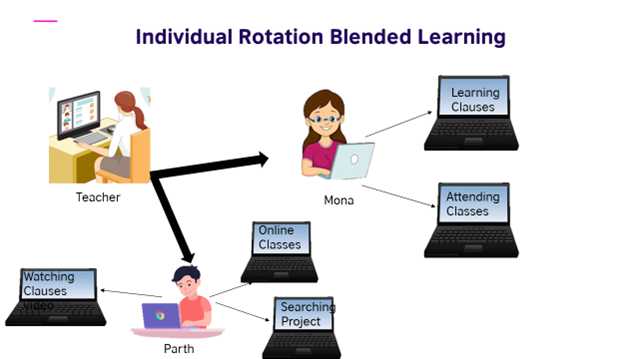 6. Inside-out and outside-in blended learning
In Inside-out, teaching and learning begin inside the classroom and move to an outside environment and in an outside-in classroom, it begins in an outside environment and moves inside the classroom. In a class environment, the Teacher discusses with students about 'Sound of Music' in class and ends the lesson by taking them to the theatre to watch the play. In Outside-In, Students watch the play in a digital environment and end the lesson in a physical environment by conducting role-plays.
The list of models is many but one has to review their resources and plan accordingly.
One can mention that they may face challenges in terms of technology, lack of training on digital platforms, lack of resources to create self-paced learning environments, or time management with vast syllabuses to complete.
Certain tips that can come useful are:
1. Teachers can begin with easily available digital content like Khan Academy, Pinterest, discovery Education, PBS Learning Media, and much more.
2. Review the available resources and plan a timetable. Most importantly, a team achieves more so collaborate with your colleagues in club activities.
3. Take small simple steps – "The journey of a thousand miles begins with one step." Lao Tzu. Choose the model that you are comfortable executing and then move forward.
As teachers, we are ever-evolving and we are that one profession that creates more professions so our responsibility and accountability stretch beyond the classroom. We are lifelong learners and need to keep pace with the fast-paced technology so that our students are ready to take the next leap. Our classrooms have to echo that thought and vision at all times through new pedagogies and teaching-learning strategies.
References:
Christensen Institute, Blended Learning definitions, https://www.christenseninstitute.org/blended-learning-definitions-and-models/
About the author:
Kavita Sanghvi holds a Masters in Physics, Masters in Education, Masters in Philosophy of Education, and CAEL [Certificate in Advanced Course in Educational Leadership] Diploma from Harvard University. She heads SVKM's CNM School, in Mumbai. She is a Teach SDG's Ambassador, Climate Action Ambassador, and Scientix Ambassador for India. She is a British Council Trainer and Ambassador.