Another life lost under XII grade examination pressure
Abhimanyu Sadasivan hanged himself to death on March 2 and wants CBSE to think about the pressure that they impose on a child.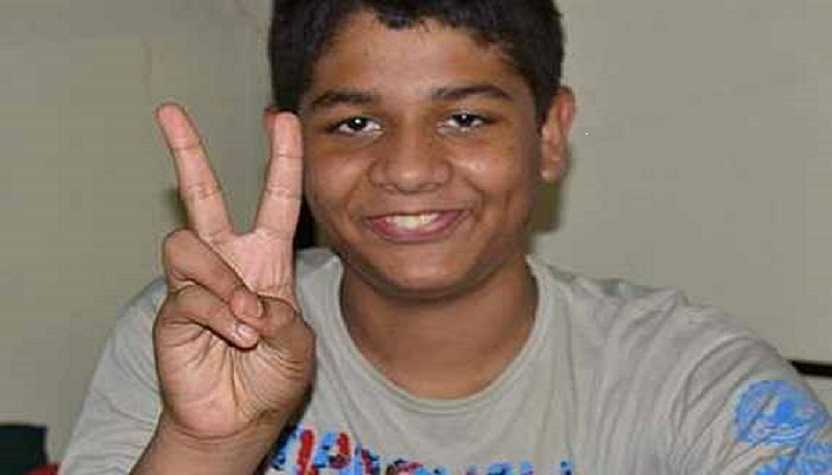 John Adams, the second president of the United States once said, "There are two educations. One should teach us how to make a living and the other how to live."
If we look at today's education system all we see is competition. The school life that was fondly discussed at one time, has now become the most competitive and stressful years of life. When I look at the students, the pressure of parents, peer and school on them, it is so disappointing because I don't see knowledge being gained or retained. It is just an exhausting game of memorization and recitation of facts. For some, it is beneficial because it's a step to get into college. For others, the unnecessary pressure takes over them and drives him/her to take drastic steps.
Just like Abhimanyu Sadasivan, a 16 year old boy of class 12 CBSE student, who couldn't take the pressure at school and hanged himself to death.
On February 25, he wrote his last words in his Chemistry paper and came home. Since then, he hadn't attended the school and hadn't mentioned anything about school or studies to his parents.
On March 2 Abhimanyu's parents were called to the Indian High School, Dubai when he did not turn up for a maths exams. Upon arriving, the school showed the Chemistry paper that had his suicide note.
The parents immediately contacted Sharjah Police, who tracked Abhimanyu's mobile phone and informed that he was at the family home. When they reached home, he was found dead on the terrace of the family's apartment building in Sharjah.
"Instead of calling us to the school and wasting precious time, if the teachers had alerted us earlier about what he had written, we could probably have saved him," said Mrs Sadasivan, who has not been able to sleep since her son's death.
Mr. Sadasivan said "We keep going back to the day's events and think that if the call had come even a few hours before, we would never have allowed him to leave the house. The headmaster showed us his chemistry answer sheet. It was several pages long. He had written about the pressures of the CBSE [Central Board of Secondary Education] system, and also about how he loved all of us."
In the note, the teenager had written:
"This is not my chemistry paper, but the last exam I am writing. I am so bored of my life and, when I am dead, I do not want my body to be taken to India."
He also talked of his love for his parents and younger brother and he hoped his death would force the CBSE to consider the rigorous pressures the CBSE placed on students.
In conclusion, his Abhimanyu's mother said said;
"It was a very bad decision on his part but a mother cannot be angry with her son. It was his farewell to us and said the paper was only for us parents to see. I do feel really sad that he did not approach us or speak to us about what he went through. Ours was a happy home. He was a lovely boy."
What we fail to understand is that, it is not only the parents or school that has expectations from a child. A child has his own self-expectations that keeps motivating him when nothing else does. If you kill those expectations, he breaks. And then the child decides that finishing his life is the only way out.
Two months after his cremation in India, the memories of Abhimanyu are plastered all over the walls of the family's home.
The family still awaits that Chemistry paper he wrote so they can put the pieces together and understand why he took such a disturbing step.
Image Courtesy: Sadasivan family
Smile Foundation and Shell Launch STEM Project on Pi Day
The initiative will benefit less-privileged students from government schools.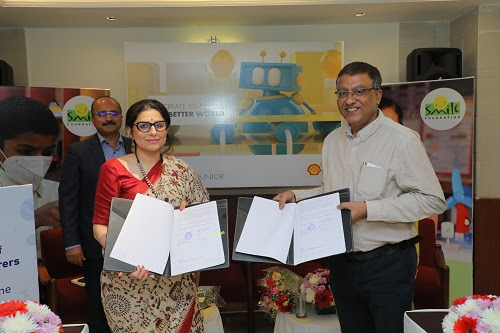 On the occasion of International Pi (π) Day, Smile Foundation and Shell launch 'NXplorers Junior' programme in three Indian states. NXplorers is Shell's global flagship Social Investment STEM (Science, Technology, Engineering, and Mathematics) educational programme aims to benefit over 25,000 children during the first year by enabling them to understand, navigate and address local and global challenges, as underlined in the Sustainable Development Goals (SDGs). NXplorers is also aligned with the National Education Policy 2020 and delivers societal benefits.
The innovative initiative will benefit less-privileged students from government schools and affordable private schools, studying in rural and hard-to-reach areas in the states of Andhra Pradesh, Telangana and Kerala. Its design also includes endeavour to create awareness amongst parents on the importance of STEM education, especially for girl children.
"Shell firmly believes that, provided with the necessary skills and guidance, young people can be a driving force to find sustainable solutions to the major global challenges of our time. Launched in 2018, Shell's global flagship STEM programme NXplorers is aligned with the National Education Policy 2020 that aims to transform India into an equitable and vibrant knowledge society. With the Smile Foundation partnership, we aim to expand this programme to Andhra Pradesh, Kerala, and Telangana and offer young minds the platform to design sustainable solutions to ease the pressure on food, water, and energy," said Ms. Latika Taneja, Head of Corporate Relations – India.
The programme is being rolled out in concurrence with the educational authorities of the respective state governments. Besides students, teachers, parents and communities are involved actively while implementing the programme so that it remains sustainable in the long-term.
"We are excited to roll out this innovative programme in India. We are hopeful that our children will not only leverage STEM education in building their future career but also will grow up and develop leadership ability in finding sustainable solutions in various walks of life," said Mr. Santanu Mishra, Co-founder & Executive Trustee, Smile Foundation.
The NXplorers Juniors will train both 6th and 7th grade students. NXplorers Juniors Level-I course will be delivered through a combination of teacher's guide, PowerPoint slides, and several instructional videos. The facilitator guide will outline the essentials to be covered in each session, exercises, discussion, checkpoint questions, a summary, assessment, and research to be undertaken by students after the session.
The United Nations Sustainable Development Goals (SDGs), exploring SDG Solutions, researching global goals, and developing a challenge and choosing a solution etc. are covered in the NXplorers Juniors Level-1.
NXplorers – Learning for a Life Time, envisions to provide a minimum of 3-5 years of NXplorers exposure to the students at various levels. The objectives include developing strong knowledge and skill set among students so that local and global challenges can be addressed by them. Developing sustainable models of implementation by engaging teachers, school leaders and communities effectively, creating awareness amongst parents regarding the importance of STEM education, especially concerning girl education are part of the overall goals.
About Smile Foundation
Smile Foundation is a national development organization directly benefiting over 1.5 million underprivileged children and their families every year through more than 400 welfare projects in education, healthcare, livelihood and women empowerment spread across 2,000 remote villages and urban slums in 25 states of India.
About Shell
Shell is one of the most diversified international energy company in India with over 10,000 employees and presence across upstream, integrated gas, downstream, renewable energy, and deep capabilities in R&D, digitalisation, and business operations; with a retail presence across six states – Karnataka, Tamil Nadu, Telangana, Maharashtra, Gujarat, and Assam.