As we change with the world, so should the girls' education system.
We complete 100 years of girls' education; from no schools to boys school to all girls college, we have come a long way. But have we reached where we had to?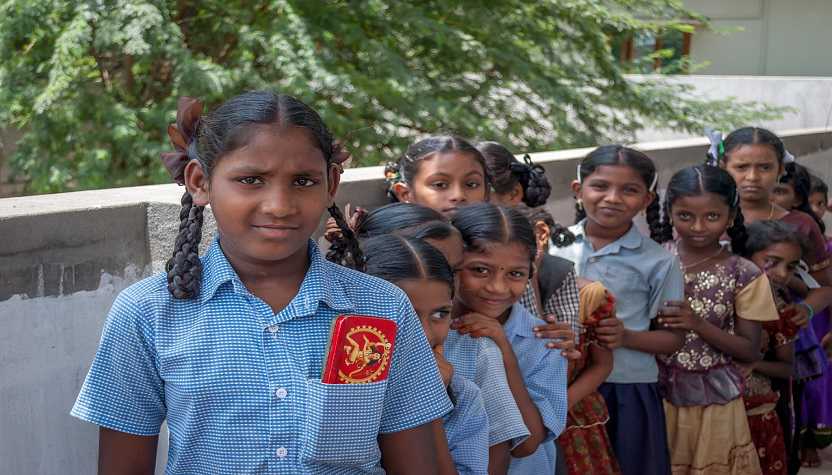 All of us want to see our kids becoming successful. The main source of success is knowledge which is only possible through good education. It's been 100 years of girls' education and educational institutions and still a lot needs to be developed.
According to the 2011 Census, the literacy percentage in Ahmedabad city was 83.85% females and 92.3% males. A century before that, in 1911, the numbers were 3.08% for women and 12.1% for men. In over a century, the literacy gap between men and women has narrowed down but by a meagre 0.57%.
In the beginning, parent's favoured boys education over girls for they believed that their daughters will take care of the house and so it'll be of no use to them. The son will go out to earn and run a household which is why it is important for him to study. Gradually, things started to change.
Ahmedabad city opened two vernacular schools in 1826 but in 1849 the city got its first girls' school which were run by Gujrat Vernacular Society. The student strength grew from one to 20 in just a year. Harkuwar Shethani began supporting the school in 1850. She gave 3,000 rupees for construction and 12,000 for maintenance. The British then gave her a title of 'Nek Namdar Sakhavati Bahadur.'
In 1871, city's first women's college opened near Khamasa Ahmedabad but was developed after an industrialist, Bechardas Lashkari donated 10,000 rupees and renamed it to Mahalaxmi Female Training College in 1874.That helped in spreading awareness about girls education and its importance. Vidyagauri Neelkanth and her sister Sharda Mehta became Ahmedabad's (and Gujarat's) first female graduates in 1901, passing out from Gujarat College.
After looking at the progress, Vithalbhai Patel in 1917, made primary education compulsory in Bombay Presidency and literacy rates improved. With the ongoing Freedom Struggle, the number of female students rose in Ahmedabad and after independence, college enrolment spiked among girls. Yet, the rural areas remained untouched by this. For them, finding a good groom still topped the priority list.
"A century ago, the pitch was to educate girls to make them better homemakers," says Gaurang Jani, associate professor at GU "A century later, we see many girls completing their graduation but never taking up jobs."
Mosam Trivedi earned a PhD for her study, 'A Century of Women's Education in Ahmedabad City (1911-2011) from Gujrat University's sociology department said in an interview;
"The number of girls still plummets when transitioning from secondary and higher secondary levels to graduate courses and drops further in postgraduate and technical courses," says Trivedi. "While Gujarat produced its first women graduates in 1901, women graduates among the state's SC, ST, and OBC communities emerged only in the past 20 to 30 years." The rise in higher education is primarily among the upper castes.
In the early 20th century, the literary sources don't reflect much encouragement for female education. Child marriage was a major contributor to low literacy even though most of the social reformers attacked such traditions and practices. Mahatma Gandhi in Ahmedabad commented on girls not being able to go to school because of early marriage and said "The husband has to repent for the sin by making sure that the girl gets educated."
But if we look the current statistics -in 2000-01, the number of boys was 1.12lakh and girls was 1.11 lakh. (2.23 lakh in total). After a decade, the numbers decreased to 75,437 of boys and 77,482 of girls and overall decreased to 1.52 lakh. Experts explained these lower figures as the parents decision of admitting their children to private schools with better means.
Studies show that even though we've come a long way in revolutionizing education, even now, boys are the first preference. Women have started doing there bit by taking up jobs after graduation and post graduation and they have built up the courage to face the world and the small mentality of society that is still against girl education. A little more efficiency can put an end to this difference.
Sarala Birla Gyan Jyoti honoured with prestigious 'Climate Action Project School of Excellence' Award
Only 250 schools globally were recognized because of their intense work on climate education in a whole-school approach. The recognition was awarded by Cartoon Network Climate Champions and Climate Action Project.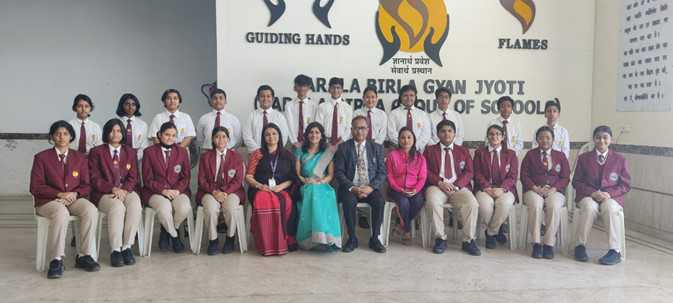 Sarala Birla Gyan Jyoti in Guwahati, India, was awarded the Climate Action Project School of Excellence. Only 250 schools globally were recognized because of their intense work on climate education in a whole-school approach. The recognition was awarded by Cartoon Network Climate Champions and Climate Action Project.
Cartoon Network Climate Champions is a climate change awareness initiative that sets out to inspire kids to take on daily challenges that collectively can make a big difference to the health of our planet. It has been developed in collaboration with WWF, a world-renowned environmental organization.
Climate Action Project is a free, global education project that was launched by Take Action Global, an education non-profit based in the USA, involving 2,700,000 teachers and students across 146 countries. The project aims to help students learn about the climate crisis in authentic ways and disseminate solutions online. The recognized schools submitted their work for the past year and met extensive criteria, including a school-wide commitment to climate education and student solutions.
Sarala Birla Gyan Jyoti has participated in global projects RiseUp4SDGs (India), Let's Be Human, Be One (Serbia), LeapEd Global Learning – Climate Change (Malaysia), the 17 Sustainable Development Goals competitions, implementing the three R's schoolwide and planting gardens in the community, at home and school. Students committed to training to become active Global SDG Ambassadors to raise awareness during virtual Student Hubs with 21 other countries. Students also actively collaborated with students in Brazil, Croatia, South Africa, Sweden and the UK in task-based projects. Currently, all Climate Change projects are student-led.
The selected 250 Climate Action Project Schools of Excellence were announced on 4 November 2021, during Climate Action Day, an annual online live event attended by 250,000 people globally. The event speakers included HRM Prince William, President James Alix Michel, Seychelles, Rick Davis, NASA, Matt Larsen-Daw, WWF, HRM Princess Esmeralda, Belgium, Juan Pablo Celis Garcia, UN Environment Programme, and other world leaders and climate scientists.
The winners were announced by Dan Russell, the voice actor behind several characters in Cartoon Network global hit series The Amazing World of Gumball, and Nandi Bushell, an 11-year-old musician, an influencer, and passionate climate advocate.
Statement by HRM Prince William "We need youth's creativity to repair our planet. We need students to invent and to innovate – to think beyond where we are now and to be optimistic about our future."
Statement by Koen Timmers, Climate Action Project: "Young people have the capacity to do more than learning about climate change. They all can come up with solutions, take small actions, and inspire others to change their lifestyles."
Statement by Dr. Jennifer Williams, Climate Action Project: "Our community of educators has come together in support of climate education for all. We are committed to ensuring students have access to information, ideas, and opportunities to take action for the planet, and, today, these Schools of Excellence are leading the way for the entire world."
Statement by Dr. Diganta Halder, Principal Sarala Birla Gyan Jyoti: "Stopping Climate Change has become a critical issue that needs to be addressed by every human being, but even more importantly in our schools. Students should be aware of Climate Action and the importance of achieving the goals set by the United Nations for peace and prosperity for all by 2030 and to become leaders of impact in the future."