Atal Innovation Mission & ScooNews Partner to Spread Awareness of Grassroots Innovations
Enhancing the Outreach of Atal Tinkering Labs' Student Innovations in Digital Media by partnering with ScooNews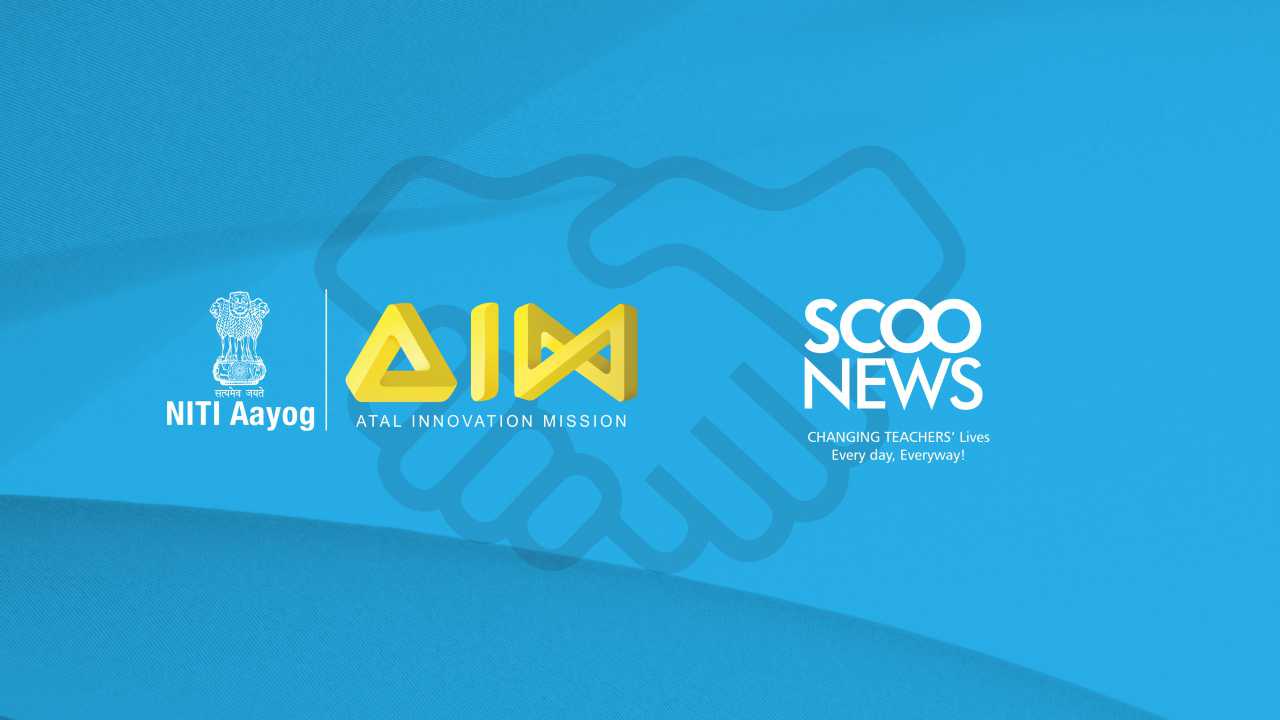 In order to share and spread inspiring stories of grassroots, innovations Atal Innovation Mission, NITI Aayog, is collaborating with ScooNews, one of the largest education media houses in India.
Through this collaboration, not only greater awareness of various initiatives of AIM and Atal Tinkering Labs will be generated among the education sector stakeholders, but also schools, faculties, educators and mentors will be provided quality perspectives, content and best practices from across the globe.
ScooNews will support various events or competitions initiated by AIM through its network. Further, with the goal to document and share inspiring stories from across the country, AIM and ScooNews shall curate and publish ATL-related content, inspiring grassroots stories and innovations, ed-tech news and stories of various startups and organisations supported by AIM on a monthly basis. ScooNews will also bring out a special publication to celebrate the top innovations of ATL Marathon.
"Atal Innovation Mission aims to create over a million neoteric innovators and potential job creators in the country. To enable the same, it is imperative that we share stories of people who inspire us. Our ATL beneficiaries are beating all odds and continuing to tinker and innovate, even in these tough times. Their inspiring stories must be shared and celebrated. Our partnership with ScooNews is going to be fundamental in identifying and share such stories, while also creating a value-adding recognition platform for innovative talent in India," said AIM Mission Director, Shri R. Ramanan.
He also thanked the ScooNews team for working relentlessly to bring out positive stories in school education even during COVID-19 times.
ScooNews CEO, Ravi Santlani, said, "We are excited to work with AIM. We are committed to identifying path-breaking stories of prodigies across the country and create quality content through the journey of these students, teachers, schools, mentors, and other stakeholders. Forging a strong partnership with AIM, NITI Aayog, will enable us to do the best for the education ecosystem of India and expand our organisation's vision and mission."
At Atal Innovation Mission, we believe that any such collaboration with Indian homegrown institutions, organisations and companies is critical to develop public-private partnerships and provide forums to nurture the inventiveness of young students as a motivational tool.
Source: PIB
During A National Consultation Discussions Were Conducted For Class 12th Exams & Entrance Exams
Education Ministry with other significant departments of the Indian government will come to a conclusion soon regarding the 12th Board Exams & Professional Entrance Exams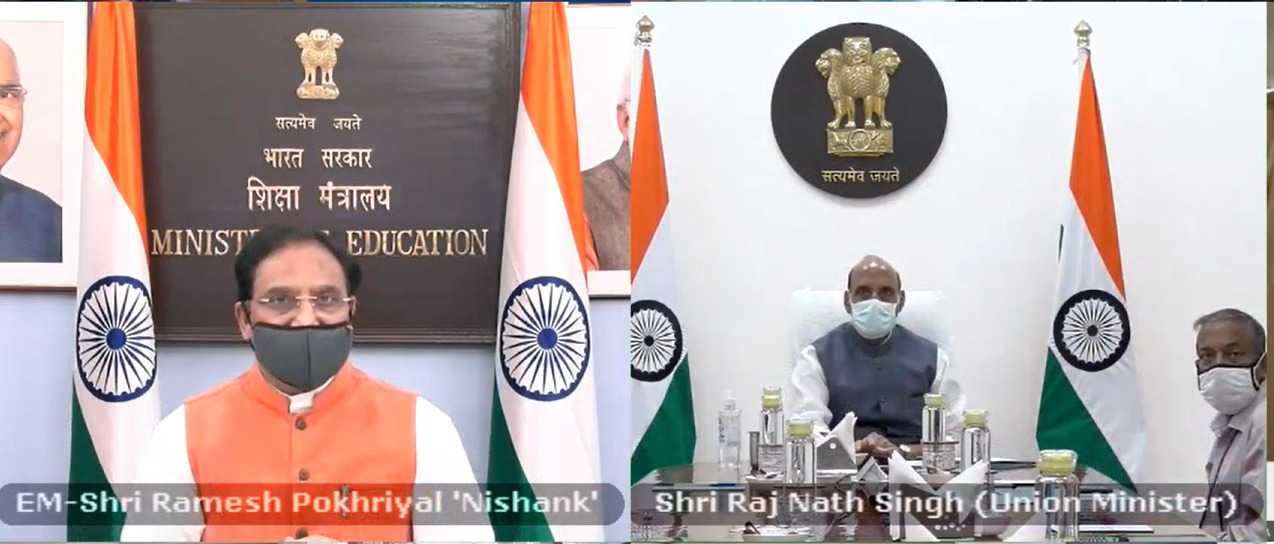 A national consultation was arranged on 23 May 2021 by the Ministry of Education, Government of India with the Education Ministers and Administrators of all States and UTs. The consultation was chaired by the Union Defence Minister Shri Rajnath Singh and was attended by Union Education Minister Shri Ramesh Pokhriyal 'Nishank', Union Minister for Women and Child Development and Textiles, Smt. Smriti Zubin Irani, Union Minister for Forest, Environment and Climate change and Information and Broadcasting, Shri Prakash Javadekar and Minister of State for Education Shri Sanjay Dhotre. Secretary, Higher Education Shri Amit Khare; Secretary, School Education Smt Anita Karwal and senior officials of the Ministry also attended the meeting.
I thank all the Hon'ble Chief Ministers, Education Ministers, and officers associated with the world's largest education system for participating in the high-level meeting chaired by Hon'ble Minister of Defence Shri @rajnathsingh Ji. pic.twitter.com/i4e8p5lH90

— Dr. Ramesh Pokhriyal Nishank (@DrRPNishank) May 23, 2021
While opening the forum for discussions, the Minister for Education, Shri Ramesh Pokhriyal"Nishank' expressed his gratitude to the cabinet ministers from the Government of India who attended the meeting on 23 May 2021, for their extensive support in the preliminary discussions leading to this consultation and for remaining present in the meeting. It may be mentioned that a high-level meeting was held on 21 May 2021 under the chairmanship of the Prime Minister with nine Union Cabinet Ministers and senior officials to discuss about the conduct of Board exams for Class XII and All India Entrance exams. The Minister expressed his gratitude to Defence Minister Shri Rajnath Singh for giving his time and valuable suggestions relating to the exams. He thanked the Union Minister for Women and Child Development, Union Minister for Information and Broadcasting, Minister of State for Education for attending the meeting. The Minister of Education also expressed commitment towards the safety and security of children as the first priority of the Government of India. The Minister said the entire country has come together to ensure the safety and academic welfare of the students and the smooth functioning of the education system. He said that despite challenges posed by Covid-19, the Government has left no stone unturned to successfully bring education to online mode. He said that the homes were converted into schools.
The Minister discussed the importance of the Class XII Board exams and the All India Entrance exams in shaping the future and defining the careers of students. The Minister said keeping in view the present circumstances we decided to cancel the CBSE Board examinations of Class X and evaluate through internal assessment but Class-XII examinations are very important to decide the future of a student.
He said that this meeting was called to enable Central and State Boards and other examination agencies to be able to examine various options available in the present challenging circumstances through a consultation process. Shri Pokhriyal assured that the deliberations with all stakeholders in the meeting on 23 May 2021 will help in reaching a suitable decision on exams in the interest of all the students and ensuring a bright future for our children.
The discussions were held around two themes, i.e, board exams to be conducted for Class XII by the Central Board of Secondary Education and other State Boards and the All-India Entrance examinations for various higher education institutions and professional courses. Various options regarding the methodology, process, duration and timings of the exams were discussed. While a broad consensus was there, however, it was decided that States and UTs may like to further examine the matter and send their feedback in writing by the 25th of May,2021.
The meeting was attended by Chief Minister of Jharkhand and Goa, Deputy Chief Minister of Uttar Pradesh and Delhi and State Education Ministers, State Education Secretaries, Chairpersons of Examination Boards, Administrators of Union territories, Secretaries of Higher Education Department and School Education Department of Government of India, Chairman CBSE, UGC and AICTE, DG NTA and several other officials.
While summing up, Union Defence Minister, Shri Rajnath Singh thanked all the participants for putting forth their positive suggestions on the proposals for conducting examinations. He requested States and UTs to submit other suggestions, if any, to the Ministry of Education by this Tuesday i.e. 25th May. The Ministry will consider all those suggestions and take a final decision soon, he added. He reiterated that the priority of the Government is to conduct all the examinations in a safe and secure environment.
Earlier on 14th April, the Central Board of Secondary Education had notified that Class XII exams have been postponed and that further information with regard to Class XII board exams would be given to students by the 1st of June. In this context, following the consultative meeting with the States and UTs on 23 May 2021, the Government of India will examine the suggestions received from the various State Governments this week and convey further information in this regard to the students by or before the 1st of June 2021.