Bihar Teacher Charges Rupee 1 To Teach Less-privileged Kids
He takes classes every day on his porch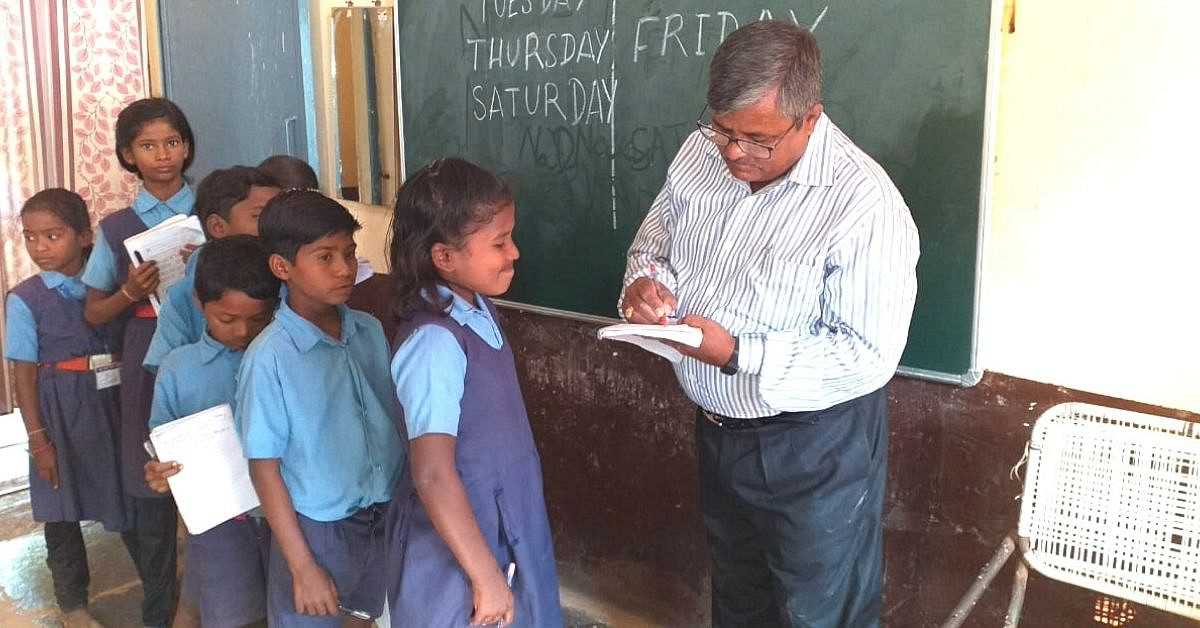 Lokesh Sharan is a teacher from Samastipur, Bihar, with over 30 years of working experience. He has not only taught hundreds of students but also helped improve the derogatory quality of schools and education in rural areas. Sometime back, his suggestion was well taken by the then district magistrate, RK Sinha, who released contingency funds for 22 such schools.
Talking about the history of educators in his family, Sharan says, "My father was a teacher and later became the headmaster of Bal Sainik Vidyalay, the primary school, that he started in 1983. He always believed that teaching was a noble profession and helped serve the country by creating an educated younger generation."
When the school his father built closed about a decade ago, Sharan did not give up teaching rather he converted his home's porch into a makeshift classroom. He set up benches and painted a blackboard to accommodate up to 40 local students. Today, he charges only rupee 1 from each one of them for the classes that he conducts either before or after the school timings.
Addressing the reason to charge a mere rupee 1, he says in this way the parents of his students do not feel indebted to him and develop a sense of accountability. "Parents can ask why their child is not doing well as they are paying for it. They will feel responsible for their child and take follow-ups on the progress. Meanwhile, some parents cannot afford monthly transport and school fees for their children. It serves as an alternate platform for them," he tells The Better India.
He not only teaches the children academically but also believes in preparing them for other necessary aspects of life. That's because Sharan realises how most educators only teach their respective subjects and let go of other learning opportunities. Apart from clearing doubts, teaching, binding and stitching the torn books, he focuses on improving the students' handwriting, encouraging extracurricular activities, etc.
Although he's old enough to retire, he always keeps a chalk box, duster and pen in his bag so that he never misses an opportunity to teach the little learners he usually encounters. This is the kind of selflessness our teaching community is made of. Salute!
This Young Woman From A Tribal Village Is Teaching The Children While Schools Are Closed
The only graduate of a Tamil Nadu village has volunteered to teach the children of the village while the pandemic persists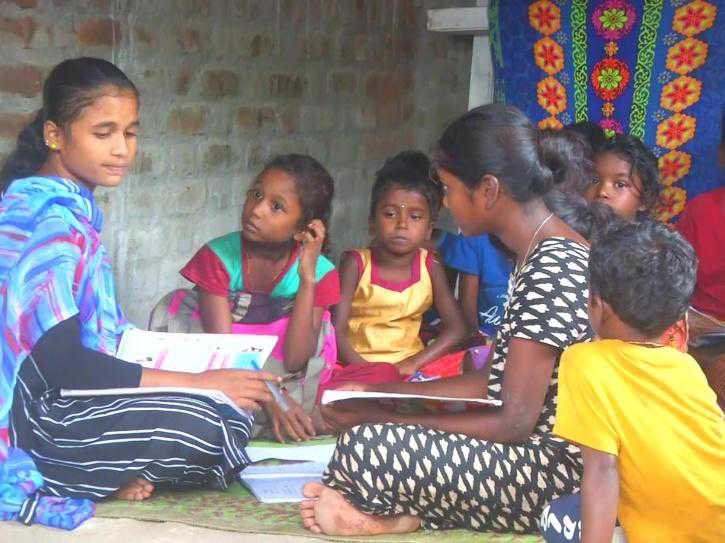 Where the digital network failed these tribal children in the southern part of India, their own stood to support them. Sandhya volunteers in teaching the kids of her village, Chinnampathy in Tamil Nadu. She is a graduate of B.Com, she is the only person from her village to have graduated college. Sandhya told India Today, "If it rains, we can't go to school. We only have one bus to our village and so after a certain age, people drop out of school."
Having gone through struggles herself, Sandhya knows how important a teacher and school is for growing children. So she volunteered to teach the children by herself, so they don't lag behind due to school closure. Sandhya said "When I was a child, I had no one to help me study. These children here have me to help them study."
One must ask the children from a remote rural or economically backward area, how it feels to not have the proper learning opportunities. The pandemic took more than the ability to roam about freely, it snatched away the ability to go to school for children on a global level. While it is easier for families with better income to support their child's online learning, most rural and financially challenged families are struggling.
The Indian government did start many projects for such students, but even learning via a television channel or free online course needs some basic gadgets and network connection. Many remote villages, like the tribal village, Chinnampathy, can not find enough network strength to have their children sit in front of a television and learn via the education channels.
On being asked how her classes are enduring she said, "The children come and ask me very freely all their doubt and they are not afraid of me. I see these children learning well and answering all the questions when I ask them."
Youth like Sandhya, who appreciate and signifies the work educators do and want to help the cause, are the future of the education sector!