Can the government tame the cheating monster in Bihar?
The recent crackdowns on cheating in exams in Bihar have led to the expected. Pass percentages have plummeted. However, is that the only evil plaguing the system? What will happen to those 14 toppers who have to take a retest coming Friday?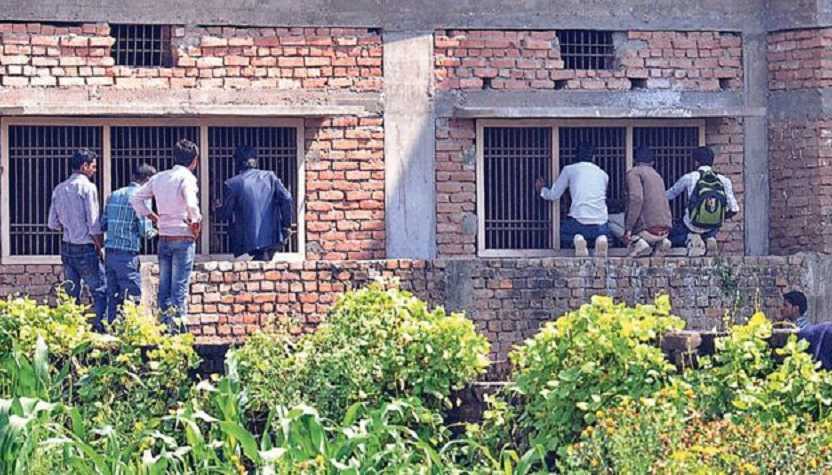 The Friday of the coming week will be a turning point in the academic history of Bihar. The 14 toppers of school board examinations of this year will face 3 teachers in an office in the state capital, Patna, for a retest.
This unprecedented retest follows closely on the heels of a footage broadcasted by a local TV channel recorded during a 'sting' operation to check the capabilities of the supposed toppers. The footage showed 2 of the top-scoring students struggling to answer even the most basic of question posed by the reporter.
The retest will see examiners verifying the handwriting of the students and asking questions to deduce whether they cheated in their examinations.
Ruby Rai and Saurabh Shresth topped the school-leaving class XII examination, for which more than a million students appeared. On paper, they are the best of the lot.
The topper in the humanities stream, Ms Rai, told the channel that political science "was all about cooking", while Mr Shresth, who stood first in science, named aluminium as the most reactive element in the periodic table, when it actually is in a less active group.
It is worth noting that both the toppers come from the same school in the state's Vaishali district. More interestingly, the college has already been blacklisted by the authorities last year for encouraging cheating. The principal of the college, who has been under a cloud, continues in his job.
File photos from the media last year show, brave – and desperate – parents, relatives and friends of students climbing school walls in Bihar to pass on answers to the students inside.
"When you go elsewhere, no one will believe your degrees. If you can't clear exams, why don't you just fail them and retake them till you pass?" a frustrated Bihar leader, Laloo Prasad Yadav, had said at the time.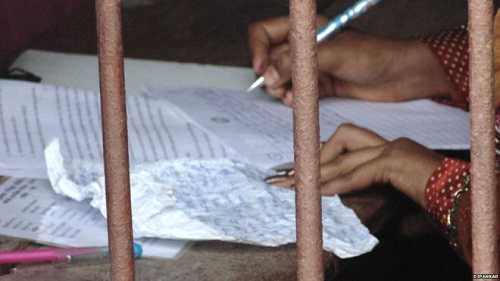 Bihar has been suffering from a cheating epidemic for as long as one can remember, but only last year when these pictures went viral the visibly embarrassed government decided to do something about it. CCTV cameras were installed, 70,000 officials and policemen were deployed and a fine of ₹ 10,000 was imposed on students caught cheating during this year's school examinations.
How did these stringent measures reflect on this year's results? More than 50% of the 1.4 million students who appeared for the Bihar Board Examinations – or the class X exam – this year failed. Last year 75% of them had cleared the exam. A Bihar minister admitted that this year's exam results showed the "actual merit of students".
Since cheating has been a long standing practice here, needless to say, one gets to see a lot of innovative ways of cheating here. A mafia, comprising teachers and school authorities plots with parents who bribe them to rig entire answer sheets.
Things have reached to such a head here that sometimes teachers complete entire exams for students, who merrily sit at home. The most common practice has been that of teachers often writing answers on the blackboard during exams.
The going rate for a rigged first division score answer paper is ₹ 40,000-50,000 while a state topping answer sheet can cost ₹ 100,000.
In Bihar, education is rightly seen as a way out of poverty for the poor and promises upward mobility to the ambitious middle class. Consequently, enrolment has risen sharply and every year increasing number of students are appearing for exams – 1.34 million students took the class X exams in 2014, up from half a million students in 2004, for instance.
But the crack down on cheating this year has crashed the pass rate sharply. More than 70% of the examinees passed the class X exam in 2014 and 2015. This year, barely 50% passed. In the class XII school-leaving board exam this year – which Ms Rai and Mr Shresth topped – 56% and 67% of the students passed in humanities and science, as against 86% and 89% last year.
To put all the onus of the failure of children on cheating would be wrong. The scenario should be viewed in its entirety. Absenteeism among teachers is very high. A similar sting conducted by a local channel on school teachers last year was enlightening. A teacher spelt Shakespeare as Shakspear. The maths teacher spelt his subject Mathmates, and looked puzzled when asked about Pythagoras.
"Our teachers hardly come to teach us," is a common refrain among students in Bihar.
New Early Childhood Education Report Explores Opportunities for Improving Curriculum and Classroom Resources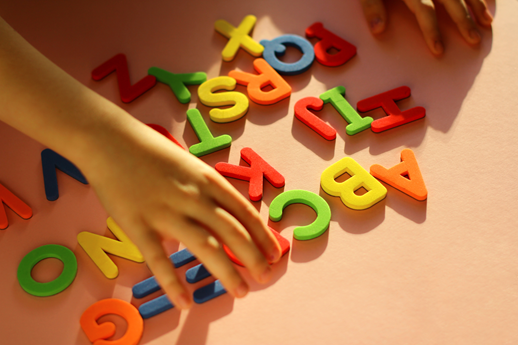 Central Square Foundation (CSF), a leading non-profit in India's primary and pre-primary education sector released a report titled Building Strong Foundations: Examining Early Childhood Education in India. The report stems from an in-depth Situational Analysis Study conducted across 200 Early Childhood Education (ECE) classrooms in India aimed at validating existing research data and identifying opportunities for enhancing ECE programs, shedding light on crucial aspects that call for urgent and immediate action.
Key Highlights:
* Study conducted across 200 ECE Classrooms in seven States in India
* The Report examines causes behind low learning outcomes in the 3-6 years age group of children
* The low priority given to ECE is reflected in the budgetary proposal and outlays
* Report highlights lack of consistent on-ground support to deliver quality ECE across the country
* The limited utilization of play-based materials and workbooks impacts student learning opportunities Recognising the imperative need for research on programmatic factors affecting the quality of ECE, CSF delved into the intricacies of the ECE ecosystem across select States. The primary and secondary research looked at aspects of ECE delivery including curriculum design, teaching-learning time, effectiveness of learning, teacher training, monitoring quality, and parental perception.
The report advocates for prompt remedial actions to address these gaps and ensure a robust learning foundation for young students. It further aims to understand the current models of public provisioning of ECE in India, study different aspects of delivery that affect learning in the classrooms, and outline the way forward for other stakeholders within the ECE ecosystem. For this study, CSF reached out to a mix of Anganwadis, co-located Anganwadis, and pre-primary sections in government primary schools (either as 1-year or 2-year pre-primary program) between March-May, 2023, across seven states – Andhra Pradesh, Assam, Madhya Pradesh, Maharashtra, Punjab, Telangana & Uttar Pradesh. The survey analysis was partly supported by the Key Education Foundation, a non-profit working in the space of early childhood education, which researched classroom curriculum analysis on pedagogy, ease of use, and teaching-learning resources.
The report recognizes the global outlook and progressive nature of India's ECE policies while at the same time, it observes that the country's early learning outcomes are sub-par. The Report recognises the need for "Play-based learning" as a fundamental curriculum for children to learn faster & effectively. The report also reveals the need for classroom resources to be more user-friendly to promote their usage among children.
Among the key "classroom-based observations", it was found that time spent on ECE activities was low. Zero ECE activities were observed in 23% of the ECE classrooms that were sampled. In classrooms where an ECE activity took place, it was found that these activities accounted for only an average of 35 minutes out of a two-hour observation period. There was also very little time for hands-on activities and practice by children. Only 14% of the observed ECE activities followed the recommended approach of carrying out age-appropriate and student-led small-group interactions. Interviews with monitoring stakeholders and teachers suggest that officials face competing priorities and don't have access to reliable ECE data. Strengthening monitoring protocols for ECE is crucial, as few officials observe teachers, indicating a need for enhanced ECE-specific feedback.
The report recognizes that the onus of delivering preschool education rests with two government ministries (the Ministry of Education and the Ministry of Women and Child Development) which has led to diffused responsibility, ownership, accountability, collaboration, and support in the sector. This approach has often resulted in duplicated efforts that have proven counterproductive, adversely affecting ECE quality and learning outcomes.
It also underlines the low priority given to ECE, reflected in the budgetary proposals and outlays by both ministries. This is also evident in the availability of dedicated teachers for ECE classrooms, especially in government primary schools. Further, the utilization of the funds also remains low.
Speaking at the release of the report, Shaveta Sharma-Kukreja, CEO and MD of CSF, emphasized, "The future of ECE in India hinges on addressing systemic challenges and operational hurdles to effectively implement well-crafted policies. Despite their forward-looking nature, these policies struggle to translate into optimal student learning outcomes and school readiness. Elevating the status of ECE and allocating increased financial resources are critical steps in that direction. Enhanced policy implementation aligns with Sustainable Development Goals and the NIPUN Bharat Mission, ensuring improved learning outcomes for all children."
Key recommendations from the Report:
1. Synergy between Ministries: To achieve ECE-specific goals in the country, collaboration between the Ministry of Education and the Ministry of Women and Child Development is vital.
2. Increase Funding: There is a need to increase ECE-specific funding with clear priorities for yearly expenses and incentivize states to meet their ECE goals.
3. Strengthen data systems and build a robust monitoring framework to get reliable data on critical ECE indicators for Anganwadis and Balvatikas/ pre-primary classrooms in government schools.
4. Promote parental awareness and encourage them to actively champion quality education. Equip parents with essential tools, resources, and guidance to actively engage in at-home learning activities.