Check Out This 'Signal Shala' School Under a Bridge in Thane
Signal Shala or Signal School is an attempt by a non-profit called Samarth Bharat Vyaspith in Maharashtra to educate and bring children out of poverty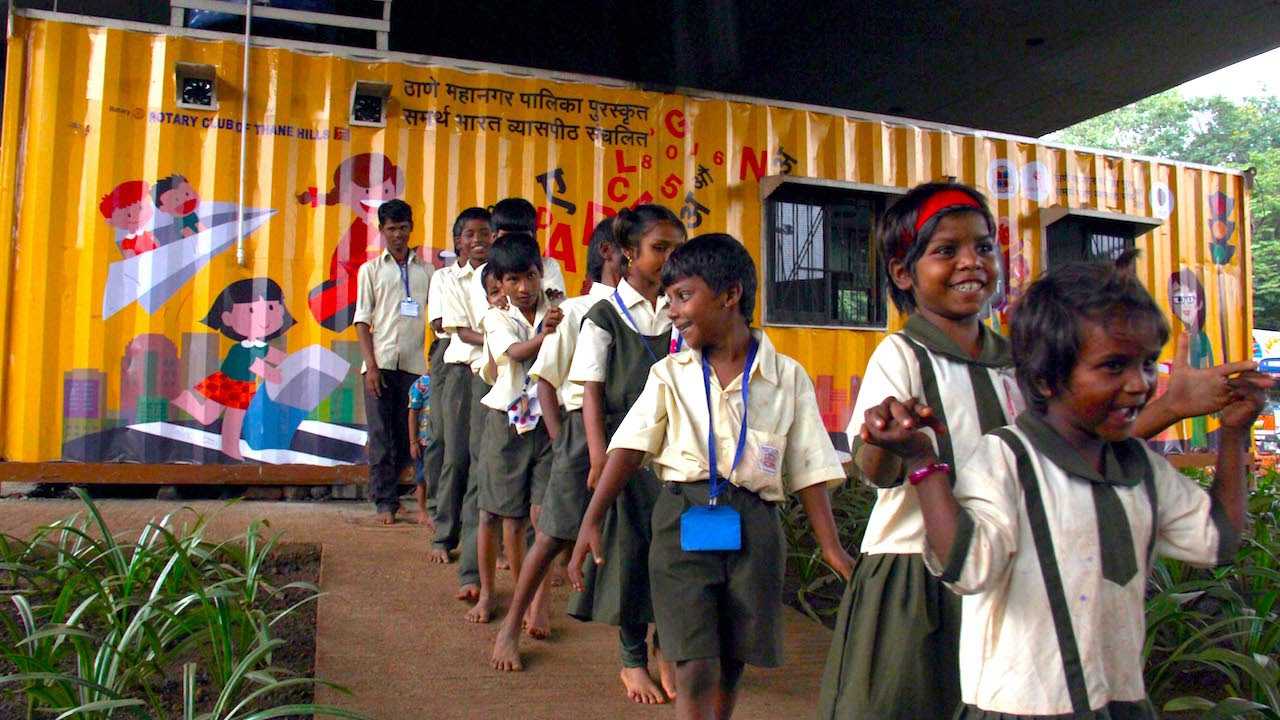 School at the signal – it's not a metaphor but an actual school under the Teen Haath Naka bridge in Thane, Mumbai. Signal Shala, started by a Pune-based NGO Samarth Bharat Vyaspith (SBV), is accredited by the Thane Municipal Corporation (TMC).
Signal Shala is an innovative concept initiated by SBV, that aims to provide mainstream education to the children living on streets and terminate begging from their lives. The school provides primary and secondary education to underprivileged children by friendly learning methods, brings weak and deprived ones into mainstream education and develops cognitive skills of children through social participation.
Signal Shala is actually a residential school that provides food, shelter, clothes, books, grooming facilities, hygiene education and medical checkups/assistance to these little ones.
The school starts at 11 AM from Monday to Saturday and continues till 4:30 pm. After 4:30 pm, storytelling, magic shows and fun activities are conducted by the volunteers. Children visit their parents between 6:30-8:30 pm, after which they return to the premises and sleep for the night.
Here, the students celebrate every festival with parents and teachers. Along with this, the school also holds parent-teacher meetings regularly to educate parents about their responsibilities like asking them to keep their dwellings clean and to encourage their wards to finish the homework on time.
Bhatu Kashinath Sawant, CEO, Samarth Bharat Vyaspith, is the man behind this amazing initiative. He told NDTV, "It's unfortunate that even after 70 years of attaining independence, we, as a nation, have failed our children. We have given them birth but not the childhood they deserve."
Initiatives like Signal Shala is what India needs at the moment to achieve the literacy rate it aspires to reduce poverty.
India's Data Science Education Market to Reach $1.39 BN by 2028: Report

Imarticus Learning, a leading Indian ed-tech platform, recently released the "Data Science Education Report 2023," forecasting a significant surge in the global data science education sector. According to the report, the sector is poised to reach an impressive $378.7 billion by 2030, with India's data science education market expected to reach $1.391 billion by 2028—a remarkable leap from $204.23 million in 2023, exhibiting a compound annual growth rate (CAGR) of 57.52%.
This substantial growth is attributed to a paradigm shift toward data-driven decision-making across diverse industries. Simultaneously, the online education sector is predicted to experience remarkable expansion, escalating from $76.20 million to $533.69 million.
In the realm of job market and recruitment trends, the report identifies data scientists, data analysts, business analysts, and big data engineers as the most in-demand roles. Presently, there are 215,793 open positions in the big data and analytics job market, with projections indicating a surge to over 338,000 by 2028. Key players such as Amazon, AWS, Bain and Company, Deloitte, Ernst & Young, and Google are actively seeking data science professionals, offering competitive annual remuneration packages ranging from Rs 6.5 lakh to Rs 35.1 lakh.
India is solidifying its position as a global powerhouse for big data analytics with an estimated 30.1% CAGR. The industry is set to grow from $5.7 billion in 2022 to a substantial $30.7 billion by 2027. During this period, India is expected to capture 32% of the global analytics market, creating significant educational and employment opportunities.
The report identifies key roles driving the expansion of the data science sector, with Data Scientists (10.9%), data analysts (10.7%), and business analysts (10%) leading the pack. Financial analysts (5.3%), big data engineers (4.2%), data specialists (1.2%), business intelligence analysts (1.2%), and data science managers (0.9%) are also in high demand. Furthermore, the report highlights a growing demand for professionals with expertise in natural language processing (NLP) and computer vision, technologies fueling innovation in AI applications across various industries.
Imarticus Learning recommends sustained investments in AI research and development as crucial areas for educational institutes to align with industry demands. Nikhil Barshikar, Founder and CEO of Imarticus Learning, emphasizes the importance of nurturing the data scientists of tomorrow, stating, "The Data Science Education Report 2023 reflects India's growing interest in data science education. It's more than simply education; it's a journey into the future, one data scientist at a time."